JEAN DUNAND Pièces Uniques est née de la rencontre entre Thierry Oulevay, homme de marketing et de création, et Christophe Claret, constructeur de mouvements horlogers complexes au service des marques les plus prestigieuses, reconnu comme l'un des maîtres horlogers les plus innovants de sa génération.
Concevoir des produits uniques et innovants mariant technologies d'avant-garde et créations inspirées des années 20 et 30, tel est le défi que se sont fixé les deux partenaires.
Plutôt que de reproduire le style des montres de l'époque Art Déco, les Pièces Uniques JEAN DUNAND cherchent à capturer l'esprit et la quintessence du mouvement Art déco : un mouvement qui a su parfaitement intégrer les technologies et les matériaux nouveaux, tout en valorisant un artisanat de qualité et un design fonctionnel.
Les Pièces Uniques JEAN DUNAND sont fabriquées exclusivement sur commande. L'esthétique de la montre s'inspire toujours des idéaux de l'Art déco, à savoir des géométries simples, un design fonctionnel et un artisanat d'art recourant à l'utilisation des matériaux les plus précieux et les plus rares.
Les montres-bracelets sont faites sur demande en or ou en platine. Chaque montre est unique.
JEAN DUNAND Pièces Uniques was founded in 2003 by watchmaker Christophe Claret, Switzerland's leading inventor and constructor of complicated movements for luxur y brands, and entrepreneur Thierry Oulevay.
The purpose of both men is to create advanced and unprecedented horolog ical mechanisms as the basis for unique timepieces, each representing the summit of contemporar y watchmaking .
Thierry Oulevay, an expert in watch design and marketing , gained his experience w ith Piaget and engineered the successful relaunch of the Bovet brand from 1997 to 2001 with an award-winning design. He urged Christophe Claret to develop the or biting tour billon — an idea many in the watch industry considered impossible.
The two men share a fascination for the work of the Swiss-born artist, Jean Dunand (1877 – 1942), one of the great craftsmen of the Art Deco movement, and decided to name the brand in his honor.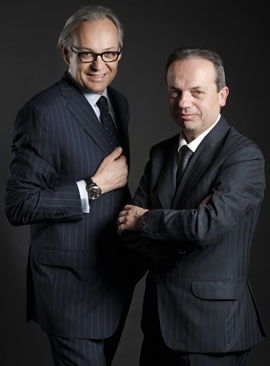 As a Pièce Unique, decorations and materials are different for each timepiece introduced to the market. The styling of the watch is however always consistent with Art Deco ideals of simple geometries, functional design and high craftsmanship in precious materials.
Each JEAN DUNAND Pièce Unique is thus an integral and contemporary work of art, and a truly unique piece. The watch collector is guaranteed an unparalleled level of exclusivity. The finish is essential dimension of the watchmaking art, and as such it must be impeccable and comprehensive. The graining , chamfering and polishing of the movement are done entirely by hand. The sharp, inner angle of a chamfered edge, for example, cannot be done by machine. The artwork and decoration of the case are similarly executed to the highest standard.