C'est en 1983 que le maître horloger de Braunschweig, Gerd-Rüdiger Lang, crée son entreprise Chronoswiss à Munich : alors qu'il répare des chronographes et des montres mécaniques spéciales, mûrit en lui l'idée d'une propre collection constituée exclusivement de composants suisses, d'où le nom " Chronoswiss " et le label de qualité " Swiss made ".
De plus, Lang est le premier à fabriquer des fonds en verre pour ses montres à bracelet, afin de laisser apparaître le fascinant mécanisme du mouvement et d'éveiller un intérêt pour les montres mécaniques. Il y a de cela exactement vingt ans, en 1988, le premier modèle et produit emblématique de la collection Chronoswiss, le " Régulateur ", voit la lumière du jour - avec affichage décentralisé des heures et cadran exceptionnel, inspiré de la référence historique que constituent les régulateurs.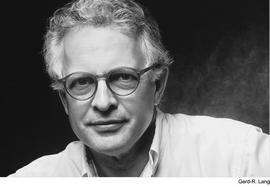 En 1991, Chronoswiss lance le calibre manufacturé C. 122. En coopération avec le fabriquant d'horloges Sattler, Chronoswiss conçoit le " modèle munichois " de la formation d'horloger : alternant entre fabrication d'horloges et fabrication de montres à bracelet, les apprentis des deux entreprises reçoivent une formation plus élargie. En 2007, Chronoswiss se voit décerner la plus haute distinction du monde de l'horlogerie allemande, la médaille Peter Henlein. De plus, la première fabrique de montres à bracelet bavaroise est inaugurée aux portes de Munich, à Karlsfeld, à travers les nouveaux locaux de l'entreprise, baptisés " Zeitpunkt " ; juste à temps pour célébrer les 25 ans de la marque dans ses propres murs, en 2008. Ainsi s'écrivent plus de 600 ans d'histoire de l'art de l'horlogerie en Bavière et à Munich.
Des pièces d'expositions du musée et de la collection Chronoswiss - dont le Régulateur à remontoir manuel - ainsi que le très exhaustif portfolio de Sattler ( entre autres des montres de style en or poli datant de 1962) illustrent cette importante histoire. Il ne faut bien sûr pas oublier de se tourner vers l'avenir, car autant Sattler que Chronoswiss s'engagent profondément dans la formation et investissent dans le fief bavarois de l'horlogerie : actuellement chacune des deux entreprises forme quatre apprentis.
The master watchmaker Gerd-Rüdiger Lang from Braunschweig founded his firm Chronoswiss in Munich in 1983. While he was repairing chronographs and special mechanical timepieces, the idea matured in Lang's mind to create a collection of his own timepieces, which he subsequently built exclusively from Swiss components - hence the "Chronoswiss" name and the "Swiss made" seal of quality.
Lang was also the first watchmaker to put panes of transparent glass in the backs of his wristwatches, thus assuring an unobstructed view of the fascinating mechanisms inside the cases and simultaneously raising consciousness about mechanical watches.
Chronoswiss' first own model (and the flagship of its collection) was born exactly twenty years ago in 1988: the "Régulateur" boasts an off-center hour-hand and an unusual dial which recalls the faces of historic regulator clocks. Chronoswiss introduced its exclusive manufacture Caliber C. 122 in 1991. In cooperation with the Sattler clock manufacture, Chronoswiss developed the "Munich Model" for the training of watchmakers. Apprentices spend time in each business' ateliers, thus receiving a broader-based education and benefiting from opportunities to work with both clocks and wristwatches.
The German Watchmakers' Guild awarded Chronoswiss the "Peter Henlein Medal," its highest commendation, in 2007, which was also when Chronoswiss inaugurated its new headquarters "Zeitpunkt" ("Moment in Time") as Bavaria's first wristwatch factory. The firm moved into its new home in Karlsfeld, just outside the gates of Munich, in time to celebrate the brand's 25th anniversary at this new venue in 2008. So much for this brief introduction to the more than 600-year history of watch- and clockmaking in Bavaria and Munich. Artifacts from Chronoswiss' museum and timepieces from its current collection (including the hand-wound Régulateur wristwatch), as well as choice clocks from Sattler's extensive portfolio (including poliment gold-plated style clocks from 1962) illustrate the past and present.
Last but not least, the two firms can not forgo an opportunity to offer some glimpses into the future. Sattler and Chronoswiss are strongly dedicated to training the next generation of craftspeople, so each business continues to invest in Bavaria as a venue for fine watch- and clockmaking: four apprentices are currently being trained at each of the two enterprises.