IWC
Nouveautés 2013 des montres IWC
---
Portuguese Sidérale Scafusia
After ten years of intensive research, the Swiss watch manufacturer succeeded in combining solar time with sidereal time in a single watch.
The patented constant-force tourbillon is the most conspicuous feature. The tiny space on the reverse side accommodates a celestial chart, horizon, geographical coordinates, solar time, sidereal time, sunrise and sunset display as well as a display showing daytime, night-time and twilight. Also not to be forgotten is a completely integrated perpetual calendar behind the display showing the number of the day.
The Portuguese Sidérale Scafusia combines the romanticism of the night sky with science at the cutting edge, while combining complex watchmaking technology with unbelievably simple operation and a craftsman's love of detail with forward-thinking vision.
For all its precision and attention to detail, the Portuguese Sidérale Scafusia watch is eminently suitable for everyday use: it is water-resistant to 3 bar and, considering that the mechanism is so delicate, astonishingly impervious to shocks.
The Portuguese Sidérale Scafusia is not made in series production. Every single watch is produced exclusively to order by the customer and is an individual project in itself.
Since the star chart and horizon as well as sunrise and sunset times have to be calculated and displayed for a precise location specified by the customer, individual mechanical parts have to be custom-manufactured, then assembled and adjusted individually.
This means that every customer is not only wearing a unique watch on his wrist but also his own personalised constellation of stars, as seen in the night sky from the location of his choice.
Portofino Remontage Manuel Grande Date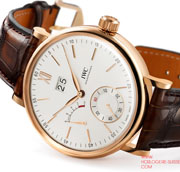 Avec son grand affichage de la date, la Portofino Remontage Manuel Grande Date s'enorgueillit d'une complication particulièrement utile et agréable. L'indication du mois s'affiche en grands chiffres à «12 heures». Deux disques fonctionnent en parfaite harmonie. L'un indique les dizaines au moyen de chiffres allant de 0 à 3, tandis que l'autre affiche les unités, de 0 à 9.
Ce chef-d'oeuvre de synchronisation entre les deux disques est l'oeuvre du calibre IWC 59230, un développement technique basé sur la famille de calibres 59000. Avec ses grands ponts et platines, ce mouvement modernisé garantit le haut degré de robustesse et de fiabilité attendu des amateurs de montres du XXIe siècle.
La nouvelle Portofino n'est pas seulement dotée d'une grande date, mais se distingue aussi par sa remarquable autonomie: après remontage complet, elle garantit exactement 192 heures, soit 8 jours, de précision, sans qu'aucune intervention ne soit nécessaire; ensuite, le propriétaire de la montre devra lui redonner de l'énergie en la remontant au moyen de la couronne.
Il en sera informé par l'affichage de la réserve de marche sur le cadran.
La Portofino Remontage Manuel Grande Date en or gris (réf. IW516101) ou en or rouge (réf. IW516102) est en vente exclusivement dans les boutiques IWC.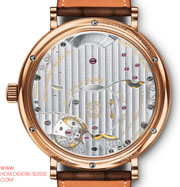 The date display at "12 o'clock" is an extremely useful and convenient complication and shows the date on two large, highly legible digits. This is achieved through two synchronized discs: the first of these shows the tens from 0 to 3, while the second shows the single digits from 0 to 9.
The perfectly choreographed interplay betweenthe two discs is mastered by the IWC 59230 calibre, a further development of the 59000-calibre family that comes with this additional piece of technical wizardry. The contemporary movement design with its large bridges and plates is robust and reliable and was built to satisfy the demands of watch connoisseurs in the 21st century.
The new Portofino comes not only with a big date but also a good deal of staying power. When fully wound, the watch has a powerreserve of 192 hours, or 8 days, during which it will run with maximum precision without the need for any external intervention.
After that, the owner needs to supply the watch with renewed energy by winding the crown. There is, however, no need to worry about forgetting: the power reserve display on the dial is a trusty reminder.
The Portofino Hand- Wound Big Date is available in white gold (Ref. IW516101) or red gold (Ref. IW516102), exclusively from IWC boutiques.

Portugaise Remontage Manuel Huit Jours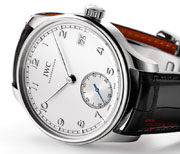 La cadette de la famille est la Portugaise Remontage Manuel Huit Jours (réf. IW510204/IW510202/IW510203). Elle doit son look classique à son boîtier de nouvelle facturedoté d'un verre à bord arqué. Avec son cadran argenté, ses chiffres arabes et ses aiguilles feuilles caractéristiques, la Portugaise Remontage Manuel Huit Jours en or rouge (réf. IW510204) force l'admiration par sa beauté sobre.
Le «60» rouge vif, un petit détail original sur le cercle des secondes, attire le regard. Les modèles en acier fin sont proposés avec un cadran noir (réf. IW510202) ou argenté (réf. IW510203) avec chiffres et aiguilles rhodiés. Ils ont en commun la minuterie chemin de fer au look classique ainsi que le mouvement qui les anime, le calibre de manufacture 59215.
Issu de la famille de calibres 59000, ce mouvement de construction moderne doté de ponts et de platines imposants promet robustesse et fiabilité, des qualités qui rendent la montre parfaitement adaptée à un usage quotidien. Quant à l'endurance, cette montre n'est pas en reste: elle fonctionnera pendant exactement 192 heures, soit 8 jours, sans devoir être remontée.
Le temps qu'il reste avant que son propriétaire doive lui redonner de l'énergie en la remontant au moyen de la couronne s'affiche au dos de la montre et peut être consulté à travers le fond en verre saphir. Grâce à cette option judicieuse, le cadran reste sobre et clairement lisible.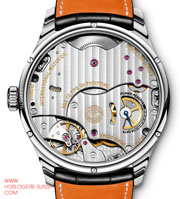 The latest addition to the family is the Portuguese Hand- Wound Eight Days (Ref. IW510204/IW510202/IW510203). It owes its classic look to the new case design twinned with an arched-edge front glass.
The Portuguese Hand-Wound Eight Days in red gold (Ref. IW510204) with its silver-plated dial, Arabic numerals and the characteristic feuille hands is the essence of simple aesthetics.
The signal-red "60" in the seconds dial is a small, but attractive detail.
The sister models in stainless steel feature a black (Ref. IW510202) or silver-plated dial (Ref. IW510203) with rhodium-plated numerals and hands.
Features common to both include the typical railway-track-style chapter ring and the IWCmanufactured 59215 calibre. This movement, a member of the 59000-calibre family, is a modern design featuring conspicuous bridges and plates and guarantees the high level of ruggedness and reliability required in a watch designed for everyday use.
In addition to this, the watch has a very long power reserve, allowing it to run for exactly 192 hours – or 8 days – without needing to be rewound.Precisely how much time remains before the owner needs to wind the crown can be read off the power reserve display visible through the sapphire-glass back on the reverse side of the watch.
This sophisticated arrangement ensures that the dial retains its uncluttered, purist clarity.

IWC Ingenieur Tourbillon Force Constante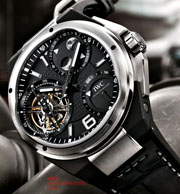 Au coeur du tourbillon, on reconnaît le mécanisme à force constante, la pièce maîtresse de la montre. En désengrenant préalablement l'échappement du rouage, ce mécanisme raffiné assure que l'amplitude des oscillations du balancier soit absolument constante, une condition indispensable à la précision de marche.
La force d'entraînement est alors stockée dans le ressort spiral et transmise à la roue d'ancre. Au cours de ce processus, le ressort spiral se tend une fois par seconde, faisant avancer l'aiguilledans le tourbillon par paliers d'une seconde. Toutes les cinq alternances du balancier, la roue d'arrêt et la cage du tourbillon sont elles aussi libérées.
La roue d'arrêt tourne, provoquant la rotation de la cage du tourbillon, ce qui permet au ressort spiral de se tendre à nouveau. Après deux jours environ, le mode normal prend le pas sur le mode de force constante: l'aiguille des secondes avance alors par sauts d'un cinquième de seconde. Le tourbillon à force constante garantit une marche régulière et précise pendant au moins 48 heures.
Une nouveauté chez IWC: l'affichage rétrograde de la réserve de marche situé entre «4» et «5 heures», où une aiguille triangulaire, conçue pour ne jamais cacher le logo IWC pendant les 96 heures de durée de marche, signale la quantité d'énergie à disposition avant qu'un nouveau remontage ne soit nécessaire.

Mouvement de montre mécanique – Affichage de la réserve de marche – Affichage précis des phases de lune – Doubles phases de lune pour les hémisphères nord et sud – Affichage compte à rebours jusqu'à la prochaine pleine lune – Tourbillon avec mécanisme à force constante intégré – Balancier en Glucydur®* avec microréglage par excentrique sur les bras du balancier – Couronne vissée – Fond transparent en verre saphir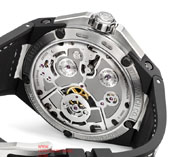 The tourbillon revolves around its own axis once every 60 seconds to offset the influence of gravity on any positional error in the balance and its adverse effect on the rate. Down in the depths of the tourbillon we see the constant-force mechanism, the true heart of the watch. This intricate assembly allows the escapement to be uncoupled from the gear train, which keeps the amplitude of the balance – and thus the watch's rate – virtually constant.
The energy is stored temporarily in a balance spring and dispensed to the escape wheel.
This balance spring is put under tension once a second, as we can see from the one-second advances made by the tourbillon hand.
After every five beats of the balance, the stop wheel and the tourbillon cage are also released. The stop wheel turns and causes the tourbillon cage to rotate with it, which puts the balance spring under tension again.
After about 2 days, the watch moves from constant-force mode into normal mode. Now, the seconds hand advances smoothly every one-fifth of a second. The constant-force tourbillon guarantees a regular and precise rate over a period of at least 48 hours.
A new departure for IWC is the retrograde design of the power reserve display between "4" and "5 o'clock", which has a triangular indicator to show the power remaining.

Mechanical movement – Power reserve display – High-precision moon phase display – Double moon phases for the northern and southern hemispheres – Countdown display showing phases until next full moon – Tourbillon with integrated constant-force mechanism – Glucydur®* beryllium alloy balance with high-precision adjustment cam on balance arms – Screw-in crown – See-through sapphire-glass back.
IWC Ingenieur Calendrier Perpétuel Date et Mois
Quatre totaliseurs sont groupés autour de l'axe central, où ressortent les très grands chiffres du calendrier perpétuel affichant la date du jour et le mois.
Une nouveauté vient compléter le design du calendrier perpétuel: au-dessus des disques de la date, du mois et de l'année bissextile, le cadran est incrusté de verre saphir semi-transparent, ce qui permet d'observer le jeu complexe des disques lors de la commutation.
C'est la première fois qu'IWC Schaffhausen présente un boîtier en aluminure de titane (TiAl)
Mouvement de chronographe mécanique – Fonction stop heure, minute et seconde – Compteurs des heures et des minutes réunis dans un seul compteur à 12 heures – Fonction flyback – Petite secondeavec dispositif d'arrêt – Calendrier perpétuel – Grands affichages à deux chiffres pour la date et le mois – Affichage des années bissextiles – Couronne vissée – Fond transparent en verre saphir – Masse oscillante en forme de jantes de voiture
Four totalizers are grouped around the central axis, dominated by the oversized numerals in the perpetual calendar, which shows the date and month on a large digital display
On top of this, there is another new feature in the design of the perpetual calendar: the dial has semi-transparent sapphire-glass inlays over the date, month and leap year discs, which enable the wearer to observe the complex interplay of the discs as they advance.
For the first time ever, IWC Schaffhausen unveils a watch case made of titanium aluminide (TiAl)
Mechanical chronograph movement – Stopwatch function with hours, minutes and seconds – Hour and minutecounters combined in a totalizer at 12 o'clock – Flyback function – Small hacking seconds – Perpetual calendar – Large double-digit displays for both the date and the month – Leap year display – Screw-in crown – See-through sapphire-glass back – Rotor in the shape of a wheel rim
IWC Ingenieur Automatic Carbon Performance
partir de 2013 et pendant trois ans, IWC Schaffhausen sera aux côtés de MERCEDES AMG PETRONASFormula One™ Team en tant qu'Official Engineering Partner. Les deux entreprises incarnent l'art du travail manuel, l'esprit d'innovation et l'ingénierie de pointe au niveau mondial. Sous le signe de cette collaboration, IWC présente un nouveau garde-temps habillé d'un boîtier en carbone: l'Ingenieur Automatic Carbon Performance ornée d'éléments de design jaunes ou rouges, chacune des versionsétant limitée à 100 exemplaires.
Mouvement de montre mécanique – Remontage automatique Pellaton – Système intégré d'absorption des chocs – Affichage de la date avec réglage rapide au moyen de la couronne – Seconde au centre avec dispositif d'arrêt – Couronne vissée – Édition limitée à 100 exemplaires avec chiffres des secondeset coutures du bracelet jaunes ou rouges
In 2013 IWC Schaffhausen starts a 3-year period as Official Engineering Partner of the MERCEDES AMG PETRONAS Formula One™ Team. Worldwide, the two companies stand for outstanding craftsmanship, innovation and performance engineering. To mark their cooperation, IWC presents a new timepiece in a carbon case. Available with either red or yellow design elements, the Ingenieur Automatic Carbon Performance is limited to 100 watches in each version.
Mechanical movement – Pellaton automatic winding – Integrated shock-absorption system – Date display with crown-activated rapid advance – Central hacking seconds – Screw-in crown – Limited edition of 100 watches each, once with yellow and once with red numerals for the seconds and stitchingon the strap.
Eric Cosandey
©


toute reproduction strictement interdite