Blancpain
Nouveautés 2013 des montres Blancpain
---
Blancpain Tourbillon Carrousel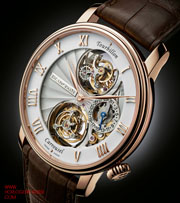 Véritable prouesse technique, la Manufacture du Brassus associe le tourbillon et le carrousel, deux complications emblématiques de la marque, et propose un modèle muni d'un tourbillon volant à 12 h 00, d'un carrousel volant à 6 h 00, et d'un quantième à 3 h 00. L'oeil est immédiatement surpris par les différences et les similitudes des mécanismes ainsi que par la beauté de leur rotation. Chacune des deux cages, indépendantes l'une de l'autre, est reliée par un différentiel.
Celui-ci transmet la moyenne de marche des deux régulateurs à l'affichage des heures.
Une couronne d'armage extérieure permet le remontage simultané des deux barillets tout en garantissant un armage égal, donnant à ce garde temps toute sa précision et sept jours de réserve de marche.
Le fond saphir laisse entrevoir cet ingénieux mécanisme ainsi que l'indication de la réserve de marche.
D'un porté agréable, la boîte en or rouge de 44,60 mm de diamètre est particulièrement mince et ne mesure que 11,94 mm d'épaisseur. Quant au cadran à l'esthétisme discret, il est pourvu d'un tour d'heure en émail grand feu doté d'index en chiffres romains en or 5N.
The Manufacture from Le Brassus achieves a true technical feat by associating the tourbillon and the carrousel, two of the brand's emblematic complications, in a model equipped with a flying tourbillon at 12 o'clock, a flying carrousel at 6 o'clock, and a date display at 3 o'clock.
The eye is immediately drawn to the surprising differences and similarities between the mechanisms, as well as to the beauty of their rotation. The two independent carriages are linked by a differential gear system, which transmits the average rate of both regulators to the time display.
An external winding crown enables both barrels to be wound simultaneously while guaranteeing their equal winding, thereby endowing this timepiece with impressive precision along with a comfortable seven-day power reserve.
The sapphire crystal case-back provides a fascinating view of this ingenious mechanism as well as of the power-reserve indication.
The 44.60 mm diameter case is extremely pleasant to wear thanks to its elegantly slender design measuring just 11.94 mm thick. The dial with its discreet aesthetic has a grand feu enamel chapter ring bearing 5N gold Roman numerals.
Blancpain Carrousel, répétition minutes et chronographe
Détentrice d'une série de premières mondiales tant par ses modèles Carrousel Volant que Carrousel Répétition Minutes, la Manufacture Blancpain continue de figurer au sommet de l'art horloger et associe pour la première fois ces deux complications à un chronographe flyback dans une version automatique.
Cette triple association est proposée dans un nouveau boîtier de 45 mm en or rouge habillé d'un tour d'heure, compteur 30 minutes et d'index en émail grand feu.
Avec un stylisme sobre et efficace, la combinaison du cadran ajouré et du fond saphir assure une mise en valeur et une vue en profondeur sur ce dispositif complexe.
De forme particulière, les aiguilles du chronographe, minutes et secondes, sont d'une longueur assurant une lisibilité maximale en venant s'appuyer esthétiquement sur leurs indices correspondants.
Comme il convient à un calibre d'une telle exclusivité, les ponts et la platine sont en or 18 carats, ce qui ne rend pas la tâche facile aux horlogers de la Vallée de Joux.
Having introduced a series of world firsts in its Carrousel Volant and Carrousel Minute Repeater models, the Manufacture Blancpain maintains its well-deserved status at the very peak of the watchmaking art, by becoming the first to associate these two horological complications with a flyback chronograph in a self-winding version.
This triple association is presented in a new red gold 45 mm case with a chapter ring, a 30-minute and hour-markers in grand feu enamel.
Radiating an understated and effective style, the combination of the openworked dial and the sapphire crystal case-back both highlights and provides in-depth views of this complex device.
The special-shaped chronograph minutes and seconds hands are long enough to ensure maximal readability as they sweep over their corresponding indexes in an aesthetically pleasing way. As one would expect from such an exclusive calibre, the bridges and mainplate are in 18-carat gold, a material that does nothing to facilitate the arduous task of the watchmakers from the Vallée de Joux.

Fifty Fathoms Bathyscaphe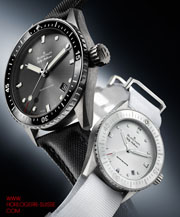 Témoins du passé mais tournés vers l'avenir, les nouveaux modèles intègrent les calibres Blancpain modernes réputés pour leur robustesse et fiabilité. Le coeur de chacun des mouvements mécaniques à remontage automatique bat à 28'800 alternances/heure.
Dans un souci permanent d'amélioration, le mouvement est doté d'un spiral en silicium. Amagnétique, celui-ci permet ainsi l'utilisation d'un fond saphir pour pouvoir admirer le mouvement. Outre les propriétés de résistance à la corrosion, le silicium ne subit qu'un très faible vieillissement. Cette avancée technique marque un pas décisif dans la longue quête d'un isochronisme optimum pour les garde-temps.
Autre nouveauté pour Blancpain, l'échelle de mesure en Liquidmetal®. Cet alliage métallique amorphe évite toute déformation et permet de se lier parfaitement à l'insert en céramique de la lunette. La dureté de ces deux matériaux permet d'accroître la résistance aux rayures de la lunette.
Comme toute montre de plongée digne de ce nom, chaque modèle est doté d'une lunette unidirectionnelle qui s'actionne en tournant dans le sens antihoraire, par petits crans d'une minute chacun. Lors de la plongée, la seconde fait office d'indicateur de fonctionnement, un cadran contrasté et des index en or luminescents assurent une lisibilité optimale.
La nouvelle Fifty Fathoms Bathyscaphe est naturellement étanche à 30 bar, soit environ 300 mètres.
Testifying to the past while looking firmly to the future, the new models incorporate modern Blancpain calibres renowned for their robustness and reliability. The heart of each of the mechanical self-winding movements beats at 28,800 vibrations per hour.
Driven by a constant concern to improve these calibres, a nonmagnetic silicon balance-spring may be admire through a sapphire crystal case-back. In addition to its corrosion-resistant properties, silicon is also extremely resistant to wear and natural ageing. This technical breakthrough marks a decisive step in the longstanding pursuit of optimal isochronism for its timepieces.
Another novel feature for Blancpain is the graduated scale in Liquidmetal®. This amorphous metal alloy avoids any deformation and ensures perfect bonding with the ceramic bezel insert. The hardness of these two materials serves to enhance the bezel's scratch resistance.
Like all diver's watches worth their salt, each model is equipped with a unidirectional bezel activated by turning it counter-clockwise in one-minute increments. During dives, the seconds serves as an operating indicator, while a contrasting dial and luminescent gold hour-markers ensure optimal readability.
The new Fifty Fathoms Bathyscaphe is naturally water-resistant to 30 bar, equivalent to around 300 metres.
Blancpain Chronographe Grande Date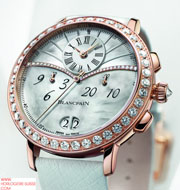 Dès le premier coup d'oeil, deux parties se détachent sur le cadran de nacre perlée et entouré d'un chemin de fer. Du centre de la pièce où se trouve la seconde du chronographe, deux vagues de 17 diamants de différente taille s'échappent de part et d'autre.
A 12 heures, l'affichage romain des heures et minutes dans un disque de nacre forme un contrepoint dynamique aux chiffres arabes des compteurs du chronographe.
A 6 heures, un guichet indique une grande date formée par deux disques.
La nouvelle Chronographe Grande Date abrite le calibre Blancpain 26F8G, un mouvement mécanique à remontage automatique composé de 495 composants.
Le boîtier en or rouge 18 carats de 38.6 mm de diamètre et serti de 40 diamants, est étanche à 3 bar.
Son fond saphir permet d'apprécier le travail de finition apporté à tous les composants, à l'instar des mouvements Blancpain, et d'admirer la féminité de la masse oscillante en forme de pétales.
La couronne est sertie d'un diamant. Ce modèle, également disponible en or gris et acier est doté d'un bracelet en autruche blanc.
Un second bracelet interchangeable de couleur et matière différente est fourni en complément.
Right at first glance, the shimmering mother-of-pearl dial surrounded by a minute track reveals a two-part composition delineated by two waves of 17 variously sized diamonds rippling out from the centre with its chronograph seconds hand.
At 12 o'clock the off-centred time display featuring Roman hour and minute numerals on a mother-of-pearl subdial creates a dynamic counterpoint to the Arabic numerals on the chronograph counters; while the double-disc large date display appears through twin apertures 6 o'clock.
The new Chronograph Large Date houses Blancpain Calibre 26F8G, a mechanical selfwinding movement composed of 495 parts.
The 38.6 mm-diameter case in 18-carat red gold set with 40 diamonds is water-resistant to 3 bar.
Its sapphire back provides an opportunity to admire the finishing lavished on all its parts and reflecting that of all Blancpain movements, as well as to admire the graceful femininity of the petal-shaped oscillating weight.
The crown is set with a diamond.
This model, also available in white gold and steel versions, is fitted with a white ostrich leather strap and also comes complete with a second strap in a different colour and material.
Eric Cosandey
©


toute reproduction strictement interdite