Eterna
Nouveautés 2012 des montres Eterna
---
Eterna 1948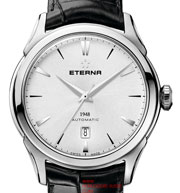 La «1948» d'aujourd'hui possède un solide mouvement mécanique à remontage automatique équipé d'un dispositif à roulements à billes semblable à celui du modèle historique.
Son boîtier en acier poli de 44 mm de diamètre muni d'un fond en saphir transparent reflète, lui, les préférences esthétiques de notre époque. Il entoure un cadran argenté ou noir brossé soleil ponctué d'index galbés, comportant un guichet de quantième à 6 heures, que survolent les aiguilles des heures, des minutes et des secondes rhodiées, le tout protégé par une glace inrayable traitée antireflets.
Particularité de la nouvelle «1948»: comme la pionnière, son boîtier arbore des cornes élégamment incurvées et facettées retenant un bracelet en cuir noir d'alligator à boucle déployante d'acier poli.
À 9 heures sur le flanc du boîtier, le rappel «1948» gravée sur une de ses deux plaquettes rapportées, ainsi que sa couronne à la silhouette particulière, complètent l'esthétique sereinement classique de la «1948» contemporaine.
PVR : CHF 2'800 € 2'490 $ 3'500

The contemporary version of the "1948" features a sturdy self-winding mechanical movement fitted with a ball-bearing device similar to the original's. 44 mm across, its finely polished stainless steel case with transparent sapphire porthole at the back embodies today's design preferences.
The case frames a silver-toned or sunray brush-patterned black dial enhanced with rounded hour markers and a date window at 6 o'clock, over which rotate rhodium-plated hour, minutes and seconds hands protected by an anti-reflexive scratch-resistant sapphire crystal.
Like the original design, today's "1948" comes with elegantly facetted and incurved case lugs securing a black alligator strap with polished steel deployment clasp. The small plates on ei-ther case flank, with "1948" engraved at 9 o'clock on one of them, and the crown's peculiar silhouette round out the coolly classic design signature of the contemporary "1948".
Eterna Tangaroa Three-Hands
Le calibre Sellita SW 200-1 à remontage automatique animant la Tangaroa Three-Hands lui donne 38 heures de réserve de marche. Avec ses 28 800 a/h, 26 rubis, 25,6 mm (11 1⁄2 lignes) de diamètre, il affiche l'heure, la minute, les secondes et le quantième. Trois aiguilles et des index bâtons rhodiés, un guichet de quantième à 3 heures et l'échelle des secondes sur le réhaut complètent l'élégant cadran de la Tangaroa Three-Hands.
Avec ses 42 mm de diamètre, ce boîtier sans surface plane se présente en acier inoxydable poli et satiné avec fond vissé comportant un fond en verre saphir et muni d'une glace saphir inrayable traitée antireflets. Il est étanche jusqu'à 50 m (5 bars). Un bracelet de cuir avec boucle ardillon complète l'ensemble.
The Self-winding Sellita SW 200-1 fitted in the Tangaroa Three-Hands provides 38 hours of reserve power. With its 28,800 v.p.h., 26 jewels, and diameter of 25.6 mm (11 1⁄2 lines), it displays hours, minutes, seconds and the date. Three rhodium-plated hands and baton hours markers, a date aperture at 3 o'clock and the seconds track on the dial flange round out the Tangaroa Three-Hands' stylish dial face.
A generous 42 mm across, its case devoid of any plane surfaces comes in polished and satin-finished stainless steel with screw-secured back featuring a sapphire crystal case back and glareproofed scratch-resistant sapphire crystal. It remains securely water-resistant down to 50 m (nearly 165 feet or 5 bars). A leather bracelet with pin buckle rounds out this attractive design.
Eterna Tangaroa Moonphase Chronograph
Au coeur de ce chronographe, le calibre Valjoux 7751 à remontage automatique offrant 48 heures de réserve de marche. Cadencé à 28 800 a/h, il comporte 25 rubis et présente un diamètre de 30 mm (13 lignes).
L'heure, la minute, les petites secondes, la date, l'affichage 24 heures, le jour de la semai-ne, le mois, les phases de la lune des deux hémisphères, les secondes et les minutes chronographiques sont affichées.
Ici également, un boîtier en acier inoxydable poli et satiné de 42 mm de diamètre dispose d'un fond vissé en saphir et d'une glace saphir inrayable traitée antireflets lui offrant une étanchéité jusqu'à 50 m (soit 5 bars). L'ensemble comporte enfin un bracelet en acier in-oxydable également poli et satiné, muni d'une boucle déployante.
Hours, minutes, seconds, the date, a 24-hour display, days of the week, months, moon-phases in both hemispheres, chronographic seconds and minutes.
At the heart of this chronograph beats a self-winding Valjoux 7751 calibre providing 48 hours' power reserve. Developing 28,800 v.p.h., it comprises 25 jewels and is 30 mm (13 lines) in diameter.
Here too, a case 42 mm across in polished and satin-finished stainless steel features a screw-secured back with sapphire glass and a glareproofed scratch-resistant sapphire crystal which together ensure its water-resistance to 50 m (nearly 165 feet or 5 bars). This model comes fitted with a polished and satin-finished stainless steel bracelet equipped with a deployment buckle.
Eterna Adventic
Visage, formes, finitions – l'Adventic exprime sereinement son élégance tranquille. Choix classique mais pratique, elle affiche l'heure, la minute, les secondes sur un sous-cadran, le quantième et l'heure GMT. Son esthé-tique répond tant aux attentes d'aujourd'hui, avec un boîtier aux savantes finitions mates et polies de 44 mm, qu'à la symbolique d'Eterna, les cinq billes de son logo se retrouvant sur le cadran mais également sur l'applique des minutes et sur la couronne. Une double rangée de cinq cannelures orne également les flancs du boîtier.
C'est le premier modèle d'Eterna à étrenner le calibre manufacture 3843, lui-même optimisé par un dispositif Eterna Spherodrive. À remontage automatique, ce nouveau calibre rond fait suite aux calibres manuels 3505 et 3510.
L'Adventic est actuellement disponible en trois variantes: en acier inoxydable avec cadran noir ou cadran blanc mais sous-cadran des secondes noir, et en or rose 4N à cadran blanc, cette dernière en édition limitée à 50 pièces. Un bracelet en alligator noir ou brun muni d'une boucle déployante complète l'ensemble. Toutes ses fonctions se règlent par la couronne à deux positions.
Face, shape, finish – the Adventic radiates quiet elegance from every angle. It provides the hours, minutes and running seconds on a subdial, the date and GMT. Designed and decorated in keeping with contemporary tastes, its 44 mm case displays elaborate matt and polished finishing. Eterna's five-sphere symbol is everywhere: on the dial, on the applied minute circle as well as on the crown. There's even a double row of five grooves around the case.
This is the first Eterna timepiece to incorporate the new Eterna proprietary calibre 3843, itself energized by an Eterna Spherodrive mechanism. This new round self-winding movement follows the introduction of hand-wound calibres 3505 and 3510.
The Adventic is currently available in a choice of three models: in stainless steel with black or white dial, both with black subdial for the seconds, and in 4N rose gold.
A black or brown alligator strap fitted with a practical deployment clasp rounds out this attractive new timepiece's features. All functions are set by the crown.
Eterna Chronograph Limited Edition 1938
Né sous le signe de l'Art Déco tardif, le Chronograph appartient à la grande période de recherches esthétiques qu'Eterna entreprit sur les chronographes à partir de l'entrée en service de son premier modèle, en 1934. C'est en 1938 qu'apparut cette composition à l'équilibre parfait.

Le Chronograph se caractérise avant tout par les angles droits tirés au cordeau de son boîtier en acier, soulignés par la géométrie de sa minuterie et le coloris de son cadran — exemples typiques de la hardiesse des designers de l'époque comme du choix de l'intégrer aujourd'hui à la collection Heritage.
Une valeur sûre, le calibre ETA 2894-2 à remontage automatique, offrant 42 heures de réserve de marche, cadencé à 28 800 a/h et comportant 37 rubis, équipe le Chronograph.
En plus de l'aiguille de secondes chronographiques au centre et d'un compteur de 30 minutes à neuf heures, actionnés par deux poussoirs, il affiche l'heure, la minute, la petite seconde à 3 heures et le quantième.
Son cadran à indications entièrement dorées sur fond noir mat comporte un savant entrelacs de cercles de minutes et de secondes que survolent des aiguilles également dorées et ponctué de 9 chiffres romains du même coloris.
Façonné en acier inoxydable brossé et poli, son boîtier étanche jusqu'à 50 m (5 bars) possède un fond pressé et numéroté de 0001 à 1938.
Supérieures à celle de l'original, ses dimensions de 36,00 par 45,50 mm pour 12,80 mm d'épaisseur reflètent les attentes esthétiques de notre époque. Enfin, sa glace saphir apparente, inrayable et traitée antireflets, ainsi que son bracelet noir en cuir véritable muni d'une boucle déployante complètent les attraits d'une pièce qui mérite amplement sa place dans l'histoire.
Reflecting the aesthetic codes of the late Art Deco period, the Chronograph limited edition 1938 is representative of the widespread design research undertaken by Eterna on the chronograph theme. This perfectly balanced design first saw the light of day in 1938. The Chronograph distinguishes itself from the crisply affirmed right angles of its stainless steel case, enhanced by the complex geometry and color scheme of its dial face. They testify both to the self-assured audacity of the designers of the period and to the reason for its inclusion in the Heritage collection.
The Chronograph is equipped with the tried and tested ETA 2894-2 selfwinding caliber providing 42 hours of reserve power, developing 28,800 v.p.h. and fitted with 37 jewels. Along with its chronograph seconds hand at center and a 30-minute totalizer at 9 o'clock, actioned by two pushpieces, it displays the hour, minute, running seconds at 3 o'clock and the date.
Its matt black dial face features an intricate pattern of gold-toned minute and seconds circles enhanced with nine similarly colored Roman numerals — swept by gold-toned hands. Made of brush-finished and polished stainless steel, the Chronograph case is water-resistant to 50 meters (nearly 165 feet). Its pressed-in case back is numbered 0001 to 1938. Larger than the original design's, its dimensions of 36.00 by 45.80 mm for a thickness of 12.80 mm abide by the aesthetic expectations of our time. Its raised sapphire crystal, scratchresistant and anti-reflective, and its black genuine leather strap with elegant deployment clasp round out the attractive features of a design that has well earned its place in history.
©


toute reproduction strictement interdite