Blancpain
Nouveautés 2012 des montres Blancpain
---
Blancpain Women Quantième Rétrograde
Novatrice du point de vue esthétique, la nouvelle Quantième Rétrograde surprend par son cadran avec sa marqueterie de nacre et ses affichages hors du commun. Les aiguilles des heures et minutes sont décentrées à 6h00. Le quantième est indiqué par une aiguille rétrograde qui permet d'un saut de revenir au premier jour du mois.
L'ensemble des fonctions est animé par un mouvement automatique, un allié des femmes actives contemporaines. Une touche onirique est apportée par la phase de lune à 12 heures logée dans un ciel étoilé de diamants. En écho, l'aiguille serpentine bleue montée d'une étoile assure une grande lisibilité de la date, dont l'affichage est réservé à la partie supérieure du cadran.
La lunette sertie de 40 diamants et le bracelet blanc apportent une dernière touche de féminité à cette pièce, sans oublier le diamant de la couronne.
Le fond saphir permet d'admirer l'élégance du décor floral de la masse et le coeur de ce garde temps, le calibre 2650RL.
Aesthetically innovative, the new Retrograde Calendar delights with its surprising dial, featuring mother-of-pearl marquetry and extraordinary detailing. Hour and minute counters are decentralised at 6 o'clock. The calendar is indicated by a retrograde hand, which consistently jumps back to the first day of the month.
The ensemble of technical functions are driven by an automatic movement; rendering the timepiece a fine companion for active, modern women. A dreamlike quality is introduced by the moon phase at 12 o'clock, which nestles in a starry, diamond-studded sky. Echoing the whimsical mood, the serpentine blue hand is tipped with a star, ensuring clear visibility of the date, displayed in the upper section of the dial.
The lunette, set with 40 diamonds, plus the white strap, accent the femininity of this piece, with the final flourish seen in a diamond-topped crown.
The sapphire display back showcases the charming flower-shaped oscillating weight, and the beating heart of this timepiece, the calibre 2650RL.
Blancpain Calendrier Chinois Traditionnel
Le Calendrier Chinois Traditionnel de Blancpain se base sur des principes fondamentaux établis depuis des millénaires et profondément ancrés dans la tradition chinoise. Sur son cadran se côtoient l'heure, les minutes et le quantième grégorien avec les indications principales du calendrier chinois : heure-double traditionnelle, jour, mois avec indication des mois intercalaires, signe du zodiac, ainsi que les 5 éléments et les 10 troncs célestes. La combinaison de ces derniers avec les 12 animaux du zodiac qui représentent les branches terrestres suit le cycle sexagénaire central à la culture chinoise.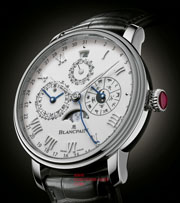 Les phases de lune, élément clé des calendriers complets de Blancpain, sont aussi présentées et jouent ici un rôle important vu le lien entre cycle lunaire et mois chinois traditionnels.
Contrairement au calendrier solaire grégorien qui utilise le jour solaire comme unité de base, le calendrier chinois traditionnel est un calendrier luni-solaire, c'est-à-dire un calendrier solaire dont l'unité de base est le cycle lunaire (29,53059 jours).
Une année de 12 mois lunaires (354,36707 jours) étant trop courte d'approximativement 11 jours par rapport à l'année tropique (ou solaire, 365,242374 jours), un mois intercalaire vient parfois s'y ajouter pour préserver la correspondance avec le cycle des saisons. Comme chaque mois du calendrier chinois, y compris les mois intercalaires, commence le jour de la nouvelle lune, sa longueur est de 29 ou 30 jours. Ainsi, lorsqu'une année comporte un mois intercalaire, cette année de 13 mois sera plus longue que l'année tropique. Au contraire, lorsqu'il n'y a pas de mois intercalaire, l'année de 12 mois lunaires est plus courte que l'année tropique.
Cette particularité est à l'origine de la variabilité de la date du Nouvel An chinois.
Le nouveau Calibre automatique 3638 qui anime cette montre est doté de 7 jours de réserve de marche, malgré la présence de 434 composants dont 39 rubis. Sa complexité est liée tant au nombre d'indications à afficher qu'à l'irrégularité de leurs cycles. L'heure, les minutes et le quantième grégorien sont présentées au centre. Le compteur à midi indique les heures doubles en chiffres et en symboles (cycle de 24h). Celui à 3h, les éléments et les troncs célestes (cycle de 10 ans). À 9h sont indiqués le mois du calendrier chinois (cycle de 12 mois), son quantième (cycle de 30 jours) et l'indicateur des mois intercalaires, tandis qu'un guichet à midi laisse apparaitre le signe du zodiac de l'année en cours (cycle de 12 ans). Les phases de lune sont affichées à 6h.
Le boitier en platine de 45 mm de diamètre est doté d'une couronne ornée d'un rubis cabochon et intègre 5 correcteurs sous cornes pour permettre le réglage des indications. Il renferme les caractéristiques classiques de la collection Villeret : sa forme en double pomme, un cadran en email grand feu dont le tour d'heure est constitué d'appliques en or et les indications sont décalquées avant la mise en feu, les aiguilles principales en forme de feuilles légèrement évidées et celle du quantième grégorien en acier bleui qui reprend la forme serpentine traditionnelle.
Cette montre limitée à 20 exemplaires est dotée d'une masse en or blanc, sertie d'un rubis de Madagascar et gravée d'un dragon pour célébrer l'année 2012.
The Traditional Chinese Calendar watch by Blancpain is based on fundamental principles established for millennia and profoundly rooted in Chinese tradition. On its fascinating dial, the hours, minutes and the Gregorian calendar rub shoulders with the main indications of the Chinese calendar: traditional double-hour indication, day, month with indication of leap months, signs of the zodiac, as well as the five elements and the 10 celestial stems.

The combination of the latter with the 12 animals of the zodiac that represent the terrestrial branches follows the sixty-year cycle that is central to Chinese culture. The moon phases, a key element in Blancpain complete calendars, are also presented and play a particularly important role in this model, given the link between the lunar cycle and traditional Chinese months.
Contrary to the Gregorian solar calendar which uses the solar day as the base unit, the traditional Chinese calendar is a lunisolar calendar, meaning a solar calendar with the lunar cycle (29.53059 days) as its base unit. Since a year comprising 12 lunar months (354.36707 days) is approximately 11 days too short compared with the tropical or solar year (365.242374 days), a leap month is sometimes added to preserve the match with the cycle of the seasons. Given that each month of the Chinese calendar, including the leap months, begins on the day of the new moon, its length is either 29 or 30 days. This means that when a year comprises a leap month, this 13-month year will be longer than the tropical year. On the contrary, when there is no leap month, the year of 12 lunar months is shorter than the tropical year.
This distinctive feature is the reason behind the variable date of the Chinese New Year.
The new self-winding Calibre 3638 powering this watch is endowed with a 7-day power reserve, despite the presence of 434 parts including 39 jewels. Its complexity stems as much from the number of indications to be displayed as from the irregular nature of their cycles. The hours, minutes and the Gregorian calendar are presented in the centre. The counter at 12 o'clock indicates the double-hour numerals and symbols (24-hour cycle); while the one at 3 o'clock shows the elements and the celestial stems (10-year cycle).
The month of the Chinese calendar (12-month cycle), its date (30-day cycle) and the leap month indicator appear at 9 o'clock, while a 12 o'clock aperture reveals the zodiac sign of the year in progress (12-year cycle); and the moon phases are displayed at 6 o'clock.
The 45 mm-diameter platinum case is fitted with a crown adorned with a cabochon-cut ruby and comprises five integrated under-lug correctors serving to adjust the indications. It features the classic signature features of the Villeret collection: its double-stepped shape; a grand feu enamel dial with a chapter ring composed of gold appliques ,and indications transferred before the firing process; the main hands shaped like slightly hollowed leaves; and the blued steel Gregorian date pointer appearing in the traditional serpentine form. This 20-piece limitededition watch is equipped with a white gold oscillating weight, set with a Madagascar ruby and engraved with a dragon to celebrate the year 2012.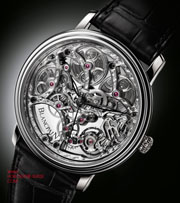 Blancpain Villeret squelette 8 jours
Le calibre manufacture 1333SQ à remontage manuel appartient à une famille de mouvements qui ont fait leurs preuves au niveau robustesse, fiabilité et précision. Il est doté d'un balancier en titane, d'un spiral Breguet et de 3 barillets montés en série pour une réserve de marche de 8 jours.
Entièrement ajouré et décoré, il est visible dans sa totalité au travers des deux glaces saphir du boitier de 38 mm en or blanc qui vient simplement l'envelopper et en souligner la légèreté.
The hand-wound Manufacture Calibre 1333SQ belongs to a family of movements that have proven their worth in terms of sturdiness, reliability and precision. It is equipped with a titanium balance, a Breguet balance-spring, and three series-coupled barrels ensuring an eight-day power reserve.
This entirely openworked and decorated movement is fully visible through the two sapphire crystals on the front and back of the 38 mm white gold case, which simply envelops it and accentuates its light, airy design.
Blancpain L-evolution Chronographe Flyback rattrapante
Prouesses techniques et reflet de la force d'innovation de Blancpain, la lunette, le fond, le cadran, sont en carbone.
Pour affirmer ce côté sportif, l'affichage de la grande date reprend une police digitale, des touches de rouge détonnent sur le fond noir, le poussoir à 8h rappelle la forme d'un bouchon de réservoir et le compteur à 9h est en forme d'écusson.
Au coeur de ce nouveau modèle, le calibre 69F9 avec ses 409 composants et 44 rubis dispose de 40h de réserve de marche. Il est doté d'une roue à colonnes qui garantit une réaction précise des poussoirs et d'un embrayage vertical qui évite tout saut inopiné de l'aiguille au démarrage du chronographe. Ce mouvement associe un chronographe flyback à rattrapante et une grande date à double guichet.
Complication majeure de l'horlogerie, le chronographe à rattrapante permet la lecture de temps intermédiaire grâce à une aiguille dite rattrapante qui est superposée à la trotteuse. Lorsque l'on actionne la fonction rattrapante à l'aide du poussoir à 8h, l'aiguille s'arrête permettant la lecture d'un temps intermédiaire, tandis que la trotteuse continue sa marche. Une deuxième pression sur ce poussoir permet à la rattrapante de « rattraper » la trotteuse.
La fonction flyback qui permet une remise à zéro et un redémarrage instantané du chronographe, s'actionne en appuyant sur le poussoir à 4h.
This high-tech material was used to create certain watch components: the carbon fibre bezel, caseback and dial represent significant technical feats, reflecting Blancpain's characteristic innovative strength. To accentuate this sporting personality, the large date display features a digital font; red accents punctuate the black background; the 8 o'clock pusher echoes the shape of a fuel-cap; and the 9 o'clock counter that of an insignia.
At the heart of this new model beats Calibre 69F9 with its 409 parts including 44 jewels, ensuring a 40-hour power reserve. It is equipped with a column wheel that guarantees precise pusher control, as well as a vertical coupling-clutch that avoids any unwanted jerking of the hand when the chronograph is activated. This movement combines a flyback split-second chronograph mechanism with a large twin-aperture date display.
The split-second chronograph function is a major horological complication that enables readings of "split" or intermediate times thanks to a so-called split-second (rattrapante or "catch-up" in French) hand that is superimposed on the chronograph sweep seconds hand. When the split-second function is activated via the pusher at 8 o'clock, the hand stops to enable reading of a split time, while the sweep seconds hand continues running. A second press on the pusher enables the split-second hand to "catch up with" the sweep seconds hand.
The flyback function, enabling reset and instant restart of the chronograph, is activated by pressing the pusher at 4 o'clock.
Eric Cosandey
©


toute reproduction strictement interdite