L'histoire de Milus, marque de montres suisses raffinées, commence par le rêve d'un pionnier: Paul William Junod (1896-1951) souhaitait créer une montre solide mais élégante, un accessoire précieux que chacun aimerait posséder.
Cet objectif est à l'origine de l'entreprise créée en 1919 à Bienne, située Route de Reuchenette 21, et restée propriété de la famille Junod jusqu'en 2002.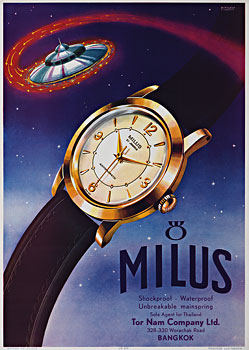 En 1951, après la mort du fondateur Paul William Junod, son fils Paul Herbert prend la direction de l'entreprise familiale.
Prix 1970 – 1973 À trois reprises, Milus reçoit la Rose d'or de Baden-Baden pour ses extravagantes montres bijoux.
1970: Rose d'or de Baden-Baden grâce au modèle «La mer»
1971: Rose d'or de Baden-Baden grâce au modèle «Montre de poche»
1973: Rose d'or de Baden-Baden grâce au modèle «Avant-garde»
En 1982, Paul Herbert Junod passe la main à ses deux fils, Paul et Pierre Junod, dont les compétences de direction et de développement de l'entreprise se complètent parfaitement. Pierre se consacre aux finances tandis que Paul, le «technicien», l'ingénieur extrêmement doué, diplômé de la célèbre école biennoise «School of Watch making», innove sans cesse dans la forme et élabore un nouveau concept de design pour la marque Milus.

De 1986 à 2001, Milus s'est vu décerner divers prix pour ses montres; partout dans le monde, ses modèles sont exposés dans les grands Musées. Enfin, en 2000, la marque a été sélectionnée pour l'édition spéciale «les 50 marques de l'horlogerie suisse au XXe siècle».
2002 – début d'une nouvelle ère
La constitution de la nouvelle société «Milus International SA», initiative soutenue par le Peace Mark Group de Hong Kong, marque le début d'une nouvelle ère.
The story of Milus, the brand of finest Swiss watches of the highest quality, begins with the ideal of its pioneering founder, Paul William Junod (1896-1951), to create a robust yet elegant watch – a precious accessory, which everyone would wish to own.
With this goal, in 1919 he set up the business at Route de Reuchenette 21 in Biel, which remained in the ownership of the Junod family until 2002.
After the death of the founder Paul William Junod in 1951, his son Paul Herbert took over management of the family business.
Milus' flamboyant jewellery watches received prizes in three successive years, as part of the "Golden Rose of Baden Baden" awards.
1970 - "Rose d'Or de Baden-Baden" award for the "La Mer" model
1971 - "Rose d'Or de Baden-Baden" award for the "Montre de Poche" model
1973 - "Rose d'Or de Baden-Baden" award for the "Avant-Garde" model
In 1982 Paul Herbert Junod handed over the company to his two sons Paul and Pierre Junod, who complemented each other perfectly in the management and further development of the company.
While Pierre devoted himself to the financial affairs of the business, Paul, the "technician" and extremely talented engineer and graduate of the celebrated Biel "School of Watchmaking", continually developed innovative shapes as well as a new design concept for the Milus brand.
From 1986 to 2001 Milus watches were honoured with various prizes; these models feature in exhibitions in leading museums throughout the world.
In 2000 the brand was finally chosen and nominated for the special edition "The 50 brands of the Swiss watch industry in the 20th century".
With the formation of the new company "Milus International SA", supported by the Peace Mark Group, Hong Kong, a new era begins for the brand.