Academy Zero Gravity tourbillon
Ce tourbillon gyroscopique offre un nouvel angle d'approche d'un dispositif inventé il y a plus de deux siècles. Cet hommage à la tradition horlogère est agrémenté d'un bon nombre de touches modernes et originales grâce à la disposition asymétrique des affichages.
Les heures et minutes décentrées à 11 heures, ainsi que le module Tourbillon Zero-G à 5 heures tracent ensemble les contours du chiffre 8, symbole universel de chance et d'infinité, alors que la petite seconde apparaît à 7 heures 30, presque à la diagonale de la couronne placée de manière inédite à 2 heures.
Les verres saphir antireflets sur la face avant protègent et augmentent la visibilité du cadran multi-strates et de ses diverses indications ainsi que du module Zero-G, alors que le fond de boîtier transparent offre une vue optimale des incroyables complexités du mouvement en marche.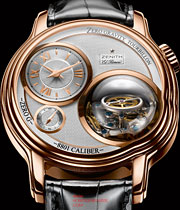 Le calibre El Primero 8801 à 43 rubis équipant l'Academy Zero Gravity Tourbillon est doté d'un rotor en platine 950 PT, ainsi que d'une cage de tourbillon gyroscopique composée de 160 pièces, avec 10 roues à engrenage coniques et de 6 roulements à bille. Comme tout mouvement Zenith El Primero, il bat naturellement la cadence à 36'000 alternances par heure, et offre une autonomie de réserve de 50 heures.Ajusté au poignet par un bracelet en croco noir avec une doublure soyeuse en veau alvazel et une boucle en or 18 carats à triple fermoir déployant, l'Academy Zero Gravity Tourbillon se décline en or rose ou en or blanc. Tous les modèles sont numérotés individuellement.
Moreover, just as the gyroscopic tourbillon offers a new twist on a device invented over two centuries ago, this tribute to horological tradition is enlivened by a number of original modern touches provided by the asymmetrical arrangement of the displays. The off-centred hours and minutes at 11 o'clock and the "Zero-G" Tourbillon module at 5 o'clock form the outline of a figure 8, a universal symbol of good luck and infinity; while the small seconds appears at 7.30 almost diagonally opposite the distinctively placed crown at 2 o'clock. Anti-reflective sapphire crystal plates on the front protect and enhance the visibility of the multilayered dial and its multiple indications along with the Zero-G module; while the transparent exhibition case-back ensures an optimal view of the stunning intricacies of the movement in operation.
The El Primero 8801 self-winding 43-jewel calibre powering the Academy Zero Gravity Tourbillon comprises a rotor in 950 PT platinum, as well as a 160-part gyroscopic carriage with 10 conical-geared wheels and 6 ball bearings. Like all Zenith El Primero movements, it naturally beats at the frequency of 36,000 vph, and offers a 50-hour power reserve.
Adjusted to the wrist by a black crocodile leather strap with silky alvazel calfskin lining and an 18-carat gold triple folding clasp, the Academy Zero Gravity Tourbillon comes in a choice of white or rose gold. All models are individually numbered.
Zenith Class Traveller Open Multicity Alarm
Outre la possibilité de lire le temps quelque soit le fuseau horaire, ce garde-temps exceptionnel s'équipe également d'une alarme réglable sur 12 h. Composé de 439 composants et 41 rubis, El Primero 4046 est le premier mouvement automatique intégrant un chronographe avec une roue à colonnes, une grande date, un world timer, un double barillet et une alarme.
Les deux barillets ont des fonctions distinctes, l'un dédié à l'alarme, l'autre concentrant toute l'énergie nécessaire pour la montre.
La couronne à 8h permet de régler l'heure de l'alarme et de la remonter manuellement. Cette couronne est surmontée d'un poussoir qui permet d'activer le mécanisme on – off de l'alarme.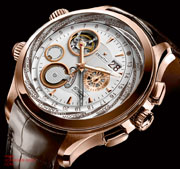 In addition to the ability to display the time whatever the time zone, this exceptional timepiece also includes an alarm that is adjustable over a 12 hour-period. With 439 components and 41 rubies, El Primero 4046 is the first automatic movement to incorporate a column wheel chronograph, a Grande Date, a world timer, a double barrel and an alarm.
The two barrels have separate functions, one dedicated to the alarm and the other focusing all its energy on the watch. The crown at 8 o'clock allows the alarm to be set and the watch to be rewound manually.
The crown also has a push-button to switch the alarm mechanism on and off.
The Originals et New Vintage 69
En 2009, ZENITH célèbre les 40 ans du El Primero crée en 1969. Cet anniversaire est marqué par la sortie de deux séries spéciales célébrant la première montre qui fut équipée du calibre mythique El Primero : The Originals et New Vintage 69.
Le calibre El Primero de ses séries Anniversaire a été baptisé 469 en clin d'œil à l'année de création du modèle original. Ce mouvement automatique Chronographe Date est composé de 278 composants et 31 rubis. Cet hommage est orchestré en 3 temps avec trois matériaux pour un même design de boite (40 mm) directement inspiré du modèle original en série collector et limitée.
La première série, baptisée « The Originals », reste fidèle au design d'époque avec un subtil twist au niveau des compteurs qui se rejoignent au centre du cadran au point de se toucher. La deuxième collection, « New Vintage 1969 », est composée de modèles également inspirés du modèle d'origine.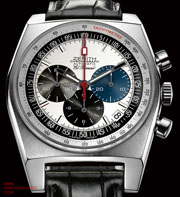 Le logo anniversaire El Primero apposé sur le cadran à 7h se retrouve gravé en écho sur le fond transparent saphir de la boite. Un détail particulier retient immédiatement l'attention. Les cadrans de cette série sont traversés d'une bande de lumière singulière.
In 2009, ZENITH celebrates the 40th anniversary of the El Primero which was created in 1969. This occasion is marked by the launch of two special series celebrating the first timepiece to be fitted with the legendary El Primero calibre: The Originals and New Vintage 69.
The El Primero calibre for these Anniversary series has been named the 469 in nodding acknowledgement of the year in which the original model was created. This automatic Date Chronograph movement comprises 278 components and 31 rubies.
The tribute is orchestrated in 3 parts, with three materials for the same (40 mm) case design directly inspired by the original model, in a collector's limited edition series.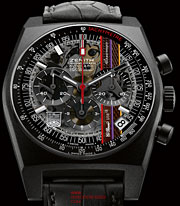 The first series, named « The Originals », is faithful to the vintage design, but with a subtle twist for the counters which meet and almost touch at the centre of the dial.
The second collection, « New Vintage 1969 », comprises models also inspired by the original model.
The El Primero Anniversary logo on the dial at 7 o'clock is echoed in the engraving on the transparent sapphire back of the case - a special detail that immediately commands attention. The dials in this series are crossed by an unusual band of light.
Tourbillon Chronographe Date El Primero
L'hyper complication de cette pièce ajoutant à ce Tourbillon Chronographe Date El Primero une phase de lune et de soleil donne naissance à un calibre exceptionnel, le 4034 comptant 353 composants et 35 rubis.
L'autre prouesse technique réside dans l'indication de la petite seconde par un trident en or posé sur la glace saphir du pont du tourbillon.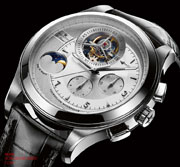 The hyper-complication adds a moon and sunphase indicator to this El Primero Date Tourbillon Chronograph, producing an exceptional calibre, the 4034 with 353 components and 35 rubies.
The other technical feat is the gold trident- shaped second indicator on the sapphire glass of the Tourbillon bridge.