Jaeger-LeCoultre
Nouveautés 2013 des montres Jaeger-LeCoultre
---
Master Grande Tradition Gyrotourbillon 3 Jubilee
Le dernier des 1242 calibres construits par la Grande Maison de la Vallée de Joux porte la désignation de calibre 176. Développé, manufacturé et assemblé dans les ateliers des grandes complications de la Manufacture, il associe au gyrotourbillon la fonction chronographe.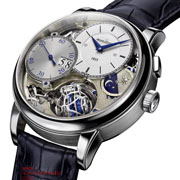 Jaeger-LeCoultre a developpé un chronographe à affichage digital instantané dont l'extraordinaire précision l'inscrira dans la légende de l'art horloger, car il s'agit du premier chronographe associé à un tourbillon sphérique volant.
Là aussi, l'essentiel – la perfection de la fonction – se pare d'une beauté pure : un cadran rond, parcouru par une simple aiguille des secondes, qui commence à se mouvoir à l'enclenchement du chronographe, et dont la pointe désigne, à l'arrêt, les subdivisions d'une échelle classique de 0 à 60 où sont portés les chiffres des dizaines par souci de clarté.
Toutefois, plutôt que de comptabiliser ses rotations sur un compteur annexe, les horlogers de Jaeger-LeCoultre ont opté pour un affichage digital instantané, composé de deux guichets aux dimensions généreuses, juxtaposés à 3 heures sur le cadran du chronographe.
Autre précision, le chronographe de la Master Grande Tradition Gyrotourbillon 3 Jubilee, est de type monopoussoir, une caractéristique historique qui rappelle les réalisations de la fin du XIXe siècle.
La Master Grande Tradition Gyrotourbillon 3 Jubilee se présente dans une nouvelle boîte en platine extra-blanc, qui possède un diamètre de 43,5 millimètres et une hauteur de 15.5 millimètres.
D'une grande élégance, la lunette et les cornes s'ornent d'une finition polie qui forme un délicat contraste avec les flancs de boîtier satinés.
The latest of the 1,242 calibres built by the Grande Maison in the Vallée de Joux is named Calibre 176. Developed, crafted and assembled in the Grande Complication workshops of the Manufacture, it combines the gyrotoubillon with a chronograph function. Jaeger-LeCoultre has developed an instantaneous digital-display chronograph boasting extraordinary precision that destine it to become a new watchmaking legend, since it is the first chronograph to be associated with a flying spherical tourbillon.
Once again, the essence of this model – the perfection of the function – is clothed in pure beauty beautifully expressed on its round dial. The latter is swept over by a single seconds hand that begins running as soon as the chronograph is activated, and of which the tip, when it stops, points to the subdivisions on a classic 0 to 60 scale bearing 10-second numerals for enhanced clarity.
Nonetheless, rather than counting its rotations on a subdial, the Jaeger-LeCoultre watchmakers have opted for an instantaneous digital display, composed of two generously sized apertures appearing side by side at 3 o'clock on the dial of the chronograph.
It is also worth noting that the chronograph function of the Master Grande Tradition Gyrotourbillon 3 Jubilee is of the single push-piece type, an historical feature reflecting that characteristic of late 19th century models.
The Master Grande Tradition Gyrotourbillon 3 Jubilee comes in a new extra-white platinum case measuring 43.5 millimetres in diameter and 15.5 millimetres thick. The superbly elegant bezel and lugs are adorned with a polished finish creating a delicate contrast with the satin-brushed case sides.
Duomètre Unique Travel Time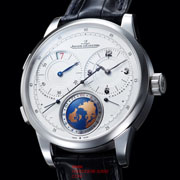 Première mondiale sur une montre worldtime: la montre permet de régler l'heure du fuseau de voyage à la minute. Grace au worldtime le voyageur peut régler son fuseau horaire sur tous les continents et pays quelque soit le décalage horaire.
Pour ce nouveau mouvement, Le système Dual-wing se divise en deux mécanismes: le premier mécanisme est dédié à l'affichage de l'heure locale et le second sert à l'affichage du deuxième fuseau horaire. Les deux mécanismes partagent le même organe réglant mais disposent chacun de leur propre source d'énergie indépendante évitant ainsi les pertes dues aux interactions entre les mécanismes. Gain considérable pour la précision de la montre, le fonctionnement du deuxième fuseau horaire n'influence pas le fonctionnement de la montre.
Chaque mécanisme dispose de 50 heures de réserve de marche, et dans la recherche de facilité d'utilisation absolue, la même couronne permet de remonter les deux barillets. Une rotation anti-horaire remonte le barillet de l'heure tandis qu'une rotation dans le sens horaire permet de remonter le barillet du fuseau de voyage.
Deux magnifiques compteurs disposés symétriquement donnent un équilibre parfait au visage de cette création horlogère - le premier cadran à 2h met en scène les heures et les minutes, et le second à 10h accueille les heures et les minutes du worldtime.
Incitation au voyage, telle une mappemonde, l'indication jour/nuit et le disque des heures sont disposés à 6h, ce qui facilite la lecture. La couronne unique est utilisée pour le réglage de l'heure du fuseau de voyage en position 1 et l'heure locale en position 2, ainsi que pour le remontage des ressorts moteurs en position 0. Il suffit de tourner la couronne dans le sens horaire pour armer le barillet de l'indication horaire et la tourner dans le sens inverse pour remonter celui du fuseau de voyage.
Série limitée à 100 exemplaires en or gris 18 carats, la montre Duomètre Unique Travel Time a été spécialement réalisée pour l'inauguration de la boutique Jaeger-LeCoultre Place Vendôme à Paris, où elle sera disponible dès le 20 novembre.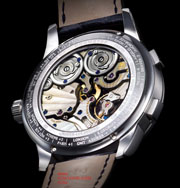 For the first time ever on a worldtime watch, this model enables the user to adjust the time in the travel time zone to the nearest minute. The worldtime function thus enables travellers to adjust their time-zone display to all continents and countries, whatever the time-zone difference.
For this new movement, the Dual-Wing system is divided into two distinct mechanisms: the first is devoted to displaying the local time, and the second to show that in a second time zone.
The two mechanisms share the same regulating organ but each has its own independent source of energy, thereby avoiding the losses due to interaction between the mechanisms. The operation of the dual time-zone display does not in any way influence the running of the watch, a fact that considerably enhances the precision of the watch.
Each mechanism has a 50-hour power reserve and, governed by a wish to achieve ideal userfriendliness, the same crown serves to wound both barrels.
The timekeeping barrel is wound by a counter-clockwise rotation, and the travel-time barrel by a clockwise rotation.
Two magnificent symmetrically arranged subdials lend a perfectly balanced touch to this horological creation: the first subdial at 2 o'clock sets the stage for the hour and minute hand; while the second at 10 o'clock hosts the hour and minutes of the worldtime.
Beckoning observers to travel and presented like a globe, the day/night indication and the hours disc are placed at 6 o'clock, a location that considerably facilitates their read-off. The single crown is used to adjust the travel time zone in position 1, and the local time in position 2, as well as to wind the mainsprings when in position 1. Turning the crown in a clockwise direction winds the standard time indication and, turning it in the opposite direction winds the travel time-zone indication.
Issued in a 100-piece limited series in 18-carat white gold, the Duomètre Unique Travel Time watch has been specially produced for the inauguration of the Jaeger-LeCoultre Place Vendôme in Paris, where it will be available as of November 20th.
Master Tourbillon Dualtime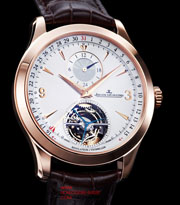 La montre Master Tourbillon Dualtime abritant le mouvement automatique calibre Jaeger-LeCoultre 978B, affiche également un second fuseau horaire sur un cadran qui témoigne d'une perfection esthétique indissociable du génie technique.
Dotée d'une cage de Tourbillon retravaillée, les horlogers de la Manufacture n'ont fait aucun compromis quant aux performances, à la fiabilité et la robustesse de ce modèle.
Le régulateur à tourbillon en titane accompagne un mouvement automatique de haute précision qui décrit 28'800 alternances à l'heure et possède un balancier inédit de très grandes dimensions d'une inertie de 11,5 mg x cm2.
The Master Tourbillon Dualtime housing an automatic movement, Jaeger-LeCoultre Calibre 978B, displays a second time-zone on a dial testifying to a degree of aesthetic perfection that is inseparable from technical genius.
On this model equipped with a reworked tourbillon carriage, the watchmakers of the Manufacture have made no compromises regarding its performance, reliability and sturdiness.
The titanium tourbillon regulator accompanies a high-precision automatic precision beating at 28,800 vibrations per hour and equipped with an unusual and extremely large balance featuring an inertia amounting to 11.5 mg x cm2.
Grande Reverso Ultra Thin Duoface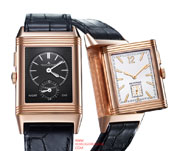 En 2011, à l'occasion des 80 ans de la Reverso, Jaeger-LeCoultre a présenté la Grande Reverso Ultra Thin 1931 afin de rendre hommage à cette icône horlogère restée unique. En 2013, l'année de son 180e anniversaire, la Manufacture dévoile la Grande Reverso Ultra Thin Duoface, en présentant en deuxième fuseaux horaires à son verso.
Au moment du pivotement, la magie opère une fois encore.
Assurément, nul n'ignore plus que ce simple geste fera surgir un second cadran. Néanmoins, la surprise demeure avec ce deuxième cadran noir au motif de clous de Paris guillochés qui comprend un tour d'heures principal aux 12 subdivisions pour afficher le second fuseau horaire, tandis que l'indication 24 heures, qui est disposée en dessous et adopte également une forme de cercle, comporte, sur la gauche, la mention « NIGHT » et, sur la droite, « DAY ».
Un nouveau poussoir, harmonieusement intégré au flanc de boîtier, offre un réglage confortable du second fuseau horaire par sauts d'une heure.
En proposant ce nouveau modèle Duoface dans un boitier Ultra plat, la Manufacture Jaeger- LeCoultre réalise une nouvelle prouesse technique. L'oeil n'est ici victime d'aucune illusion et l'épaisseur totale n'excède vraiment pas 9,14 millimètres.
Le mouvement à remontage manuel de calibre Jaeger-LeCoultre 854/1, comprend 180 pièces et décrit 21'600 alternances par heure, mais possède une hauteur qui ne dépasse pas 3,80 millimètres.
In 2011, to mark the 80th anniversary of the Reverso, Jaeger-LeCoultre presented the Grande Reverso Ultra Thin 1931 in tribute to this iconic watch that has remained as unique as ever.
In 2013, the year of its 180th corporate anniversary, the Manufacture unveils the Grande Reverso Ultra Thin Duoface, an ultra-thin model revealing the watchmaking genius of Jaeger-LeCoultre by introducing a dual time-zone display on its back.
Pivot the case, and the magic weaves its spell all over again. While few can now be unaware that this smooth move will reveal a second dial, this model nonetheless springs a surprise effect with this second black dial featuring a "Clous de Paris" hobnail guilloché motif and displaying a main chapter ring with 12 subdivisions to display the second time zone, while the 24-hour indication appears below in the form of a circle bearing the words "NIGHT" on the left and "DAY" on the right.
A new push-piece, seamlessly integrated within the side of the case, enables comfortable adjustment of the second time zone in one-hour increments. In offering this new Duoface model in an ultra-thin case, the Manufacture Jaeger-LeCoultre is achieving a new technical feat.
There is no optical illusion here and the total thickness is indeed a mere 9.14 millimetres.
The mechanical manually-wound movement, Jaeger-LeCoultre Calibre 854/1, comprises 180 parts and its balance oscillates at a frequency of 21,600 vibrations per hour – while measuring just 3.80 thick.
Rendez-Vous Celestial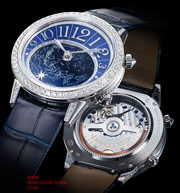 Dans son boîtier en or gris 18 carats, la montre dévoile son charme par ricochet. Comme un écho lumineux, les diamants dansent de la tranche du boîtier jusqu'aux couronnes et la lunette, pour finalement s'épanouir en diadème au-dessus des chiffres.
Le cadran cède à la beauté des métiers rares tout en préservant la lisibilité de toutes les fonctions. Les chiffres des heures emblématiques de la collection étirent leur silhouette contemporaine sur la courbe d'un croissant guilloché à la main selon la tradition ancestrale de cet art décoratif, et recouvert d'une laque bleue transparente.
L'arc des heures vient coiffer un disque qui offre le spectacle captivant de la voûte céleste avec la constellation apposée sur une plaque précieuse de Lapis Lazuli.
Dans un esprit poétique, les concepteurs de la pièce ont choisi d'intégrer une étoile filante pour personnaliser le temps : instrumenté par une deuxième couronne ornée d'un diamant inversé, l'astre mobile permet de fixer soi-même un rendez-vous avec les étoiles.
Soulignant les ambitions célestes qui font de cette montre un instrument parfait pour se livrer à des observations astronomiques, un calendrier zodiacal est situé sur le cadran et permet de montrer la position des constellations à tout moment de l'année, par l'entremise d'un quantième annuel qui régule le système d'affichage et de mesure du temps.
Le mouvement mécanique à remontage automatique, calibre Jaeger-LeCoultre 809, fait tourner le disque des étoiles, presque imperceptiblement au rythme de 23 heures 56 minutes 04 secondes.
Nestling in its 18-carat white gold case, the watch reveals the full force of charm by a ricochet effect. Like a luminous echo, diamonds dance across the sides of the case all the way to the crowns and the bezel, before unfurling like a diadem above the numerals.
The dial succumbs to the beauty of rare crafts while preserving the impeccable readability of all the functions. The collection's characteristic hour numerals feature a contemporary shape stretching across the curve of a crescent that is hand-guilloché according to the ancestral tradition of this decorative art, and coated with a transparent blue lacquer.
The hour arc tops a disc providing a spectacular vision of the sky with the constellation appearing on a precious lapis lazuli plate. Offering a delightfully lyrical touch, the designers of the model have chosen to incorporate a shooting star as a means of customising time: via a second crown adorned with an inverted diamond, the mobile star serves to set a personal rendezvous with the stars.
Accentuating the celestial ambitions that make this watch a perfect instrument for making astronomical observations, a zodiac calendar on the dial serves to show the position of the constellations sat any moment of the year, by means of an annual calendar that governs the system of time display and measurement.
The mechanical automatic movement, Jaeger-LeCoultre Calibre 809, rotates the star disc at the imperceptibly gradual pace of one turn every 23 hours, 56 minutes and 04 seconds.
Master Ultra Thin 41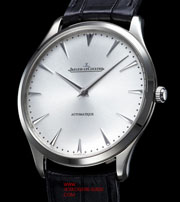 Dans ses deux versions, l'une en acier avec un cadran argenté soleillé et des index rhodiés polis, l'autre en or avec un cadran coquille d'oeuf et des index dorés 4N en applique, la Master Ultra Thin 41 incarne un équilibre parfait de retenue et de force.
Une aiguille dauphine pour les heures, une autre pour les minutes. Un mouvement automatique dont le mode de fonctionnement est opportunément rappelé dans la partie inférieure du cadran.
A 12 heures, le logo Jaeger-LeCoultre dont l'association des deux noms évoque les valeurs complémentaires de deux esprits visionnaires, l'homme d'affaires parisien et l'entrepreneur établi dans les montagnes du Jura, toujours prêt à relever les défis les plus audacieux. Avec sa hauteur de 3,30 millimètres, le calibre automatique Jaeger-LeCoultre 898C offre une réserve de marche de 43 heures.
Il est inséré dans un nouveau boîtier de 41 millimètres de diamètre, à la minceur remarquable de 7,48 millimètres.
In both versions, one in steel with a sunburst silver-toned dial and polished rhodium-plated hour-markers, and the other with an eggshell-white dial and 4N gold-plated applied hourmarkers, the Master Ultra Thin 41 embodies a perfect blend of strength and restraint. One of the dauphine-type hands points to the hours, and the other to the minutes.
The operating mode of the automatic movement is discreetly indicated on the lower part of the dial.
At 12 o'clock, the Jaeger-LeCoultre logo features the association of two names evoking the complementary values of two visionary minds: that of the Parisian businessman and that of the entrepreneur in the Jura mountains who was always keen to take on the most daring challenges.
At just 3.30 mm thick, automatic Jaeger-LeCoultre Calibre 898C boasts a 43-hour power reserve. It is fitted inside a 41 mm-diameter case measuring a remarkably slender 7.48 mm.

Eric Cosandey
©


toute reproduction strictement interdite