Glashütte Original
Nouveautés 2013 des montres Glashütte Original
---
Senator Chronometer Regulator
Jadis, le terme régulateur renvoyait immédiatement à un type particulier d'horloge à pendule. Ces horloges étaient utilisées d'une part dans les ateliers horlogers, pour régler les montres à l'heure exacte et contrôler la précision de plus petites horloges ; et d'autre part dans la recherche scientifique, pour mesurer le temps avec une incroyable exactitude.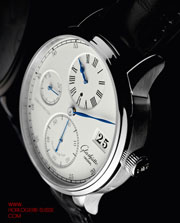 Dans un souci de lisibilité, les aiguilles s'organisaient sur différents axes : les minutes siégeaient magistralement au centre, tandis que les autres indicateurs, plus petits, s'articulaient de manière décentrée autour du cadran.
Glashütte Original s'est inspirée de cette disposition particulière pour la nouvelle Senator Chronometer Regulator, qu'elle a adaptée à une taille convenable pour une montrebracelet.
Au centre du cadran en argent grainé laqué, l'aiguille des minutes bleuie trône fièrement avec son oeil poli.
L'affichage des heures et celui des secondes viennent respectivement s'aligner au-dessus et en dessous de l'indicateur des minutes sur un axe central.
Une échelle des minutes noire toute en finesse, gravée et galvanisée, donne le rythme aux autres indicateurs en périphérie, et des chiffres romains viennent ourler la trajectoire de l'aiguille des heures.
La grande date caractéristique de Glashütte Original s'installe à 3 heures, avec des chiffres d'un noir intense imprimés sur des disques ivoire, et se fond parfaitement dans le design général du cadran.
Exclusivité développée par les designers de la manufacture, le changement de date s'opère automatiquement à minuit précis et apparaît pour la première fois dans le calibre 95.
Pour un réglage plus facile de l'heure par rapport au changement de date, le calibre 58-04 à remontage manuel est équipé d'un indicateur jour/nuit.
En effet, de 6 h à 18 h, le petit cercle sur l'affichage des heures est blanc ; et devient noir de 18 h à 6 h.
Enfin, cette élégante montre se pare d'un cadran poli de 42 mm en or rouge chaud et brillant, ou se décline en une version or blanc.
La précision d'une montre s'illustre par la qualité et la complexité de son mouvement. Le coeur de la Senator Chronometer Regulator bat au rythme du calibre 58-04 à remontage manuel, inspiré du calibre 58-01, lui aussi à remontage manuel.
Le mouvement permet la synchronisation précise des aiguilles des minutes et des secondes. Grâce à un nouveau mécanisme de remise à zéro de la seconde, le propriétaire peut mettre sa montre à l'heure exacte avec beaucoup plus de facilité. Lorsque l'on tire sur la couronne, le temps s'arrête, l'aiguille des secondes se réinitialise et celle des minutes se place simultanément sur l'index de la prochaine minute entière. Au remontage de la couronne pour régler l'heure, l'aiguille des minutes s'arrête uniquement sur l'index d'une minute entière, garantissant ainsi toujours le bon rapport entre les secondes et les minutes affichées.
Enfin, l'affichage de la réserve de marche prend place à 9 heures sur le cadran et indique fidèlement l'énergie restante dans le mouvement à remontage manuel.
La Senator Chronometer Regulator porte la certification chronomètre du Service allemand de calibrage (DKD). Contrairement aux contrôles similaires effectués par le COSC (Contrôle officiel suisse des chronomètres) selon la norme suisse, qui stipule que chaque mouvement (sans son boîtier définitif) doit être testé dans cinq positions différentes, l'ensemble de la montre est contrôlé pendant 15 jours à Glashütte.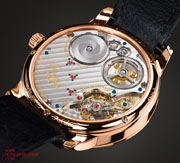 In the past when one spoke of a regulator one referred to a particular kind of pendulum clock. These clocks were used on the one hand by watchmakers in their workshops to set the precise time and to monitor the accuracy of smaller clocks. On the other hand they were also used in scientific research, where they served as an extraordinarily precise time measurement standard. To make it easier to read the time the hands were placed on different axes on the dial: the dominant position was taken by the minute display at the centre, while the other indicators were smaller and positioned in off-centre areas of the dial.
For the new Senator Chronometer Regulator, Glashütte Original took this special arrangement of the displays and reduced it to a size appropriate for a wristwatch. The dominant central position on the lacquered silver-grainé dial is occupied by the blued minute hand with its polished eye. On the central axis above and below the minute indicator are the smaller hour and seconds displays. Setting the pace at the periphery is a finely drawn minute ring, engraved and galvanised in black, as are the Roman numerals that lie beneath the hour hand's path.
The characteristic Glashütte Original panorama date display has been placed at 3 o'clock. The deep black numerals are printed on ivory coloured discs and blend perfectly into the overall dial design. The date change takes place precisely at 12 midnight; this feature was developed by the watch's designers and first appeared in Calibre 95.
To make it easier to set the time with respect to the date change, the manual winding Calibre 58-04 has been fitted with a day-night indicator. From 6 in the morning until 6 in the evening, the small circle in the region of the hour display is white; from 6 pm until 6 am it is black. This elegant timepiece is framed by a 42 mm polished case in warm, shimmering red gold or, alternatively, in a white gold version.
The precision of a watch is expressed by the quality and sophistication of its movement. The Senator Chronometer Regulator is driven by the manual winding Calibre 58-04, which is based on the manual winding Calibre 58-01. The movement permits the precise coordination of minute and seconds hands. Using a novel second-zero-stop-mechanism, it becomes much easier for the wearer to set the exact time. When winding the crown, the time display is stopped, the second hand jumps to zero and remains there.
At the same time, the minute hand is also moved to the next full minute index. When one winds the crown to set the time, the minute hand always rests only on the full minute indices. This means that the correct relationship of the displayed seconds and minutes remains assured. A power reserve display positioned at 9 o'clock on the dial indicates the energy remaining in the manual winding movement.
The Senator Chronometer Regulator is officially certified and bears a certificate from the German Calibration Service (DKD). Unlike the similar tests performed by the COSC in accord with the Swiss testing standard, which specifies that each movement (without its final case) must be tested in five positions, the entire watch is tested during 15-days in Glashütte.
PanoLunarTourbillon
Lancée en exclusivité à l'occasion du Baselworld 2013, la PanoLunarTourbillon affiche une nouvelle allure sophistiquée avec son boîtier de 40 mm en or rouge et son cadran argenté chaud. Fidèle au design asymétrique caractéristique des montres Pano, son large cadran des heures/minutes décentré sur la gauche s'inscrit dans la lignée du tourbillon volant centré à 7 heures.
Dans le coin inférieur droit, la grande date du nouveau modèle présente des chiffres noirs sur un fond ivoire, parfaitement assorti au cadran argenté chaud. Dans le coin supérieur droit, les phases de lune révèlent quant à elles une lune et des étoiles argentées sur un ciel bleu nuit profond.
Le coeur de la PanoLunarTourbillon bat au rythme du calibre 93-02, un mouvement mécanique à remontage automatique serti de 48 joyaux et 2 diamants, et inspiré du calibre 93-01 de la manufacture.
La montre est équipée d'une réserve de marche de 48 heures et de phases de lune avec un mécanisme entièrement intégré. Un système oscillant perfectionné avec 8 vis de réglage garantit la précision absolue de la cadence.
Debuting at Baselworld 2013, the PanoLunarTourbillon takes up the sophisticated new look with a 40 mm case in red gold and a warm silver dial. The characteristic asymmetric design of the Pano timepieces finds the large hour/minute dial positioned to the left of centre, in alignment with the Flying Tourbillon set within it and centred at hour seven. The new model's Panorama Date display to the lower right presents black numerals on an ivory coloured ground, perfectly matched with the warm silver dial.
The PanoLunarTourbillon is powered by the calibre 93-02: based on the calibre 93-01, the new mechanism is an automatic winding mechanical movement with 48 jewels and 2 diamonds.
The timepiece comes with a 48 hours power reserve and a fully integrated moon phase mechanism. An improved oscillating system with 8 regulating screws and 12 weighted gold screws ensures perfect rate precision.
Senator Tourbillon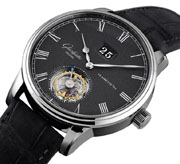 Le coeur de la Senator Tourbillon bat au rythme du calibre automatique 94-03, avec son tourbillon volant et l'irrésistible grande date caractéristique de Glashütte Original. Le balancier à vis, orné de 18 vis lestées, effectue une rotation par minute que l'on peut aisément suivre sur la cage grâce à une petite seconde avec pointe en acier bleui.
La montre présente les détails caractéristiques des mouvements mécaniques raffinés de la manufacture saxonne : sillons Glashütte, rotor squeletté avec logo doré du double G, et masse oscillante 21 carats. Le mouvement est facilement admirable au travers de la glace saphir au dos du boîtier.
At the heart of the Senator Tourbillon is the exquisite automatic calibre 94-03, which has a power reserve of 48 hours. The Flying Tourbillon mechanism can be admired through the antireflective sapphire crystal protecting the dial.
The screw balance in the tourbillon cage features 18 weighted gold screws.
The sapphire crystal on the case back reveals the beauty of characteristic features of Glashütte watchmaking such as stripe and sunburst finishings, a great number of galvanised surfaces, polished steel components, blued screws and bevelled edges. The off-centre rotor has an oscillating mass in 21-carat gold, Glashütte ribbing and an elegantly worked double-G Glashütte Original logo.
Senator Panorama Date and Senator Panorama Date Moon Phase
Along with the superb new dial visuals, the Saxon manufactory's in-house designers have made a number of more subtle but no less effective changes. The previous versions used a button at 8 o'clock to reset the second hand to zero; the new version replaces the button with a corrector inset in the case. The new timepieces are presented in a 40 mm case both polished and brushed surfaces, either in red gold or stainless steel version, and the matt black Louisiana alligator bracelet attaches the watch perfectly to the wearer's wrist. Depending on the case material, the fold-over clasp is made of red gold or stainless steel.
Eric Cosandey
©


toute reproduction strictement interdite