Zenith
Nouveautés 2012 des montres Zenith
---
Academy Répétition Minutes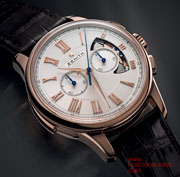 Non contente d'arborer l'une des complications majeures les plus difficiles à réaliser, l'Academy Répétition Minutes dicte ses propres codes, avec un système de répétition totalement inédit. Un système breveté, construit autour d'un râteau unique pour les trois sonneries. Car l'équation posée est complexe : concilier une répétition minutes avec un chronographe automatique dans un mouvement battant à la fréquence exceptionnelle de 5 Hz (36'000 alternances/heure), et disposant d'une réserve de marche de 50 heures. Ainsi, ce système à râteau unique permet de contourner l'axe du compteur 30 minutes, préservant ainsi l'esprit si particulier des chronographes El Primero.
Au cœur de l'Academy Répétition Minutes : le calibre intégré El Primero 4043, totalisant pas moins de 461 composants dans une boîte de seulement 18.36 mm d'épaisseur. Des composants uniques, patiemment construits, affinés et ajustés les uns aux autres. Des composants qui portent en eux la « patte » de l'horloger qui les a conçus, puisque les maîtres horlogers de la division haute horlogerie de Zenith poussent leur art jusqu'à être capables de reconnaître « leur » pièce.
Abrités sous le cadran, 264 composants sont dédiés à la répétition minutes, tandis que le déclenchement apparaît côté fond, à l'instar du mécanisme de la fonction chronographe. Le système du « tout ou rien » est appliqué, rendant nécessaire l'armage complet pour déclencher la répétition minutes et évitant ainsi toute mauvaise manipulation.
Proposée dans un généreux boîtier de 45 mm de diamètre en or rose 18K, l'Academy Répétitions Minutes est l'objet d'une édition strictement limitée à 25 exemplaires.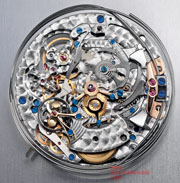 Not only does the Academy Minute Repeater feature one of the most difficult major complications to produce, but it only dictates its own identity codes with an entirely original repeater system: a patented mechanism built around a single rack governing three types of chime. The challenge is complex indeed, since it involves ensuring the smooth co-habitation of a minute repeater and an automatic chronograph within a movement beating at the exceptional frequency of 5 Hz /36,000 vibrations/hour) and endowed with a 50-hour power reserve. This single-rack system serves to circumvent the axis of the 30-minute counter, and thus preserve the distinctive spirit of the El Primero chronographs.
At the heart of the Academy Minute Repeater beats the integrated El Primero 4043 movement totalling no less than 461 components housed within a case just 18.36 mm thick. Unique components that are patiently built, refined and adjusted to fit together perfectly.
Components that carry the "signature" of the watchmaker who created them, since the master-watchmakers in the Zenith Fine Watchmaking division have raised their art to a level where they are capable of recognising "their very own" part. 264 parts protected by the dial are devoted to the minute repeater function, while the activation appears on the back, as does the chronograph mechanism function. The "all or nothing" system is applied, requiring complete winding in order to trigger the minute repeater and thus avoid any inadvertent mishandling.
Available in a generous 45 mm-diameter case in 18K rose gold, the Academy Minute Repeater is issued in a 25-piece strictly limited édition.
Academy Christophe Colomb hommage à Charles Fleck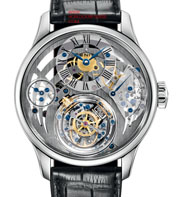 Chronométrier d'exception, Charles Fleck a lui aussi marqué à jamais de son empreinte l'histoire, celle de l'horlogerie, durant les plus de 30 années qu'il a passées au sein de la Manufacture Zenith. Entre 1925 et 1956, il a déposé de nombreux brevets, pour Zenith et sous son propre nom. Il est notamment l'inventeur du régulateur à double flèche qui a équipé les calibres 133, 71, 120, 40 et 5011. Sa passion pour la précision l'a amené à participer à la conception du calibre 135, qui a remporté de nombreux prix, dont le prestigieux Prix de la meilleure montre-bracelet, et ce cinq ans de suite.
Fidèle aux codes de Zenith, l'Academy Christophe Colomb Hommage à Charles Fleck bat à 10 vibrations par seconde, soit 36'000 alternances par heure. Une cadence exceptionnelle, qui a amené plus de complexité encore. Jamais en retard d'un défi, Zenith ajoute encore de la complexité à la complexité en squelettant cette pièce dédiée au chronométrier qui a tant marqué son histoire, comme pour mieux révéler la mécanique hors norme qui bat en son cœur. Un exercice de maestria qui a requis tous les savoir-faire au sein de la Manufacture, puisque le squelettage a fait l'objet d'un compromis permanent entre technique et esthétique.
Platine, ponts, plaques : toutes les strates ont été patiemment ciselées, et les équilibres constamment réinventés. Sublimant les jeux de contrastes entre l'anthracite du mouvement, le bleu des aiguilles et des vis, ainsi que l'or rose des rouages, trois cadrans saphir vissés captent tous les regards, comme pour mieux célébrer la magie du dôme à 6h.
Façonnée en platine, la boîte souligne le caractère précieux de ce garde-temps proposé en série limitée de 25 exemplaires.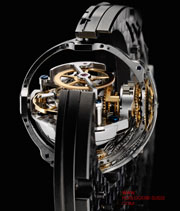 Charles Fleck was an exceptional precision timer who also left an indelible imprint on history, notably that of watchmaking, during the over 30 years that he spent at the Manufacture Zenith. Between 1925 and 1956, he registered a number of patents both for Zenith and under his own name. He is in particular the inventor of the double-arrow governor that was to equip Calibres 133, 71, 120, 40 and 5011. His passion for precision led him to take part in developing Calibre 135 which won a number of chronometry prizes, including the prestigious Best Wristwatch Prize over five consecutive years.
In keeping with the Zenith signature codes, the Academy Christophe Colomb Tribute to Charles Fleck beats at a frequency of 10 vibrations per second, amounting to 36,000 per hour – an exceptional cadence that entailed even greater complexity. Never one to refuse a challenge, Zenith thus compounded the complexity by openworking this model dedicated to the precision timer who made such a profound impact on its history, as if to better reveal the exceptional mechanism beating at its core.
This masterful exercise drew upon the full range of skills cultivated within the Manufacture, since the openworking involved constantly reconciling technical and aesthetic constraints. Mainplate, bridges and plates: all the layers have been patiently chased and engraved, finely readjusting the balance at each stage.
Magnificently accentuating the contrasts between the anthracite of the movement, the blue of the hands and screws, and the rose gold of the gear wheels, three screw-down sapphire dials catch and hold the gaze, further celebrating the magic of the dome at 6 o'clock.
The platinum case underscores the precious nature of this timepiece issued in a 25-piece limited series.
Captain Tourbillon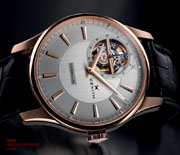 Lignes sobres, architecture épurée. Clin d'œil aux codes Captain des années 1950' également, avec des index et des aiguilles dauphines. Elégance d'un cadran avec un centre argenté brossé, un tour d'heure argenté grainé et une minuterie polie, avec finitions velours. Côté fond, un verre saphir transparent pour admirer le mouvement El Primero 4041 S, un petit chef-d'œuvre mécanique doté de 199 composants, le seul tourbillon au monde à battre la haute fréquence, avec un nombre d'allers-retours du balancier d'un quart supérieur aux autres constructions.
L'habillage est à la hauteur de cette précieuse mécanique. Décliné en or blanc ou or rose 18K, le boîtier de 40 mm arbore un galbe raffiné, grâce à un double étampage. Lorsque le Captain Tourbillon se fait serti, sa lunette arbore 46 diamants de taille baguette. Des pierres dont la pureté n'ont d'égale que la richesse du mouvement qui anime cette pièce incarnant parfaitement les valeurs de Zenith.
Distinguished by restrained, understated lines composing a pure structure, this model also gives a nod to the design codes of the 1950s Captain watches through its dauphine-style hands and hour-markers. The elegant dial is graced with a brushed silver-toned centre, a grained silver-toned hour circle and a polished minute circle with a velvet finish. Meanwhile a transparent sapphire crystal case-back provides a chance to admire the El Primero 4041 S movement, a miniature mechanical masterpiece equipped with 199 parts and the world's only tourbillon beating at a high frequency, with a 25% higher number of to-and-fro balance movements than on other constructions. The exterior is on a par with this precious mechanism.
The 40 mm case in 18K white or rose gold displays a particularly refined curve achieved by a double stamping operation. In its gem-set version, the Captain Tourbillon features a bezel adorned with 46 baguette-cut diamonds. Precious stones that are equalled only by the inherent richness of the movement driving this model that so perfectly embodies the Zenith values.
Zenith Star Open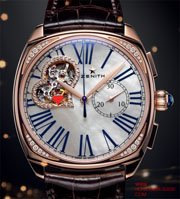 Incarnant la philosophie des performances absolues, la monte Zenith Star Open rend hommage au calibre El Primero. Dès le premier regard, la pièce attire le regard par la force expressive de son originale forme coussin soulignée par une ouverture à 10h30 sur le légendaire coeur du mouvement mécanique à remontage automatique, le calibre El Primero 4062.
Trois modèles sont proposés : une version en acier sertie de 28 brillants VVS d'environ 0.17 carat, une version en or rose sertie de 63 brillants VVS d'environ 0.27 carat et une version en or rose sertie de 263 brillants VVS d'environ 1.57 carats. Elles sont proposées sur un bracelet en alligator avec une boucle triple déployante.
Embodying the philosophy of absolute performance, the Zenith Star Open pays tribute to the El Primero calibre. Right at first glance, this model draws the gaze to the expressive strength of its original cushion shape accentuated by an opening at 10:30 revealing the legendary heart of the mechanical automatic movement, El Primero Calibre 4062.
Three models are available: a steel version set with 28 VVS brilliant-cut diamonds totalling approximately 0.17 carats; a rose gold version set with 63 VVS brilliant-cut diamonds totalling approximately 0.27 carats; and a rose gold version set with 263 VVS brilliant-cut diamonds totalling approximately 1.57 carats. They are fitted with an alligator leather strap complete with a triple folding clasp.
Zenith Star Moonphase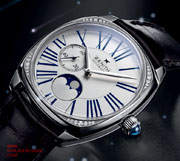 Plus rien n'arrête le mouvement mécanique à remontage automatique, Zenith Elite 692 ultraplat, qui se distingue ici dans le remarquable boîtier de forme coussin du modèle Zenith Star Moonphase. Eloge de finesse, soit 3,87mm d'épaisseur, il est doté de 195 composants, bat à une fréquence de 28'800 alternances par heure et affiche une réserve de marche de plus de 50 heures. Il met en lumière la plus belle mécanique horlogère dans une dimension de raffinement technique et esthétique.
Heures, minutes, petite seconde et phase de lune font l'objet d'une véritable mise en scène dans l'espace du cadran argenté. Ce dernier égrène les heures et les minutes au gré des chiffres romains bleus répondant au bleu profond de l'élégant cabochon saphir de la couronne. D'une superbe modernité et d'une rare élégance, il offre le premier rôle aux fonctions : l'indication de la petite seconde à 9h et de la phase de lune à 6h, entièrement dédiée à la course de l'astre.
Au dos de la pièce, une glace saphir permet de découvrir les rouages d'un mouvement décoré et gravé à la main. Somptueuse expression du raffinement horloger, la montre offre, dans chacune de ses exécutions en acier ou en or rose sertie de 28 brillants VVS d'environ 0.17 carat, sur un bracelet en alligator avec une boucle triple déployante, la joie de lire à tout instant un temps unique.
There appears to be no stopping the mechanical automatic ultra-thin Zenith Elite 692 movement, housed in this instance within the remarkable cushion-shaped case of the Zenith Star Moonphase model. The epitome of slenderness at just 3.87 thick, it comprises 195 parts, beats at a frequency of 28,800 vibrations per hour and drives a display of the over 50-hour power reserve. It highlights a superb mechanical movement by endowing it with a technical and aesthetic dimension. The stage is superbly set for the hours, minutes, small seconds and moon phase appearing on the silver-toned dial.
The latter marks off the hours and minutes on blue Roman numerals matching the deep blue shade of the exquisite cabochon-cut sapphire set on the crown. This superbly modern and distinctively elegant model gives pride of place to the functions: the small seconds indication at 9 o'clock, and the moon-phase display at 6 o'clock entirely dedicated to the path of the nocturnal luminary. On the back of the watch, a sapphire crystal reveals the intricate workings of a hand-decorated and engraved movement.
Offering a splendid expression of horological refinement, this watch comes in a choice of steel or rose gold set with 28 VVS brilliant-cut diamonds totalling approximately 0.17 carats, fitted with an alligator leather strap complete with triple folding clasp. Whichever the version, it consistently offers its wearer the pleasure of reading off a time that is truly unique.
Zenith Pilot Montre d'Aéronef Type 20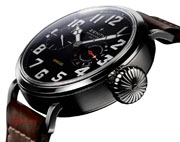 Le boîtier de 57,5 mm de diamètre, façonné en titane pour contrebalancer le poids du mouvement qu'il renferme, porte les attributs d'un instrument destiné à braver les airs. Sa couronne crantée rappelle celles qui ornaient les anciennes montres d'aviateurs, leur permettant le réglage sans quitter leurs gants. L'entrecorne de 27 mm accentue la géométrie des anses, épurées à l'extrême, qui accrochent un bracelet de cuir patiné entièrement cousu et surpiqué à la main.
L'esprit vintage se poursuit sur le cadran noir, dont la lecture est favorisée par des éléments luminescents : sous l'imposante glace saphir traitée antireflet des deux côtés, le tour d'heure en relief est formé par des blocs entiers de Superluminova, pointés par des aiguilles également rehaussées de matière phosphorescente.
Les compteurs affichent la petite seconde à 9h, la réserve de marche à 3h, dans un bel équilibre visuel. L'esthétique va à l'essentiel pour parfaire la lecture du temps, renouant ainsi avec l'esprit et la fonctionnalité des montres de bord traditionnelles.
Sa silhouette de 57,5 mm de diamètre flirte avec les plus belles conquêtes aériennes du début du 20e siècle. Hommage vibrant à l'esprit libre des pionniers du ciel, elle distille un temps infini, sans limites, à l'image des plus grandes découvertes.
Le fond transparent du boîtier ouvre l'horizon sur le mouvement mécanique à remontage manuel 5011K. Son diamètre de 50 mm lui autorise des finitions d'exception, à l'image des 19 rubis et des larges Côtes de Genève linéaires qui ornent ses ponts rhodiés. Certifié chronomètre COSC, il emprunte ses lettres de noblesse au célèbre calibre de poche 5011 qui a fait le succès de Zenith dès les années 1960.
En 1967, l'Observatoire de Neuchâtel lui a attribué le record de chronomètre le plus précis jamais présenté. En production continue depuis lors, il a équipé des montres de concours, des chronomètres de marine, des montres de poche et des montres d'écoles d'horlogerie.
Oscillant à 18'000 alternances par heure, le calibre 5011 est doté d'un dispositif indépendant d'arrêt de l'aiguille des secondes, pour la synchronisation de l'heure. Equipé d'antichocs sur l'axe du balancier et sur celui de l'échappement, d'un réglage fin, d'un spiral Breguet auto compensateur et antimagnétique, il dispose également d'un porte-piton mobile, d'une raquette double flèche et d'un système de fixation de tige de remontoir de type Zenith.
The 57.5 mm-diameter case, made of titanium to offset the weight of the movement it contains, has the qualities of an instrument that was born to fly. The notched crown is reminiscent of those on antique aviator watches, which allowed pilots to set the watch without taking off their gloves.
The 27 mm space between the lugs accentuates the shape of the extremely refined lugs that attach an antiqued leather strap sewn and topstitched entirely by hand. Adding to the vintage feel is the black dial, which is easily readable thanks to luminous elements. Beneath the impressive sapphire crystal (glareproofed on both sides), the raised numerals of the chapter ring are made of entire blocks of Superluminova.
The time is indicated by hands that are also enhanced with luminescent material. The visually balanced counters display the small seconds at 9 o'clock and the power reserve at 3 o'clock. The aesthetics serve mainly to make reading the time easier, recalling the functional approach taken in traditional aviator watches
Its outsized 57.5 mm-diameter case is in proportion to the great aviation feats of the early 20th century. A vibrant tribute to the free-spirited pioneers of the skies, it is the very essence of infinite, unlimited time – mirroring the greatest discoveries.
The transparent caseback reveals the mechanical hand-wound 5011K movement. Its 50 mm diameter leaves room for exceptional finishes, such as 19 jewels and the broad linear Côtes de Genève that grace the rhodium-plated bridges.
This COSC-certified chronometer comes with a pedigree to match its beauty: it contains the famous 5011 pocket calibre that was so successful for Zenith in the 1960s – and in 1967 was named the most accurate chronometer ever tested by the Neuchatel Observatory. The calibre has been in continuous production since then and has been used in competition timepieces, marine chronometers, pocket watches, and watchmaking school watches.
Oscillating at 18,000 vibrations per hour, the 5011 calibre has a separate mechanism for stopping the seconds hand and synchronising the hour. It features shock-absorbers on the balance-wheel and escapement arbors, fine adjustment, and a self-compensating anti-magnetic Breguet overcoil balance spring, as well as a mobile stud-holder, double-arrow index regulator, and the Zenith winding-crown stem attachment system.
Zenith Pilot Doublematic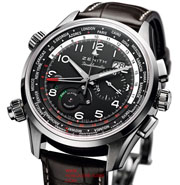 Un premier disque décalqué sur le réhaut dévoile les heures des villes emblématiques tandis qu'un deuxième disque indique le jour et la nuit. Doublée d'un chronographe, la montre Pilot Doublematic dispose de deux barillets, l'un dévolu à la mesure du temps, l'autre à une fonction alarme.
Le bouton-poussoir et la couronne à 8h permettent d'actionner et de régler le réveil. Sur le cadran, la commande s'affiche par l'aiguille ajourée rouge et ruthénium noir tandis qu'une ouverture à 8h30 confirme sa mise en route.
Un indicateur de réserve d'alarme suit la progression du barillet à 7h.
Coiffé d'une grande date, le compteur de chronographe 30 minutes se pose à 3h. La trotteuse centrale se rehausse d'une flèche en Superluminova, les aiguilles des heures et minutes optent pour un design athlétique qui signe leur appartenance au 21e siècle.
Le tour d'heure est mis en lumière par des chiffres luminescents qui semblent en lévitation sur le cadran noir sablé mat ou argent. La lisibilité est parfaite.
Logé dans un boîtier d'acier ou d'or rose brossé et poli de 45 mm de diamètre, le mouvement mécanique à remontage automatique El Primero 4046 dévoile les terminaisons squelettées de son rotor par le fond saphir.
Composé de 439 pièces, il bat à 36'000 alternances par heure et s'offre le luxe d'une réserve de marche de 50 heures.
One disc transferred onto the flange reveals the time in each iconic city, while a second disc indicates day or night. Paired with a chronograph, the Pilot Doublematic watch has two barrels, one of which is devoted to measuring time and the other to an alarm function.
The alarm is activated and set by a pushpiece button and crown at 8 o'clock. On the dial, a pierced ruthenium black and red hand shows the time set for the alarm, while an opening at 8:30 confirms that it is turned on.
An alarm reserve indicator at 7 o'clock tracks the status of the barrel. The 30-minute chronograph counter is at 3 o'clock, and is topped by a large date. The sweep seconds hand is accentuated by a Superluminova arrow, while the athletic design of the hour and minute hands dates them as being squarely 21st-century.
The chapter ring is set off by luminous numerals that seem to levitate above the silver or sandblasted matt black dial. Readability is excellent.
Housed in a 45-mm brushed and polished steel or pink gold case, the mechanical selfwinding El Primero 4046 movement shows its skeletonised rotor ends through the sapphire caseback.
This 439-piece watch operates at a frequency of 36,000 vibrations per hour and has an ample 50-hour power reserve.
Zenith Pilot Big Date Special
En écho à la montre chronographe historique des années 1960-1980, la nouvelle Pilot Big Date Special choisit la fonctionnalité pour fer de lance. Son boîtier façonné en acier opte pour un diamètre consensuel de 42 mm, dont les finitions polies et satinées s'alternent dans un esprit classique.
Le cadran noir mat, sablé cinq fois, met en lumière les données temporelles dans un parfait équilibre visuel. Le compteur de petite seconde s'installe à 9h en symétrie parfaite avec le compteur 30 minutes qui se place lui à 3h.
Tous deux ont un traitement azuré. Un duo d'aiguilles traitées ruthénium noir et soulignées de Superluminova marquent les heures et les minutes dans un style résolument masculin et moderne. Leur profil sportif et dynamique répond au graphisme épuré des chiffres arabes qui rendent un sobre et solennel hommage à ceux du chronographe de 1960.
En coulisses, oeuvre avec une régularité exceptionnelle le calibre El Primero 4010, dont les finitions sont visibles par le fond saphir du boîtier.
La masse oscillante arbore de fines Côtes de Genève réalisées dans la plus pure tradition horlogère.
Echoing the historic chronograph watch from the 1960-80s, the new Pilot Big Date Special has functionality as its guiding principle. Its steel case is a moderate 42 mm in diameter, with classically styled alternating polished and satin-brushed finishes.
The matt black dial, sandblasted five times, sets off the time displays, which visually are in perfect balance. The small seconds counter is at 9 o'clock, exactly opposite the 30-minute counter at 3 o'clock. Both feature a snailed decoration. A pair of hands treated with black ruthenium and highlighted with Superluminova mark the hours and minutes in a decisively masculine and modern style.
Their sporty, dynamic shape matches the refined graphic style of the Arabic numerals that pay simple and solemn tribute to those of the 1960 chronograph. Behind the scenes, the El Primero 4010 calibre ticks away with an exceptionally consistent beat.
Its finishes can be seen through the sapphire caseback.
The winding rotor is decorated with thin Côtes de Genève in the purest watchmaking tradition.
Zenith Espada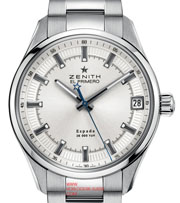 Techniquement, la nouvelle ligne Espada a hérité de la précision du célèbre calibre El primero. Conçu selon un dessin presque académique, sans aucune concession faite à l'accessoire, son mouvement parfaitement intégré, allie faible encombrement, fiabilité et précision: la position de chaque platine, de chaque rouage et de chaque pièce est optimisée. pas moins de 210 composants animent son mouvement mécanique à remontage automatique, le calibre El primero 4650 B.
À l'instar de tous les calibres El primero, il bat à la fréquence exceptionnelle de 10 alternances par seconde ou 36'000 alternances/heure.
Disposant d'une réserve de marche de 50 heures, il présente un diamètre de 30 mm.
la sobriété est le maître-mot de la nouvelle ligne Espada. Elle oeuvre dans la réinterprétation de ce qui est déjà présent dans le patrimoine stylistique de la manufacture Zenith : boîtier rond, cadran sobre, indications d'une parfaite lisibilité et pureté des lignes. onze index rhodiés, facettés et bénéficiant d'un traitement superluminova veillent sur la bonne indication de l'heure et des minutes, pointés par deux aiguilles, elles aussi parfaitement distinctes.
Balancée par l'étoile Zenith, l'aiguille des secondes entame une danse régulière et précise autour du cadran. À 3h, un guichet de date parfaitement lisible donne la mesure des jours. En fidélité aux principes essentiels de l'horlogerie, une glace saphir permet d'admirer un spectacle de toute beauté des deux côtés du cadran.
À ces vertus esthétiques s'ajoute la fiabilité d'un boîtier étanche à 100 mètres doté d'une couronne vissée.
Technically speaking, the new Espada line has inherited the precision of the famous El primero calibre. designed in an almost academic manner making no concession to secondary details, its perfectly integrated movement combines a modest size with excellent reliability and precision: the position of each plate, each gear train and each part is optimised, and no less than 210 components drive its mechanical self-winding movement, El primero calibre 4650 B.
Like all El primero calibres, it beats at the exceptional frequency of 10 vibrations per second, or 36,000 vibrations per hour. it features a 30 mm diameter and a 50-hour power reserve.
Understatement is the keynote of the new Espada line. It is dedicated to reinterpreting elements that are already present in the stylistic heritage of the manufacture Zenith: round case, restrained dial, perfectly readable indications and pure lines 11 rhodiumed and faceted superluminova-treated hour-markers clearly indicating the hours and minutes are swept over by two perfectly distinct hands.
The seconds hand with its Zenith star-symbol counterweight performs a steady and precise dance around the dial while the perfectly legible date window at 3 o'clock counts off the passing days.
In harmony with essential watchmaking principles, a sapphire crystal provides admirable views from both sides of the dial. these aesthetic virtues are matched by the reliability of a dial that is water-resistant to 100 metres and fitted with a screw-locked crown.
Zenith El Primero Chronomaster 1969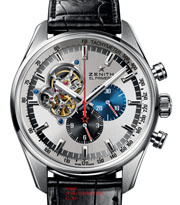 L'ouverture du cadran sur le coeur battant d'un mouvement d'exception est une autre innovation propre à la manufacture Zenith. Cette signature inséparable de la marque à l'étoile est aujourd'hui associée pour la première fois aux codes couleurs du chronographe original de 1969.
De fait, ce modèle Chronomaster 1969 abrite un nouveau mouvement chronographe automatique conçu, mis au point et produit à l'interne, le calibre El Primero 4061. À l'instar de tous les mouvements El Primero, il bat à la fréquence exceptionnelle de 10 alternances par seconde (ou 36'000 alternances/heure) pour une mesure au 1/10e de seconde.
Ce nouveau mouvement chronographe disposant d'environ 50 heures de réserve de marche intègre 282 composants ; il présente des finitions soignées, visibles notamment à travers l'ouverture sur le cadran.
La nouvelle El Primero Chronomaster 1969 affiche les fonctions heures, minutes, petite seconde à 9h, ainsi que les fonctions chronographe avec trotteuse centrale, compteur 30 minutes à 3h et 12 heures à 6h.
Le nouveau chronographe El Primero Chronomaster 1969 arbore un boîtier en acier de 42 mm de diamètre, étanche à 100 mètres, avec poussoirs ronds de style vintage. Il est proposé sur bracelet alligator noir avec boucle en acier.
The dial opening revealing the beating heart of an exceptional movement is another characteristic Zenith innovation. This signature which has become inseparable from the brand with the star logo is now associated for the first time with the colour codes of the original 1969 chronograph.
This Chronomaster 1969 model houses a new automatic chronograph movement entirely developed, fine-tuned and produced in-house, El Primero Calibre 4061. Like all El Primero movements, it beats at the exceptional frequency of 10 vibrations per second (or 36,000 vibrations per hour) and can thereby measure 1/10ths of a second.
This new chronograph movement with an approximately 50-hour power reserve comprises 282 parts and features meticulous finishes, visible in particular through the famous dial opening.
The new El Primero Chornomaster 1969 displays the hours, minutes, small seconds at 9 o'clock, as well as the chronograph function with a central sweep seconds hand along with 30-minute and 12-hour counters at 3 and 6 o'clock respectively.
The new El Primero Chronomaster 1969 chronograph comes with a 42 mm-diameter steel case that is water-resistant to 100 metres and equipped with vintage-style round pushbuttons. It is available on a black alligator leather strap complete with steel buckle.
Zenith El Primero Chronomaster Open Grande Date Moon & Sunphase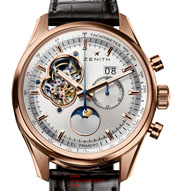 En 2012, la manufacture Zenith enrichit encore cette collection majeure en dévoilant dans deux nouvelles versions en du modèle El Primero Chronomaster Open Grande Date Moon & Sunphase.
Outre le chronographe qui, à l'instar de tous les mouvements El Primero, mesure le 1/10e de seconde, le calibre 4047 propose les indications heures, minutes, petite seconde à 9h, grande date à 2h – par deux disques concentriques – ainsi que les indications phase de lune et de soleil à 6h.
Proposé en or rose ou en acier avec cadran argenté ou noir, le modèle El Primero Chronomaster Open Grande Date Moon & Sunphase présente un généreux boîtier de 45 mm de diamètre, avec poussoirs ronds de style vintage, étanche à 50 mètres.
Il est proposé sur un bracelet en alligator brun (version or rose) ou noir (version acier) avec boucle en métal assorti.
In 2012, the Manufacture Zenith is further enriching this major collection by unveiling the El Primero Chronomaster Open Grande Date Moon & Sunphase model in two new rose gold and steel versions.
In addition to the chronograph which, like all El Primero movements, measures 1/10ths of a second, Calibre 4047 also indicates the hours, minutes, small seconds at 9 o'clock, large date at 2 o'clock – by means of two concentric discs – as well as displaying the moon and sunphases at 6 o'clock.
Available in rose gold or steel versions with a silver-toned or black dial, the El Primero Chronomaster Open Grande Date Moon & Sunphase features a generous 45 mm-diameter case equipped with round vintage-style pushbuttons and water-resistant to 50 metres.
It is fitted with a brown (for the rose gold version) or black (steel version) alligator leather strap with matching metal buckle
Eric Cosandey

©


toute reproduction strictement interdite