Jaeger-LeCoultre
Nouveautés 2012 des montres Jaeger-LeCoultre
---
Duomètre à Sphérotourbillon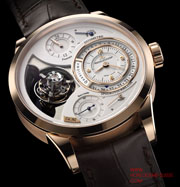 Clé de voûte du concept Dual-Wing, la précision a constitué le maître-mot pour les horlogers de Jaeger-LeCoultre lors du travail de réflexion menant à la création de la Duomètre à Sphérotourbillon. Résultat, cette montre peut se prévaloir d'être la première montre tourbillon ajustable à la seconde. A quoi bon la précision si on ne peut l'afficher !
Rares en effet sont les tourbillons avec affichage très lisible de la seconde dans un compteur dédié. Encore plus rares, ceux qui permettent de stopper la seconde. Mais aucun, jusqu'à ce jour, ne permettait d'arrêter l'aiguille des secondes et de la ramener à zéro pour effectuer un réglage ultra-précis de l'heure.
L'utilisation du concept Dual-Wing a permis aux horlogers de Jaeger-LeCoultre de créer le premier tourbillon ajustable avec précision. Un poussoir placé à 2 h permet de ramener à zéro la petite seconde située sous le tourbillon, selon le principe du retour en vol (flyback). Particularité du retour en vol, il n'arrête pas le fonctionnement de l'organe réglant. La petite seconde se positionne à zéro, et reprend immédiatement sa course. Résultat, la montre conserve sa précision maximale même lors du réglage précis de l'heure à la seconde près.
C'est un spectacle fascinant qu'offre, au travers du cadran ajouré, le tourbillon qui effectue un mouvement de rotation tout à fait inhabituel. En plus de la révolution autour de l'axe de sa cage en titane, le tourbillon tourne autour d'un deuxième axe, incliné de 20°. La combinaison de ces deux rotations distinctes et rapides (respectivement 30 et 15 secondes) permet d'affranchir la montre des effets de la gravité. Le spiral cylindrique, avec ses deux courbes terminales, bat avec une concentricité impossible à obtenir avec un spiral traditionnel. Le balancier, à l'inertie généreuse, oscille au rythme des 21'600 alternances par heure.
Boîtier : Or rose 18 carats, Diamètre : 42 mm, Hauteur : 14.1 mm (y compris le verre saphir)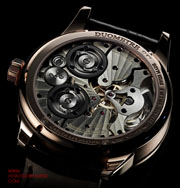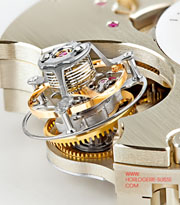 Precision is the cornerstone of the Dual-Wing concept and was the watchword for the Jaeger-LeCoultre watchmakers in their reflection leading to the creation of the Duomètre à Sphérotourbillon. The result is a watch that can legitimately claim to be the first tourbillon watch adjustable to the nearest second.
For what's the point of precision if you can't display it? There are indeed very few tourbillon models with an extremely readable display of the seconds in a dedicated subdial, and even fewer with a stop seconds device. Certainly none until now had ever enabled the user to stop the seconds hand and bring it back to zero in order to perform an ultra-accurate time setting.
Using the Dual-Wing concept enabled the Jaeger-LeCoultre watchmakers to create the first precision-adjusted tourbillon. A push-piece at 2 o'clock serves to bring the small seconds hand positioned beneath the tourbillon back to zero, according to the flyback principle.
One special feature of this flyback system is that it does not halt the operation of the regulating organ. The small seconds hand is reset to zero and begins running again instantly. This means the watch maintains optimal precision even when accurately adjusting the time to the nearest second.
The openworked dial provides a fascinating view of the tourbillon performing an extremely unusual rotation movement. As well as revolving around the axis of its titanium carriage, the tourbillon also spins around a second axis, inclined at a 20° angle. The combination of these two distinct and fast rotations (respectively 30 and 15 seconds per revolution) serves to free the watch from the effects of gravity.
The cylindrical balance-spring with its two terminal curves beats with a concentricity impossible to achieve with a traditional balance-spring. The balance with its generous inertia oscillates at a cadence of 21,600 vibrations per hour.
Case: 18-carat pink gold, Diameter: 42 mm, Thickness: 14.1 mm (including the sapphire crystal)
Grande Reverso Calendar
La Montre indique le jour et le mois, sur disques dans deux guichets à 12h, puis un affichage de la date à 6h, qui vient enclore les phases de lune. La disposition des données temporelles, avec des heures et minutes centrales, dans la tradition horlogère la plus pure, préfère aller à l'essentiel et privilégier la lisibilité.
Les finitions satinées verticales du cadran encadrent un guilloché réalisé à la main, dont le décor n'est pas sans rappeler les montres de poche classiques. Le fond du boîter s'ouvre sur le mouvement mécanique à remontage manuel, Calibre Jaeger-LeCoultre 843, qui dévoile au grand jour ses nobles terminaisons.
The watch indicates the day and month on respective discs appearing through two apertures at 12 o'clock, along with the date at 6 o'clock encircling the moon phases. The traditional arrangement of the conventional time indication via central hour and minute hands is focused on essentials and on ensuring optimal readability.
The vertical satin-brushed dial finish frames a hand-guilloché motif reminiscent of pocket-watches. The case-back reveals the mechanical manually-wound movement, Jaeger-LeCoultre Calibre 843, and its noble finishing.
Jaeger-LeCoultre Deep Sea Vintage Chronograph
Avec son boîtier de 40,5 mm, elle possède toutes les qualités qui font battre un peu plus fort le coeur de chaque amateur.
Une lunette fixe entoure un cadran au visage classique de couleur noire, protégé par un verre en plexiglas. Les index ainsi que les aiguilles des minutes et des heures au centre sont dotés d'un revêtement en Superluminova® à la chaude nuance orangée qui évoque subtilement la teinte du revêtement luminescent de la Memovox Deep Sea de 1959.
Les intervalles temporels mesurés par le chronographe à deux poussoirs sont indiqués par deux compteurs pour les heures et les minutes, situés à 9 heures et à 3 heures, ainsi que par la seconde au centre. Le fond de boîtier en acier inoxydable s'orne du motif gravé qui figurait sur la pièce historique illustrant un homme-grenouille entouré de bulles.
Le bracelet en cuir noir réalisé en veau gaufré ressemble en tous points au bracelet qui complétait le modèle original.
Si le boîtier de la Jaeger-LeCoultre Deep Sea Vintage Chronograph est inspiré par les codes esthétiques d'une réalisation emblématique, cette montre animée par le Calibre Jaeger-LeCoultre 751 G à remontage automatique intègre les derniers développements de la recherche Jaeger-LeCoultre tels que le grand balancier à inertie variable ou les roulements à billes en céramique dont le fonctionnement à long terme est assuré en l'absence de lubrification.
Les performances, l'endurance et la fiabilité de la mécanique Jaeger-LeCoultre ont apporté leurspreuves au cours des années et se conjuguent avec les qualités qui soulignent la légitimitéhistorique d'une montre étanche à 10 bar.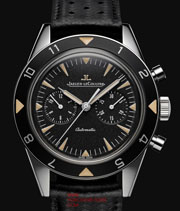 Featuring a 40.5 mm case size similar to that of the Memovox Tribute to Deep Sea, this model is endowed with a range of characteristics that are bound to thrill connoisseurs.
A fixed bezel surrounds a classic black dial face, protected by a Plexiglas watch glass. The hour-markers as well as the central hour and minute hands are covered by a Superluminova® coating with a warm orange-tinted shade subtly reminiscent of the luminescent coating on the 1959 Memovox Deep Sea.
The time intervals measured by the two-button chronograph are indicated by two counters for the hours and minutes, positioned at 9 and 3 o'clock, as well as by the central seconds hand.
The back of the stainless steel case also bears the same engraved motif as the historical model, depicting a frogman surrounded by bubbles.
Finally, the embossed black calfskin leather strap looks exactly like the one fitted on the original.
While the case of the Jaeger-LeCoultre Deep Sea Vintage Chronograph is inspired by the design codes of an iconic creation, this watch driven by Jaeger-LeCoultre Calibre 751G incorporates the latest developments stemming from Jaeger-LeCoultre's ongoing research, such as the large variable-inertia balance, or the ceramic ball bearings ensuring lubricant-free long-term operation.
The performance, the endurance and the reliability of the Jaeger-LeCoultre mechanism have proven their worth over the years, and are combined with qualities highlighting the historical legitimacy of a watch that is water-resistant to 100 metres.
©


toute reproduction strictement interdite