Harry Winston
Nouveautés 2012 des montres Harry Winston
---
Midnight Skeleton
Pour créer l'une des plus belles montres squelettes au monde, Harry Winston a conçu un mouvement spécialement plat. Au nombre de ses principales caractéristiques figure le remplacement d'une masse oscillante au diamètre occupant tout l'espace disponible par un micro-rotor. Ce dernier prend beaucoup moins de place et participe ainsi à la réalisation d'une architecture particulièrement adaptée à l'art de l'ajourage.
Le mouvement de la Midnight Skeleton est une composition soigneusement équilibrée et dynamique de cercles et spirales. Les divers éléments circulaires semblent liés, de manière organique, à la platine. Ils sont cependant organisés en une suite logarithmique qui part de la gauche, de la cage ajourée du micro-rotor, et évolue dans le sens antihoraire jusqu'à l'emplacement de 11 heures sur le cadran. Cette construction délicate et néanmoins puissante est renforcée par la prolongation, au sein du mouvement, des trois arches caractéristiques de Harry Winston.
Légèrement asymétriques, elles contribuent elles-mêmes au dynamisme du mouvement. Les finitions contemporaines mettent en valeur l'architecture du mouvement, et la lisibilité – un problème majeur dans les montres squelettes – est optimisée par l'utilisation d'entretoises au niveau des heures.
Disponibles en or blanc ou rose.
To create one of the world's most beautiful open-worked watches, Harry Winston has created an especially flat movement for the timepiece. One of the most important characteristics of this movement is that instead of using a full diameter oscillating mass to drive the self-winding mechanism, it instead uses a micro-rotor, which takes up much less space and helps create a physical architecture especially conducive to the art of open-working. The movement of the Midnight Skeleton is a carefully balanced, yet delightfully dynamic arrangement of circles and spirals.
The various circular elements seem to arise organically from the movement plate, but are framed in a subtle logarithmic spiral which begins on the left, with the open-worked cage for the micro rotor, and moves counterclockwise to terminate at the 11:00 position on the dial. This delicate but powerful form is emphasized by the extension into the movement of the signature Harry Winston triple arches, which are slightly asymmetrical, further emphasizing the dynamism of the movement.
The movement's contemporary finish underscores its architecture further, and legibility –usually a major problem in skeletonized watches –is enhanced through the use of supporting struts at each of the hour positions.
Available in white or rose gold.
Harry Winston Ocean Tourbillon Big Date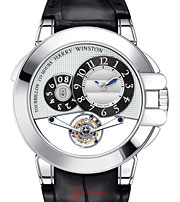 Traditionnellement, le tourbillon est monté sur la platine du mouvement, et ne peut donc être vu que depuis un seul angle. L'Ocean Tourbillon Big Date, quant à elle, s'affranchit complètement de ce type de construction pour proposer un tourbillon semblant flotter au sein du boitier. La cage et l'ensemble régulateur qu'elle abrite semblent évoluer librement, sans qu'aucune attache mécanique apparente ne vienne entraver le regard.
Pour profiter de cet effet et libérer le temps dans toute sa dimension, l'Ocean Tourbillon Big Date, d'un diamètre de 45 mm, est dotée d'une glace saphir sur le cadran et le fond du boitier, et pourvu d'un pont qui suspend la cage tournante comme si elle flottait dans le vide.
Complémentant l'ouverture du cadran dans laquelle le tourbillon oscille à la fréquence de 28'800 vibrations par heure, l'affichage asymétrique, selon les codes iconiques de Harry Winston, affiche un style résolument masculin et assure une lisibilité parfaite.
Réserve de Marche 110 heures
Though the tourbillon's original purpose was improvement in accuracy, it soon became much beloved by connoisseurs for its hypnotic visual appeal as well (the name "tourbillon" means "whirlwind" in French). The Harry Winston Ocean Tourbillon Big Date is a technical achievement that offers an unparalleled aesthetic experience.
The tourbillon is traditionally mounted on the plate of the watch and can only be seen (when it is visible at all) from one angle. The Ocean Tourbillon Big Date, on the other hand, departs radically from the conventional tourbillon construction, to create a "floating tourbillon" –one in which the tourbillon carriage and the regulating organs carried on it appear to float freely in space, and not only that, but do so with no immediately visible mechanical connection to the rest of the movement.
The effect is achieved through the use of sapphire crystals, on the front and back of the 45-mm diameter timepiece, and a special bridge which "suspends" the tourbillon cage apparently in empty space.
Complementing the open aperture in which the floating tourbillon oscillates at a frequency of 28,800 vibrations per hour, are two of Harry Winston's signature excentered subddials.
Power reserve 110 hours

Harry Winston Opus 12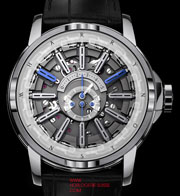 Le temps ne s'écoule plus via une paire d'aiguilles positionnées au centre du cadran mais par un entrainement périphérique de 12 paires d'aiguilles partant de la circonférence vers l'intérieur. Les aiguilles, pointées vers l'intérieur attirent l'attention vers le centre du temps. Une aiguille rétrograde synchronisée avec l'aiguille principale des minutes avance le long d'un secteur de 5 minutes. En fin de course, elle vole en arrière et retrouve sa position initiale. L'aiguille longue des 5 minutes quant à elle pivote et se met en place.
Sur la plupart des montres, l'évolution du temps est imperceptible. En revanche, l'Opus 12 entre remarquablement en action, ses aiguilles effectuant un changement de garde toutes les cinq minutes. A chaque changement d'heure, le mouvement exécute un exercice de drill très élaboré, de par la rotation successive des aiguilles.
En contrebas de l'affichage rétrograde, une petite seconde flottante, graduée sur une bague translucide passe au-dessus d'un indicateur de réserve de marche.
Le remontage du mouvement déroge aux conventions. Il faut tourner la couronne à contresens pour armer simultanément les deux barillets, l'un fournissant l'énergie au mouvement et l'autre à l'animation. Afin que la couronne soit accessible, elle a été placée au centre de la carrure, cela nécessitant une roue de transmission qui inverse le sens de remontage.
Les 12 paliers répartis autour du cadran portent, chacun, une aiguille longue pour indiquer les pas de 5 minutes et une aiguille courte pour indiquer les heures.
La première tourne sur son axe et la deuxième gravite autour de la première pour apparaître au-dessus d'elle ou se cacher derrière. Chaque aiguille est reliée à une roue d'entraînement et présente une face bleue quand elle affiche le temps, une face neutre lorsqu'elle n'entre pas en mouvement.
Les aiguilles s'animent grâce à deux couronnes tournant autour du cadran. Toutes deux ont des sections dentées qui engrènent les roues d'entraînement des aiguilles à chaque palier.
La couronne extérieure qui actionne l'aiguille des minutes fait un tour de cadran en une heure, avançant par intervalles de 5 minutes d'un palier à l'autre.
Un premier secteur denté engrène la roue du prochain palier et l'aiguille 5 minutes se retourne côté affichage. Parallèlement, un deuxième secteur denté quitte le palier précédent et l'aiguille des minutes se retourne côté neutre.
Au changement d'heure, on assiste à un véritable spectacle. La couronne intérieure, qui n'a pas bougé depuis 60 minutes, s'élance soudainement autour du cadran et son secteur denté entraîne la rotation des aiguilles des heures en une succession rapide. Au fur et à mesure que la couronne tourne, palier après palier, l'aiguille des heures gravite sur 360° autour de l'aiguille des minutes et sa couleur bleuté apparaît en surface, en un éclair, avant de disparaître à nouveau.
La cinématique dure quelques secondes jusqu'à ce que, après être passé par les 12 paliers, le secteur denté entraîne l'affichage de l'heure suivante et se stabilise.
La vitesse de rotation est contrôlée par un échappement qui nécessite beaucoup moins d'énergie qu'un régulateur volant et qui produit un effet sonore captivant.
L'un des défis de cette Opus 12 a été, en effet d'optimiser l'énergie nécessaire à la précision du mouvement et à l'animation.
Le mouvement et l'animation sont alimentés par des barillets indépendants.
Le barillet d'animation fonctionne à l'aide d'un différentiel qui transmet l'énergie nécessaire au déplacement des couronnes aux intervalles dictées par le mouvement. Les deux barillets se remontent simultanément et les ressorts prennent un temps équivalent — 45 heures — pour se dérouler. Le mouvement s'arrête lorsque l'énergie nécessaire pour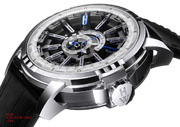 l'animation n'est plus suffisante.
Chaque barillet a un ressort à bride glissante pour éviter toute rupture en fin de remontage. La réserve de marche des deux barillets s'affiche le long d'un arc de cercle au centre de la montre.
Un balancier, oscillant à 18'000 A/h, permet à l'aiguille de petite seconde de progresser par sauts de 1/5ème de seconde. Un incroyable module loge les 27 aiguilles et les trains d'engrenage correspondants. La couronne extérieure, qui commande les 12 aiguilles de 5 minutes, forme une paroi tournant autour de ce module. Les horlogers ont donc dû construire un système de transmission externe pour relier la tige de remontoir, placée à la base de la montre, à la couronne qui devait être accessible à mi-hauteur de la carrure. La roue de transmission inverse le sens de remontage. On ne peut faire le réglage qu'en avançant l'heure.
Les principales indications sont donc les heures et les douzièmes d'heure. Les cinq minutes qui s'écoulent entre chaque animation, sur les paliers successifs, sont indiquées par une aiguille rétrograde au centre de la montre.
Time no longer reads via a pair of hands positioned in the center of the dial, but by the peripheral drive of 12 pairs of hands going from the circumference to the center. The hands, pointed towards the interior draw attention to the center of time.
A retrograde hand, synchronized with the main minutes hand, advances along a five-minute sector. At the end of its travel it flies back to its initial position while the long five-minutes hand pivots and sets itself still. In most watches the evolution of time is imperceptible. Opus 12, on the other hand, goes into action in a remarkable way, its hands changing the guard every five minutes.
At each change of the hour, the movement executes a very elaborate drill exercise by the successive rotation of the hands. Below the retrograde indication, a floating small seconds hand graduated on a translucent ring passes above a power-reserve indicator. The winding of the movement departs from convention.
The crown must be turned in the counterclockwise direction to simultaneously wind up the two barrels, one providing energy to the movement and the other, to the animation. In order for the crown to be accessible, it has been placed in the center of the caseband, requiring a transmission wheel that reverses the winding direction.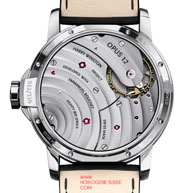 Each of the 12 stations around the dial carries a long hand to indicate the five-minute intervals and a short hand to indicate the hours.
The former rotates about its axis and the latter orbits the former to appear above it or hide beneath it. Each hand is attached to a driving wheel and each displays a blue face when it indicates the time and a neutral face when it is not in motion.
The hands are activated thanks to two crown wheels turning around the dial. Both of them have toothed sections that engage the driving wheels of the hands at each station. The outer crown wheel, which activates the minutes hand, goes around the dial in one hour, advancing at five-minute intervals from one station to the next. A first toothed section engages the wheel of the next station and the five-minute hand turns over to its indicating side. In parallel, a second toothed section leaves the previous station and the minutes hand turns over to its neutral side. At the change of the hour, one witnesses a real spectacle.
The inner crown wheel, which has not moved for 60 minutes, suddenly takes off around the dial and its toothed section drives the rotation of the hours hands in rapid succession. As the crown wheel goes around, the hours hand orbits 360° around the minutes hand station after station, and its blue color appears on the surface in a flash before disappearing again.
The kinematics lasts for a few seconds until, after passing by the 12 stations, the toothed section drives the indication of the next hour and stabilizes itself. The speed of rotation is controlled by an escapement, which needs far less energy than a flywheel governor and which provides a captivating sound effect. In fact one of the challenges of this Opus 12 has been to optimize the energy necessary for the precision of the movement and for the animation.
The movement and the animation are fed by independent barrels.
The barrel for the animation functions with the help of a differential that transmits the energy necessary for the travel of the crown wheels at the intervals governed by the movement. Both barrels are wound simultaneously, and the springs take the same time 45 hours to unwind. The movement stops when the energy required for the animation is not sufficient enough.
Each barrel has a slipping spring to prevent any breakage at the end of winding. The powerreserve of both barrels is shown along an arc of a circle in the center of the watch. A balance-wheel, oscillating at 18,000v/h, allows the small seconds hand to advance in jumps of one fifth of a second. An incredible module accommodates the 27 hands and their associated gear trains. The outer crown wheel, which governs the 12 five-minute hands, forms a wall rotating around this module. The watchmakers therefore had to construct an outside transmission system to connect the winding stem, positioned at the base of the timepiece, to the crown, which had to be accessible halfway up the caseband. The transmission wheel reverses the direction of winding. The setting can only be made by advancing the time.
The principal indications are thus the hours and twelfths of an hour.
The five minutes that go by between each animation at successive stations are indicated by a retrograde hand in the center of the timepiece.

Harry Winston Premier Excenter Time Zone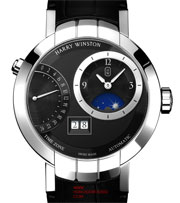 Boîtier au design contemporain, affichage asymétrique, fonctions rétrogrades, les codes de cette collection iconique ont été repensés pour afficher un style résolument masculin. Son boîtier de 41 mm de diamètre a des angles plus vifs et ses cornes sont affinées. Ses arches iconiques rappellent la voute néoclassique du Salon Harry Winston à New York ; celles-ci sont harmonieusement intégrées dans une continuité parfaite avec la géométrie de la lunette. Il s'en dégage une modernité architecturale que vient parachever une ergonomie parfaite.
Sur le cadran gris anthracite ou argenté, les fonctions sont clairement délimitées pour une visibilité optimale : le cercle des heures et minutes du premier fuseau horaire englobe l'indicateur jour-nuit, la grande date s'impose dans un guichet biseauté et le deuxième fuseau rétrograde profite du dégagement pour s'épanouir.
Sur des surfaces monochromes, priorité est donnée aux jeux de lumières. Le centre est microbillé, le pourtour et le deuxième fuseau horaire satiné circulaire, quant au compteur d'heure local, il est rehaussé d'un décor Clou de Paris. Des aiguilles facettées apportent leur concours à la subtilité de l'ensemble. Instrumenté par un mouvement mécanique à remontage automatique visible par le fond saphir, Premier Excenter Time Zone se présente dans un boîtier en or rose ou gris, sur un bracelet en alligator noir ou brun.
With a contemporary design, an asymmetrical display and retrograde functions, the codes of this collection have been reworked to reflect a resolutely masculine style. The 41mm-diameter case features slighter sharper angles and slimmer lugs. Its iconic arches reflect those adorning the flagship Harry Winston salon in New York and are harmoniously integrated so as to merge seamlessly into the overall flow of the bezel. The result radiates a modern, architectural elegance matched by a perfectly ergonomic feel.
The functions are distinctly laid out on the anthracite gray or silver-toned dial so as to ensure optimal readability: the first time-zone hours and minutes chapter ring surrounds the day/night indicator, the large date appears through a beveled aperture and the retrograde-display second time zone is clearly highlighted. The dial gives pride of place to the effects of light playing over the monochrome surfaces.
The center is shot-peened, the circumference and the second time zone are circular satin-brushed, while the local hour counter is enhanced with a Clous de Paris decor. Faceted hands contribute to the subtle overall elegance. The Premier Excenter Time Zone is powered by a mechanical automatic movement visible through the sapphire exhibition back and housed in a rose or white gold case fitted with a black or brown alligator leather strap.
Harry Winston Histoire de Tourbillon 3
L'architecture du boîtier exprime à elle seule la liberté de créer que Harry Winston accorde à ses ingénieurs et designers. Même les triples arches emblématiques de la marque, qui deviennent les attaches centrales, ont été taillées dans la masse pour une intégration parfaite.
Le Zalium® qui compose la carrure de la pièce est un alliage de zirconium révolutionnaire tant pour son aspect que pour sa technologie. Léger, non allergène, plus dur que le titane et donc extrêmement difficile à usiner, il répond à l'esprit avant-gardiste d'Histoire de Tourbillon 3.
Trois ouvertures de cadran indépendantes les unes des autres et pourtant intimement liées, coiffées chacune d'une glace saphir traitée anti-reflet.
À 9h parade magistralement le double tourbillon bi-axial. L'une dans l'autre, ses deux cages tournent individuellement, dévoilant la quatrième dimension du temps dans un espace à trois dimensions. Façonnées en titane et en aluminium, elles permettent à l'organe réglant d'effectuer des rotations multidimensionnelles. L'effet visuel est saisissant : la cage externe effectue une révolution en 120 secondes tandis que la cage interne portant le balancier, le spiral et l'échappement accomplit un tour complet en 40 secondes sur un axe perpendiculaire.
À 6h, un tourbillon à axe unique gravite en 36 secondes. Les deux systèmes régulateurs sont reliés par un différentiel qui fait la synthèse entre les différents rythmes, améliorant encore la précision de marche de la montre. Coupler trois cages de tourbillon et deux échappements relève de la gageure tant l'exercice demande un savoir-faire rare dans la recherche de l'équilibre entre des matériaux aux propriétés différentes en termes de masse, de vitesse de rotation et d'inertie.
Tandis que les secondes s'égrènent régulièrement autour du tourbillon bi-axial, l'affichage décentré des heures et minutes s'effectue sur deux disques rotatifs dans un esprit éminemment contemporain.
La troisième zone du cadran accueille l'indication de la réserve de marche. Fidèle à son savoir-faire joaillier, Harry Winston lui offre le luxe de s'afficher sur un disque pavé de saphirs et de citrines, dont les teintes font écho aux indications des heures et minutes.
Three tourbillons are in action, each rotating at different speeds to perform distinct gravitydefying functions. Two of them are nested one inside the other to rotate the fourth dimension of time through the three dimensions of space. In this bi-axial tourbillon, one tourbillon carriage rotates every 40 seconds within a second carriage going around in 120 seconds on an axis perpendicular to the first. This ensures that the vibrating balance moves through every possible plane in relation to the field of gravity to average out positional errors.
The third tourbillon carriage rotates a separate balance on a single axis in the conventional way, but at the relatively high speed of one revolution every 36 seconds. This tourbillon is most effective when the watch is in a vertical position, and by rotating the balance quickly it minimizes its exposure to the effects of gravity.
For even greater precision, the two regulating systems are connected through a differential gear that gives an average of their two rates. Uniting three tourbillions and two escapements with different properties in terms of mass, rotational velocity and inertia proved to be a delicate exercise in the balance of power.
For example, the double tourbillon system has to be made as light as possible using titanium and aluminum alloys so that it does not consume a disproportionate amount of power at the expense of the single tourbillon.
The watchcase, engineered to display the tourbillon systems to their best advantage, is unlike any other. The complex architecture is constructed of 77 parts in white gold and non-reflecting sapphire crystals with the caseband and lugs in Zalium®, a hard and ultra-light zirconium alloy.
The fluid outlines of the tourbillon housing in polished white gold contrast sharply with the rectangular rigidity of the lower case displaying the indications.
The hours and minutes are shown on discs rotating against their respective markers, and the seconds on a scale around the bi-axial tourbillon. Harry Winston shows off its flair with gemstones by using sapphires and citrines to indicate the power reserve. Eleven color-graded blue sapphires from dark to pale show the power left in the mainspring. The markers for the hours and minutes are color-matched with the gemstones.
©


toute reproduction strictement interdite