Girard-Perregaux
Nouveautés 2012 des montres Girard-Perregaux
---
Sea Hawk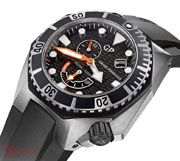 Cet outil de plongée extrême dispose d'une valve à hélium permettant sa décompression et d'une lunette tournante unidirectionnelle anti-horaire pour les calculs de temps de plongée. Une série de tests pour démontrer sa capacité à résister à la pression exercée à une profondeur de 1'000 mètres, là où la montre est soumise à une pression excédant 1'500 kg, a garanti son étanchéité, selon la sévère norme ISO 6425. La construction de son boîtier, avec notamment son fond vissé, lui assure une véritable résistance aux chocs, de même que la couronne, installée à 4h pour un meilleur confort au porter, renforcée par un cache-couronne qui s'intègre parfaitement au boîtier.
A n'en pas douter, la nouvelle Sea Hawk confirme son appartenance au cercle des montres de plongée, entérinée par son mouvement mécanique à remontage automatique, calibre GP3300.
Designed to withstand the rigors of deep SCUBA diving, it incorporates a helium valve for use during decompression and an anti-clockwise turning bezel for divetime calculations. A series of tests is carried out to demonstrate its capacity to operate at a depth of 1,000 meters where the pressure is more than 1,500 kg. This is the level of water-resistance required to meet the rigorous standards of ISO 6425. The construction of the case, and particularly its screwed case back, give the watch excellent shock- resistance, as does the crown which is protected by a perfectly integrated crown guard and positioned at 4 o'clock for greater comfort on the wrist.
There is no doubt that the new Sea Hawk earns its place among highperformance diving watches, confirmed by its automatic mechanical movement caliber GP3300.
Chrono Hawk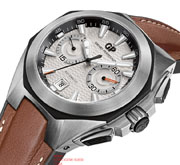 Contemporain, audacieux, le style se joue des opposés: certains éléments noirs mettent en lumière l'architecture de la montre, du rehaut à l'anneau octogonal caoutchouc qui supporte la lunette d'acier satiné. La couronne et les poussoirs imposent leur esthétique avec force, tandis que le bracelet caoutchouc, revêtu de cuir confirme un design réfléchi dans le moindre détail. Parfaitement équilibré, le cadran met en valeur les données du temps.
Les compteurs se font face, à 9h et 3h, dans une parfaite symétrie. La date s'installe à 6h, les index-appliques et les aiguilles des heures et minutes s'éclairent de matière Luminescente. L'agencement, classique dans la forme, est mis en valeur par un motif inspiré du célèbre Pont de Girard-Perregaux qui tapisse la surface du cadran.
Visible par le fond saphir du boîtier, le calibre GP3300, mouvement mécanique à remontage automatique, signe une pièce de très haute performance.
Its daring contemporary style plays with opposites: certain black elements underline the architectural nature of the watch, from the flange to the octagonal rubber ring that holds the satin-finish steel bezel. The crown and the push buttons impose an assertive character while the rubber-lined strap in leather, reveals a design that is meticulous in every detail. The perfectly balanced, light colored dial focuses on the timing information.
The two chronograph counters face each other at 3 and 9 o'clock in perfect symmetry. The date at 6 o'clock, the applied markers, and the hour and minute hands are all luminescent. This classic arrangement is further enhanced by a motif, inspired by the famous Girard-Perregaux Bridge that covers the surface of the dial.
The mechanical, automatic-winding movement, calibre GP3300 that can be seen through the sapphire case-back, confirms this as a watch with very high performance
Girard-Perregaux Vintage 1945 XXL Chronographe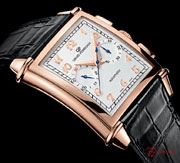 Face à face, les deux compteurs chronographe confirment l'eurythmie de la pièce. Leurs aiguilles en acier bleui répondent à celle de la trotteuse centrale, tandis que les heures et minutes s'égrènent au gré des aiguilles dauphine.
Les chiffres arabes appliques évoquent le raffinement des montres classiques, de même que la minuterie « chemin de fer » rappelle la Vintage 1945 originelle. Incurvé, le cadran offre au temps un espace à sa mesure et parachève le style de la montre.
Le fond saphir s'ouvre sur le savant mécanisme entièrement conçu, fabriqué et monté au sein de la Manufacture de La Chaux-de-Fonds. Le calibre GP03300 expose ses terminaisons de Haute Horlogerie, réalisées à la main comme l'exige la tradition, au gré du va-et-vient de sa masse oscillante en or.
The two chronograph counters face each other and assert the piece's symmetry. The blued steel hands match the central seconds hand, while the hours and minutes are measured by dauphine style hands. The applied Arabic numerals recall the refinement of classic watches, and the "railroad" minute track recalls the original Vintage 1945.
The curved dial is an appropriate space for the measurement of time and a crowning touch for the style of the watch.
The sapphire case-back opens on to the cunning mechanism entirely designed, manufactured and assembled in-house by the Manufacture at La Chaux-de-Fonds.
The caliber GP03300 reveals its Haute Horlogerie pedigree, hand finished as tradition demands, in between the sweeps of its gold oscillating weight.
Girard-Perregaux Tourbillon bi-axial Titane DLC
Véritable chef-d'œuvre de technologie, le Tourbillon bi-axial Girard-Perregaux est muni de deux cages concentriques permettant à l'organe réglant d'effectuer des rotations pluridimensionnelles. Cette construction complexe permet de compenser les écarts de marche dus à la gravité terrestre.
Une cage interne portant le balancier, le spiral et l'échappement, accomplit un tour complet autour de son axe en quarante-cinq secondes. Une cage externe effectue une révolution en une minute et quinze secondes, permettant une rotation sur un second axe. Une révolution complète s'achève en trois minutes et quarante-cinq secondes.
Ce véritable ballet aérien offre un spectacle extraordinaire tandis que le brassage des positions garantit une excellente précision de marche. Le mécanisme sophistiqué étonne par sa délicatesse : les deux cages ne pèsent que 0,80 gramme et totalisent pourtant plus de cent dix composants.
A masterwork of technology, the Girard-Perregaux bi-axial Tourbillon combines two concentric cages that enable the regulating part to make multi-dimensional rotations. This complex construction compensates for rate irregularities due to the Earth's gravity. An internal cage bearing the balance wheel, balance spring and escapement completes one full turn on its axis in forty-five seconds.
In addition, an external cage completes one revolution in one minute and fifteen seconds, enabling a rotation on its second axis. A full revolution is completed in three minutes and forty-five seconds.
This aerial ballet offers an extraordinary spectacle, while the alternation of positions enables excellent rate precision.
The sophisticated mechanism has an astounding delicacy: the two cages weigh just 0.80 grams, yet comprise a total of over one hundred and ten components.
Girard-Perregaux 1966 Répétition Minutes
La construction de la montre Girard-Perregaux 1966 Répétition Minutes respecte en tous points la grande tradition horlogère. La fabrication du son repose sur un dispositif qui requiert la présence de deux timbres circulaires, enroulés à l'intérieur du boîtier, et de marteaux qui les frappent à intervalles réguliers. Afin de créer la vibration qui induira le son le plus proche de la perfection, le réglage de la sonnerie reste un des éléments les plus délicats, que Girard- Perregaux met un soin particulier à peaufiner.
La conception particulière de la montre a requis des recherches approfondies sur les qualités acoustiques. La Manufacture a notamment travaillé sur trois points de construction du boîtier. Le diamètre du calibre et le diamètre intérieur du boîtier sont en parfaite adéquation, un ratio qui garantit une résonance maximale.
Le fond a été galbé afin d'augmenter le volume d'air entre le mouvement et le boîtier, ce qui améliore sensiblement la propagation du son. Enfin, la partie inférieure du fond est diamantée, une opération qui permet de réduire les interférences acoustiques. Pour souligner encore la noblesse de la montre, les artisans ont soigné chaque détail esthétique.
Le cadran en émail blanc est d'une absolue sobriété. Les aiguilles feuilles bleuies et les index appliques portent sans conteste le sceau de la pureté.
La montre abrite un mouvement mécanique à remontage manuel doté d'une réserve de marche de plus de 4 jours et logé dans un écrin en or rose de 42 mm de diamètre.
The construction of the Girard-Perregaux 1966 Minute Repeater watch fully respects the great watchmaking tradition. The creation of the sound relies on a device that requires the presence of two circular gongs coiled inside the case and small hammers that strike them at regular intervals. In order to create a vibration to produce the sound that comes closest to perfection, the tuning of the chimes remains one of the most delicate elements; one that Girard-Perregaux takes particular care in refining.
The watch's special design required thorough research into acoustic qualities. In particular, the Manufacture worked on three construction points on the case. The diameter of the calibre and the interior diameter of the case are perfectly balanced, a ratio that guarantees maximum resonance.
The case-back is curved in order to increase the volume of air between the movement and the case, which significantly improves the propagation of the sound. Finally, the lower part of the case-back is diamond-polished, an operation that allows acoustic interference to be reduced. In order to further highlight the nobility of the timepiece, craftsmen have taken great care over every aesthetic detail. The white enamel dial exhibits absolute restraint.
The leaf-shaped blued hands and applied hour markers bear the unmistakable mark of purity. The watch contains a hand-wound mechanical movement equipped with a power reserve of over 4 days, housed in a pink-gold case with a diameter of 42 mm.
Girard-Perregaux Vintage 1945 Grande Date Phases de lune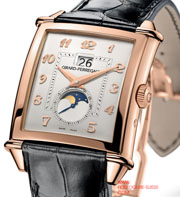 À 12h, la grande date instantanée saisit le quotidien sur un duo de disques, dont un transparent, qui font l'objet d'un système breveté. Elle marque le tempo dans une minuterie « chemin de fer » qui court autour du cadran. Les aiguilles et les chiffres arabes appliqués affichent l'heure avec simplicité. Les index incurvés réalisés avec une extrême minutie sont particulièrement délicats.
Disposée traditionnellement à 6h, l'indication de phases de lune en relief se présente sous un ciel d'une parfaite clarté.
Avec ses 282 composants, le calibre Girard-Perregaux 03300-0062 est doté des caractéristiques de précision propre à la Manufacture.
D'une fiabilité exceptionnelle, il bat à la fréquence de 28'800 alternances par heure.
With its perfect circle and open case-back that displays the movement, the Vintage 1945 Large Date Moon-Phases perfectly embodies the spirit of the collection. All the time displays are harmoniously arranged and readable at a glance. At 12 o'clock, the instant large date displays the date on a pair of discs – one of which is transparent – in a patented system. It beats the tempo with a railway minute track that runs around the dial.
The hands and applied Arabic numerals display the time with simplicity. The meticulously crafted curved hour markers are particularly delicate. Traditionally positioned at 6 o'clock, the raised moonphases indicator is presented beneath a sky of perfect clarity.
With its 282 components, the calibre Girard-Perregaux 03300-0062 features precision characteristics that are the Manufacture's own. Exceptionally reliable, it beats to a frequency of 28,800 vibrations per hour.
©


toute reproduction strictement interdite