De Bethune
Nouveautés 2012 des montres De Bethune
---
De Bethune DB 28 ST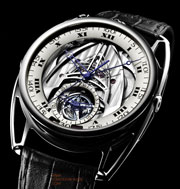 Fonctions : heures - minutes - secondes sautantes au centre -Tourbillon avec indication de la seconde sur 30", réserve de marche.
Mouvement : Calibre DB2119 – mécanique à remontage manuel
Platine décorée à la main, aciers anglés et polis main
Double barillet autorégulateur*- Les barillets sont spécifiquement réalisés pour éliminer les frictions et transmettre efficacement le maximum d'énergie.
Balancier silicium / or gris* avec courbe terminale plate - Grâce à sa légèreté, ce balancier permet de réduire les frottements mécaniques et délivre le rapport inertie / masse idéal. Le principe de la courbe terminale plate, placée sur le même plan que le spiral compense les décentrages et facilite sa fixation.
De Bethune Tourbillon 30 " silicium/titane 36'000 A/h. le plus rapide et le plus léger du marché composé de 64 éléments pesant 0,18g
Roue d'échappement en silicium
Seconde sautante centrale
Empierrage : 47 Rubis
Fréquence : 36'000 alternances par heure
Réserve de marche : 4 jours
Boîtier de forme arrondie 43mm de diamètre en Titane grade 5 poli miroir
Epaisseur : 12.3mm
* Brevets De Bethune Manufacture
Functions : hours - minutes – central jumping seconds -Tourbillon with 30-second indication
Movement : Calibre DB2119 – mechanical hand-wound
Hand-decorated mainplate, hand-chamfered and polished steel parts
Self-regulating twin barrel* – The barrels are specifically designed to eliminate friction and efficiently transmit a maximum of energy.
Silicon/white gold balance wheel* with flat terminal curve – Its exceptional lightness enables this balance wheel to reduce mechanical friction and deliver an ideal inertia/mass ratio. The principle of the flat end curve, placed on the same level as the balance-spring, compensates for off-centering and facilitates its fastening.
De Bethune 30" silicon/titanium Tourbillon 36,000 vph, the fastest and the lightest on the market, comprising 64 parts
weighing 0.18 grams
Silicon escape wheel
Central jumping seconds
Jewelling : 47 jewels
Frequency : 36,000 vibrations per hour
Power reserve: 4 days
Case round shape, 43 mm in diameter, made of mirror-polished grade 5 titanium
Thickness : 12.3 mm
* Patents registered by the Manufacture De Bethune
De Bethune DB 27 Titan Hawk
A l'Auberson, des mains expertes effectuent sur le titane grade 5 un travail considérable et inégalé maîtrisant à la perfection l'exigeante technique du poli miroir que l'on observe sur le boîtier, les berceaux et notamment sur le dos bombé de la Titan Hawk. Ses berceaux sont munis du système à ressorts breveté qui permet à la montre de s'adapter au poignet et aux mouvements de son possesseur dans le souci d'un confort et d'une esthétique jusqu'au-boutiste.
La couleur argenté du cadran grené scintille au centre grâce au microlight qui accompagne la lecture d'un quantième central, entouré d'un anneau des heures et des minutes dont le travail sur les volumes s'apprécie tant dans sa forme arrondie que sur le relief des indicateurs de chiffres.
Les aiguilles ajourées, de forme atypique pour celle de la date, sont en acier, polies à la main et bleuies à la flamme dans les ateliers De Bethune où le savoir-faire se conjugue à la maîtrise technique et au génie artistique.
La DB27 Titan Hawk bénéficie d'un mécanisme à la technicité toujours éprouvée, chère à Denis Flageollet qui sans cesse affine les connaissances techniques de la Manufacture.
Le balancier annulaire en silicium et or gris, dévoilé au dos de la montre est animé par le dernier calibre manufacture automatique - heure, minute et date centrale - S233 dont le nom réfère à la masse volumique du silicium.
In the village of L'Auberson, expert hands meticulously craft the grade 5 titanium, displaying perfect mastery of the delicate mirror-polishing technique gracing the case, the floating lugs and the domed back of the Titan Hawk. The floating lugs are fitted with a patented system of springs that enables the watch to adjust to the wrist and to its wearer's movements, in harmony with De Bethune's consistent concern for comfort and for cutting-edge aesthetic appeal.
The silver-toned colour of the grained dial sparkles in the centre thanks to the microlight accompanying the central calendar read-off, surrounded by a chapter ring and minute circle featuring a rounded shape and raised numerals.
The cut-out hands including the atypically shape date pointer are in steel, hand-polished and flame-blued in the De Bethune workshops, where time-honoured know-how is combined with technical mastery and artistic genius.
The DB27 Titan Hawk is equipped with a mechanism boasting the kind of proven technical features dear to Denis Flageollet, who continues to broaden and perfect the technical knowledge of the Manufacture. The silicon and white gold annular balance wheel revealed through the case-back powers the latest self-winding in-house calibre – driving the central hour, minute and date functions – named S233 after the specific gravity of silicon.
©


toute reproduction strictement interdite