Corum
Nouveautés 2012 des montres Corum
---
Admiral's Cup Legend 46 Minute Repeater Acoustica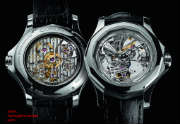 Avec l'extraordinaire Admiral's Cup Legend 46 Minute Repeater Acoustica, Corum présente une répétition minutes dotée d'un mouvement à quatre marteaux. Déjà considéré comme l'une des complications les plus sophistiquées – avec ses minuscules râteaux, cames et limaçons –, le mécanisme de sonnerie d'une répétition minutes est ici magnifié par l'ajout de deux timbres supplémentaires. Pour la première fois dans l'histoire de l'horlogerie, ce n'est pas un, mais deux marteaux qui frappent simultanément les timbres à la demande, laissant s'échapper non pas une note, mais un accord. Cet objet somptueux ne sera produit qu'à dix exemplaires au total, dont une pièce en or blanc entièrement sertie de 650 diamants.
Sur l'Admiral's Cup Legend 46 Minute Repeater Acoustica, les deux timbres les plus graves – do pour les heures et mi pour les minutes – ont été placés au dos du mouvement, tandis que les plus aigus – sol pour les heures et do à l'octave pour les minutes – figurent sur le dessus. Raffinement technique supplémentaire, pour garantir une étanchéité de la pièce à 30 mètres, le déclenchement du mécanisme – qui dispose de sa propre réserve d'énergie avec un barillet dédié – n'est réalisé ni par un bouton pressoir, ni par un verrou d'armage, mais en faisant pivoter la lunette de 27°. A 3h35 par exemple, la montre sonnera ainsi trois accords do-sol pour les heures, deux coups combinant les accords pour les quarts et cinq accords mi-do pour les minutes.
Ce modèle hors du commun, présentant un généreux diamètre de 46 mm, ne sera produit qu'à 10 exemplaires en 2012 : 6 en titane grade 5 montés sur bracelet cuir alligator noir et boucle ardillon, 3 en or rouge 5N 18ct sur un bracelet identique, et une pièce en or blanc 18 ct sertie de 614 diamants ronds sur le boîtier, laprotection de la couronne et la boucle ardillon, ainsi que 36 diamants baguette sur la lunette, pour un total de ~11,91 carats
With the extraordinary Admiral's Cup Legend 46 Minute Repeater Acoustica, Corum presents a minute repeater equipped with a four-hammer movement. Already considered in itself to be one of the most sophisticated horological complications thanks to its tiny racks, cams and snails, the striking mechanism of a minute repeater watch is magnified here by two additional gongs. For the first time in watchmaking history, two gongs instead of one simultaneously strike the gongs on demand, thus generating not a note, but instead a chord. This splendid object will be issued in a ten-piece limited edition, including a white gold version entirely set with 650 diamonds.
On the Admiral's Cup Legend 46 Minute Repeater Acoustica, the two lowest-pitched gongs – C (do) for the hours and E (mi) for the minutes – have been placed on the back of the movement, while the highest-pitched ones – G (sol) for the hours and C (Do) one octave up from middle C for the minutes – appear on the upper side. An additional touch of technical refinement is lent by a device designed to guarantee the model's water resistance at 30 meters: the mechanism, which has its own power reserve thanks to a dedicated barrel, is activated neither by a pusher, nor by a sliding bolt, but instead by pivoting the bezel by 27°. By way of example, at 3.35 am, the watch will strike three C-G chords for the hours, twice with a combination of the chords for the quarters, and five E-C chords for the minutes.
This exceptional model with its generous 46 mm diameter will be produced in a 10-piece limited edition in 2012: six in grade 5 titanium fitted with a black alligator leather strap secured by a pin buckle; three in 5N 18K red gold on an identical strap; and an 18-carat white gold version set with 614 round diamonds adorning the case, the crown guard and the pin buckle, as well as 36 baguette-cut diamonds on the bezel – composing a grand total of 11.91 carats. A truly stunning creation, embodying the quintessence of watchmaking and jewelry-making artistry.
Corum Ti-Bridge Power Reserve
En son coeur, bat toute la noblesse horlogère. Le calibre CO107 – affiche les fonctions heures, minutes ainsi que l'indication de la réserve de marche. Pour répondre à la géométrie structurée de ce garde-temps, l'affichage linéaire de la réserve de marche s'imposait. Pour ce faire, le calibre CO107 est pourvu d'un train de rouage satellite, visible lorsque l'on examine la montre de biais, dans l'axe 9h / 3h, mais invisible lorsque l'on regarde cette Ti-Bridge de face.
Ce module comporte plusieurs spécificités, dont un système à différentiel composé de trois roues, dont une « roue planétaire » excentrée. Selon son sens de rotation, cette dernière tourne soit autour de son propre axe, soit autour de l'axe des deux autres roues, reliant ainsi le barillet d'une part, la tige de remontoir d'autre part, à l'indicateur de réserve de marche, ceci dans un minimum de place.
Autre particularité développée pour ce calibre : l'indicateur de réserve de marche est monté sur une pièce coulissante dentée en nickel phosphate. Le choix de ce matériau, combiné à un processus de fabrication « LIGA » - de l'Allemand « Lithographie, Galvanik und Abformung » - qui s'apparente à l'électroformage, permet l'obtention d'une pièce aux cotes beaucoup plus précises que celles obtenues via un usinage mécanique classique. Il garantit ainsi l'extrême précision de l'indication du niveau de réserve de marche, qui s'élève ici à 3 jours.
At its heart beats a worthy representative of horological nobility, Caliber CO107, which drives the hour and minute functions as well as the power-reserve indication. Reflecting the structured geometry of this timepiece, the linear power-reserve was a natural choice.
To achieve this, Caliber CO107 is fitted with a satellite going train that is visible when viewing the watch sideways along the 9 – 3 o'clock axis, but invisible when looking face on at this Ti-Bridge watch. This module features several specific characteristics, including a differential system composed of three wheels, including an offset planetary wheel. Depending on its rotation direction, the latter spins either on its axis or around that of the two other wheels, thereby linking the barrel on the one hand and the winding stem on the either to the power-reserve indicator – and all within a minimum of space.
Another specific feature developed for this caliber is the power-reserve indicator fitted on a toothed sliding piece in phosphate nickel. The choice of this material, combined with a "LIGA" manufacturing process – an acronym derived the German words for lithography, electroplating and molding -– which is a type of electroforming, serves to create a part with far more precise measurements than those achieved by classic mechanical machining. It thereby guarantees the extremely accurate indication of the level of the power reserve – which in this case amounts to three days in all.
Corum Admiral's Cup Legend 42 Annual Calendar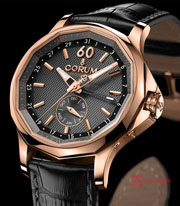 L'Admiral's Cup Legend 42 Annual Calendar, c'est d'abord et avant tout le désir d'offrir un modèle à l'identité visuelle forte. Déclinée en or rouge ou en acier, avec cadran argenté ou anthracite, la montre décline des lignes pures et une véritable philosophie de l'essentiel.
Sur son cadran, toutes les fonctions du calendrier s'affichent avec clarté et harmonie. En plus des heures, des minutes et des secondes, la montre indique la date autour du cadran par une aiguille squelettée et les mois dans un guichet azuré à 6h.
Complication horlogère remarquable et utile s'il en est, le quantième annuel prend en compte automatiquement les mois de 30 et 31 jours ; il nécessite ainsi un seul ajustement par an, à la fin du mois de février.
Etanche à 30 mètres, le boîtier de 42 mm de diamètre de l'Admiral's Cup Legend 42 Annual Calendar abrite le mouvement mécanique à remontage automatique, Corum CO503, disposant de 42 heures de réserve de marche.
Au dos de la montre, un fond saphir révèle le coeur du mouvement et sa masse personnalisée du logo de la marque.
The Admiral's Cup Legend 42 Annual Calendar stems first and foremost from a desire to offer a model with a powerful visual identity. Crafted in red gold or steel, with a silver-toned or anthracite dial, the watch is distinguished by pure lines and a philosophy firmly focused on essentials.
The various calendar functions are displayed clearly and harmoniously on the dial. In addition to the hours, minutes and seconds, the watch indicates the date around the dial circumference by means of an openworked hand, and the months through a snailed aperture at 6 o'clock.
Representing a remarkable and eminently useful horological complication, the annual calendar automatically takes account of 30- and 31-day months, thus requiring just one adjustment per year, at the end of February.
Water-resistant to 30 meters, the 42 mm-diameter case of the Admiral's Cup Legend 42 Annual Calendar houses the mechanical automatic Corum CO503 movement, endowed with a 42-hour power reserve.
On the reverse side of the watch, a sapphire caseback reveals the heart of the movement and its oscillating weight personalized with the brand logo.
Corum Admiral's Cup Legend 42 Tourbillon Micro-Rotor
L'Admiral's Cup 42 Legend Tourbillon Micro-Rotor bat au rythme du calibre CO 029. Cet exceptionnel mouvement mécanique à remontage automatique bat à une fréquence de 28'800 alternances par heure pour une réserve de marche d'environ 60 heures.
A 6h, le tourbillon ouvre son coeur et invite à plonger le regard dans la cage du tourbillon de 12 mm. Amarré au mouvement, le pont de tourbillon ajouré – doré et poli pour la pièce en or rouge et rhodié poli pour la pièce en acier –attire tous les regards.
L'Admiral's Cup Legend 42 Tourbillon Micro-Rotor est proposée en trois exécutions – or rouge 18 carats, en bicolore avec la lunette en or rouge 18 carats et le boîtier en acier, et acier – elle se présente dans un diamètre de 42 mm.
Thanks to its tourbillon caliber, Corum takes the classical nature of this watch to yet another level, since the Admiral's Cup 42 Legend Tourbillon Micro-Rotor beats to the rhythm of Caliber CO503. This exceptional mechanical automatic movement operates at a frequency of 28,800 vibrations per hour and boasts a 60-hour power reserve.
The tourbillon at 6 o'clock reveals its heart and invites the wearer to enjoy a plunging view of the 12 mm tourbillon carriage. Firmly secured to the movement, the openworked tourbillon bridge – gilded and polished for the red gold model , rhodiumed and polished for the steel model – is a real eye-catcher.
The Admiral's Cup Legend 42 Tourbillon Micro-Rotor is available in three versions – 18K red gold, two-tone with an 18K red gold bezel and a steel case, or in steel – it feature a 42 mm diameter.
Corum Admiral's Cup Legend 42 Chrono
En 2011, la collection mythique voit naître la ligne Legend, plus classique sous les couleurs d'une montre automatique sobre, élégante, mais qui conserve les codes identitaires de l'Admiral's Cup. Cette année, Corum enrichit cette ligne de l'Admiral's Cup Legend 42 Chrono, équipée d'un mouvement chronographe certifié COSC, le calibre CO984. Proposant les fonctions heures, minutes, petite seconde, date et chronographe, ce mouvement bat à une fréquence de 28'800 alternances par heure pour une réserve de marche de 42 heures.
Le nouveau modèle demeure fidèle à la légendaire lunette dodécagonale caractéristique de la collection, mais cette dernière présente les angles plus adoucis de la ligne Legend. A l'instar des poussoirs du chronographe, fins et élancés. Quant à l'élégant boîtier de 42 mm, il est doté d'un fond saphir transparent vissé afin de laisser admirer le mécanisme qu'il abrite.
In 2011, the legendary collection witnessed the birth of the more classic Legend line in the form of an understated and elegant automatic watch that nonetheless retained the distinctive Admiral's Cup features. This year, Corum is enriching this lien with the Admiral's Cup Legend 42 Chrono, equipped with a COSC-certified chronograph movement, Caliber CO983.
This movement driving the hour, minute, small seconds, date and chronograph functions beats at a frequency of 28,800 vibrations per hour and boasts a 42-hour power reserve.
The new model remains loyal to the collection's legendary twelve-sided bezel, but the latter features the softest lines in the entire Legend line, reflected in the slender, streamlined chronograph pushers. The elegant 42 mm case is fitted with a screw-in transparent sapphire caseback providing an admirable view of the mechanism within.
Corum Admiral's Cup Legend 38 Mystery Moon
Un cadran de nacre véritable tournant sur lui-même, entraînant dans sa course la Lune et le Soleil : c'est le coup de maître réalisé par Corum avec la nouvelle Admiral's Cup Legend 38 Mystery Moon, spécialement dédiée aux femmes. Sans rien abandonner des codes identitaires qui font de cette collection un mythe depuis plus de 50 ans, la Maison de La Chaux-de-Fonds offre avec ce garde-temps une véritable démonstration de poésie et de savoir-faire.
Dans le légendaire boîtier dodécagonal auréolé des douze flammes nautiques, une phase de Lune et une date soleillée se poursuivent sans jamais se rattraper. Exclusive et brevetée par Corum, cette complication marque une étape importante pour la collection Admiral's Cup, qui s'ouvre davantage encore à la sagacité féminine.
An endlessly spinning genuine mother-of-pearl dial carrying the Sun and Moon in its fascinating dance: such is the master-stroke achieved by Corum with the new Admiral's Cup Legend 38 Mystery Moon, especially dedicated to women. Without renouncing any of the design codes that have forged the identity of this iconic collection for over 50 years, the brand from La Chaux-de-Fonds provides an authentic demonstration of poetry and expertise in this stunning timepiece.
Within the legendary twelve-sided case surrounded by 12 nautical pennants, a moon-phase display and a sunburst date indication play a fascinating game of chase without ever catching up with each other. This exclusive Corumpatented horological complication represents a landmark introduction to the Admiral's Cup collection, which is thereby displaying its willingness to embrace feminine wisdom.
©


toute reproduction strictement interdite