Audemars Piguet
Nouveautés 2012 des montres Audemars Piguet
---
Royal Oak Edition Limitée Leo Messi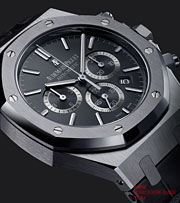 Editée en série limitée de seulement 1000 pièces (en acier/tantale, or rose/tantale et platine/tantale), la Royal Oak Edition Limitée Leo Messi se différencie sur tous les plans.
Avec un diamètre de 41 mm, elle présente ainsi un visage à la fois généreux et moderne sans pour autant être ostentatoire. Parallèlement, cette série limitée est habillée d'un bracelet en alligator – ainsi que d'un bracelet supplémentaire plus sportif en caoutchouc– et non du traditionnel bracelet métal en acier.
Le cadran pur et élégant de la Royal Oak Leo Messi ne reprend pas le motif « tapisserie » si caractéristique des Royal Oak. De couleur anthracite et satiné vertical avec index en or blanc pour la version acier ou index en or rose pour la version or rose, le cadran du modèle en platine est d'un bleu profond avec des index en or blanc.
Pour les trois versions, les trois compteurs auxiliaires du chronographe et de la petite seconde sont cerclés d'une zone extérieure très finement argentée et satinée circulaire.
Toujours équipées de huit vis hexagonales en or blanc polies, les lunettes des Royal Oak Edition Limitée Leo Messi ainsi que les plots d'attaches du bracelet sont en tantale offrant de subtils reflets gris-bleu.
La Royal Oak Leo Messi est éditée en série limitée de 1000 pièces: 500 en acier/tantale, 400 en or rose/tantale et 100 en platine/tantale. Chaque montre est livrée dans un écrin original reprenant la forme d'une boîte à chaussures laquée décorée à l'intérieur de la dédicace du joueur.
Ce chronographe Royal Oak abrite le calibre mécanique à remontage automatique 2385 qui propose les fonctions heures, minutes, petite seconde, date et chronographe. Intégrant 304 composants, le mouvement dispose d'une réserve de marche de 40 heures pour une fréquence de 21'600 alternances/heure (3 Hz). Il est équipé d'une masse oscillante monobloc en or 18 ct.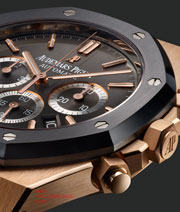 Presented as a limited series of only 1000 pieces (in steel/tantalum, pink gold/tantalum and platinum/tantalum), the Limited Edition Leo Messi Royal Oak is distinctive on every front. With a 41 mm diameter, it offers a generous and modern face that avoids being ostentatious. In addition, the limited series is graced with an alligator strap – and with an additional sportier rubber strap – to replace the traditional steel bracelet.
The Leo Messi Royal Oak's pure and elegant dial does not repeat the "tapisserie" motif that was the Royal Oak's trademark.
The dial is vertically brushed anthracite with hour markers in white gold for the steel version and pink gold for the pink gold version, while the platinum version sports a deep blue dial with white gold hour markers.
For all versions, the three auxiliary chronograph counters and the small seconds counter are encircled by a finely brushed silvered ring.
Retaining the collection's eight hexagonal screws in polished white gold, the bezel of the Limited Edition Leo Messi Royal Oak and the fastening links of the strap are in tantalum, giving off subtle glints of blue and grey.
The Leo Messi Royal Oak is offered in a limited series of 1000 pieces: 500 in steel/tantalum, 400 in pink gold/tantalum and 100 in platinum/tantalum.
Each watch is delivered in an original case in the shape of a lacquered shoe box decorated on the inside with the player's dedication.
This Royal Oak chronograph houses the self-winding mechanical calibre 2385 which offers hours, minutes, small seconds, date and chronograph functions.
Made up of 304 components, the movement has a 40-hour power reserve and beats at a frequency of 21,600 vibrations per hour (3 Hz). It is fitted with a single-block 18 ct gold oscillating weight.
Royal Oak Squelette Extra-plate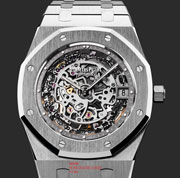 La Royal Oak a 40 ans en 2012. Pour célébrer dignement cet anniversaire, la manufacture du Brassus lève le voile sur la Royal Oak Squelette Extra-plate, une déclinaison alliant maîtrise horlogère, modernité et tempérament sportif.
Le calibre manufacture automatique extra-plat 5122 que révèle ce modèle anniversaire est le résultat d'un exercice de haut vol. Ce mouvement de 3.05 mm d'épaisseur est intégralement squeletté, y compris son barillet suspendu. Outre le squelettage réalisé dans un esprit très moderne, la couleur anthracite obtenue par traitement galvanique lui confère une esthétique résolument contemporaine. L'intégralité des finitions des ponts et de la platine (polissage, satinage, perlage, cerclage et traits tirés) sont réalisés à la main. La masse oscillante monobloc, entièrement réalisée en or 22 carats, est estampillé « AP Royal Oak 1972-2012 » en relief.
Son segment extérieur est décoré d'un motif « tapisserie », en rappel de la décoration caractéristique des cadrans de la collection Royal Oak.
Le cadran gris ardoise ajouré offre une impressionnante vision du calibre squelette 5122. Le disque de quantième est réalisé en saphir afin de préserver la transparence de ce mouvement.
Les chiffres de la date y sont décalqués en noir. La date du jour est révélée par le fond gris du guichet de quantième réalisé en saphir métallisé avec décors traits tirés.
The Royal Oak is 40 years young in 2012. To celebrate this anniversary in due style, the Manufacture in Le Brassus now unveils the Openworked Extra-Thin Royal Oak, an interpretation combining horological mastery and modernity with a sporting temperament.
The ultra-thin selfwinding proprietary Calibre 5122 revealed through this anniversary model stems from a sophisticated technical and aesthetic accomplishment. This 3.05 mm thick is entirely openworked, including its hanging barrel. In addition to this skeletonisation performed in a very modern spirit, the anthracite colour achieved by galvanic treatment lends a resolutely contemporary aesthetic. All the finishing operations on the bridges and mainplate (polishing, satin-brushing, circular-graining, circular satin-brushing and drawn flanks) are done by hand.
The monobloc oscillating weight entirely made in 22-carat gold bears the raised inscription "AP Royal Oak 1972-2012". Its external segment is adorned with a "tapisserie" motif reminiscent of the characteristic decoration of the dials in the Royal Oak collection. The slate grey dial provides an impressive view of the openworked Calibre 5122.
The date disc is made from sapphire in order to preserve the transparency of this movement. The date numbers are transferred in black, and the day is revealed against the grey background of the date aperture made in metallic sapphire with a vertically drawn motif.
Tourbillon Royal Oak Extra-plat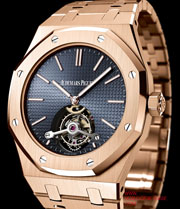 Hommage à la légendaire Royal Oak, première montre de sport de prestige (elle était alors en acier) lancée par Audemars Piguet en 1972, le nouveau modèle Tourbillon Royal Oak Extra-plat est un double clin d'oeil à l'idée originelle de la collection – un mouvement de prestige dans un boîtier extra-plat – et au premier tourbillon montre-bracelet de 1986. Le nouveau calibre 2924 a remontage manuel présente, côté fond, un pont de ¾ qui n'est pas sans rappeler celui du premier tourbillon automatique extra-plat de 1986.
Présentant des finitions soignées et une esthétique sobre en ligne avec le design du boîtier Royal Oak, le nouveau calibre 2924 de 4.46 mm d'épaisseur – ce qui en fait l'un des plus minces du marché - a été conçu et construit de manière à concilier le double objectif de finesse et de robustesse.
Les principes de construction - avec notamment le pont de ¾ - et le choix des matériaux ont permis d'allier résistance et caractère extra-plat. Ce mouvement se singularise également par sa cage de tourbillon en acier – pour disposer du meilleur équilibre entre finesse et inertie – et par son grand balancier qui contribue à gagner encore en fiabilité. Intégrant 216 composants, le calibre 2924 bat à une fréquence de 21'600 alternances/heure (3 Hz) pour une réserve de marche de 70 heures.
Caractéristique de la Royal Oak originale de 1972, ce Tourbillon Royal Oak Extra-plat présente un boitier et un bracelet en or rose parfaitement intégrés.
D'un diamètre de 41 mm pour une épaisseur de 8.85 mm et étanche à 50 mètres, le boîtier, rehaussé de la fameuse lunette octogonale typique de la collection, abrite un cadran bleu profond qu'animent les index et les aiguilles en or rose.
In tribute to the legendary Royal Oak, the first prestige sports watch (made of steel at the time) launched by Audemars Piguet in 1972, the new Extra-Thin Royal Oak Tourbillon is a double nod to the original idea governing the collection – namely a prestigious movement within an ultra-thin case – as well as to the first tourbillon wristwatch introduced in 1986. The new hand-wound Calibre 2924 features a three-quarter bridge on the under side which is reminiscent of the one appearing on that first extra-thin selfwinding tourbillon model. Graced with meticulous finishing and an understated aesthetic entirely in line with the design of the Royal Oak case, Calibre 2924 is one of the thinnest of its kind at just 4.46 mm thick. It was indeed entirely built in such a way as to achieve the two-fold objective of slenderness and sturdiness.
The construction principles, including the three-quarter bridge, together with the choice of materials, made it possible to create a blend of resistance and extreme thinness. This movement is also distinguished by its tourbillon carriage made of steel – to strike a perfect balance between finesse and inertia – and by its large balance that further enhances its reliability.
The 216-part Calibre 2924 beats at a frequency of 21,600 vibrations per hour (3 Hz) and is endowed with a 70-hour power reserve. The seamless integration of the pink gold case and bracelet of the Extra-Thin Royal Oak Tourbillon represents another key characteristic of the original 1972 Royal Oak.
The 41 mm-diameter case measuring 8.85 mm thick and water-resistant to 50 metres is topped by the collection's signature octagonal bezel, framing a deep blue dial graced by pink gold hands and hour-markers.
©


toute reproduction strictement interdite