Oris Big Crown X1 Calculator
Le 14 octobre 1947, l'avion Bell X-1 marqua l'histoire de l'aéronautique en effectuant le tout premier vol supersonique avec pilote.
En hommage à ce fabuleux exploit, Oris a créé la Oris Big Crown X1, un superbe instrument avec boîtier étanche à 3 bar et règle à calcul rappelant les équipements utilisés à l'époque.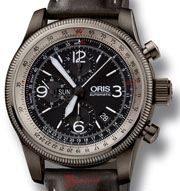 Prix de détail suisse CHF 3350.-
On 14th October 1947, the Bell X1 undertook the first manned supersonic flight, breaking the sound barrier and entering the history books.
The stunning new Oris Big Crown X1 timepiece is a direct homage to this incredible aviation milestone, featuring historically accurate 'slide rule' detailing and 3 bar water-resistance as standard.
Oris Swiss Hunter Team PS Edition
En 1994, les jets Hunter équipant la célèbre Patrouille Suisse (PS) ont été retirés de l'armée de l'air helvétique, au grand regret de leurs supporters du monde entier. Aujourd'hui, des passionnés d'aviation militaire et ancienne – emmenés par le Swiss Hunter Team, le fan club de la Patrouille Suisse et le fabricant horloger Oris – font campagne pour sauver un Hunter portant les couleurs de la Patrouille Suisse.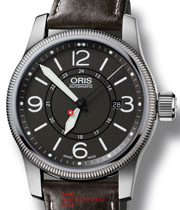 Prix de détail suisse CHF 1500.- à 1800.- selon le modèle

Pour appuyer cette action, Oris a créé trois montres «Oris Swiss Hunter Team PS Edition». La firme apportera également son soutien financier au Swiss Hunter Team pour l'entretien du Hunter «Patrouille Suisse».
Mouvement Oris 733 basé sur le mouvement Sellita SW200
In 1994, Switzerland's iconic "Patrouille Suisse" (PS) Hunter planes were withdrawn from the Swiss Air Force to the dismay of their many avid supporters worldwide. Since then, many military aviation enthusiasts have campaigned to "Save the Patrouille Suisse-Hunter".

Swiss Retail Price CHF 1500-1800 depending on execution

The campaign is lead by the Swiss Hunter Team, the Patrouille Suisse fan club, the Oris watch factory and all those who have a passion for vintage aircrafts. In support of the campaign, Oris has developed three Oris Swiss Hunter Team PS Edition watches, and will financially support the Swiss Hunter Team to maintain the Patrouille Suisse Hunter plane.
Movement - Oris Cal. 733 based on Sellita Cal. SW200
Oris 4e RHFS Limited Edition
Le 4e Régiment d'Hélicoptères des Forces Spéciales (RHFS), une unité d'élite de l'armée de terre française, est la toute dernière formation d'exception à avoir inspiré – et testé – sa propre montre Oris en édition limitée.
Basée sur la collection d'aviation Oris BC4, au design primé, la Oris 4e RHFS Limited Edition est un instrument de vol professionnel équipé d'un mouvement de chronographe suisse hautes performances.
Les membres du régiment ont testé cette montre de pilote dans les conditions les plus extrêmes.
Mouvement mécanique automatique avec fonctions chronographe. Date à 6h, petite seconde à 9h
Boîtier en acier composé de plusieurs pièces, avec revêtement PVD gris revolver. Couronne Oris Quick Lock et poussoirs en acier avec revêtement PVD gris revolver. Etanche à 10 bar/100 m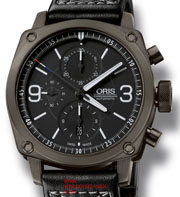 The 4ème Régiment d'Hélicoptères des Forces Spéciales (4th Special Forces Helicopter Regiment) is an elite French Army aviation regiment and the latest Special Forces unit to have inspired – and tested – its own Oris limited edition watch. Based on the award-winning Oris BC4 aviation collection, the Oris 4e RHFS Limited Edition is a professional flight instrument with a quality Swiss chronograph movement.
The members of the regiment have tested this pilot's watch to extremes.
Automatic mechanical movement with chronograph function. Date display at 6 o'clock, small second at 9 o'clock.
Multi-piece stainless steel gun metal PVD coated case. Stainless steel Quick Lock Crown and pushers gun metal PVD coated.
Water resistant to 10 bar/100m

Oris Carlos Coste Limited Edition – Cenote Series
Ce nouveau garde-temps d'exception dans la collection Oris Divers présente de nombreuses caractéristiques originales évoquant les prouesses hors pair de Carlos Coste.
Le compteur des minutes, essentiel pour surveiller le temps de plongée, s'orne d'indications luminescentes parfaitement visibles dans les zones sans lumière.
Un triangle à la 2e minute rappelle que le champion peut retenir son souffle 2:30 minutes en plongée dynamique. Un autre triangle à la 7e minute symbolise son record de 7:30 minutes en plongée statique.
La lunette tournante est en céramique inrayable.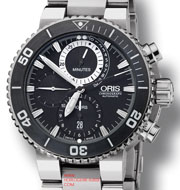 Edition limitée à 2000 exemplaires

A standout edition to the Diver's collection, the new Carlos Coste Limited Edition Cenote Series boasts a number of original features to highlight Coste's incredible feat.
The essential minute counter glows in the dark for ease of reading and to indicate the time spent under water; a triangle on the 2 minute position symbolises that Carlos would be reaching his own breath record of 2:30 minutes for a dynamic dive at this point, whilst a second triangle at the seven minute position highlights Carlos's record of 7:30 minutes for holding his breath during a static dive.
The top ring of this super-functional and desirable watch is made of scratch proof ceramic.
Oris Divers Mid-Size
Dotée d'une taille moyenne aux proportions parfaites, cette montre «tous terrains» possède la robustesse nécessaire pour accompagner les plongeurs les plus chevronnés, tout en se distinguant par son design sport chic, à la pointe de la mode.
La Oris Divers Mid-Size se décline en cinq modèles à la touche résolument féminine, avec choix entre lunette en céramique ou en acier, cadran lisse ou serti de diamants, couleur noire ou blanche. Le bracelet souple en caoutchouc noir ou blanc est doté d'une boucle déployante permettant un réglage aisé. Les renforts de protection de la couronne se démarquent par leurs vis avec encoches en Y.
Mouvement mécanique automatique SW 200-1, avec rotor rouge Oris et affichage central des heures, des minutes et des secondes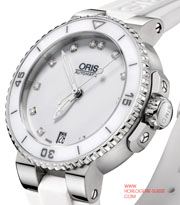 A well proportioned mid-size watch, this new model is robust enough to meet the demands of even the most advanced diver, whilst retaining a sport-luxe fashion edge which makes it the ultimate all-rounder.
Five models will be available, each with a distinctive feminine feel. Choose from ceramic or steel top rings and diamond encrusted or smooth dials, in black or white. The strap comes in pliable black or white rubber and is easy to adjust thanks to the folding buckle.
The watch also boasts Oris's characteristic crown protection with the use of the standard 3 leg screws.
Automatic mechanical movement SW 200-1, with red Oris rotor with hour, minute and second hand from the centre