Zenith Captain Winsor Annual Calendar
La complication horlogère, qui donne au chronographe captain Winsor sa touche particulière, a une origine qu'il faut aller chercher au Musée International d'Horlogerie de la Chaux-de-Fonds.
Son conservateur, Ludwig Oechslin, a conçu une complication particulièrement ingénieuse : un calendrier annuel affichant jour de la semaine, quantième et mois, ne nécessitant qu'un seul réglage annuel.
Pour permettre une bonne lisibilité, cet affichage est assuré par trois disques concentriques.
Le disque extérieur affiche le quantième, celui du milieu le mois et le disque intérieur affiche le jour de la semaine. Mécanisme simple et complexe à la fois : pour les mois de 31 jours, le disque du quantième fait avancer le disque des mois ; pour les mois de 30 jours, c'est le disque des mois qui fait «sauter» le 31.
Seul le passage de février à mars demande un réglage manuel.
D'une conception astucieuse et épurée, cette complication ne comporte que neuf éléments mobiles, quand la plupart des calendriers en nécessitent trente ou quarante.
Mouvement El Primero 4054, automatique
Boitier, diamètre : 42 mm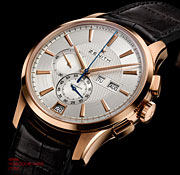 Tracking the origins of the horological complication that lends the Captain Winsor chronograph its distinctive touch leads us to the Musée International d'Horlogerie in la Chaux-de-Fonds. The museum's curator, Ludwig Oechslin, devised a particularly ingenious construction : an annual calendar displaying the day of the week, date and month and that requires only one adjustment per year.
To ensure excellent readability, this display is provided by three concentric discs. The outer disc shows the date, the middle one the month, and the inner one the day of the week. This mechanism is both simple and complex : for 31-day months, the date disc moves the month disc forward; for 30-day months, the month disc makes the 31 "jump".
The only manual adjustment required is for the transition from February to March.
The clever, pared-down design of this complication comprises just nine mobile elements, whereas most calendars require between 30 and 40.

El Primero Stratos Flyback Striking 10th
La lunette tournante unidirectionnelle crantée affiche un disque en céramique noire inrayable. Une échelle télémétrique est disposée sur le rehaut du cadran.
La grande date, placée à six heures, est à saut instantané.
La Stratos Flyback Striking 10th est dotée du calibre El Primero. Ce mouvement de chronographe intégré à roue à colonnes bat la haute fréquence, soit un nombre d'allers-retours 25 % supérieur à tous les autres calibres mécaniques.
La fonction Striking 10th rend visible chaque battement de ce moteur d'exception, soit le 1/10ème de seconde qui représente la plus petite division du temps mesurée par un calibre mécanique.
La Stratos Striking 10th est également munie de la fonction fl yback.
Materiau : acier
Diamètre : 45,5 mm
Glace : verre saphir traité antireflet sur ses deux faces
Fond : verre saphir transparent
Etanchéité : 10 ATM / 100 mètres
Cadran : argent soleillé avec 3 compteurs de couleurs
Index et chiffres : rhodiés facettés avec Superluminova SLN C1
Aiguilles : rhodiées facettées avec Superluminova SLN C1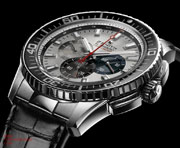 This newest ZENITH watch features an extremely durable casing and a notched, unidirectional rotating bezel with a black, scratch-proof ceramic disk.
A telemeter scale has also been placed on the dial fl ange. The large date indicator at 6 o'clock features an instant-change mechanism.
The Stratos Flyback Striking 10th is equipped with the El Primero caliber. This integrated column-wheel chronograph movement beats at a high frequency and is 25% faster than all other mechanical calibers.
The Striking 10th function visibly displays each beat of this exceptional mechanism – every tenth of every second – which represents the smallest division of time measurable by a mechanical caliber thus far.
The Stratos Striking 10th is also equipped with the Flyback function
Material : stainless steel
Diameter : 45.5 mm
Crystal : sapphire glass with antireflection treatment on both sides
Case back : transparent sapphire glass
Water-resistance : 10 atm / 100 meters
Dial : silver sunray with 3 colored counters
Indexes & numerals : rhodium-plated faceted with Superluminova SLN C1
Hands : rhodium-plated faceted with Superluminova SLN C1

Zenith El Primero Chronomaster Open
Le modèle Open existe en quatre différentes versions : cadran soleillé argent ou noir dans un boîtier d'acier ou cadran soleillé argent dans un boîtier d'or rose 18 carats ou dans un boîtier d'or rose et d'acier. Les index et les trois aiguilles des heures, minutes et petites secondes sont facettés, rhodiés, puis posés à la main.
L'aiguille centrale du chronographe, celle du compteur 30 minutes et de la réserve de marche sont bleuies. Le galbe des aiguilles qui ornent le cadran s'effectue par un minutieux travail à la main.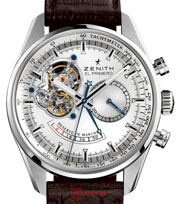 The Open model exists in four different versions: a silver or black sun-burst dial in a steel case or silver sun-burst dial in an 18-carat rose gold case or in a rose gold and steel case. The markers and the three hands for the hours, minutes and small seconds are facetted, rhodium-plated, and hand-set. The central hand of the chronograph, the hand for the 30-minute counter and for the power reserve have a blued finish. The curve of the hands that decorate the dial is executed with precise handwork.
El Primero Stratos Flyback
La Stratos Flyback se décline en quatre autres modèles : une version acier, une variante en Alchron noir haute résistance et deux variantes mixtes Alchron noir et or. L'Alchron a été développé spécialement pour l'aéronautique et pour la compétition automobile. Aujourd'hui, cet alliage hautement technique s'introduit dans l'horlogerie. Sa perméabilité magnétique est 50 fois inférieure à celle des aciers.
Ce matériau est particulièrement résistant à la corrosion et affi che de très hautes caractéristiques mécaniques. Sa dureté Vickers est de 210 HV.
The Stratos Flyback comes in four other models: a steel version, a highly resistant black Alchron version, and two different black Alchron and gold versions. Alchron was specifi cally developed for the aeronautical industry and for automobile racing, but this hi-tech alloy is now being used in watchmaking. Its magnetic permeability is 50 times lower than that of steel.
This material is also especially resistant to corrosion and boasts very impressive mechanical characteristics. Its Vickers hardness number is 210 HV.
Zenith Captain Power Reserve
La Captain Power Reserve est dotée d'un mouvement ultraplat d'une hauteur de 4.675 mm, l'indicateur de la réserve de marche est disposé à deux heures et la date à six heures. Ce garde-temps est disponible en trois versions avec cadran argent ou noir guilloché « Clou de Paris » dans un boîtier acier ou cadran argent dans un boîtier or rose 18 carats.
The Captain Power Reserve is equipped with an ultra-thin movement only 4.675 mm thick, with the power reserve indicator positioned at two o'clock and the date at six o'clock. This timepiece is available in three versions with a silver or black "Clou de Paris" guilloché dial, in a steel case or with a silver dial in an 18-carat rose gold case.
Zenith Captain Grand Date Moonphase
Le modèle phases de lune ZENITH reproduit sur son cadran le cycle de l'astre de nuit – nouvelle lune, premier quartier, pleine lune, dernier quartier. La fonction phases de lune était déjà intégrée aux montres de poche ZENITH.
Cette fonction s'affiche dans un guichet placé à six heures alors que la date est disposée à une heure trente. La Captain Grand Date Moonphase est disponible en deux versions avec cadran argent guilloché « Clou de Paris » dans un boîtier acier ou or rose 18 carats.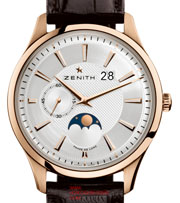 The ZENITH moonphase model reproduces on its dial the various stages of the lunar cycle – new moon, first quarter, full moon, last quarter. The moonphase function was already integrated into ZENITH'S pocket watches.
This function is displayed in an aperture at six o'clock and the date is displayed at half past one. The Captain Grand Date Moonphase is available in two versions, with a silver "Clou de Paris" guilloché dial in a steel or 18-carat rose gold case.
Zenith Captain Dual Time
Le modèle Captain Dual Time dispose d'une aiguille GMT au design différent dont la flèche bleue assure une lisibilité optimale. Le réglage de cette aiguille se fait par un poussoir situé à dix heures. Ce mécanisme permet d'un geste simple, sans risque de dérégler l'heure de sa montre, d'ajuster le second fuseau horaire.
La Captain Dual Time est disponible en deux versions à cadran argent ou noir, guilloché « Clou de Paris » dans un boîtier acier, avec bracelet métal ou alligator.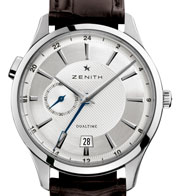 The Captain Dual Time model is equipped with a GMT hand with a different design, with a blue pointer that ensures optimal readability. This hand is set using a push-piece at 10 o'clock. This mechanism makes it possible to adjust the second time zone with a simple gesture, without risking the deregulation of the time on the watch.
The Captain Dual Time is available in two versions with a silver or black "Clou de Paris" guilloché dial, in a steel case, with a metal bracelet or alligator-skin strap.