RM 037 et le nouveau calibre automatique CRMA1
Richard Mille est heureux de présenter en avant-première une pièce d'importance, la RM 037 et le nouveau calibre automatique CRMA1, une construction Maison développée aux Breuleux, en Suisse, par les ingénieurs mouvements Richard Mille.
Ce mouvement automatique, construit sur une platine squelettée en titane grade 5, possède une date surdimensionnée à 12 heures et un sélecteur de fonction à 4 heures.
Deux poussoirs, à la forme subtilement arrondies, sont positionnés à 4 et 10 heures. Le premier poussoir permet de sélectionner d'une simple pression le remontage (W), la position neutre (N) ou la mise à l'heure (H). La fonction sélectionnée apparait dans une ouverture à 4 heures.
Grâce au second poussoir, situé à 10 heures, l'on peut changer de date, lorsque l'on est en voyage par exemple, ou la réajuster notamment pour les mois de 29, 30 ou 31 jours. Un procédé plus simple serait difficile à imaginer.
La RM 037 possède également un tout nouveau mécanisme de couronne, breveté par Richard Mille pour ce premier calibre Maison. Traditionnellement, la couronne est reliée directement au mouvement, ce qui oblige l'horloger à effectuer une mise en longueur de la tige lors de l'emboitage. La liaison entre le mouvement et la couronne peut alors engendrer des dégâts en cas de chocs, la couronne étant partie intégrante du mouvement. Les ingénieurs de Richard Mille ont mis au point, sur la RM 037, un dispositif permettant de résoudre ce problème. En effet, la couronne est désormais solidaire de la boite, ce qui évite la mise en longueur de la tige. Grâce à ce procédé, il n'y a plus de risque de perte de la couronne et de bris de la tige du mouvement, lors d'un choc par exemple. La couronne est réalisée en titane grade 5 poli, en or rouge ou gris avec joint torique et collier en Alcryn.
Richard Mille is pleased to present today a landmark new timepiece, the RM 037 and the new automatic caliber CRMA1. It represents an original in-house construction by the Richard Mille movement designers in Les Breuleux, Switzerland.
This automatic winding caliber created from skeletonized grade 5 titanium sports an oversize date at 12 o'clock and a function window at 4 o' clock. Two subtly shaped pushers are located at 4 and 10 o'clock. The pusher at 4 o'clock allows one to select the winding (W), neutral (N) and hand setting (H) functions with a simple push.
An aperture located at 4 o'clock shows the function selected. The second pusher, at 10 o'clock, controls date changes, for instance when one is traveling or needs to correct the date for months with 29, 30 and 31 days. A simpler and easier method of correcting the date would be impossible to imagine.
The RM 037 is fitted with a new crown mechanism, patented by Richard Mille for its own movement. Traditionally, the crown is attached directly to the movement which means the watchmaker will need to insert the stem at the point of assembly.
The direct connection between the movement and crown can therefore sometimes be the cause of damage to the movement in the case of a sharp knock to the crown. The engineers at Richard Mille have been able to find a solution to this problem on the RM 037 and the crown is now separated from the case.
This means the stem is no longer required and the risk of losing the crown or breaking the stem in the movement after a knock is minimalised. The crown is available in polished grade 5 titanium, red gold or white gold with double seal O-ring and collar in Alcryn.
Richard Mille RM 033
L'une des caractéristiques de la montre automatique extra-plate RM 033 réside dans la disposition excentrée du micro-rotor à l'intérieur du calibre automatique RMXP1. Cette construction permet de gagner quelques précieux millimètres pour l'épaisseur totale du mouvement dont le diamètre est de 33.00 mm et l'épaisseur de seulement 2.60 mm.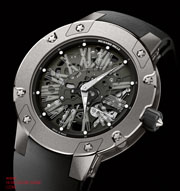 Pour assurer une parfaite distribution des masses et un fonctionnement optimal, le rotor décentré est en platine et bidirectionnel. Cela permet un remontage efficace et des dimensions globales compactes pour ce mouvement squeletté extra-plat.
Le calibre RMXP1 comprend 29 rubis et a une fréquence de 3Hz. Le balancier est à inertie variable. Innovation majeure, ce type de balancier garantit une plus grande fiabilité en cas de chocs et lors du montage et du démontage du mouvement. La précision s'en trouve améliorée à long terme.
Le réglage plus fin et répétable de l'inertie est rendu possible directement sur le balancier par 4 masselottes orientables.
Le boîtier rond de la RM 033 a un diamètre de 45.70 mm et une épaisseur de seulement 6.30 mm.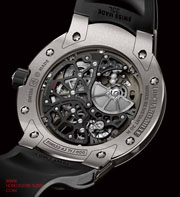 In the case of the automatic extra flat wristwatch the RM 033, one of its characteristic lies in the placement of the RMXP1 caliber's automatic micro rotor to the side rather than the center of the movement, thus saving precious millimeters in total height. As a result, this movement has a diameter of 33.00 mm while its thickness is only of 2.60 mm.
To provide perfect weight distribution for this decentral rotor to function optimally, it has been designed to wind bi-directionally and is manufactured from solid Platinum, allowing for efficient winding as well as compact dimensions of the extra flat skeletonized movement.
The caliber RMXP1, with 29 jewels and beating at 3Hz, has a free sprung balance with variable inertia. This type of balance wheel represents the ultimate in innovation. It guarantees greater reliability when subjected to shock and also during movement assembly and disassembly, hence better chronometric results over time.
The regulator index is eliminated and a more accurate and repeatable adjustment is possible thanks to 4 small adjustable weights located directly on the balance.
The round case design of the RM 033 measures 45.70 mm x a mere 6.30 mm in thickness.
Tourbillon extra plat RM 017
Avec ses dimensions de 49.80 mm x 38.00 mm x 8.70 mm, ce tourbillon extra plat reprend, sur le fond du boîtier, la courbe ergonomique qui séduit les amoureux des montres Richard Mille.
Située entre 12h et 6h, cette cambrure assure un confort total. Le calibre RM017 possède par ailleurs 23 rubis, a une fréquence de 3Hz et mesure 31.20 mm x 29.45 mm, pour une épaisseur de seulement 4.65 mm.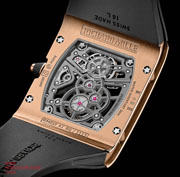 With dimensions of 49.80 mm x 38.00 mm x 8.70 mm, the RM 017 extra flat tourbillon retains all the wrist fitting curvature and tapering towards 12 and 6 o'clock that every Richard Mille fan has come to expect.
The caliber RM017, with 23 jewels and beating at 3Hz, measures 31.20 mm x 29.45 mm while its thickness is only of 4.65 mm. As a consequence the RM 017's manual winding movement sets new standards as one of the thinnest tourbillon constructions ever created.
Richard Mille RM30 à rotor débrayable
Boîtier tonneau - disponible en titane, or blanc ou or rose 18 carats.
Le rotor, source d'énergie pour les montres automatiques, soumet le mouvement à de fortes contraintes et notamment le barillet lors des phases d'armage. Lorsque le ressort de barillet est complètement tendu, il faut faire en sorte de limiter sa surtension. Pour éviter cette contrainte dommageable, l'on utilise traditionnellement un système de bride glissante qui intervient à la limite de la résistance du ressort. Cependant, ce système traditionnel n'empêche pas l'accumulation de débris à l'intérieur du barillet lorsque le rebord libère l'excès d'énergie pendant de longues périodes de remontage excessif, particulièrement dans le cas d'une personne très active.
Pour éviter toute tension liée au remontage, Richard Mille a imaginé et développé pendant quatre ans un rotor ayant la capacité de débrayer automatiquement, se désolidarisant ainsi du mécanisme de remontage lorsque le ressort est idéalement tendu.
Le rotor débrayable fonctionne de la manière suivante : lorsque la réserve de marche atteint 50h, le rotor est débrayé automatiquement grâce à un mécanisme spécifique. A ce stade, le rotor est désaccouplé du barillet. A l'inverse, quand la réserve de marche descend en dessous de 40h, le rotor embraye automatiquement et la montre commence à être remontée jusqu'à ce que l'indicateur atteigne 50 heures. Il est possible de vérifier ces phases grâce à un indicateur de remontage situé à 12h, qui permet de toujours savoir si le rotor est en fonctionnement (on) ou bien débrayé (off).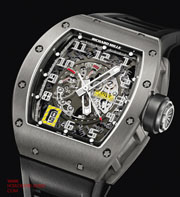 Tonneau case - available in titanium, 18k white gold or red gold.
The winding of an automatic wristwatch is accomplished by a small turning rotor, silently driven as a result of the physical movements of the wearer. These rotations of the rotor provide energy to the winding barrel, which reaches its optimal point once it is fully wound.
After this point, overwinding can easily occur and needs to be avoided. This is traditionally achieved through the use of a sliding flange that allows the spring to slip, thus avoiding the movement becoming overwound. However, this traditional system allows the build-up of harmful debris inside the winding barrel as the flange releases the excess energy of overwinding during longer periods, especially when a person is particularly active.
The declutchable rotor works as follow: when the power reserve reaches 50 hours, the rotor is declutched automatically thanks to a specially developed gear system. As a result, the rotor is disengaged from winding the barrel. Conversely, when the power reserve decreases to 40 hours, the rotor is automatically clutched and the watch starts the winding phase until the indicator reaches 50 hours. It is possible to check theses phases thanks to the rewinding indicator located at 12 o'clock. It keeps the user informed whether the rotor is operating in winding phase (on) or is disengaged (off).
Richard Mille RM029 Grande Date
Boîtier tonneau (48 mm x 39.70 mm x 12.60 mm) - disponible en titane, or blanc ou or rose 18 carats.
Au coeur de la nouvelle montre automatique RM 029 se trouve le calibre squelette RMAS7 avec grande date.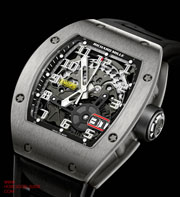 Tonneau case (48 mm x 39.70 mm x 12.60 mm) - available in titanium, 18k white gold or red gold.
The new skeletonized caliber RMAS7 with oversize date forms the heart of the new automatic RM 029.