A. Lange & Söhne
RICHARD LANGE TOURBILLON « Pour le Mérite »
Dans le cercle des secondes de la RICHARD LANGE TOURBILLON « Pour le Mérite », une ouverture ronde, coupée en deux par la minuterie et le pont de tourbillon situé au dessous, dévoile la cage de tourbillon. Le tourbillon n'est cependant visible entièrement que de midi à six heures.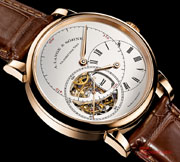 À six heures, un cadran auxiliaire portant les chiffres romains VIII, IX et X vient subitement masquer l'ouverture, complétant ainsi le cercle des heures.
Le mouvement s'effectue grâce à un mécanisme de commande très élaboré qui, toutes les six heures, fait tourner le cadran auxiliaire de 90 degrés dans le sens horaire. Cela permet de lire l'heure précise le matin et le soir également.
À midi, le cadran mobile se retire aussi soudainement qu'il est apparu, dévoilant complètement le système à la fois rotatif et oscillant.
L'imposant boîtier de 41,9 millimètres de diamètre en platine ou en or rose abrite le nouveau calibre de manufacture L072.1 décoré à la main selon les critères de perfection en vigueur chez Lange.
Limitée à 100 exemplaires, la version en platine souligne l'exclusivité de cette incomparable pièce de collection.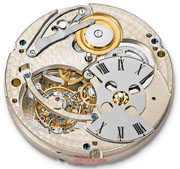 In the RICHARD LANGE TOURBILLON "Pour le Mérite", a round cut-out in the seconds dial, traversed by the minute scale and by the recessed tourbillon bridge, reveals the tourbillon cage. But the tourbillon can be admired in its entirety only from twelve to six o'clock. At six, a dial segment with the Roman numerals VIII, IX, and X instantaneously pivots into the aperture to make the hour scale complete.
The motion is generated by an ingenious switching mechanism, which assures that the dial segment is advanced by 90 degrees in increments of six hours. Thanks to this remarkable feature, the watch tells the time unambiguously during the morning and the evening as well.
At twelve o'clock, the hours dial segment vanishes as quickly as it appeared and for the next six hours again fully exposes the tourbillon as it concurrently revolves and reciprocates.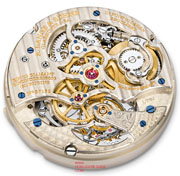 The stately 41.9-millimetre platinum or pink-gold case accommodates the new hand-finished Lange manufacture calibre L072.1, uncompromisingly crafted to the most exacting Lange quality standards.
The strictly limited edition of 100 platinum-cased watches underscores the exclusivity of this outstanding collector's masterpiece.
SAXONIA DOUBLE FUSEAU HORAIRE
est équipée d'un second fuseau horaire, réglable très aisément par simple pression d'une touche: lors du passage d'un fuseau horaire à un autre, son aiguille des heures en or massif indiquant l'heure locale peut être avancée ou reculée heure par heure. Cela se fait simplement à l'aide de deux poussoirs placés à 8 et 10 heures sur le côté gauche du boîtier. Lorsque l'on presse le poussoir supérieur, l'aiguille des heures avance d'une heure alors qu'une pression du poussoir inférieur la fait reculer d'une heure. Cela n'a aucun impact sur la marche de l'aiguille des minutes.
Parallèlement, une seconde aiguille des heures en acier bleui indique toujours l'heure qu'il est, dans son pays de résidence principale, en toute fiabilité. Un affichage 24 heures placé à 12 heures donne un repère supplémentaire. Lié à l'heure du domicile, il dispose en plus d'une indication jour/nuit.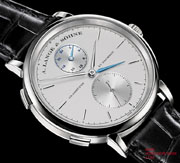 Le boîtier de 40 millimètres de diamètre en or rose ou gris se distingue par son ergonomie et son esthétisme. Il abrite le calibre automatique L086.2, de construction radicalement nouvelle, intégrant le mécanisme de réglage destiné au second fuseau horaire. Un rotor central doté d'une masse oscillante en platine 950 permet un remontage efficace. Après un remontage complet, cette montre dispose d'une réserve de marche de 72 heures
When its owner makes the transition from one time zone to another, the solid-gold hour hand that indicates local time can be incremented or decremented in one-hour steps.
This is done simply by actuating one of the two push pieces located at 8 and 10 o'clock in the left-hand case flank. When the upper push piece is pressed once, the hour hand advances by one hour. When the lower one is actuated, the hour hand jumps anti-clockwise, again in one-hour steps.
The progression of the minute hand is not affected by this operation. Thus, on a flight from Munich to New York, the lower push piece has to be actuated six times to assure that the watch displays the correct local time when the aircraft lands.
A second hour hand in blued steel permanently keeps track of the time at home. A compact 24-hour subdial in the upper half of the watch face offers extra guidance. It is synchronised with home time and always tells the owner of the SAXONIA DUAL TIME whether it's day or night at home.
Styled for comfort and aesthetic appeal, its pink- or white-gold case has a diameter of 40 millimetres. Its movement is the totally redesigned self-winding calibre L086.2, which was complemented with an extra handsetting mechanism for the second time zone.
Energyefficient winding is assured by a central rotor with a centrifugal mass made of 950 platinum. When fully wound, the watch has a power reserve of 72 hours.
SAXONIA PLATE
Avec son boîtier de 40 millimètres de diamètre et de 5,9 millimètres d'épaisseur, le nouveau modèle SAXONIA est à ce jour la montre la plus plate issue de la traditionnelle marque saxonne.
Pour le boîtier ultraplat, A. Lange & Söhne a développé un mouvement à remontage manuel spécialement adapté, que l'on aperçoit à travers le fond en verre saphir. D'un diamètre de 28 millimètres, le nouveau calibre L093.1 ne dépasse pas 2,9 millimètres d'épaisseur.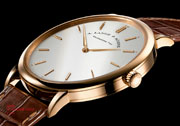 The case of the new SAXONIA model has a diameter of 40 millimetres and a height of just 5.9 millimetres. It is the flattest timepiece crafted so far by the venerable Saxon manufactory.
To fit the thin case, A. Lange & Söhne developed an equally slim manually wound movement that can be admired through the sapphire-crystal caseback. The new calibre L093.1 has a diameter of 28 millimetres and is a scant 2.9 millimetres high.

LANGE ZEITWERK ACOUSTIQUE
L'énergie requise pour faire avancer les disques des chiffres est suffisante pour constituer des réserves utilisables à d'autres fins, une fois la commutation effectuée. Cette énergie est mise à profit par le mécanisme de sonnerie pour armer les ressorts des deux timbres.
Sur le cadran, ces deux timbres, en acier noir poli, sont intégrés des deux côtés de la petite seconde: à gauche pour les heures, et à droite pour les quarts d'heure. On distingue aussi aisément les deux ressorts-timbres encastrés entre le cadran et la lunette.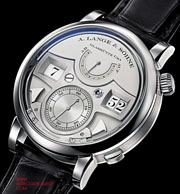 À chaque quart d'heure, le mécanisme frappe un coup sur l'un des deux ressorts-timbres. Les trois quarts d'heure sont signalés par un son aigu avant que l'heure pleine sonne dans une tonalité plus grave.
En horlogerie de précision, la sonnerie des quarts d'heure est une fonction aussi rare qu'utile, et qui peut aussi être désactivée: ici, il suffit d'appuyer sur le poussoir situé à 4 heures pour réduire la sonnerie au silence. On peut d'ailleurs facilement le vérifier car l'écartement des marteaux par rapport aux ressorts-timbres est alors parfaitement visible à travers le verre saphir.
Il en va de même lorsque l'on tire la couronne. Cela permet de régler l'heure dans les deux sens sans que le mécanisme de sonnerie ne se mette aussi en marche, ce qui risquerait de le bloquer.
Le garde-temps sonore est disponible dans un boîtier en or gris de 44,2 mm de diamètre avec cadran noir ou, en édition limitée à 100 exemplaires, en platine avec cadran rhodié.
When the numeral discs are advanced, a sizeable force vector is unleashed, so after the switching cycle, enough energy remains for other purposes. These reserves are now used by the chiming mechanism to tension the springs that actuate the two hammers. They are made of black-polished steel and are integrated in the dial layout on either side of the subsidiary seconds. The one on the left strikes the hours, the one on the right the quarter-hours.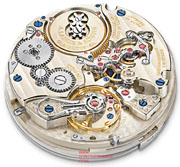 The two gongs are also readily discernible: they are suspended in a recess between the dial and the bezel. In quarter-hour intervals, the mechanism triggers a strike on one of the two gongs. A higher-pitched tone signals the quarter-hours and a lower-pitched one sounds at the top of the hour. In precision watchmaking, the quarter-hour chime is a rare and decidedly useful function.
The ability to turn it on or off is just as welcome: Actuating the push piece at 4 o'clock causes the chiming mechanism to remain mute. The mode is easy to verify, because a glance through the sapphire-crystal glass shows whether or not the hammers are deflected away from the gongs.
Incidentally, the hammers are also retracted when the crown is pulled. This allows the time to be set in either direction without activating and inadvertently jamming the chiming mechanism.
The sonorous timepiece comes in a 44.2-millimetre white-gold case with a black dial or in a limited edition of 100 platinum-cased watches with rhodiumed dials.
SAXONIA AUTOMATIQUE
Dans ses moindres détails, la SAXONIA AUTOMATIQUE réactualise les valeurs traditionnelles de l'horlogerie de précision saxonne. Le calibre L086.1 de manufacture Lange, tout nouvellement construit, est le troisième mouvement automatique des maîtres-horlogers saxons.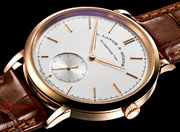 Un rotor central à roulement à billes doté d'une masse oscillante en platine 950 permet que les 72 heures d'autonomie maximale soient disponible dans un délai très bref. Le mouvement de 3,7 millimètres d'épaisseur permet la finesse du design de la tranche du boitier. Par rapport au modèle précédent, le diamètre du boîtier en or gris ou rose de la SAXONIA AUTOMATIQUE est passé à 38,5 millimètres. Elle s'est par contre considérablement aplatie puisqu'elle ne fait plus désormais que 7,8 millimètres d'épaisseur.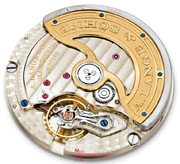 Down to the very last detail, the SAXONIA AUTOMATIC transports the heritage of Saxon precision watchmaking into the present day. The all-new Lange manufacture calibre L086.1 is the third self-winding movement presented by the Saxon master watchmakers. Suspended in ball bearings, a central rotor with a centrifugal mass made of 950 platinum assures that the maximum power reserve of 72 hours is quickly available on the wrist. The underlying design emphasises a flat silhouette: The movement is a mere 3.7 millimetres thick. In contrast to their predecessors, the white and pink gold cases of the SAXONIA AUTOMATIC have grown to a diameter of 38.5 millimetres. At the same time, the watches are now noticeably thinner, measuring only 7.8 millimetres in overall height.
Saxonia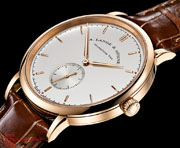 Le nouveau design épuré s'applique aussi à la SAXONIA à remontage manuel doté du calibre éprouvé L941.1 de manufacture Lange. Elle présente tous les critères de qualité propres aux membres de la noble famille SAXONIA.
Le boîtier et le design du cadran se distinguent ici aussi par leur forme élégante.
Le boîtier de 37,0 millimètres de diamètre, tout comme les index appliqués et les aiguilles en forme de lances, sont en or jaune, rose ou gris 18 carats.
The manually wound SAXONIA with the reliable manufacture calibre L941.1 also reflects the new design vocabulary. It features all of the quality facets that ennoble every member of the refined SAXONIA family. Its case and dial project the new, elegant styling as well.
The watch is available in 18-carat yellow, pink, or white gold and has a diameter of 37.0 millimetres. The separately applied hour markers and the lancet hands are made of the same gold alloy