Glashütte Original Navigator Worldview
La Navigator Worldview est équipée d'un anneau de villes rotatif permettant à l'utilisateur de déterminer son fuseau horaire.
Ornée de chiffres surdimensionnés pour une lisibilité optimale, la montre affiche aussi la propre date panorama Glashütte Original, donnant ainsi à l'utilisateur un solide contrôle de la situation.
Le fond du boîtier en verre saphir dévoile le mouvement 39-47. Avec son rotor squeletté avec masse oscillante en or 21 carats, son réglage de précision en col de cygne et sa platine trois-quarts ornée des cotes de Glashütte.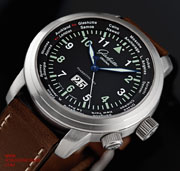 The Navigator Worldview has an adjustable city-ring that allows its user to determine the time across different time zones.
With oversize numerals for ideal readability, the watch also sports Glashütte Original's own panorama date at 6 o'clock, placing the wearer firmly in control of the situation.
The sapphire case back reveals the 39-47 movement. With its skeletonised rotor with 21ct gold oscillation weight and swan-neck fine adjustment and Glashütte three-quarter plate with stripe finish.
Glashütte Original Sixties Tourbillon
La Sixties Tourbillon est animée par le subtil calibre automatique 94-12 et dispose d'une réserve de marche de 48 heures. Le mécanisme de tourbillon volant se laisse caresser des yeux à travers le verre saphir bombé anti-reflets protégeant le cadrant.
La cage du balancier à vis se pare de 18 vis lestées et effectue une rotation par minute, comme l'indique la petite aiguille des secondes sur la cage.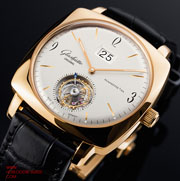 The Senator Sixties Tourbillon is powered by the exquisitely finished automatic Caliber 94-12, equipped with a 48-hour power reserve. The Flying Tourbillon mechanism is easily admired through the anti-reflective domed sapphire crystal protecting the dial.
The screw balance features 18 weighted screws in the cage, which completes one rotation per minute, indicated by the small seconds hand on the cage.
Glashütte Original Senator Calendrier Perpétuel
Le cœur de la Senator Calendrier Perpétuel, bien visible à travers le verre saphir du dos du boîtier, bat au rythme du calibre Glashütte Original 100-02, un splendide mouvement automatique à 28 800 alternances/heure doté d'un balancier à 18 vis lestées en or et d'une réserve de marche de 55 heures (à 10 % près). Son mécanisme de remise à l'heure permet une synchronisation aisée de l'aiguille des secondes avec un étalon de temps.
Contrairement aux autres mécanismes de remise à l'heure, l'aiguille des secondes n'est connectée ni à la tige du remontoir, ni à la couronne. Il en résulte que lorsque l'on tire sur la couronne, le balancier poursuit son oscillation et le mouvement continue à fonctionner, réduisant fortement les contraintes subies par les matériaux.
Le mécanisme de remise à l'heure s'active en appuyant sur un bouton distint situé sur le côté du boîtier, à 8 heures. Le rotor, qui s'arme dans les deux sens, procure une marche constante au mouvement.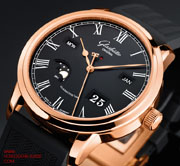 A discreet, unambiguous leap year display presents a red dot to indicate a leap year, followed by white, black and yellow dots for successive years.
The heart of the Senator Perpetual Calendar, easily visible through the sapphire glass mounted in the case back, is the Glashütte Original Caliber 100-02, a superb 28,800 vph automatic movement featuring a screw balance with 18 weighted gold screws and a power reserve of more than 55 hours (+/- 10%).
Its reset mechanism allows easy synchronization of the second hand with a time standard. Unlike other reset mechanisms, the second hand is connected neither to the winding stem nor the crown.
As a result, when the crown is pulled out, the balance remains in oscillation and the movement continues to run, significantly reducing material stress.
Pressing a separate button on the side of the case at 8 o'clock activates the reset mechanism. The rotor winds in both directions, providing constant power to the movement.
Glashütte Original Senator Automatique
Le fond du boîtier en verre saphir dévoile le cœur de la montre à l'œil du connaisseur, révélant ainsi les preuves irréfutables – s'il en fallait encore – de la maîtrise parfaite de Glashütte Original.
Le délicat calibre 39-59, un mouvement automatique fabriqué à la main dans la propre manufacture de l'horloger allemand, fonctionne à une fréquence de 28 800 alternances/heure (4 Hz), et dispose d'une réserve de marche de 40 heures.
Ce superbe mouvement peut entre autres s'agrémenter de composants en acier inoxydable aux bords biseautés, d'un réglage de précision en col de cygne, de chatons en or pour les vis, d'une platine trois quart et d'un rotor squeletté, tous deux ornés des traditionnels sillons Glashütte. Suprême expression du sublime savoir-faire allemand, la Senator Automatique de Glashütte Original est aussi disponible en acier inoxydable poli.
Un bracelet à boucle en cuir noir d'alligator de Louisiane vient compléter les éditions en or rose et acier inoxydable.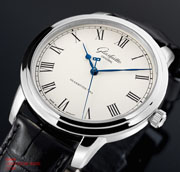 A sapphire crystal set in the polished case back opens up the heart of the watch to the connoisseur's eye, offering additional, irrefutable evidence of the high art of watchmaking at Glashütte Original. A hand-crafted automatic movement from the German watchmaker's own manufactory, the finely finished calibre 39-59 has an operating frequency of 28,800 vph (4 Hz) and a 40-hour power reserve.
Exemplary features of this superb movement include polished stainless steel components with bevelled edges, a fine swan-neck adjustment, screw-mounted gold chatons and the traditional Glashütte three-quarter plate and skeletonized rotor, both with traditional Glashütte ribbing.
A quintessential expression of high-end German mechanical watchmaking, the Senator Automatic from Glashütte Original is also available in a polished stainless steel housing.
Both the rose gold and stainless steel editions are enhanced by a black Louisiana Alligator leather strap with a buckle.
Glashütte Original Seventies Panorama Date
Le fameux calibre 39-47 à mouvement automatique est au cœur de notre hommage aux années 70.
Ce mouvement finement ouvragé, distinctement visible à travers le verre saphir bombé du dos du boîtier, a été mis au point par Glashütte Original et continue à être produit dans le respect des traditions.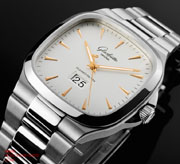 At the heart of our tribute to Seventies design is the proven Calibre 39-47 automatic movement.
Clearly visible through the domed sapphire crystal case back, this finely finished movement was designed by Glashütte Original and crafted in the tradition-rich watchmaker's own manufacture in Glashütte, the home of fine mechanical watches since 1845.