Corum Grand Précis
Soucieuse de son patrimoine historique, Corum a déjà redonné vie en 2010 à deux modèles emblématiques de la marque : la Golden Tube et le Chapeau chinois.
Dans ce même esprit, elle présente une réédition de la Grand Précis, une montre de 1957 réalisée deux ans à peine après la création de la Maison.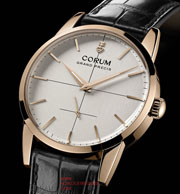 Symbole même du classicisme horloger, ce garde-temps avec index en applique, aiguilles dauphine et petite seconde à 6h, n'a connu à l'époque qu'une édition limitée à 100 exemplaires en or 18ct.
Corum a ainsi voulu redonner vie à ce garde-temps aux allures délicieusement « vintage » avec deux nouvelles versions, l'une en or rouge 18ct produite à 100 exemplaires et l'autre en or blanc 18ct à 50 exemplaires.
Ces deux nouvelles éditions sont des reproductions exactes du modèle d'époque, à ceci près que le boitier original de 36 mm a été porté à 38,5 mm.
Le cadran champagne - à l'esprit très classique et vintage - respecte rigoureusement l'agencement des formes avec la petite seconde à 6h, index en applique, aiguilles dauphine avec superluminova et repères verticaux et horizontaux qui le traversent.
Quant au mouvement à remontage manuel, le CO162 à 18'000 alternances/heure et 36 heures de réserve de marche, il a été réalisé à partir de composants originaux - partie du patrimoine de la manufacture - retrouvés en nombre suffisant pour réaliser ces deux éditions limitées.
Ce remarquable mouvement se distingue par son très grand balancier, garant de la précision exceptionnelle qui a donné son nom à cette montre en 1957.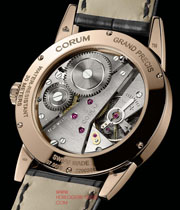 Concerned with preserving its historical heritage, in 2010 Corum had already revived two of its emblematic models in 2010: the Golden Tube and the Chinese Hat. In the same vein, it now presents a re-edition of the Grand Précis, a watch first introduced in 1957 barely two years after the company was founded.
The ultimate symbol of horological classicism, this timepiece with applied hour-markers, dauphine hands and small seconds at 6 o'clock was issued at the time in an 18K gold 100-piece limited edition. Corum thus wished to give a new lease on life to this timepiece with its delightfully vintage aura through two new limited series comprising 100 in 18K red gold and 50 in 18K white gold.
These two new editions are exact reproductions of the initial model, apart from the slight upsizing of the original case from 36 mm to 38.5 mm.
The champagne-colored dial with its extremely classic and vintage spirit displays rigorous respect for the original model, with small seconds at 6 o'clock, applied hour-markers, superluminova-enhanced dauphine hands and fine vertical and horizontal lines serving as elegant points of reference. As for the hand-wound CO162 movement with a balance oscillating at 18,000 vibrations per hour and a 36-hour power reserve, it was built from original components – of which sufficient numbers to create these two limited editions were found among the company's store of historical parts.
This remarkable movement is distinguished by its extremely large balance wheel guaranteeing the exceptional precision that gave its name to this watch in 1957.
Corum Admiral's Cup Legend 42
L'Admiral's Cup Legend 42 – bat au rythme du calibre CO395, un mouvement mécanique à remontage automatique proposant les fonctions heures, minutes, petite seconde et quantième à guichet à 3h.
Battant à la fréquence de 28'800 alternances par heure, il dispose d'une réserve de marche de 42 heures et présente une masse oscillante gravée du nom Corum. Le caractère classique et horloger de ces garde-temps est révélé par les cadrans guillochés selon un motif vertical pour les références en acier et bicolores or-acier, ou guillochés grain d'orge pour les références en or rouge 18 karats.
L'Admiral's Cup Legend 42 est proposée sur bracelet cuir pour les versions acier et bicolores, ou alligator pour la version en or, dans les deux cas équipé d'une boucle déployante.
Les modèles acier et bicolores sont également proposés sur un nouveau bracelet métal assorti développé exclusivement pour cette Admiral's Cup Legend 42.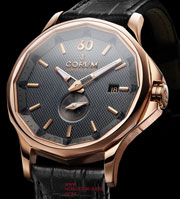 The Admiral's Cup Legend 42 – beats to the rhythm of Caliber CO395, a mechanical self-winding movement driving hours, minutes, small seconds and a date window at 3 o'clock. Beating at a frequency of 28,800 vibrations per hour, it has a 42-hour power reserve and features an oscillating weight engraved with the Corum name.
The classic, technically oriented character of these timepieces is revealed through dials with a vertical guilloché motif for the steel and two-tone steel & gold versions, or barleycorn guilloché for the 18K red gold models.
The Admiral's Cup Legend 42 comes with a leather strap for the steel and steel & gold versions, or an alligator strap for the gold versions – both secured by a folding clasp.
The steel and steel & gold models are also available with a new matching steel bracelet exclusively developed for this Admiral's Cup Legend 42.
Corum Admiral's Cup Seafender 46 Dive
Reprenant les codes si particuliers qui ont fait le succès de la collection – un boîtier à douze pans et un réhaut interne flanqué des douze flammes nautiques – elle arbore des dimensions très plaisantes – 46 mm de diamètre pour 16,05 mm d'épaisseur.
Si cette déclinaison prend volontiers place sous la manche d'une chemise de sport, elle n'en reste pas moins un véritable instrument de plongée, répondant aux normes officielles en la matière. A commencer par le fond vissé, gravé en son centre de l'inscription « DIVE 300 METERS » ainsi que de la silhouette d'un plongeur : douze pans convexes en titane grade 5 garantissent une étanchéité absolue jusqu'à 300 mètres de profondeur.
La lunette tournante unidirectionnelle à 120 dents permet de visualiser aisément son temps de plongée. Enfin, les aiguilles et les index luminescents font de cette montre un véritable tableau de bord parfaitement lisible dans toutes les situations.
Cette Admiral's Cup de caractère est équipée du mouvement à remontage automatique CO947 certifié chronomètre COSC. Battant à 28'800 alternances par heure (4 Hertz) et disposant d'une réserve de marche de 42 heures, il propose les fonctions heures, minutes, petite seconde à 9h et jour/date dans deux petits guichets à 3h.
Pour un confort accru et une parfaite résistance, elle est équipée d'un bracelet en caoutchouc noir vulcanisé et sécurisé au moyen d'un fermoir ardillon en titane.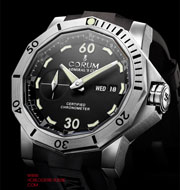 Reflecting the distinctive codes that have earned the collection its peerless success – a twelve-sided case and an inner bezel ring featuring 12 nautical pennants – it features a pleasing size at 46 mm in diameter and 16.05 mm thick.
While this variation will be perfectly at home under the sleeve of a sports shirt, it is nonetheless a genuine diving instrument that meets the corresponding official standards. These include a screw-in caseback engraved in its center with the inscription "DIVE 300 METERS", as well as the figure of a diver.
The twelve convex sides of the case in grade 5 titanium guarantee absolute water resistance to a depth of 300 meters. The 120-toothed unidirectional bezel enables easy visualization of dive times, while the luminescent hands and hour-markers make this watch an authentic instrument panel that is perfectly readable in all situations.
This Admiral's Cup model with its unmistakably strong character is equipped with an automatic CO947 movement chronometer-certified by the COSC. It beats at 28,800 vibrations per hour (4 Hz), has a 42-hour power reserve, and drives the hours, minutes, small seconds at 9 o'clock as well as a day/date display appearing through two small windows at 3 o'clock.
To ensure enhanced comfort and perfect sturdiness, it is fitted with a black vulcanized rubber strap secured by a titanium pin buckle.
Admiral's Cup Seafender 46 Chrono Dive
Etanche à 300 mètres, parée d'une lunette tournante unidirectionnelle à 120 dents, cette pièce reconnaissable par son emblématique boîtier à 12 pans est taillée dans du titane grade 5, connu pour ses propriétés amagnétiques.
Son cadran aux teintes grises subtiles révèle un réhaut interne flanqué des douze oriflammes nautiques qui ont contribué à la notoriété de la collection. Comme le requièrent les normes officielles concernant les montres de plongée, le fond vissé est gravé de l'inscription « DIVE 300 METERS » ainsi que de la silhouette d'un plongeur.
En équipant ce modèle du calibre CO753 - un mouvement chronographe à remontage automatique certifié chronomètre COSC et disposant d'une réserve de marche de 48 heures - Corum pose un jalon supplémentaire dans l'élaboration de sa gamme extrême. La manipulation de la fonction chronographe y est en effet sécurisée pour éviter toute action involontaire.
Permettant l'activation, l'arrêt et la remise à zéro de la trotteuse et des deux aiguilles comptabilisant les minutes et les heures du chronographe, les deux boutons-poussoirs ronds sont vissés. Avant toute mesure d'un temps court, il convient donc de les déverrouiller.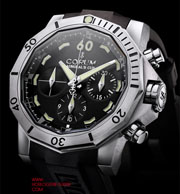 Water-resistant to 300 meters and topped by a 120-toothed unidirectional rotating bezel, this model which is immediately recognizable thanks to its iconic 12-sided case is made from grade 5 titanium, a material known for its antimagnetic properties.
Its dial featuring subtle grey shades is surrounded by an inner bezel ring with the 12 nautical pennants that have contributed to the collection's reputation. As required by the official norms for diver's watches, the screw-in case bears the inscription "DIVE 300 METERS" as well as the figure of a diver. By equipping this model with Caliber CO753 – an automatic chronograph movement chronometer-certified by the COSC and endowed with a 48-hour power reserve - Corum is laying a new milestone in the creation of its extreme watch range. Handling of the chronograph function is secured in order to avoid any accidental operation.
The two round pushbuttons serving to start, stop and rest the chronograph seconds hand as well as the two chronograph hour and minute counter hands are both screw-locked – which means they must be unlocked before making any short-time measurements.

Admiral's Cup Seafender 47 Tourbillon GMT
Avec son tourbillon à 10h30, mécanisme d'échappement inventé par Abraham-Louis Breguet à la fin du XVIIIe siècle pour compenser les effets de la gravité terrestre sur le fonctionnement du mouvement horloger, et la fonction GMT à 6h, soit l'indication d'un second fuseau horaire, cette Admiral's Cup Seafender équipée du mouvement automatique C0397 s'inscrit dans la plus pure tradition de la Haute Horlogerie.
Premier tourbillon automatique de la collection Admiral's Cup, d'une extrême précision et battant à la fréquence de 4Hz (28'800 alternances/heure), ce tourbillon sport – particulièrement résistant de par sa construction et précis grâce à sa vis micrométrique – se distingue également par le décor « turbine » de sa platine. Sous chaque « turbine », une roue se meut en sens inverse de l'effet donné par la turbine. La magie des formes opère instantanément avec un tourbillon qui semble flotter dans l'air sous un pont en forme de « V » et d'une cage de tourbillon rehaussé de la clé, symbole de Corum.
Extrêmement lisible, le second fuseau horaire heures et minutes, positionné à 6h, est complété de l'indicateur trois quarts circulaire jour/nuit à 7h30.
La date à aiguille dans un compteur à 3h complète l'harmonie unique de ce garde-temps aussi racé qu'élégant, doté d'une réserve de marche de 50 heures.
A noter la présence discrète d'un poussoir à 4h servant au réglage aisé du second fuseau horaire.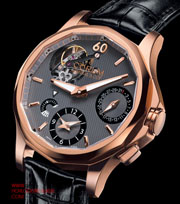 With its tourbillon at 10.30, the escapement mechanism invented by Abraham-Louis Breguet at the end of the 18th century to compensate for the effects of gravity on the operation of watch movement, and the GMT function at 6 o'clock displaying the second time zone, this Admiral's Cup Seafender powered by the automatic C0397 movement, is entirely in tune with the noblest traditions of Fine Watchmaking.
The first automatic tourbillon model in the Admiral's Cup collection with its ultra-precise movement beating at the frequency of 4 Hz (28,800 vibrations per hour), this sports tourbillon – which is particularly resistant thanks to its micrometrical screws – is also distinguished by its "turbine" design. Beneath each "turbine", a wheel moves in the opposite direction to the effect created by the turbine.
These intriguing shapes work their magic with a tourbillon that appears to be floating in mid-air beneath a V-shaped bridge and a tourbillon carriage enhanced by the Corum key symbol. The extremely readable hour and minute dual time-zone display, positioned at 6 o'clock, is complemented by the three-quarter circular day/night indicator at 7.30.
The pointer-type date indication appearing in a subdial at 3 o'clock sets the perfect finishing touch to the harmonious visual appeal of this sophisticated and elegant watch endowed with a 50-hour power reserve.
Note the discreet presence of a pusher at 4 o'clock designed for smooth and easy adjustment of the dual time-zone display.
Corum Ti-Bridge Power Reserve
La Ti- Bridge, avec son boîtier typé en titane et son mouvement baguette horizontal maintenu par quatre brides recouvertes de ruthénium, est l'interprétation contemporaine de l'esprit Golden Bridge. Cette pièce unique au monde, mélange de sobriété, de modernité et d'élégance, présente un parfait équilibre entre design et technique.
Le mouvement baguette à remontage manuel qui fait battre la dernière-née des Ti-Bridge – le calibre CO107 – affiche les fonctions heures, minutes ainsi que – une première pour la collection – l'indication de la réserve de marche.
The Ti- Bridge, with its distinctive titanium case and its horizontal baguette movement is held by four black PVD-coated bars, is a contemporary interpretation of the Golden Bridge spirit. Unique in the world, this understated blend of modernity and elegance features a perfect balance between design and technology.
The Caliber CO107 baguette movement equipping the latest Ti-Bridge model drives the hour and minute hands as well as a power-reserve indication – a first in this collection.
Corum Golden Bridge Automatic
Le nouveau calibre exclusif Corum CO313, mouvement baguette automatique à remontage linéaire, a fait l'objet de plus de quatre ans de développement et de tests de laboratoires pour vérifier les matériaux, les forces de frottement et les coefficients de remontage. Doté d'une masse linéaire en platine – visible de part et d'autre du boîtier – et d'un mécanisme avec bride glissante, ce mouvement Golden Bridge bat à une fréquence de 4Hz (28'800 alternances/heure) pour une réserve de marche de 40 heures.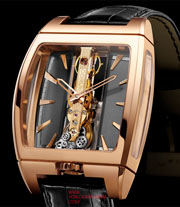 Intégrant 194 composants, le calibre exclusif CO313 est en outre doté d'un balancier à inertie variable – gage de haute précision dans la durée – et d'un barillet miniaturisé pour ne pas rompre la verticalité de l'ensemble.
Platine et ponts sont en or 18 carats (assorti à l'or de chacun des boîtiers), avec un nouveau décor guilloché vertical pour accompagner le mouvement linéaire de la masse et pour souligner plus encore la puissance de ce mouvement en ligne.
Le principe ayant présidé au développement du calibre Corum CO313 entendait proposer une masse linéaire flottante et aérienne guidée par des rails. Ces derniers sont réalisés en acier avec un traitement téflon PTFE, tandis que les zones de contact du chariot avec les rails sont en cuivre béryllium.
Cette association offre un rendement optimal à l'ensemble, La transmission de l'énergie obtenue grâce au remontage est rendue possible par une crémaillère fixé à la masse et toujours engrenée avec un système inverseur – remontage unidirectionnel – doté de billes en céramique et pouvant se passer de lubrification.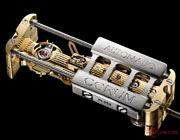 Abritant ce calibre d'exception, la nouvelle Golden Bridge Automatic prend place dans un nouveau boîtier de forme tonneau en or rouge ou gris, plus grand que ses prédécesseurs (37.2 par 51.8 mm) et légèrement galbé pour offrir un confort maximal au porteur.
The exclusive new Corum Caliber C0313, an automatic linear-winding baguette movement, called for over four years of development and laboratory testing to verify the materials, the frictional forces and the physics of the winding mechanism. Equipped with a linear oscillating weight made in platinum and visible from both sides of the case, along with a slipping spring mechanism, this Golden Bridge movement beats at a frequency of 4 Hz (28,800 vibrations per hour) and is endowed with a 40-hour power reserve.
This 194-part caliber is also fitted with a variable-inertia balance – guaranteeing long-term precision – as well as a barrel that is miniaturized so as not to break the smooth vertical lines of the mechanism.
The mainplate and bridges are made from 18kt gold (matching the gold of each of the cases) and adorned with a new vertical guilloché motif matching the linear design of the oscillating weight and accentuating the powerful character of this in-line movement.
The principle governing the development of CORUM Caliber CO313 was to offer a floating, linear oscillating weight floating on rails.
The latter are made in steel with a PTFE Teflon coating, while the contact zones between the chariot and the rails are made from beryllium copper. This association of materials ensures optimal performance.
The energy derived from the winding is transmitted via a rack fixed to the oscillating weight and constantly engaged with a reverser system – ensuring unidirectional winding – equipped with ceramic ball bearings and requiring no lubrication.
To accommodate this exceptional caliber, the new Golden Bridge Automatic has a new tonneau-shaped case in red or white gold which, at 37.2 x 51.8 mm, is larger than its predecessors and slightly curved to ensure optimal comfort on the wrist.