Bulgari Endurer Chronosprint All Blacks
La nouvelle Bulgari Endurer Chronosprint All Blacks, Collection Daniel Roth, célèbre au-travers d'un partenariat inattendu, les valeurs communes à Bulgari et à l'équipe de rugby la plus célèbre au monde, le team New Zealand All Blacks.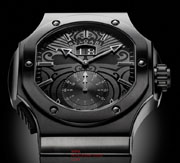 Ce garde-temps sophistiqué, innovant et élégant, est synonyme de performance de pointe. Le mouvement mécanique à remontage automatique – Calibre DR1306 - offre, outre la fonction classique des heures et des minutes positionnées sur un axe légèrement excentré, une fonction chronographique spécifique. Elle permet de mesurer des temps longs exprimés en heures/minutes sur deux aiguilles de longueur différente montées sur un axe unique. Elles courent sur un compteur à double chemin de fer respectivement gradué sur 12 heures et 60 minutes.
La fonction, au contraire du chronographe habituel, ne peut être stoppée mais simplement remise à zéro par pression sur le bouton-poussoir ergonomiquement strié à 7h30. Il repositionne les 2 aiguilles à zéro pour une nouvelle mesure démarrant instantanément.
Ce mouvement sophistiqué offre l'affichage de la grande date par guichet positionné à 12h.
Cerclé par une lunette concave vissée, le boîtier ceint un cadran arborant un motif symbolique reprenant un tatouage maori, le Koru. Symbole de vie, de croissance, de force, de paix et de renaissance, il traduit le perpétuel renouveau de la légende des All Blacks et les valeurs fondatrices guidant le team.
Les guerriers Maoris arborent cette décoration comme affirmation de virilité, de renaissance et de vie. Les index du cadran anthracite brillant sont traités avec du Superluminova® noir permettant une lecture aisée des informations horaires. Le logo originel des All Blacks® datant de 1905 est appliqué sur le fond en verre saphir fumé semi-transparent qui laisse transparaître le mouvement manufacturé dans les ateliers de Bulgari Haute Horlogerie au Sentier, dans la Vallée de Joux.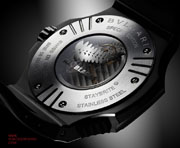 Style, dynamism and excellence… The new Bulgari Endurer Chronosprint All Blacks, Daniel Roth Collection celebrates the unexpected partnership based on authentic values shared by Bulgari and the world's most famous rugby team, that of New Zealand All Blacks.
This sophisticated, innovative and elegant timepiece is synonymous with cutting-edge performance. In addition to the classic hour and minute functions displayed along a slightly off-centred axis, the mechanical self-winding movement – Calibre DR1306 – also drives a specific chronograph function. The latter serves to measure relatively long times expressed in hours and minutes by means of two hands of different lengths mounted on a single axis.
They run across a double railtrack scale bearing 12-hour and 60-minute graduations. Contrary to standard chronographs, this function cannot be stopped but is simply reset by pressing the ergonomically ridged pushbutton at 7.30. This automatically brings the two hands back to zero for a new measurement that begins instantly.
This sophisticated movement also powers a large date display appearing through a window at 12 o'clock.
Topped by a concave screw-locked bezel, the case frames a dial graced with a symbolic motif reflecting a Maori tattoo, the Koru.
A symbol of life, growth, strength, peace and renaissance, it expresses the perpetual renewal of the All Blacks legend and the founding values that continue to guide the team. Maori warriors wear this decoration as an affirmation of virility, rebirth and life.
The hour-markers on the shiny anthracite dial are enhanced with black Superluminova® enabling easy read-off of the information even in the dark.
The original All Blacks® logo dating back to 1905 is applied on the case-back made of semi-transparent tinted sapphire crystal revealing fascinating glimpses of the movement crafted in the Bulgari Haute Horlogerie workshops in Le Sentier, in the Vallée de Joux.