X Fathoms
Mesure de la profondeur jusqu'à 90 mètres et mémoire de la profondeur maximale atteinte, affichage séparé pour la zone 0–15 m avec une précision exceptionnelle de +/- 30 cm, compteur rétrograde 5 minutes pour les paliers de décompression, la « concept watch » X Fathoms abonde de premières mondiales.
Son mouvement, référence 9918B, se base sur le calibre manufacture 1315 qui a déjà fait ses preuves au sein de la collection Fifty Fathoms. Automatique, il est doté de 3 barillets qui assurent une réserve de marche de 5 jours et d'un spiral en silicium pour palier aux effets des champs magnétiques. Son imposant boitier de 55,65 mm de diamètre en titane satiné est étanche jusqu'à 30 bar.
Il est muni d'une valve à hélium pour les plongées à saturation et de la lunette unidirectionnelle qui caractérise la collection depuis presque 60 ans.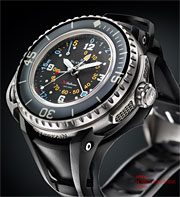 Depth measure up to 90 meters and maximum depth reached memory, separate indication on the 0- 15m scale with an exceptional +/- 30 cm precision, retrograde 5-minute counter for decompression stops, the X Fathoms concept watch abounds in world firsts.
Its movement, reference 9918B, is based on the Manufacture-made Calibre 1315, which has already proved its worth by successfully powering several models in the Fifty Fathoms collection. Self-winding and equipped with three barrels ensuring a five-day power reserve, it is provided with a silicon balance-spring to withstand magnetic disturbances.
Its imposing 55.65 mm case made of satin-brushed titanium is water-resistant to 30 bar. It features a helium decompression valve for saturation diving and the unidirectional rotating bezel characteristic to the collection for almost 60 years.
Villeret Quantième Annuel GMT
La Villeret Quantième Annuel GMT est équipée du nouveau calibre 6054F développé par les équipes Recherche & Développement de Blancpain. Automatique, ce mouvement n'a besoin que d'un seul réglage de la date par année : la transition de février à mars. Pour tous les autres mois, la montre passe d'elle-même du 30 ou du 31 au premier jour du mois suivant.
Elle dispose également d'une petite aiguille d'indication 24 heures dans un compteur à 8 heures, qui fonctionne comme heure de référence. La fonction GMT est assurée par l'heure centrale de la montre, à laquelle la date est liée. Les guichets aux dimensions généreuses affichant la date sont disposés de manière à faciliter la lecture.
Cette nouveauté est disponible en or gris et or rouge. Les aiguilles et les index du cadran opalin frappé sont assortis à la matière de la boîte, qui est équipée du système de correcteurs sous cornes de Blancpain, exclusivité de la marque.
Le correcteur à 1 heure permet la modification du jour, celui à 5 heures celle du mois. Les corrections rapides du GMT, de la date et la mise à l'heure se font par l'intermédiaire de la couronne.
Le fond en saphir de la boîte de 40mm de diamètre laisse apparaître l'ingénieux mécanisme du mouvement et sa masse oscillante guillochée.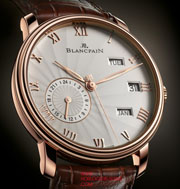 The Villeret Annual Calendar GMT is equipped with the new Calibre 6054F developed by Blancpain's R&D teams. This self-winding movement requires just one date adjustment per year, at the transition from February to March. For all other months, the watch itself moves on from the 30th or the 31st to the first day of the following month. It also has a small 24-hour hand in a subdial at 8 o'clock, which serves as a reference time.
The GMT function is provided by the central hour hand of the watch, which is linked to the date. The generously sized date apertures are arranged in such a way as to ensure optimal readability. This new model is available in white or red gold versions.
The hands and hour-markers on the stamped opaline white dial match the material of the case, which is equipped with Blancpain's under-lug correctors system. The corrector at 1 o'clock serves to modify the day, and the one at 5 o'clock to adjust the month. Fast GMT, date and time-setting adjustments can be made using the crown.
The sapphire crystal case-back of the 40 mm-diameter case reveals the ingenious mechanism of the movement and its guilloché-work oscillating weight.
Villeret Grande Décoration
Epurée à l'extrême, la Villeret Grande Décoration est la plus simple expression de l'art horloger. Le calibre 15B qui l'équipe, mouvement extra-plat de 117 composants à remontage manuel provenant de la montre de poche de la même collection, indique les heures et les minutes. Le cadran en émail grand feu bombé qui le recouvre n'accepte que 12 index peints en émail et deux aiguilles de la même matière que la boîte de 45mm qui le protège.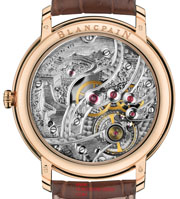 Pared down to the extreme, the Villeret Grande Décoration is the simplest possible expression of the watchmaking art. It is equipped with Calibre 15B, an ultra-thin hand-wound 117-part movement stemming from the pocket-watch in the same collection and indicating the hours and minutes. The domed grand feu enamelled dial covering it bears only 12 painted enamel hourmarkers and two hands in the same material as the 45 mm case housing it.

L-evolution Tourbillon Grande Date
En règle générale, l'indication de la réserve de marche apparaît sur le cadran de la montre ou sur le mouvement côté ponts. Cette année, Blancpain propose une troisième solution inédite: indiquer la réserve de marche sur un cadran placé directement sur la masse oscillante, dont il est solidaire !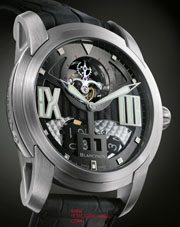 Ce dispositif original est intégré dans le calibre manufacture 4225G présentant une réserve de marche de 7 jours. Ce nouveau mouvement, visible au travers du fond en saphir de la boîte, comprend également le tourbillon « volant » de Blancpain et le mécanisme grande date à deux disques. Disponible en or gris satiné et en or rouge satiné, la L-evolution Tourbillon Grande Date est munie du cadran typique de cette collection, assorti à la couleur de la boîte de la montre.
Le bracelet en cuir d'alligator doublé caoutchouc offre un grand confort d'utilisation à ce nouveau modèle historique.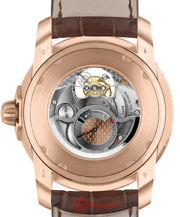 The power-reserve indication is generally displayed on the watch dial, or on the bridge side of the movement. This year, Blancpain offers a third and unprecedented solution that involves indicating the power reserve on a subdial placed directly on the oscillating weight, with which it is interdependent.
This original device is incorporated within the Manufacture Blancpain 4225G calibre endowed with a 7-day power reserve. This new movement is visible through the sapphire crystal caseback and also features Blancpain's "flying" tourbillon and double-disc large date mechanism.
Available in satin-brushed white or red gold versions, the L-evolution Tourbillon Large Date features the characteristic dial of this collection, in a colour matching that of the case. Finally, the rubber-lined alligator leather strap ensures that this new milestone model is also extremely comfortable to wear.

Villeret chronographe monopoussoir Quantième complet
Dans sa lancée de réinterprétation de la collection Villeret commencée en 2010, Blancpain présente cette année un chronographe monopoussoir avec calendrier complet et phases de lune.
Ce nouveau membre de la famille Villeret d'un diamètre de 40mm est disponible en versions or rouge et cadran opalin frappé ou acier et cadran blanc, toutes deux sur bracelet en cuir d'alligator doublé alzavel, doté d'une boucle déployante.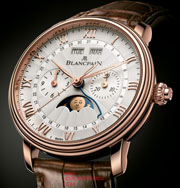 Pursuing its reinterpretation of the Villeret collection undertaken in 2010, Blancpain is now presenting a single-pusher chronograph with complete calendar and moon phases.
This new member of the Villeret family measuring 40 mm in diameter is available in a red gold version with a stamped opaline dial or in steel with a white dial – both fitted with an alzavellined alligator leather strap secured by a folding clasp.
Blancpain Villeret Demi-Fuseau Horaire
La Manufacture du Brassus dévoile en exclusivité sa première Villeret Demi-Fuseau Horaire, qui permet le réglage de la deuxième heure par tranche de demi-heure.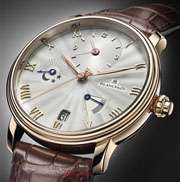 Le premier demi-fuseau horaire créé par Blancpain se révèle d'une grande simplicité d'utilisation. Il suffit de quelques manipulations de la couronne pour effectuer tous les réglages de la montre : date, fuseau horaire et heure de référence.
Un poussoir situé sur la tête de la couronne permet de sélectionner la correction rapide de la date ou le réglage de l'heure du demi-fuseau horaire. A noter que la correction de l'heure de référence modifie automatiquement l'heure du fuseau.
La facilité de manipulation de ce demi-fuseau horaire est l'expression de l'ingénieux mécanisme du calibre 5254DF développé par la Manufacture du Brassus. Automatique, ce nouveau mouvement de 321 composants dispose d'une réserve de marche de 72 heures. Il présente l'heure de référence à 12h00, le demi-fuseau horaire et la seconde au centre, l'indication Jour/Nuit de l'heure de référence à 9h00, la date, qui change avec la deuxième heure, à 6h00 et l'indication Changement Date ou Fuseau Horaire à 4h00
La Villeret Demi-Fuseau Horaire est présentée dans un boîtier demi-savonnette en or rouge qui révèle, au travers de son fond en saphir, la finesse du mouvement et de la masse oscillante guillochée. Le cadran opalin, au subtil guillochage, est rehaussé d'index en or rouge. La montre est proposée avec un bracelet en cuir doublé alzavel.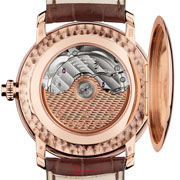 The Manufacture du Brassus is offering an exclusive preview of its first Villeret Demi-Fuseau Horaire, a model that serves to adjust the second time zone in half-hour increments.
Blancpain's first ever dual time-zone model is extremely user-friendly. A few turns of the crown are enough to perform all adjustments on this watch: date, time zone and reference time. A pusher located on the head of the crown serves to select fast correction or half time-zone adjustment mode.
It is worth noting that correcting the reference time automatically modifies that of the second time zone. The smooth and easy handling of this half-time-zone function is the physical expression of the ingenuity displayed by the Manufacture in Le Brassus in developing its Calibre 5254DF. This new 321-part self-winding mechanism is endowed with a 72-hour power reserve. It displays the reference time at 12 o'clock; the half-time-zone and seconds in the centre; the day/night indication for the reference time at 9 o'clock; the date which changes in step with the second time-zone at 6 o'clock; and the Date Change (D) or Time-Zone (F) indication at 4 o'clock.
The Villeret Demi-Fuseau Horaire features a half-hunter case in red gold fitted with a sapphire crystal case-back revealing the finesse of the movement and of the guilloché-work oscillating weight. The subtly engine-turned opaline dial is enhanced by red gold hour-markers, and the watch is fitted with an alvazel-lined leather strap.