Chronographes Royal Oak Offshore
Dans chacune des trois déclinaisons, le boîtier joue la carte du binôme de matières. La céramique s'y associe, dans la première avec l'acier, dans la deuxième avec le carbone forgé, dans la troisième avec l'or rose.
Le contraste des matériaux permet de souligner la prestance des carrures quarantequatre millimètres.
Les cadrans adoptent un style des plus sobres. Rien n'y est purement décoratif, tout est pensé pour favoriser la lisibilité. Ils arborent des aiguilles facettées, en or gris ou rose, avec dépôt luminescent.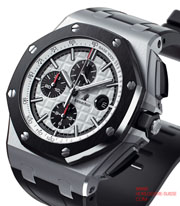 Les index sont des index appliques, facettés, en or gris ou rose avec dépôt luminescent. Quant aux couleurs, contrastées, elles visent principalement à rendre la lecture plus aisée : cadran et réhaut argentés avec compteurs noirs et index anthracite pour l'acier ; cadran et réhaut noirs avec compteurs argentés et index en or rose pour la version or rose.
Retournons la montre et admirons, à travers le fond transparent du boîtier, le mécanisme qui scande ses battements. Élaboré d'après le calibre Manufacture 3120, le calibre 3126/3840 se distingue par une très grande fiabilité. Son pont de balancier traversant assure une meilleure résistance aux chocs.
Quant au réglage, il demeure stable grâce à un balancier à inertie variable doté de huit masselottes. En outre, le 3126/3840 garantit un agréable confort d'utilisation, notamment du fait d'un quantième à saut instantané et correction rapide, d'une réserve de marche de 60 heures et d'un mécanisme de mise à l'heure muni du stop seconde.
In each of the three versions, the case is composed of two materials. Ceramics is associated with steel for the first, with forged carbon in the second, and with pink gold for the third.
The contrasting materials serve to underscore the stature of the 44 millimetre case middles.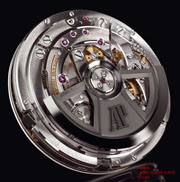 The dials adopt an extremely understated style. Nothing is purely decorative, and everything has been designed to enhance their readability.
They feature facetted hands in white or pink gold and are coated with a luminescent substance. The contrasting colours mainly aim to facilitate legibility: a silver-toned dial and bezel with black counters and anthracite hour-markers for the steel version; and a black dial and flange with silver-toned counters and pink gold hour-markers for the pink gold version.
Turning over the watch enables one to gaze through its transparent back to admire its beating heart. Developed on the basis of Audemars Piguet Calibre 3120, the 3126/3840 movement is distinguished by its extreme reliability. Its cross-through balance-bridge ensures improved shock-resistance, while its rating remains stable thanks to a variableinertia balance fitted with eight inertia-blocks.
Moreover, Calibre 3126/3840 provides excellent user-friendliness, particularly due to the instant-jump and fast-adjusted date mechanism, along with a 60-hour power reserve and a stop seconds device when setting the time.
Tourbillon Chronographe automatique Royal Oak Offshore
Le calibre 2897 est un mouvement à remontage automatique intégralement conçu et manufacturé par Audemars Piguet. Il réunit un tourbillon et un chronographe à roue à colonne.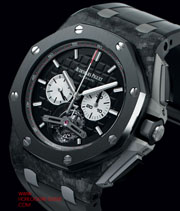 Le remontage automatique est assuré par une masse périphérique en platine 950 sur roulements à bille. Ce choix permet de déplacer le poids de la masse vers l'extérieur du mouvement, ce qui favorise la vitesse de remontage. Une creusure a été effectuée dans la carrure, afin que cette masse de 180° puisse tourner sur 360°.
Le calibre 2897 donne à voir sa roue à colonne, attribut des plus beaux chronographes mécaniques, dont le rôle est de coordonner les phases départ, arrêt et retour à zéro. Afin d'éviter un saut de l'aiguille de chronographe lors du démarrage, talon d'Achille de ce type de mécanisme, un ingénieux principe de bascule d'embrayage a été mis au point.
Les concepteurs ont notamment ajouté un crochet sur la bascule d'embrayage qui offre une meilleure résistance aux chocs dès que le chronographe est enclenché.
Boîtier en carbone forgé ; lunette, couronne et poussoirs en céramique noire ; protège-poussoirs et plots de fixation en titane
Boîtier Diamètre : 44 mm
Epaisseur : 14 mm
Fond saphir, gravé de l'inscription Royal Oak Offshore
Etanchéité: 100 m
Calibre 2897 is a selfwinding movement entirely developed and produced by Audemars Piguet. It combines a tourbillon and a column-wheel chronograph.
Automatic winding is ensured by a peripheral oscillating weight in 950 platinum, mounted on ball bearings. This choice serves to shift the weight of the rotor to the outer edge of the movement, thereby improving winding speed. A recess has been made in the case middle so as to ensure that this 180° oscillating weight can rotate a full 360°.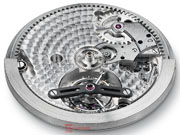 Calibre 2897 reveal its column wheel, an attribute of the finest mechanical movements and which serves to coordinate the start, stop and reset phases.
An ingenious coupling yoke principle has been developed in order to avoid the chronograph hand jerking when the timing begins, a characteristic flaw of this type of mechanism.
The development engineers have added a hook to the coupling yoke which thereby displays enhanced shock resistance when the chronograph is activated.
Forged carbon case; bezel, crown and pushpieces in black ceramics; pushpiece-guards and fastening studs in titanium
Case Diameter : 44 mm Thickness : 14 mm Sapphire crystal caseback with Royal Oak Offshore engraving
Millenary 4101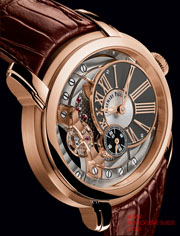 Le calibre 4101, entièrement conçu, développé et produit à l'interne, a été construit afin que ce qui se dissimule habituellement côté fond soit désormais visible de face. L'organe régulateur – le balancier, l'ancre et l'échappement – a été retravaillé pour atteindre cet objectif.
Boîtiers Acier inoxydable ou or rose 18 carats
Dimension (largeur/hauteur) : 47 x 42 mm
Épaisseur : 13 mm
Fond saphir
Etanchéité : 20 m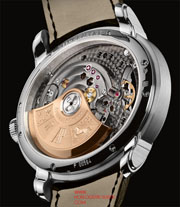 Calibre 4101, entirely designed, developed and produced in-house, was built in such a way that the elements normally concealed on the back are now visible from the front. The regulating organ – composed of the balance, lever and escapement – has been reworked in order to meet this goal.
Cases Stainless steel or 18-carat pink gold
Dimensions (width/length: 47 x 42 mm)
Thickness: 13 mm
Sapphire crystal caseback
Water resistance: 20 m
Chronographe Royal Oak Offshore Arnold Schwarzenegger The Legacy
Depuis le début de cette collaboration en 1999, la vente de ces garde-temps a permis de réunir plusieurs millions de dollars et de faire mieux connaître l'association caritative After-School All-Stars, fondée en 1992 par Arnold Schwarzenegger. Cette institution apporte son soutien à des écoliers issus de quartiers défavorisés par des programmes intensifs dans les domaines de l'éducation, des sports et des arts afin d'accroître leur confiance en leurs capacités et les aider à acquérir leur indépendance.
Ces activités sont essentiellement organisées entre 15 et 18 heures, la période critique qui suit la fin de la journée scolaire. A ce jour, les fonds récoltés par la vente des montres pour cette noble cause avoisinent près de 10 millions de dollars.
Le Chronographe Royal Oak Offshore Arnold Schwarzenegger The Legacy est édité dans une série limitée de 1500 exemplaires, dont chacun comporte sur le fond l'inscription Royal Oak Offshore Arnold Schwarzenegger The Legacy. Inspiré par le boîtier du Chronographe Royal Oak Offshore Arnold's All-Stars, c'est le premier modèle d'Audemars Piguet à posséder une lunette et une carrure de 48 millimètres entièrement en céramique.
La montre est livrée sur un bracelet en fibres d'aramide anthracite, avec un bracelet supplémentaire cousu à la main en crocodile noir à larges écailles.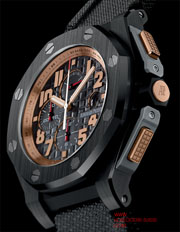 Since the collaboration debuted in 1999, the sale of these timepieces has also raised many millions of dollars and brought awareness to After-School All-Stars, a charitable organisation founded in 1992 by Schwarzenegger.
The organisation supports programmes for inner city middle school students, developing intensive educational, sports and arts programmes, fostering self-confidence and the youngsters' ability to become independent.
The programmes focus on the critical after school hours of 3-6 pm. To date charitable contributions raised from the watches total close to $10 million. The Royal Oak Offshore Arnold Schwarzenegger The Legacy Chronograph is issued in a 1,500-piece limited edition, each engraved on the back with the inscription Royal Oak Offshore Arnold Schwarzenegger The Legacy.
Inspired by the case of the Royal Oak Offshore Arnold All-Stars Chronograph it is the first Audemars Piguet watch to feature an all-ceramic 48-millimeter case middle and bezel. The watch is supplied with an anthracite aramid fibre strap, along with an additional strap in hand-sewn black crocodile leather with large square scales.