Vulcain 50s Presidents' Watch
Une montre-réveil inspirée d'un modèle des années cinquante mais qui répond aux plus hautes exigences du moment.
Elégant, sobre et d'un classicisme qui trahit ses origines, le boîtier de 42 mm de diamètre, étanche à 50 mètres, est proposé en or rose 18K et en acier.
Avec sa fine bande de carrure, ses surfaces alternant le poli et le satiné et ses cornes dessinées tout en subtilité, la 50s Presidents' Watch épouse parfaitement chaque poignet. Caractéristique des garde-temps de l'époque, le cadran, galbé en son extrémité, arbore des chiffres arabes et des indexes en appliques ainsi que des aiguilles Dauphine également très connotées fifties.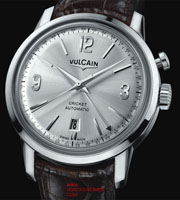 La 50s President's Watch est en outre dotée d'une glace saphir bombée et d'un fond saphir rehaussé du « V » stylisé de Vulcain. Cadran anthracite ou argenté pour la version en or rose ; argenté, anthracite ou gris fumé pour la version en acier.
Le bracelet en alligator de Louisiane s'ajuste à une boucle ardillon en or (version or rose 18K) ou à une boucle déployante à poussoir de sécurité pour la version en acier.
Au coeur de ce nouveau modèle qui fait revivre la légende, le nouveau mouvement réveil Cricket V-21 à remontage automatique.
Développé sur la base du légendaire calibre Cricket V-10, résultante de plus de 60 ans d'évolutions et de perfectionnements, le calibre réveil automatique V-21 est un mouvement 12 lignes (12''') doté de deux barillets, un pour délivrer l'énergie nécessaire aux fonctions heures, minutes et secondes, l'autre pour assurer la fonction réveil et ses 20 secondes de sonnerie. Il bat à 18'000 alternances par heure et présente une réserve de marche de 42 heures.
A Fifties spirit expressed through a contemporary model: such was the intention behind the creation of the new 50s Presidents' Watch collection by Vulcain – an alarm watch inspired by a model from the Fifties, while meeting the highest modern standards.
Elegant, understated and imbued with a classicism that betrays its origins, the 42 mm-diameter case available in 18K rose gold and steel versions is water-resistant to 50 metres. With its slender case middle, its alternating polished and satin-brushed surfaces and its subtly designed lugs, the 50s Presidents' Watch makes a perfect fit on every wrist.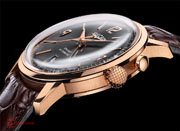 In a manner characteristic of the timepieces of the era, the dial with its slightly cambered circumference features applied hour-markers and Arabic numerals, as well as Dauphine hands with a decidedly Fifties look.
The 50s Presidents' Watch is also fitted with a cambered sapphire crystal and a sapphire crystal caseback adorned with the stylised "V" for Vulcain. The dial comes in a choice of anthracite or silvered colours for the rose gold model, and in silvered, anthracite or smoky grey for the steel version.
The Louisiana alligator leather strap is fitted with a rose gold buckle on the 18K rose gold version or a folding clasp with safety pushpiece for the steel version. At the heart of this new model that so powerfully revives the legend beats the new self-winding Cricket V-21 alarm movement.
Developed on the basis of the legendary Cricket Calibre V-10, stemming from over 60 years of evolution and fine-tuning, the self-winding Calibre V-21 is a 12-lignes (12''') movement fitted with two barrels – one to deliver the energy required for the hours, minutes and seconds functions, and the other to power the alarm function which sounds for a full 20 seconds. It has a balance oscillating at 18,000 vibrations per hour and a 42-hour power reserve.