Turbine XL
Audacieuse, instinctive et stylée, la nouvelle TURBINE XL s'affranchit pour s'assumer pleinement dans son généreux boîtier de 50mm de diamètre.
Trois déclinaisons sont proposées: la réalisation en acier DLC, celle plus sportive en titane/acier DLC ou encore l'alliance originale de la série limitée à 77 pièces en or rose/acier DLC.
Côté cadran, le double rotor décoiffe par son amplitude exceptionnelle.
Pour cette montre de caractère, Perrelet propose 3 exécutions de cadran, une version classique en noir et blanc ou pour les plus audacieux, deux versions colorées, orange et noir pour l'une, vert et noir pour l'autre.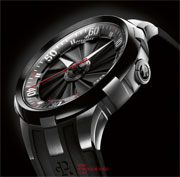 Prix public CHF 5'950.– / Euro 4'400.– / US$ 6'000.– à, suivant les modèles, CHF 24'650.– / Euro 18'350.– / US$ 25'900.–
Bold, intuitive and with its own distinctive style, the new TURBINE XL is free to fully assume its role in its generous 50mm diameter case.
Three executions are proposed: in DLC steel; more sporty in titanium/DCL steel; or the original combination of the limited 77-piece series, in pink gold/DLC steel.
On the dial side, the double rotor is stunning with its exceptional proportions. The 12 blades of the turbine have been finely honed and trimmed at an angle.
For this watch of exceptional character, Perrelet offers 3 dial designs: a classical version in black and white; or for the more audacious, two coloured versions: one orange and black, the other green and black.

Régulateur rétrogrades
Perrelet remet au goût du jour sa complication spécifique et unique: sa Régulateur à heures rétrogrades. Cette spécificité avant-gardiste, dont le module est développé et manufacturé par MHVJ (Manufacture horlogère de la Vallée de Joux) société soeur, est animée par le calibre P-221.
La lecture devient ordonnée puisqu'elle est scindée en plusieurs parties.
Un imposant guichet à 12h indique les heures rétrogrades sur un demi-jour (12 zones d'1 heure).
Les minutes sont comptabilisées sur un grand disque positionné à 6 heures.
Arrimées à l'axe central, une aiguille des secondes en acier bleui court sur l'intégralité du cadran tandis que l'aiguille des jours marque sa cadence quotidienne.
Boîtier Ø 42 mm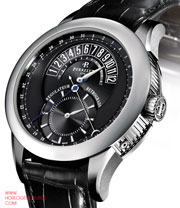 Acier/Steel A1041/4: CHF 8'200.– / Euro 5'900.– / US$ 8'275.–
Or/Gold A3014/5: CHF 20'500.– / Euro 14'700.– / US$ 20'250.–
Titane CHF 9'150.– / Euro 6'600.– / US$ 9'200.–
Perrelet is updating its specialised and unique complication in line with today's tastes with its Regulator Retrograde. This avant-garde speciality, which has been developed and manufactured by MHVJ (Manufacture horlogère de la Vallée de Joux), a sister company, is powered by the P-221 calibre.
Time is displayed in an orderly way, since the dial is divided into several segments.
An imposing window at 12 o'clock indicates the retrograde hours for a half-day (12 one-hour zones).
The minutes are indicated on a disc positioned at 6 o'clock. Anchored to the central axis, a blued steel seconds hand sweeps around the whole dial, while the days hand maintains its daily rhythm.
Case Ø 42 mm
Grande Phase de Lune centrale
Source d'inspiration infinie mais d'une précision extrême, Perrelet remet au goût du jour sa spécificité exclusive, la Grande Phase de Lune centrale.
Logé dans les boîtiers distinctifs de la marque, le calibre P - 211, développé et manufacturé par MHVJ (Manufacture horlogère de la Vallée de Joux), société du Groupe, vous indique le cours de cet astre sur fond étoilé.
La précision du mécanisme provient du grand disque central associé non pas à 1 élément comme habituellement mais à 3 éléments (entraîneur, étoile, pignon). Contrairement aux mécanismes de phase de lune usuellement employés nécessitant une correction tous les 3 ans, le calibre élaboré pour Perrelet permet, dans le cas d'une marche constante, une indication exacte et sans réglage des phases lunaires pendant plus de 100 ans (indépendamment de la date).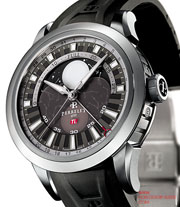 Perrelet brings back up to date its exclusive, unique product, the Big Central Moonphase, a source of infinite inspiration and of an extreme precision.
Housed in the Brand's distinctive case, the P-211 calibre, developed and manufactured by the Group affiliate MHVJ (Manufacture horlogère de la Vallée de Joux), displays the path of this astral body against a starry background.
The precision of the mechanism comes from the large central disc linked not just to one element as is usually the case, but to 3 elements (carrier, star-wheel, pinion).
When working non - stop, contrary to the moon phase mechanisms normally used, necessitating a correction every 3 years, the calibre developed for Perrelet, displays the lunar positions accurately for more than 100 years, without needing correction (independently of the date).
Chronographe Grande Date
Reflet de l'identité de la marque Perrelet, les cannelures du boîtier classique de 42 mm laissent place à une interprétation virile et racée sur le boîtier titane de 43.5 mm. Grâce aux fonds vitrés, les amateurs découvriront également une richesse de finition unique apportée à chaque mouvement. Version classique ou sportive, les fonctions du chronographe totalisant les heures, minutes et secondes se partagent ingénieusement l'espace avec des compteurs structurés et équilibrés. Dans la partie supérieure, Perrelet a choisi d'offrir un grand guichet date pour plus de lisibilité.
Mouvement Automatique P-091 / Dubois-Dépraz 4500 Masse revidée et décorée Perrelet
Réserve de marche 40 heures

A reflection of the identity of the Perrelet Brand, the fluting on the 42 mm classic case is adapted with a virile and sleek interpretation on the 43.5 mm titanium case.
Thanks to their sapphire case backs, enthusiasts will also discover the rich and unique finish involved with each movement. With both the classic and sports versions, the chronograph functions totalize the hours, minutes and seconds and share the available space ingeniously in the structured and balanced arrangement of the counters.
In the upper segment, Perrelet has chosen to offer a big date window for better legibility.
Movement Automatic P-091 / Dubois-Dépraz 4500 Open-worked, exclusive decorated Perrelet rotor Power Reserve 40 hours

First Class
Ainsi la «First Class» arbore un nouveau boîtier de 42.5 mm de diamètre.
D'une grande finesse, il est immédiatement identifiable par ses cannelures latérales, signature de la marque Perrelet. Le traditionnel fond vitré fait place pour la première fois à un fond en acier estampé du rotor de la marque.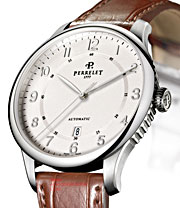 Epurés et sobres, les cadrans demeurent fidèles à leur admirable qualité de lisibilité. Noir, anthracite ou blanc argenté, rythmés d'appliques rhodiés ou de chiffres arabes, les cadrans affichent un style classique mais néanmoins contemporain.
Thus, the "First Class" introduces a new case with a diameter of 42.5 mm.
Highly refined, it is immediately recognizable by the fluting on its sides, denoting the Perrelet Brand's signature.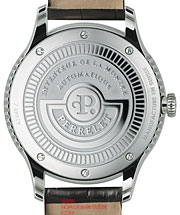 The traditional crystal case back is replaced for the first time by a steel back stamped with the Brand's rotor. Pure and sober, the dials remain true to their admirable quality of legibility.
Black, anthracite or silver-white, punctuated with rhodium-plated indices or Arabic numerals, the dials display a classic, but nevertheless contemporary style.