Omega Ladymatic
Les montres de la nouvelle gamme Ladymatic se caractérisent par des boîtiers polis de 34 mm avec une bague de céramique caractéristique entre une ondulation externe décorative et l'intérieur du boîtier de la montre.
Les boîtiers sont fabriqués en or rouge ou jaune à 18 carats ou en acier inoxydable. Les montres Ladymatic sont proposées, à choix, avec biseaux polis ou pavés de diamants donnant un effet enneigé. La couronne vissée polie est caractérisée soit par un diamant OMEGA CUT™, soit elle est gravée du logo OMEGA poli.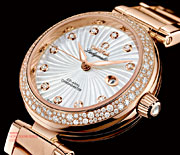 Le fond poli du boîtier est recouvert d'un verre saphir, révélant ainsi le mouvement qui actionne la montre.
Le mouvement qui entraîne les montres Ladymatic est le calibre Co-Axial 8520/8521 d'OMEGA.
Chaque mouvement est équipé d'un spiral en silicium Si 14 exclusif d'OMEGA.
Chaque montre de la collection OMEGA Ladymatic est un chronomètre certifié officiellement
The watches in the new Ladymatic line feature polished 34 mm cases with a distinctive ceramic ring between an outer decorative wave and the inner case body. The cases are crafted in 18 Ct red or yellow gold or in stainless steel.
The Ladymatic watches are offered with a choice of polished or snow-set diamond-paved bezels.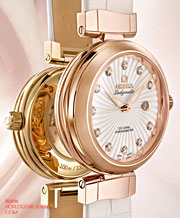 The polished screw-in crown is either set with an OMEGA CUT™ diamond or is embossed with a polished OMEGA logo. The polished caseback has a sapphire crystal that reveals the movement that powers the watch.
The movement driving the Ladymatic watches is the OMEGA Co-Axial calibre 8520/8521.
Each movement is equipped with OMEGA's exclusive Si 14 silicon balance spring.
Each watch in the OMEGA Ladymatic collection is an officially certified chronometer
OMEGA Speedmaster Broad Arrow Co-Axial
Le cadran, disponible en noir ou argent, affiche un motif caractéristique « Ondes de Genève ». Les compteurs familiers du chronographe sont caractérisés par trois anneaux qui enserrent une structure unique en « nid d'abeille », donnant à la Speedmaster Broad Arrow Co-Axial une personnalité propre.
Les compteurs pour la version argent sont noirs et, symétriquement, ceux de la version noire sont argent, ce qui assure un contraste particulièrement séduisant.
Le guichet de la date est disposé à 4h30 sur le cadran.
Le boîtier de 44,25 mm en acier inoxydable conserve la forme qui a toujours été associée à la Speedmaster depuis plus d'un demi-siècle. La Speedmaster Broad Arrow Co-Axial est présentée soit avec un bracelet en acier inoxydable, soit avec un bracelet en alligator noir.
La Speedmaster Broad Arrow Co-Axial est propulsée par le calibre exclusif OEMGA Co- Axial 3313. La précision de ce chronographe à remontage automatique est garantie de manière indépendante par la certification COSC Chronomètre. Le mouvement est équipé de l'échappement Co-Axial OMEGA sur trois niveaux.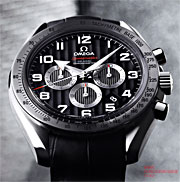 The dial, available in black or silver, features a distinctive "Geneva Waves" pattern. The familiar chronograph counters, or sub-dials, are characterized by three applied rings which surround a unique "beehive" structure, giving the Speedmaster Broad Arrow Co-Axial its own personality.
The sub-dial rings on the silver dial are blackened and those on the black dial are silver for a particularly appealing contrast. There is a date window at the 4:30 position on the dial.
The hour and minute hands, which are either blackened or rhodium-plated, are coated with white Super-LumiNova which makes them easy to read in all lighting conditions. The central chronograph hand has a red tip as do the hands of the sub-dials.
The 44.25 mm stainless steel case has the shape which has been associated with OMEGA Speedmasters for more than half a century. The Speedmaster Broad Arrow Co-Axial is presented with either a stainless steel bracelet or an integrated black alligator strap.
The Speedmaster Broad Arrow Co-Axial is powered by the exclusive OMEGA Co-Axial calibre 3313. The accuracy of the self-winding chronograph is independently confirmed by its status as a COSC-certified chronometer.
Omega Seamaster Aqua Terra XXL Small Seconds Limited Edition
Ce nouveau modèle à petite seconde, que ce soit pour la version or rose ou or blanc, possède un cadran en émail blanc à deux niveaux. Le petit cadran des secondes, qui fait un troisième niveau, est en argent 950.
Les aiguilles sont en acier bleui.
Cette Seamaster Aqua Terra XXL petite seconde à édition limitée de 88 pièces chacune a un calibre Omega 2211 certifié chronomètre.
La boite a un diamètre de 49,2 mm
Elle est étanche à 150 mètres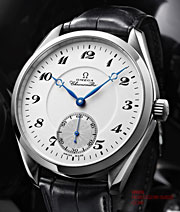 Both versions feature a striking dial made of white enamel on two levels and the blue steel hands with their laser cut vintage OMEGA logos and based on a design patented by OMEGA in 1924 contribute to the watch's timeless appeal. The recessed small seconds subdial is made of applied sterling (950) silver and adds a subtle third level to the dial.
The 18 Ct rose gold (4N) watch is presented on a brown alligator leather strap on a polished 18 Ct rose gold buckle. The 18 Ct white gold version has a black alligator leather strap on a polished 18 Ct white gold buckle. The watches earn their XXL designation – they have 49.2 mm cases.
Driving these Seamaster Aqua Terra XXL Small Seconds Limited Edition watches is the OMEGA calibre 2211, an officially certified chronometer. The screw-in sapphire caseback makes it possible to observe, in detail, the beauty of this fine movement.
The OMEGA Seamaster Aqua Terra XXL Small Seconds Limited Edition is water resistant to 15 bar/150 metres/ 500 feet.
This outstanding timepiece has been produced in an edition limited to 88 pieces each in 18 Ct white gold and in 18 Ct rose gold.
OMEGA Constellation Double Eagle 4-Counters
Cette montre extraordinaire, dotée du calibre OMEGA Co-Axial 3890, est un chronomètre certifié COSC. Quatre compteurs traversent le cadran en zigzag. De gauche à droite, on trouve la petite seconde, un compteur sept jours, le compteur des 12 heures et le compteur des 30 minutes.
Un guichet situé juste au-dessus du centre révèle le jour de la semaine. Tout comme les autres membres de la famille, la Constellation Double Eagle 4-Counters présente un cadran noir mat avec une terminaison soleil, dont l'allure sportive est soulignée par le contraste des compteurs.
La Double Eagle 4-Counters en acier inoxydable possède un bracelet intégré en caoutchouc noir doté d'une boucle déployante en acier inoxydable satinée.
L'attention portée à chaque détail de la Double Eagle 4-Counters est visible dans ses index facettés en or gris 18 carats, dans ses aiguilles Dauphine facettées et tronquées, ainsi que dans le nom et symbole OMEGA en appliques.
Un guichet de date situé à 6 heures parachève le cadran protégé par un verre saphir bombé, inrayable et traîté anti-reflets sur ses deux faces.
Le fond de boîtier vissé, également en verre saphir transparent, révèle le mouvement révolutionnaire OMEGA Co-Axial.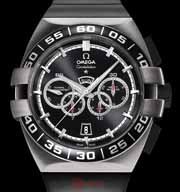 This stunning watch is powered by OMEGA's Co-Axial calibre 3890 and is a COSC-certified chronometer. Four counters, or sub-dials, are appealingly arranged in a staggered row across the dial. From left to right, they feature the small seconds, a seven-day counter, a 12-hour counter and a 30-minute counter.
Just above the centre of the watch is a window which shows the day of the week. Like the other members of the family, the Constellation Double Eagle 4-Counters has a sporty dial in matt black with contrasting counters. The stainless steel Double Eagle 4-Counters has an integrated black rubber strap with a satin-brushed stainless steel foldover clasp.
The attention to detail in the design of the Double Eagle 4-Counters is reflected by its 18 Ct white gold facetted hour markers, facetted and truncated Dauphine hands, and applied OMEGA symbol and name.
A date window at 6 o'clock completes the dial, which is protected by a domed, scratch-resistant sapphire crystal with anti-reflective treatment on both sides.
The screw-in transparent sapphire crystal case back reveals OMEGA's revolutionary Co-Axial movement.
OMEGA Seamaster Aqua Terra Annual Calendar
Ces garde-temps sont dotés du calibre OMEGA Co-Axial 8601/8611, un mouvement à la précision chronométrique certifiée par le COSC et offrant en sus un calendrier annuel à saut instantané.
Ce calendrier annuel fait automatiquement la différence entre les mois de 30 et de 31 jours et ne nécessite qu'une seule correction manuelle de la date par an, le 1er mars. Les garde-temps Aqua Terra Annual Calendar sont également équipés du spiral Si14 en silicium, une exclusivité OMEGA.
Cette collection inclut un modèle en or rouge 18 carats, bi-colore en or rouge 18 carats et acier inoxydable, ainsi qu'un modèle tout en acier.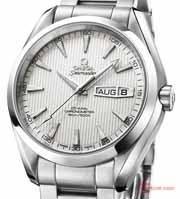 The watches are powered by the OMEGA Co-Axial calibre 8601/8611, a high-precision COSC-certified chronometer which features the additional functionality of an instantaneous jump annual calendar complication.
This annual calendar automatically recognizes months with 30 and 31 days and needs to be manually corrected only once a year, on March 1st. The Aqua Terra Annual Calendar timepieces are also equipped with OMEGA's exclusive Si 14 silicon balance springs.
The watches selected from the Aqua Terra Annual Calendar collection include a bi-coloured model in 18 Ct red gold and stainless steel and another in stainless steel.
They feature OMEGA's patented screw and pin system bracelets which match the case metals
OMEGA Seamaster Ploprof 1200M en blanc
OMEGA présente cette année une version blanche de la Ploprof. Ce garde-temps possède toutes les qualités que les plongeurs professionnels sont en droit d'attendre de la part d'OMEGA : une lunette bidirectionnelle (verrouillable) garnie de matière phosphorescente blanche à chiffres arabes chromés, une valve à hélium automatique et une étanchéité garantie jusqu'à 1200 mètres (120 bar).
Ce garde-temps, avec sa lunette et son cadran d'un blanc intemporel, est proposé soit muni d'un bracelet en caoutchouc blanc, soit d'un bracelet aux mailles «Sharkproof» satinées.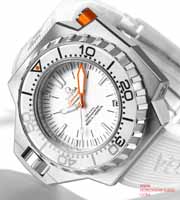 This year OMEGA presents its white version of the Ploprof. It has all of the features professional divers have come to expect from OMEGA: a white bi-directional locking bezel with chrome-coated Arabic numerals, an automatic helium escape valve and water resistance to 1200 metres (4000 feet, 120 bar).
The watch, with its timeless white bezel and dial, is presented with either a white rubber strap or a brushed mesh "Sharkproof" bracelet.
OMEGA Speedmaster Professional Apollo-Soyuz "35th Anniversary"
Le 17 juillet 1975 à 16:19 GMT au dessus de Metz (France), le lieutenant général Thomas P. Stafford (astronaute, Etats-Unis) et le lieutenant général Alexeï A. Leonov (cosmonaute, URSS) se serrèrent la main dans le sas reliant leurs vaisseaux respectifs. Ces pionniers de l'espace portaient chacun à leur poignet un chronographe OMEGA Speedmaster Professional.
Le 35e anniversaire de cette poignée de main historique, est célébré par le lancement du chronographe OMEGA Speedmaster Professional Apollo-Soyuz "35th Anniversary" en une édition limitée à 1975 pièces.
Le cadran a été façonné à partir d'une météorite ayant survécu à son entrée dans notre atmosphère et à son impact avec la Terre.
La structure inhabituelle des météorites résulte des températures extrêmement élevées atteintes lors de leur entrée dans l'atmosphère terrestre, suivie d'une période de refroidissement.
Le cadran est constitué d'une seule pièce découpée dans la météorite et, parce qu'il n'existe pas deux morceaux de météorite identiques, chaque montre de cette édition limitée est absolument unique.
La couleur noire du cadran en météorite résulte d'un traitement galvanique. Les aiguilles ainsi que les appliques sont rhodiées et les compteurs du chronographe ont été laissés dans la couleur naturelle de la météorite.
On July 17, 1975, astronaut Lieutenant General Thomas P. Stafford (USA) and cosmonaut Lieutenant General Alexei A. Leonov (USSR) met in the docking hatch which linked their respective spacecraft. On their wrists, these space pioneers each wore OMEGA Speedmaster Professional chronographs.
The 35th anniversary of their historic handshake is commemorated with the release of the OMEGA Speedmaster Professional Apollo-Soyuz "35th Anniversary" chronograph in a limited edition of 1975 watches.
The dial has been created from a meteorite which survived its entry into our planet's atmosphere and the high-speed impact with the terrestrial surface.
The meteorite's unusual structure is the result its very high temperature when it enters the Earth's atmosphere, followed by a period of cooling.
The dial is a single piece cut from the meteorite; accordingly, because no two pieces of the meteorite are exactly alike, each watch in this limited edition is absolutely unique.
The black colour of the meteorite dial is the result of a surface oxidation process. The silvery seconds hand and chronograph counters appear in the meteorite's natural colour.
OMEGA Tourbillon squelette Co-Axial platine - édition limitée
Ce Tourbillon squelette Co-Axial platine associe la technologie complexe du Tourbillon avec un design éblouissant. Le mouvement a la finition luxe, satiné soleil en nacre - ses ponts et ses mécanismes sont polis à la main.
Le rotor avec son disque en saphir a été nouvellement conçu et gravé "Limited Edition" et accompagné du numéro de série. Le Tourbillon squelette est équipé d'un spiral Breguet.
Les aiguilles du Tourbillon central ne peuvent pas être montées sur l'axe central de façon conventionnelle. Elles sont gravées sur les disques en cristal saphir et propulsées vers la périphérie des disques.
A différence d'un atelier classique, un horloger peux passer jusqu'à 540 heures de travail pour créer un Tourbillon squelette. Cela signifie que chaque Tourbillon squelette est unique en son genre – il n'y en a pas deux identiques. Chaque horloger grave ses initiales sur le fond du boîtier pour assurer que toutes les pièces puissent être rendues à l'horloger après avoir été galvanisées.
Quand un Tourbillon central est rendu à OMEGA pour un entretien, il sera remis automatiquement à l'horloger initial. Seules 18 pièces seront produites du Tourbillon squelette Co-Axial.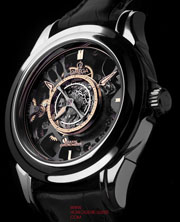 The movement has a luxurious sun-brushed pearlescent finish; its bridges and mechanisms are hand polished.
The rotor with its sapphire plate has been newly designed and is etched with the words "Limited Edition" and the watch's individual serial number (out of 18).
The Skeletonized Tourbillon Co-Axial Platinum Limited Edition is equipped with a Breguet balance spring.
The Central Tourbillon's hands cannot be mounted on a central shaft in the conventional way. They are etched on to sapphire crystal disks and propelled by gearing at the peripheries of the disks.
Each watchmaker engraves his or her personal initials on the underside of the Tourbillon base to assure that all parts can be returned to their maker after they have been galvanized. When a Central Tourbillon is returned to OMEGA for servicing, it will be placed in the hands of the original watchmaker.
Only 18 pieces of this Skeletonized Tourbillon Coaxial Platinum Limited Edition will be produced.