Ocean Chronograph
Ses généreuses proportions de 44mm de diamètre accueillent trois indications rétrogrades, agencées avec art dans un souci d'harmonie contemporaine : à 6h la seconde chronographique vient empièter sur les compteurs 30 minutes et 12 heures placés en vis‐à‐vis à 4h et 8h. Cette trilogie rétrograde est dominée par un tour des heures et minutes rivé au cadran par deux vis bleuies.
Équipé d'un mouvement mécanique à remontage automatique disposant de 40 heures de réserve de marche, le chronographe Ocean étanche à 100 mètres est également disponible en or rose.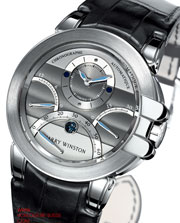 Its generous 44 mm‐diameter proportions house three retrograde indications, skillfully arranged to ensure a harmoniously contemporary appearance: the chronograph seconds at 6 o'clock overlap with the 30‐minute and 12‐hour totalizers facing each other at 4 and 8 o'clock respectively. This retrograde trilogy is dominated by an hour and minute circle secured to the dial by two blued screws.
Equipped with a mechanical self‐winding movement endowed with a 40‐hour power reserve, the Ocean Chronograph is water‐resistant to 100 meters and also available in a rose gold version.
Midnight Chrono Tourbillon
Créée pour les collectionneurs de belle horlogerie et les amateurs de bienfacture, la montre Midnight Chrono Tourbillon dispose d'une réserve de marche de 72 heures. Elle est éditée en deux séries limitées de 50 pièces sur bracelet de cuir d'alligator noir.
Heures et minutes excentrées
Chronographe : minutes indiquées par disque et secondes par aiguille
Petite seconde (Tourbillon)
Boîtier: 42 mm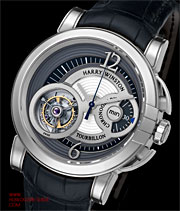 A truly refined creation, the Midnight Chrono Tourbillon is designed for the watch making connoisseur seeking to wear only the finest timepiece designs and complications. The edition is limited to 50 pieces in rose gold and 50 pieces in white gold, and fitted with a black alligator strap.
Excentered hours and minutes Chronograph: minutes indicated by disc and seconds by hand
Small seconds (Tourbillon)
Case 42 mm

Opus X (la vidéo de l'Opus X)
Conçue avec l'horloger-ingénieur Jean-François Mojon, Opus X laisse le temps s'épanouir dans un univers où règne le mouvement circulaire.
Oubliés les traditionnels cadrans et les aiguilles centrales: Opus X défie les conventions en imposant une lecture inédite, dissociée. Porté par une plate-forme qui tourne sur elle-même en 24 heures, l'affichage des heures, minutes et secondes est séparé en trois modules giratoires. Indépendants les uns des autres, ces cadrans gardent la même orientation, quelle que soit la position de la plate-forme, grâce à ingénieux mécanisme leur permettant de tourner en sens inverse.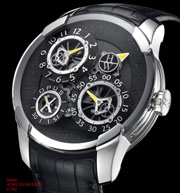 Totalement inédit et développé dans un souci constant d'optimisation de ses performances, le mouvement mécanique à remontage manuel anime un train d'engrenages planétaire constitué de roues solaires, de satellites et d'un châssis.
Comme autant de planètes en orbite autour du soleil, les heures, minutes et secondes s'affichent via les roues satellites. Fixées sur des axes obliques, les indications suivent parfaitement le galbe de la glace saphir, accentuant ainsi la fluidité giratoire.
Un second fuseau horaire de 24 heures investit la périphérie. Le mouvement dispose d'une réserve de marche de 72 heures indiquée sur le fond du boîtier.
Replacing a traditional fixed dial and watch hands, time is displayed as system of rotating indicators mounted on a revolving frame.
Presenting a new technical challenge, as the frame completes a full rotation, the dials of each indicator turn in the opposite direction, ensuring orientation remains constant in any position.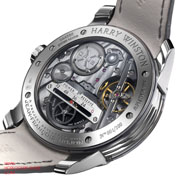 Recalling the celestial mechanics of the solar system, the hand-wound mechanical movement functions as a planetary gear train, consisting of solar wheel, satellite wheels, and frame. The indicators for hours, minutes, seconds, and secondary timezone, are set on the individual satellite wheels, which orbit around the central, solar wheel.
Each indicator is set at a slight incline, allowing the dials to follow the curvature of the case, while ensuring fluidity in rotation. The frame is driven separately to complete a full rotation in 24-hours.
Creating coherency throughout the design, the 72-hour power reserve operates as special planetary gear train, in which the diameter of the satellite wheel equals the radius of the crown wheel resulting in a linear indication.

Ocean Lady Zalium®
Au centre du tour d'heure excentré à 12h, les pierres précieuses forment une cible étincelante à partir de laquelle tout semble irradier. Le cadran argenté guilloché en rayon de soleil se joue avec facétie du temps : les phases de lune adoptent une allure contemporaine sous un cache noir mat, dévoilant progressivement une constellation d'étoiles. Non loin, la petite seconde s'incarne dans un shuriken en forme d'étoile de mer, et un unique diamant ponctue la signature Harry Winston.
Disponible en corail, lila, fushia ou turquoise, l'Ocean Lady Zalium® présente une réserve de marche de 42 heures sur un mouvement à remontage automatique dont les élégantes finitions sont visibles par le fond saphir du boîtier.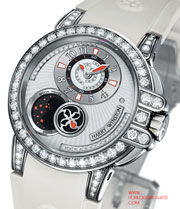 Around the off‐centered hour‐circle at 12 o'clock, precious stones form a sparkling target from which everything else seems to radiate. The sunburst guilloché silvered dial offers an exquisitely playful vision of time: the moon‐phase display features a contemporary design beneath a matt black mask that progressively reveals a constellation of stars.
Nearby, the small seconds are represented by a starfish‐like Shuriken, while a single diamond adorns the Harry Winston signature.
The various touches of color give subtle life to this watch, while its face is lit up by a white rubber strap. Available in coral, lilac, fuchsia or turquoise variations, the watch is driven by a self‐winding movement with a 42‐hour power reserve and delicate finishing that may be admired through the sapphire crystal caseback.
Project Z6
Le Project Z6 annonce l'arrivée d'une nouvelle complication dans la collection avec un mouvement à remontage manuel doté d'une alarme 24 heures, spécialement développé pour ce projet et exclusif à Harry Winston Timepieces.
Constitué de 340 pièces, le mécanisme est réalisé avec une complication entièrement repensée et intégrée, afin d'optimiser les performances. Le mouvement de 45 rubis est décoré en côtes de Genève avec les ponts anglés manuellement pour révéler la beauté de ce mécanisme exceptionnel.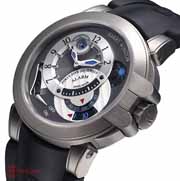 D'une sonorité vive, le réveil se règle par la couronne. Elle est activée par l'entremise d'une gâchette sur le flanc du boîtier à 4 heures, réalisée dans le style d'un poussoir intégré de chronographe. Comme la complication est autant destinée à être admirée qu'écoutée, le marteau fixé au boîtier pour accroître la résonance apparaît dans une ouverture du cadran pour illustrer le fonctionnement du mécanisme.
Le timbre monobloc est fabriqué en une seule pièce de section rectangulaire pour offrir une amplitude sonore optimale. Lorsque le mécanisme est entièrement remonté, la sonnerie du réveil se fait entendre pendant une vingtaine de secondes.
Deux barillets – un pour le mouvement et un pour la sonnerie - se remontent simultanément afin de garantir une autonomie de 72 heures au mécanisme, même si la réserve de marche du réveil est épuisée. Le cadran excentré possède deux disques qui se chevauchent partiellement afin d'afficher l'heure et la sonnerie du réveil. Ils disposent tous deux de leur propre indicateur jour/nuit.
La mise à l'heure et le réglage du réveil s'effectuent par la couronne, indifféremment dans le sens horaire ou antihoraire. Composé de 18 niveaux, le cadran à la subtile complexité présente cinq finitions différentes afin de mettre en valeur sa profondeur naturelle, avec des surfaces en côtes de Genève, argentées brossées verticalement, ardoise brossées, satinées ou en acier bleui.
Le boîtier de 44 mm s'accompagne d'un bracelet en caoutchouc qui affirme le côté masculin et sportif de ce garde-temps.
Project Z6 introduces a new complication to Harry Winston's timepiece offering – a hand-wound, 24- hour alarm clock movement developed specially for Project Z6 and exclusive to Harry Winston Timepieces.
Comprised of 340 pieces, the intricate movement is meticulously engineered to optimize performance, with the function and complication developed from scratch and fully integrated. The 45 jewel movement is engraved Harry Winston and hand finished with Côtes de Genève even on the bridges. The bridges are hand polished and each part is chamfered to enhance the beauty of the movement.
Producing a crisp sound, the alarm clock is set with the crown and activated by using a repeater-style trigger positioned on the case at 4 o'clock. Designed to be seen -- not only heard -- a visible hammer is fixed to the case to show the alarm ringing and enhance exterior sound transmission. The monobloc bell is crafted from one rectangular piece, resulting in better sound amplification.
When the movement is fully wound, the alarm will last approximately 20 seconds. Further emphasizing the practical functionality, the double barrels guarantee a 72-hour power reserve and ensure the complication will not disrupt the movement timekeeping.
The two barrels can be wound at the same time, for added convenience. The excentered dial features two overlapping disks displaying the primary time and the alarm clock, each with separate day and night indicators. Both hour/minute time and alarm time are conveniently set by using the crown, and can be wound clockwise or anticlockwise.
Composed of 18 layered parts, the complex dial uses five different finishes to create a highly dimensional design: Côtes de Genève, silver vertically brushed, slated brushed, blued steel and satin finished.
The 44mm case is set on a rubber strap enhancing the masculine, sportive look.