Admiral's Cup Chronograph 44 Centro Mono-pusher
Grâce au mouvement CO961 exclusif à Corum, la marque va même plus loin en prenant le parti de réécrire les codes du chronographe monopoussoir : l'aiguille des minutes du chronographe, traditionnellement placée sur un petit compteur qui lui est dédié, se trouve en effet ici montée sur le même axe que les aiguilles des heures et des minutes.
sa boîte de 44 mm, si caractéristique avec sa forme dodécagonale, est ainsi en titane grade 5 ultra léger, recouverte d'un revêtement PVD noir mat extrêmement résistant dont la dureté est de 1300 Vickers. Elle dispose d'une lunette, elle aussi protégée par du PVD noir, présentant des angles adoucis.
Quant au déclenchement du chronographe, il se fait au moyen d'un levier fixé à 2h sur la bande de carrure, un emplacement particulièrement ergonomique.
Gage de précision et de fiabilité, ce calibre chronographe est certifié chronomètre COSC.
Etanche à 100 mètres, l'Admiral's Cup Chronograph 44 Centro Mono-pusher est équipée d'un bracelet de caoutchouc vulcanisé noir et d'une boucle triple déployante en acier avec capot en titane.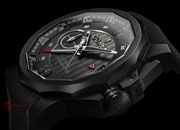 Thanks to the Corum-exclusive CO961 movement, the brand is even going a step further by deciding to rewrite the codes of the mono-pusher chronograph: the chronograph minute hand, traditionally placed in a dedicated subdial, is in this instance mounted on the same axis as the conventional hour and minute hands -hence the name "Centro Mono-pusher".
Further underscoring the sporting spirit of this watch, its 44 mm case with its characteristic twelve-sided shape is made from ultra-light grade 5 titanium, covered with an extremely resistant matt black PVD coating with an impressive hardness of 1300 Vickers. The bezel is also black PVD-coated and features softened angles. The chronograph function is activated by a lever placed at 2 o'clock on the case middle, a particularly ergonomic position.
This chronograph is chronometer-certified by the COSC, a sure token of precision and reliability. Water-resistant to 100 meters, the Admiral's Cup Chronograph 44 Centro Mono-pusher is fitted with a black vulcanized rubber strap and a titanium-capped steel folding clasp.

Ti-Bridge Tourbillon
En 2010, CORUM couronne son expertise horlogère en proposant une version tourbillon de cette montre, grâce à la création, au développement et à la fabrication par ses propres équipes du calibre CO 022. Un véritable tour de force puisque c'est d'un tourbillon volant qu'il s'agit : dépourvu de pont supérieur, l'échappement, qui bat à 21'600 alternances par heure, semble flotter librement au-dessus du mouvement baguette. L'ensemble est maintenu par ce qui fait désormais partie intégrante de la signature esthétique unique de la Ti-Bridge : des entretoises en « ARCAP » qui maintiennent le mouvement au centre de la boîte.
Ce calibre CO 022, mouvement mécanique à remontage manuel, propose une réserve de marche de 72 heures. Etanche à 50 mètres, le boîtier de forme tonneau arbore de généreuses dimensions : 42.5 mm sur 41.5 mm.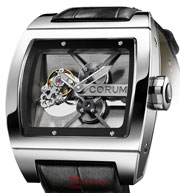 In 2010, CORUM exalts its well-established expertise in the field of exceptional movements by offering a tourbillon version of this timepiece, the new caliber CO 022, created and developed by Corum. A real feat as it is a flying tourbillon; without upper bridge, the escapement beating at 21'600 vibrations per hour seems to be floating over the baguette movement. The entirety is maintained by elements definitely considered as a unique esthetical signature of the Ti-Bridge; two "cross bars" made in "ARCAP" suspend the movement in the center of the case.
This mechanical hand-wound CO 022 movement is endowed with a 72-hour power reserve. Water-resistant up to 50 meters, the tonneau-shaped case bears generous dimensions: 42.5 mm by 41.5 mm. Cut from titanium, the case gives pride of place to the caliber and its moving tourbillon, visible from all sides, including the case-back.

Golden Bridge Tourbillon
Corum créé le premier mouvement baguette pourvu d'un échappement à tourbillon, doté de la plus petite cage au monde – 8.5 mm de diamètre – avec un échappement en silicium. Battant à 19'200 alternances par heure, disposant d'une réserve de marche de 40 heures malgré un barillet miniaturisé au point d'être quasiment dissimulé par le mouvement, le nouveau calibre CO213 a également été pensé dans le respect des codes de la haute horlogerie.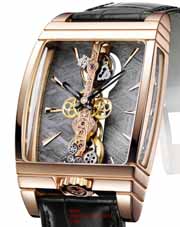 CORUM has created the first baguette movement with a tourbillon escapement, housed in the world's smallest cage – 8.5 mm in diameter – with an escapement in Silicium. Beating at 19'200 vibrations per hour, with a power reserve of 40 hours despite a miniaturized barrel, which is almost hidden by the movement, the new caliber CO213 has also been designed in line with the codes of high horology.
Miss Golden Bridge
La Miss Golden Bridge propose une expression féminine d'un design qui a marqué l'histoire horlogère. En effet, jusqu'à présent, les femmes en quête d'une montre Golden Bridge devaient faire leur choix parmi les modèles masculins et les modèles de haute joaillerie. Avec la Miss Golden Bridge, tout change, mais heureusement rien ne change.
Tout change car c'est dans une toute nouvelle boîte que le magique mouvement est mis en scène.
La carrure, ouverte dessus, dessous, mais aussi sur ses côtés, joue toujours autant des effets de transparence et permet d'admirer le mouvement de toutes parts, au travers de glaces saphir. Cependant, la voici repensée dans un esprit très féminin, en forme de tonneau à la fois mince, élancé et galbé.
Ses cornes ont été supprimées afin que le bracelet en alligator, rembordé et cousu main, s'intègre totalement au boîtier en se plaçant dans sa continuité, à la manière d'une montre manchette.
La couronne de remontoir située à 6 heures accentue encore le caractère très épuré de cette boîte à la fois contemporaine et élégante. A l'instar des aiguilles squelettées, la lunette a quant à elle été affinée au point de se faire oublier pour mieux mettre en valeur le sujet principal de ce tableau de maître : le calibre CO113.
A l'heure du trentième anniversaire du célèbre modèle Golden Bridge, les hommes sont également mis à l'honneur puisqu'un nouveau modèle leur est aussi consacré
Prenant le contre-pied d'une montre inventée pour la transparence, le nouveau modèle Golden Bridge présenté en 2010 est désormais pourvu d'un cadran disposé non pas devant le mouvement, comme le veut la tradition, mais derrière ce-dernier.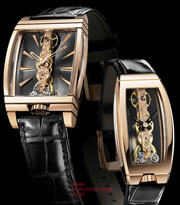 In 2010, Corum thus celebrates the thirtieth anniversary of this extraordinary caliber by revealing a timepiece with an original and unheard-of interpretation.
The Miss Golden Bridge offers a feminine expression of a watch design milestone. Indeed, until now, women in search of a Golden Bridge watch needed to make their selection from amongst the masculine models and the high jewelry pieces. With the Miss Golden Bridge , everything changes, but ultimately nothing changes.
The case, open above, below and also on its sides, still plays on the effects of transparency and allows the movement to be admired from all sides, thanks to its sapphire glass. However, it is revisited in a very feminine manner, in a slender and curved tonneau shape.
The horns were removed to allow the hand-stitched alligator strap to perfectly integrate into the case, keeping the continuity, like a cuff watch.
The winding crown at 6 o'clock accentuates the refined character of this contemporary and elegant case. Similarly to the open-worked hands, the bezel has been slimmed to the point of being discrete to emphasize the main subject of this masterpiece: the caliber CO113.
During the thirtieth anniversary of the famous Golden Bridge model, men are also honored, with a new model that is entirely dedicated to them. Always dedicated to its avant-garde fame, Corum chose to rewrite the codes of this already outstanding timepiece.
Taking the opposing view of a watch invented for its transparency, the new Golden Bridge model introduced in 2010 is now provided with a dial arranged not in front of the movement, as traditional, but behind it.

Admiral's Cup Deep Hull 48
La boîte de la dernière-née de la collection Admiral's Cup – avec son design à 12 pans caractéristique de la collection - affiche un imposant diamètre de 48 mm.
Réalisée en titane et reconnaissable entre toutes par son design affirmé, elle arbore une lunette tournante unidirectionnelle à 120 dents. Autres caractéristiques propres à la montre de plongée, l'Admiral's Cup Deep Hull 48 dispose d'une petite seconde située à 9h, d'un niveau d'étanchéité exceptionnel de 100 atmosphères – soit 1.000 mètres – et présente une parfaite lisibilité dans le noir grâce à ses index et aiguilles luminescents.
Elle est également dotée d'une valve de décompression lui permettant lors de la remontée, d'évacuer l'hélium accumulé dans son boîtier à la suite des séjours en caisson sous atmosphère d'hélium, impératifs pour les plongées profondes et de longue durée. En effet, sans ce dispositif ingénieux, la dilatation de l'hélium lors de la remontée pourrait en faire sauter la glace.
L'emplacement de cette valve est indiqué par la gravure « 1000M » située sur la carrure, à 9h30.
Ce boîtier de caractère abrite le calibre CO947, mouvement mécanique à remontage automatique certifié chronomètre COSC et proposant les fonctions heures, minutes, petite seconde, jour de la semaine et date.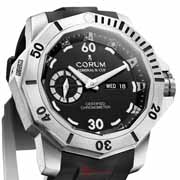 The case of this latest novelty in the Admiral's Cup collection – with its twelve-sided case, typical of the collection – features an impressive diameter of 48 mm.
Crafted in titanium and easily recognizable thanks to its bold design, it offers a unidirectional and rotating bezel.
Other characteristic of this divers watch, the Admiral's Cup Deep Hull 48, include a small seconds counter at 9 o'clock, an exceptional water-resistance of 100 atmospheres – or 1000 meters – and perfect legibility in the dark thanks to the Superluminova coating on the index and hands. The model is also endowed with a decompression valve which during ascent evacuates the helium that has accumulated in the case due to the diver's depth and long periods of time underwater. Without this ingenious system the helium's expansion could cause the glass to explode.
This valve is situated at 9.30 o'clock and indicated with an engraving of "1000M".
This broad case houses the caliber CO947, mechanical movement with automatic winding COSC certified chronometer, offering hours, minutes, small seconds, day and date functions.