Montre Calibre de Cartier Astrotourbillon Calibre 9451MC
Le mouvement Astrotourbillon, dévoilé l'an dernier après cinq années de recherche au sein de la Manufacture Cartier, anime aujourd'hui la montre Calibre de Cartier. Cette montre de caractère au diamètre spectaculaire, pondéré par l'extrême légèreté du titane, dévoile des finitions soignées tant sur le boîtier que sur le mouvement. Une oeuvre exclusive de Haute Horlogerie signée Cartier, disponible en série limitée et numérotée de 100 pièces.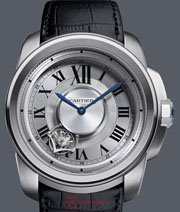 The Astrotourbillon movement, which was introduced last year after five years of development in the Manufacture, now powers the Calibre de Cartier watch.
This distinctive timepiece, whose spectacular diameter is compensated by the extreme lightness of titanium, exhibits meticulous finishes on both the case and the movement. It is an exclusive example of fine watchmaking by Cartier, available in a limited-edition series of 100 individually numbered timepieces.

Calibre de Cartier
une boîte ronde d'un diamètre de 42 mm rehaussée d'une lunette et prolongée par quatre cornes galbées qui viennent s'imbriquer avec justesse dans le carénage cylindrique. Un esprit offensif qui invite au dépassement de soi.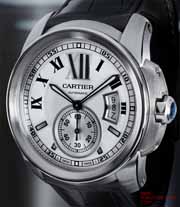 Au dos de la montre, le fond saphir transparent laisse apparaître le calibre 1904 MC, premier mouvement automatique 100% Cartier.
Ce nouveau calibre de 11 lignes ½ a été conçu pour assurer une parfaite stabilité chronométrique quel que soit le niveau d'armage de la montre, qu'elle ait été portée une heure ou toute la journée. Pour ce faire, le mouvement est équipé d'un double barillet qui garantit une excellente constance du couple ressort-moteur sur une longue durée et permet ainsi de maîtriser et de stabiliser la précision chronométrique.
Le calibre 1904 MC est équipé d'un système de réglage fin, de manière à ajuster parfaitement la chronométrie du mouvement.
- 4150 euros la version acier
Calibre 1904 PS MC
Mouvement : Manufacture Cartier, mécanique à remontage automatique – Fonctions : heure, minute, petite seconde, quantième – Diamètre : 11'''½ soit 25,6 mm – Épaisseur : 4 mm – Nombre de rubis : 27 – Nombre de pièces : 186 – Double-barillet – Masse oscillante avec cliquet de remontage automatique – Fréquence de 28'800 alternances / heure (4 Hz) – Réserve de marche d'environ 48 heures – Finitions : Côtes de Genève sur les ponts et la masse oscillante.
Its mechanical construction resolutely confirms this initial impression: its round case, measuring 42 mm in diameter, is heightened by a bezel and extended by four curved horns set precisely into the cylindrical case middle.
A transparent sapphire crystal case back reveals the calibre 1904 MC, the first self- winding movement to be produced entirely by Cartier.
This new 11 ½ line calibre has been designed to ensure excellent chronometric stability at all levels of winding, whether the watch is worn for an hour or an entire day. To achieve this, the movement is equipped with a double barrel that guarantees the excellent, long-term consistency of the mainspring, thus making it possible to control and stabilise timekeeping precision.
The calibre 1904 MC is fitted with a fine regulation system for perfect adjustment of the movement's chronometry.
- 4150 euros steel version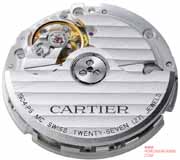 Movement: Cartier Manufacture, mechanical self-winding − Functions: hours, minutes, small seconds, calendar − Diameter: 11 ½''' (25.6 mm) − Thickness: 4 mm − Number of jewels: 27 − Number of components: 186 − Double barrel − Oscillating weight self-winding pawl − Frequency: 28,800 vibrations/hour (4 Hz) − Power reserve: approx. 48 hours − Finishes: Côtes de Genève on the bridges and oscillating weight.
Montre Rotonde de Cartier tourbillon volant squelette Poinçon de Genève
Un mouvement Cartier ultra-contemporain dont la fonction participe de la forme. Révolution design portée par un mouvement qui fait office de cadran. Un ouvrage d'art mis en exergue par le squelettage des ponts et de la platine qui s'architecturent en d'imposants chiffres romains. Un graphisme saisissant composé des chiffres XII, III et IX qui encadrent à six heures la cage du tourbillon volant. Jeu de pleins et de vides qui révèle un mouvement animé par un barillet squeletté dont le ressort s'affiche en transparence. Tableau vivant sublimé par les finitions main des artisans : anglage des ponts, satinage des flancs, cerclage des roues.
Boîte : or gris 18 carats – Diamètre : 45 mm – Couronne : perlée en or gris 18 carats, sertie d'un saphir cabochon – Verre : saphir – Fond : saphir transparent – Étanchéité : 30 mètres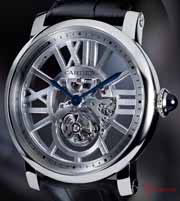 An ultra-contemporary Cartier movement in which function is part of the form. An aesthetic revolution expressed by a movement that also acts as a dial.
A work of art highlighted by a skeletonised main plate and bridges that create striking Roman numerals. Its graphically stunning design features the numerals XII, III, and IX, which frame the carriage of the flying tourbillon at six o'clock.
The interplay between solids and voids reveals a movement driven by a skeletonised barrel with a visible spring. It is a living artwork enhanced by a range of precious hand-produced finishes: angled bridges, satin-brushed sides, and circular-grained wheels.
Case: 18 carat white gold – Diameter: 45 mm – Crown: circular-grained, in 18 carat white gold, set with a sapphire cabochon – Crystal: sapphire – Case back: transparent sapphire crystal – Water resistance: 30 metres / 100 feet / 3 bar.
Calibre de Cartier flying tourbillon volant
Puissante, robuste, racée, cette version de la montre Calibre de Cartier est armée d'un tourbillon volant d'exception : le calibre 9452 MC avec Poinçon de Genève.
Mouvement mécanique Manufacture à remontage manuel, ce calibre est constitué de 142 pièces dont 19 rubis. D'une épaisseur de 4,5 mm, il est animé d'un tourbillon volant avec indication de la seconde par la cage en forme de C.
D'un diamètre de 10 lignes 3/4, il bat à raison de 21 600 alternances à l'heure et dispose d'une réserve de marche de 50 heures.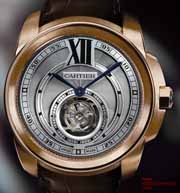 Powerful, robust, and refined, this version of the watch Calibre de Cartier is equipped with an exceptional flying tourbillon: the calibre 9452 MC with the Geneva Seal.
The mechanical Manufacture movement with manual winding contains 142 components including 19 jewels. It is driven by the flying tourbillon whose C-shaped carriage indicates the seconds.
With a thickness of 4.5 mm and a diameter of 10 ¾ lines, this calibre beats at a frequency of 21,600 vibrations per hour and has a power reserve of 50 hours.

Montre tourbillon et crocodile Poinçon de Genève calibre 9458 MC
Une oeuvre au coeur de laquelle un crocodile de diamants veille sur le temps, reptile d'or gris sculpté aux yeux d'émeraudes dont Cartier fleurit la présence d'un parterre de nénuphars d'émail translucide rouge et vert.
Mouvement mécanique Manufacture à remontage manuel, ce calibre est constitué de 167 pièces dont 19 rubis. D'une épaisseur de 5,58 mm, il est animé d'un tourbillon volant avec indication de la seconde par la cage en forme de C.
D'un diamètre de 17 lignes 1/2, il bat à raison de 21 600 alternances à l'heure et dispose d'une réserve de marche de 50 heures.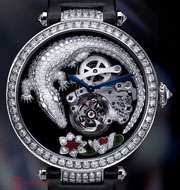 At the heart of this exceptional watch, a diamond crocodile carefully guards the time. Sculpted in white gold with emerald eyes, the reptile is graciously surrounded by a bed of water lilies in translucent red and white enamel.
This Manufacture mechanical movement with manual winding contains 167 parts, including 19 jewels. With a thickness of 5.58 mm and a diameter of 17 ½ lines, it runs at a frequency of 21,600 vibrations/hour and has a power reserve of 50 hours.

Montre Rotonde de Cartier Astrotourbillon
Avec la montre Rotonde de Cartier Astrotourbillon, Cartier inaugure un mouvement imaginé et développé par les maîtres horlogers Maison. Créatif et technique, ce mouvement spectaculaire a fait l'objet de cinq années d'élaboration à la Manufacture de La Chaux-de-Fonds.
Le mouvement 9451MC comporte une cage de tourbillon comprenant les différents organes de l'échappement et du balancier-spiral. Comme dans un tourbillon classique, la cage est entraînée par la troisième roue de l'engrenage. De même, le pignon de la roue d'échappement s'enroule autour d'une roue de seconde fixe (quatrième roue du train d'engrenage) afin d'entraîner l'échappement.
Ce tourbillon spectaculaire, appelé mouvement Astrotourbillon, présente plusieurs particularités qui en font un tourbillon unique. Tout d'abord, cette cage a un axe de rotation particulier puisqu'il se situe au centre du mouvement, ce qui implique bien entendu une conception totalement différente du train d'engrenage depuis les deux barillets du mouvement, jusqu'à l'affichage des minutes et des heures.
Par ailleurs, et c'est ce qui fait la particularité visuelle du mouvement Astrotourbillon, l'axe du balancier et l'axe de la roue d'échappement ne sont pas sur l'axe de rotation de la cage. Ils sont disposés d'un côté de la cage, linéairement par rapport à son axe de rotation.
Enfin, la cage de tourbillon est disposée « au-dessus » du mouvement, entre deux cadrans, et non directement intégrée au mouvement, comme c'est le cas pour un tourbillon classique. Cette construction inédite pour un tourbillon central a des conséquences esthétiques et techniques. Visuellement, la cage ainsi allongée effectue un tour en une minute sur toute la surface du cadran. Le pont de balancier, excentré et dessiné en forme de flèche, permet ainsi de lire les secondes.
Un mouvement pour lequel Cartier a choisi l'élégance moderne de la montre Rotonde de Cartier dans sa version extra large. Or rose ou or gris, 47 mm de diamètre, entre-cornes larges et vis décoratives pour cette montre élégante à l'effet hypnotique.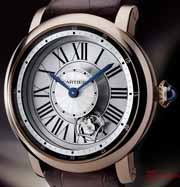 With the Rotonde de Cartier Astrotourbillon watch, Cartier unveils a movement that has been designd and produced entirely by Cartier master watchmakers.
This spectacular creative and highly technical movement is the fruit of five years of development led by the Cartier Manufacture in La Chaux-de-Fonds. The 9451 MC movement incorporates a tourbillon carriage containing the various organs of the escapement and sprung balance.
As in a classic tourbillon, the carriage is driven by the third wheel of the gear train. Similarly, the pinion of the escapement wheel rotates around a fixed seconds-wheel (the fourth wheel of the gear train) in order to drive the escapement. However, this spectacular tourbillon, christened the Astrotourbillon movement, also incorporates several other features that make it truly unique.
First of all, the carriage has a special rotational axis, for it is positioned at the centre of the movement. This naturally requires a totally different gear-train design, from the two barrels of the movement through to the display of the minutes and hours.
Another feature, responsible for the striking visual effect created by the Astrotourbillon movement, is that the balance staff and escapement-wheel staff are not on the same rotational axis as the carriage.
They are located to one side of the carriage, in linear alignment with its rotational axis. Lastly, the tourbillon carriage is positioned "above" the movement between two dials, rather than being directly integrated into the movement as with classic tourbillons.
Cartier has selected the contemporary elegance of the extra-large Rotonde de Cartier watch to house this movement. Its white- or pink-gold case, 47 mm diameter, large horn gap, and decorative screws all enhance the hypnotic effect of this truly elegant watch.
Montre Tortue quantième perpétuel
Avec ce premier mouvement quantième perpétuel automatique Maison, Cartier fait preuve d'une créativité singulière à double titre : par l'optimisation de la lisibilité des fonctions jour et date et par l'originalité de l'affichage du quantième perpétuel.
Ces caractéristiques, propres au mouvement 9422 MC, s'affichent à travers un imposant cadran ajouré : les jours de la semaine se lisent à l'aide d'une aiguille rétrograde, la date s'y inscrit en grande taille tout autour et le compteur des mois et des années se situe à 12 heures.
Une prouesse d'horloger à admirer au fil de détails soignés à l'extrême, qui s'inscrit dans la forme intemporelle de la montre Tortue – une des grandes montres de forme de Cartier, créée en 1912 et devenue, dans les années 1920, l'une des montres mythiques de l'horlogerie Cartier à complications.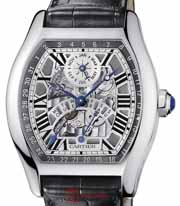 In this first self-winding perpetual calendar movement to be created by the Manufacture, two characteristics demonstrate the astonishing creativity of Cartier: the optimised legibility of the day and date functions and the originality of the perpetual calendar display.
These features, unique to the 9422 MC movement, can be viewed through an impressive open- work dial: the days of the week are indicated by a retrograde hand, the date is shown in large figures around it, and the month and year counter is located at 12 o'clock.
A superb achievement in fine watchmaking that runs with exquisitely crafted details and echoes the timeless form of the Tortue watch – one of the great Cartier shaped watches designed in 1912. During the 1920s, it became a legendary example of complication watchmaking by Cartier.