Millenary Répétition minutes
Proposant les fonctions heures, minutes, petite seconde et répétition minutes avec un système d'armage spécialement développé pour son Calibre 2910 à remontage manuel, la Millenary Répétition minutes est, tout comme ses devancières, un concentré de savoir-faire, de technicité et de matériaux novateurs.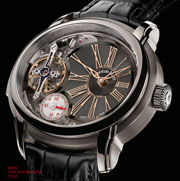 Sa boîte ovale en titane sert de scène atypique à un spectacle de toute beauté : les cadrans en or disposés de manière excentrée invitent l'oeil à une plongée dans les secrets du mécanisme. L'échappement AP, le double spiral, mais aussi les marteaux et les timbres de la sonnerie deviennent ainsi les acteurs principaux d'une pièce en trois dimensions.
Les deux barillets du mouvement assurent une réserve de marche exceptionnelle de sept jours. Un troisième barillet dévolu à la sonnerie est quant à lui deux fois et demie plus grand que d'ordinaire, améliore la régularité de la note. Enfin, au titre des éléments de sécurité, la Millenary Répétition minutes est dotée d'un stop balancier pour une mise à l'heure à la seconde près.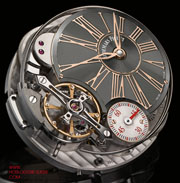 Le nouveau système d'armage dispose lui aussi d'un élément de sécurité qui empêche la mise à l'heure de la montre lors du fonctionnement de la sonnerie afin de rendre impossible toute mauvaise manipulation.
Endowed with hours, minutes, seconds and minute repeater functions and equipped with a winding system specially developed for its hand-wound Calibre 2910, the Millenary Minute Repeater – like its illustrious forerunners – is a concentrated blend of expertise, technical sophistication and innovative materials. Its titanium oval case provides an atypical stage-setting for a truly magnificent sight featuring offset gold subdials inviting the observer to plunge into the mechanism's deepest secrets.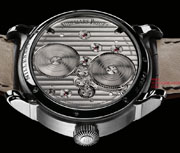 The AP escapement, the double balance-spring, as well as the hammers and the striking gongs, all become the key players of a truly three-dimensional creation.
The two movement barrels guarantee an exceptional seven-day power reserve. A third barrel dedicated to the striking mechanism is two and a half times larger than normal, and enhances the regularity of the note. Finally, in terms of security, the Millenary Minute Repeater is equipped with a balance-stop system designed to ensuring timesetting that is accurate to the nearest second.
The new winding system also features a security device that prevents time-setting while the striking mechanism is in operation, thus avoiding any risk of inappropriate handling.

Royal Oak Automatique squelette
Si le calibre 3129 est un squelette de haute volée, il doit aussi ce caractère à la qualité et à la fiabilité du mouvement de base dont il est issu, le calibre Audemars Piguet 3120. Ce mouvement mécanique à remontage automatique a été entièrement conçu, développé et réalisé par la Manufacture Audemars Piguet.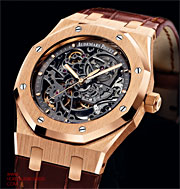 Disponible en deux versions, acier sur bracelet acier avec boucle déployante dans le même matériau ou or rose 18 carats sur bracelet alligator avec boucle déployante en or rose, la nouvelle Royal Oak Automatique squelette est une nouvelle démonstration de la maîtrise absolue du squelette par Audemars Piguet.
While Calibre 3129 is a decidedly high-end openworked creation, it also owes its outstanding nature to the quality and reliability of the base movement from which it stems, Audemars Piguet Calibre 3120 – a mechanical self-winding movement entirely designed, developed and by the Manufacture Audemars Piguet.
Available in two versions – steel case on a steel bracelet complete with matching folding clasp ; or 18-carat pink gold on an alligator leather strap with pink gold folding clasp – the new Openworked self-winding Royal Oak is a vivid new demonstration of the absolute mastery of skeletonisation faithfully cultivated by Audemars Piguet.
Royal Oak Offshore Grand Prix
La Collection Royal Oak Offshore Grand Prix exprime la symbiose de l'automobile et de l'horlogerie : même passion pour le design, même quête incessante de la performance mécanique. Les compteurs du cadran évoquent un tableau de bord, la forme de la couronne un engrenage et la lunette un disque de frein ventilé.
Le calibre 3126 à remontage automatique a été entièrement conçu, développé et réalisé par la Manufacture Audemars Piguet. Le chronographe 3840 s'y ajuste pour offrir une exacte mesure du temps.
Objet de constantes évolutions, le calibre 3126/3840 se distingue par une grande fiabilité. Son pont de balancier traversant assure une meilleure résistance aux chocs. Quant au réglage, il demeure stable grâce à un balancier à inertie variable doté de huit masselottes.
Le 3126/3840 garantit en outre un agréable confort d'utilisation, notamment du fait que la date effectue un saut instantané, qu'elle peut être corrigée rapidement et que la réserve de marche atteint 60 heures.
La mise à l'heure est aisée puisque, dès que le porteur tire la couronne, il active le levier stop seconde et provoque ainsi l'arrêt immédiat de l'aiguille des secondes.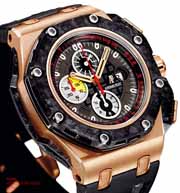 The Royal Oak Offshore Grand Prix Collection embodies the powerful ties between watchmaking and automobiles: the same passion for design and the same incessant quest for mechanical performance.
The dial counters evoke dashboard instruments, the crown a gear, and the bezel a ventilated brake disc. This collection is composed of three timepieces, issued in limited series featuring meticulously executed details combined with cutting-edge materials.
The selfwinding Calibre 3126 is entirely designed, developed and made by the Manufacture Audemars Piguet, and the 3840 chronograph mechanism with which it is fitted ensures accurate timing.
The constantly enhanced Calibre 3126/3840 is distinguished by its admirable reliability. Its cross-through balance-bridge guarantees improved shock-resistance, while the variable-inertia balance equipped with eight inertia-blocks ensures stable long-term constancy of rate. It is also extremely user-friendly, particularly thanks to the fast-adjustment instant-jump date display and the 60-hour power reserve.
Accurate time-setting is facilitated by the fact that pulling out the crown instantly activates the stop seconds lever which – as its name implies – brings the seconds hand to an immediate halt.
TOURBILLON CHRONOGRAPHE ROYAL OAK OFFSHORE
Le calibre 2912 est un mouvement à remontage manuel intégralement conçu et fabriqué par Audemars Piguet. Il réunit un tourbillon, un chronographe à roue de colonne et un double barilllet.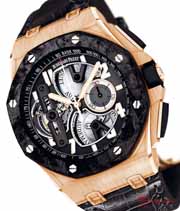 Son esthétique se distingue par sa modernité : ses ponts et l'ensemble de son architecture affichent un style contemporain. Visibles à travers le fond saphir, les ponts de chronographe et d'embrayage soulignent cette originalité par leur forme géométrique et par leur matériau – l'aluminium éloxé noir.
C'est tout d'abord la majesté du boîtier en or rose, avec ses protège-pousoirs intégrés, qui attirera leur attention. Les décors creusés à 1, 5, 7 et 11 heures l'enrichissent de détails recherchés. L'alternance des finitions satiné et poli ajoute du raffinement et avive chaque surface.
Ensuite, c'est le contraste qui fait la force de ce modèle. La couleur douce et chatoyante de l'or rose est mise en valeur par le noir alentour. La légendaire lunette octogonale, ponctuée de ses vis hexagonales polies, est en carbone forgé.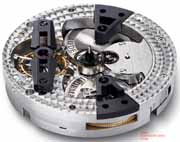 Calibre 2912 is a hand-wound movement entirely developed and produced by Audemars Piguet. It combines a tourbillon, a column-wheel chronograph and a double barrel.
Its distinctively modern aesthetic is expressed through the contemporary style of the bridges and the overall architecture. The sapphire crystal exhibition back provides a perfect view of the chronograph and coupling bridges accentuating the original nature of this movement through their geometrical shape and black eloxed aluminium material.
The finishing is equally elegant and meticulously executed. The Royal Oak Offshore Tourbillon Chronograph is intended for connoisseurs of fine watchmaking with a distinct preference for beautiful mechanisms along with a penchant for vanguard designs.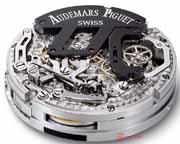 Their attention will first be drawn to the majestic elegance of the pink gold case with its integrated pushpiece guards. The scooped decorative detailing at 1,5, 7 and 11 o'clock adds a sophisticated touch, while the alternating satin-brushed and polished finishing enhances the refinement and aesthetic appeal of each surface.
The strength of this model lies chiefly in contrasts. The shimmering glow of the pink gold is set off to optimal advantage by the surrounding black zone.
The legendary octagonal bezel with its polished hexagonal screws is made of forged carbon – an ultra-sporty streaked material exclusively developed for Audemars Piguet

Quantième Perpétuel Jules Audemars
En 2008, les horlogers du Brassus ont rendu hommage au premier quantième perpétuel en créant une série limitée en platine pour son 30ème anniversaire. Aujourd'hui, le Quantième Perpétuel Jules Audemars entre de plein pied dans la collection avec un boîtier en or rose 18 carats assorti, selon les préférences, à un cadran brun ou argenté.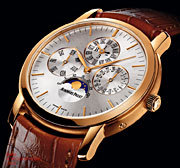 In 2008, the watchmakers in Le Brassus paid tribute to the first perpetual calendar by creating a platinum limited series to mark its 30th anniversary. Today, the Jules Audemars Perpetual Calendar is making its grand entrance into the collection with an 18-carat pink gold case, teamed according to personal preference with a brown or silvered dial.
Jules Audemars Extra-plate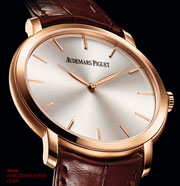 Cette année, la collection Jules Audemars s'enrichit ainsi d'une nouvelle version, élégante, extra-plate et au design tout en sobriété qui s'inspire du modèle portant la désignation 5271 créé à l'occasion du lancement du calibre extra-plat 2120. Affichant des dimensions contemporaines et des lignes pures, ce garde-temps expose en son coeur le vibrant et intemporel calibre de 1967, considéré par de nombreux spécialistes comme « le plus beau mouvement automatique du monde ».
Le mouvement 2120 entièrement conçu, développé et réalisé par la Manufacture Audemars Piguet s'inscrit naturellement dans l'histoire et le mythe qui a participé à la réputation de la marque dans la maîtrise du mouvement mécanique extra-plat. D'une épaisseur de moins de 7 mm, la nouvelle Jules Audemars s'inscrit parfaitement dans cette exceptionnelle continuité.
This year, the Jules Audemars collection welcomes an elegant new version featuring an understated design inspired by the Reference 5271 model created to mark the launch of the extra-thin Calibre 2120. Featuring contemporary dimensions and sleek, pure lines, this timepiece proudly displays its beating heart, the timeless movement introduced in 1967 and considered by many specialists as "the world's most beautiful self-winding movement".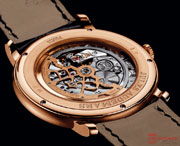 Calibre 2120, entirely designed, developed and crafted by the Manufacture Audemars Piguet, is an integral part of the history and the legend that forged the brand's reputation in the field of extra-thin mechanical movements. At less than 7 mm thick, the new Jules Audemars watch is entirely in line with this exceptional continuity.

ROYAL OAK OFFSHORE DIVER AUTOMATIQUE
Etanche à 300 mètres, elle résiste à la formidable pression des abysses. Elle fait partie de la prestigieuse catégorie des montres de plongée, celles-là même qui ont acquis leurs lettres de noblesse au poignet des nageurs de combat et des professionnels de l'exploration en eaux profondes.
Pour sa nouvelle montre de plongée, Audemars Piguet a choisi la pureté. C'est une montre de plongée sans autres complications qu'un automatique.
Elle est dotée du mouvement automatique Manufacture Audemars Piguet par excellence : le calibre 3120. Objet de constantes évolutions, il se distingue par sa grande fiabilité. Précision oblige, le cœur du mouvement est un balancier à inertie variable à spiral plat qui bat à 21'600 alternances par heure.
La mise à l'heure est aisée puisque, dès que le porteur tire la couronne, il active le levier stop seconde et provoque ainsi l'arrêt immédiat de l'aiguille des secondes.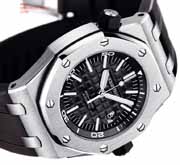 This model is water-resistant to 300 metres and thus well able to withstand the incredible pressure exercised in the depths of the ocean. It belongs to the prestigious category of diver's watches, the kind that have earned their pedigree on the wrists of combat divers and professional underwater explorers.
For its new diver's watch, Audemars Piguet has opted for a pared-down approach.
This is a straightforward selfwinding model without any complications. A diver's watch in all its pristine simplicity. It is equipped with the stellar Manufacture Audemars Piguet selfwinding movement: Calibre 3120.
Constantly fine-tuned and perfected, the latter is distinguished by its impressive reliability. To ensure its precision, the heart of the movement is a variable-inertia balance with a flat balance-spring oscillating at a rate of 21,600 vibrations per hour.
Calibre 3120 is also particularly user-friendly, particularly thanks to the instant-jump, fast-adjustment date display, as well as the 60-hour power reserve.
Time-setting is also facilitated by the fact that pulling out the crown immediately activates the stop-seconds lever and accordingly brings the seconds hand to a halt.
MONTRE MILLENARY QUINCY JONES
En hommage à cet artiste exceptionnel, Audemars Piguet réinvente les codes de sa ligne contemporaine Millenary. Le célèbre boîtier ovale, signe distinctif de cette collection, se pare d'acier noirci. Tantôt ses surfaces sont mattes, comme sur la carrure, tantôt elles sont brillantes et déploient leurs reflets, comme sur la lunette et le dessus des cornes.
La construction de ce boîtier est des plus complexes, avec ses finitions qui conjuguent satiné vertical et horizontal. Sur son fond poli, la griffe de Quincy Jones ainsi que l'inscription « Millenary Quincy Jones – Limited Edition » rappellent que ne seront fabriqués que 500 exemplaires de ce prestigieux garde-temps.
Le calibre 3120 assure le phrasé rythmique de la montre Millenary Quincy Jones. Ce mouvement à remontage automatique a été entièrement conçu, développé et réalisé par la Manufacture Audemars Piguet.
Par le biais de sa fondation, The Quincy Jones Foundation, il s'engage aussi en faveur des enfants, de leur bien-être, leur santé et leur dignité. Audemars Piguet s'associe à cet homme hors du commun pour développer le Project Q.
Ce projet vise à interpeller les politiques ainsi que tout un chacun aux besoins d'expression des jeunes, aux moyens à mettre en œuvre pour qu'ils atteignent pleinement leur potentiel. Le Q Prize est la pièce maîtresse du Project Q.
Ce prix international est présenté par Audemars Piguet et récompense une personnalité publique ou un organisme social ayant joué un rôle central dans la cause des enfants. La nouvelle Millenary Quincy Jones générera quant à elle des fonds destinés à soutenir la fondation.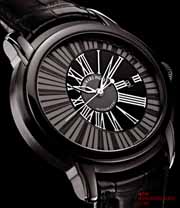 In tribute to this exceptional artist, Audemars Piguet reinvents the identity codes of its contemporary Millenary line.
The famous oval case, the distinctive feature of this collection, appears clothed in blackened steel. Matt zones, such as on the case middle, alternate with brilliant-polished finishing lending an inimitable shimmer to the bezel and the upper surfaces of the lugs.
The ultra-complex construction of this case is highlighted by a combination of vertical and horizontal satin-brushed finishes. The polished case-back carries Quincy Jones' signature as well as the inscription "Millenary Quincy Jones – Limited Edition", serving as a reminder that only 500 of these prestigious timepieces are to be produced.
The tempo for the Millenary Quincy Jones watch is set by Calibre 3120, a mechanical selfwinding movement entirely designed, developed and crafted by Manufacture Auduemars Piguet.
He has also established The Quincy Jones Foundation, a philanthropic organisation committed to helping children by promoting their well-being, their health and their dignity. Audemars Piguet has chosen to associate with this exceptional figure in developing Project Q, aimed at raising awareness among politicians as well as people in general regarding young people's need for self-expression and the means to help them fulfil their potential.
At the core of Project Q lies the Q Prize, an international award presented by Audemars Piguet and honouring a public figure or social organisation that has played a central role on behalf of children.
The new Millenary Quincy Jones watch will help generate funds to support the Foundation.