GMT X-TREME AUTOMATIQUE
La manufacture du Locle réitère cette année son intention d'ancrer une partie de sa gamme dans l'univers de l'extrême en proposant une évolution plus virile encore de la GMT X-TREME, désormais dotée du premier calibre Cricket à remontage automatique.
Ce mouvement 12 lignes (12''') est doté de deux barillets, un pour délivrer l'énergie nécessaire aux fonctions heures, minutes, date et secondes, l'autre pour assurer la fonction réveil et ses 15 à 20 secondes de sonnerie. Ce mouvement bat à 18'000 alternances par heure et dispose d'une réserve de marche de 42 heures.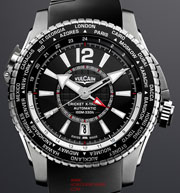 Le nouveau mouvement réveil automatique Cricket V-21, intégrant 257 composants, est, comme ses prédécesseurs, équipé du système Exactomatic – brevet Vulcain – qui égalise les frottements dans toutes les positions au niveau de l'axe du balancier en modifiant les contre pivots des incablocs. Il en résulte une amplitude régulière, donc une plus grande précision et une meilleure régularité de marche de la montre au porté.
Fiable et performant, le mouvement réveil automatique Cricket V-21 présente un nouveau système de marteau et d'enclume destinés à la fonction réveil. L'innovation réside dans un bras qui, couplé au marteau, vient frapper l'enclume désormais placée au centre du mouvement.
Le boîtier de 44 mm proposé en acier et titane, acier et or rose 18K ou en titane noir se veut résolument viril. Ses proportions semblent en effet gonflées par l'asymétrie créée entre le poussoir de correction rapide de la date à 10 h et celui du réveil, entre 2 h et 3 h, prolongé par la couronne de remontoir à 3 h 30.
The Manufacture in Le Locle is reiterating its intention to anchor part of its range in the universe of the extreme by offering an even more ruggedly virile version of the GMT X-TREME model, now equipped with the first ever self-winding Cricket calibre.
The 12-lignes (12''') movement is equipped with twin barrels – one to deliver the energy required for the hour, minute, date and seconds functions, and the other to operate the alarm function with its 15 to 20-second ring. This movement beats at 18,000 vibrations per hour and is endowed with a 42-hour power reserve.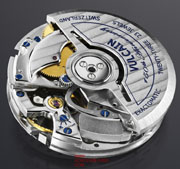 The new self-winding Cricket V-21 movement comprising 257 parts is equipped like its predecessors with Vulcain's patented Exactomatic system which equals out the friction exercised in all positions on the balance-staff by modifying the endstones on the incabloc shock-absorbers. This results in regular amplitude and thus enhanced precision and improved regularity of rate on the wrist.
The reliable high-performance self-winding Cricket V-21 alarm movement features a new hammer and anvil pin system for the alarm function. The innovation lies in an arm which, coupled with the hammer, strikes an anvil pin which is now placed at the centre of the movement.
These breakthrough technological features, combined with the new design of the GMT X-TREME AUTOMATIC, make Vulcain's grand entrance into the field of sports watches a truly noteworthy event.
The 44 m case in steel and titanium, steel and 18K rose gold or black titanium versions exudes a resolutely virile charm. Its proportions appear to be 'inflated' by the asymmetrical effect created by the fast date adjustment pushpiece at 10 o'clock and that of the alarm between 2 and 3 o'clock, extended by the winding-crown between 3 and 4 o'clock.
DIVER X-TREME AUTOMATIQUE
La grande évolution de la DIVER X-TREME AUTOMATIQUE tient au mouvement réveil Cricket V-21 à remontage automatique qui l'anime.
Verrouillé au dos par le mythique triple fond Vulcain qui permet à la sonnerie du réveil de se diffuser parfaitement dans l'eau, le boîtier est perfectionné par l'ajout d'un des fonds taillé dans du titane afin d'augmenter l'acoustique de la montre. Et ce, même à une profondeur de 100 mètres !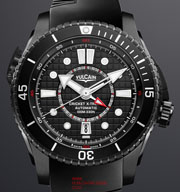 The key evolution of the DIVER X-TREME AUTOMATIC stems from the self-winding Cricket V-21 movement powering it.
Secured on the back by the legendary Vulcain triple case-back that enables perfect diffusion of the alarm sound under water, the case is further enhanced by the addition of one of the cases made from titanium in order to enhance the acoustics of the watch – even at a depth of 100 metres!
GMT édition limitée «les Pandas»
Une légende tibétaine raconte que les ours-chats, ainsi nommés aux confins de la Chine où ils vivent, les pandas étaient à l'origine entièrement blancs.
Jusqu'au jour ou un bébé panda fut sauvé des griffes d'un léopard par une vieille bergère qui y laissa la vie au cours de cet acte de bravoure. En signe de reconnaissance et d'amitié, tous les pandas se rendirent à ses obsèques, portant dans leurs mains des cendres pour respecter la coutume.
C'est en se frottant les yeux et en s'embrassant que leur doux pelage blanc devint noir.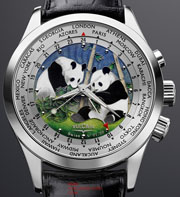 A Tibetan legend recounts that pandas or "cat-bears", as they are known in the remote regions of China were they live, were originally entirely white… until the day a baby panda was saved from the claws of a leopard by an old shepherd woman who paid with her life for this act of bravery. As a token of gratitude and friendship, all the pandas attended her funeral, carrying ashes in their paws out of respect for tradition. Their soft white fur became black by them rubbing their eyes and embracing each other.

REVOLUTION GMT et REVOLUTION DUAL-TIME
L'inédit calibre V-21 fait battre les deux nouveaux modèles REVOLUTION GMT et REVOLUTION DUAL-TIME.
Proposées dans des versions en acier dotées de boîtiers de 42 mm de diamètre, ces deux nouveautés s'inscrivent dans le style propre et identifiable de la manufacture du Locle. Hommage au nouveau calibre V-21, les cadrans sont légèrement ajourés au centre pour laisser apparaître en transparence le premier mouvement Cricket à remontage automatique de l'histoire.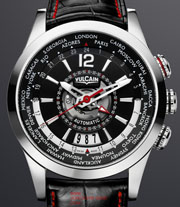 Chiffres et index appliqués en Superluminova, nouvelles formes d'aiguilles, date ajourée à 6h et nouvelles couronnes frappées du sigle de la fonction complètent le dispositif. Les modèles REVOLUTION GMT et REVOLUTION DUAL-TIME sont disponibles à choix avec un fond saphir - permettant d'admirer la qualité et les finitions du mouvement rhodié - ou avec le triple fond caractéristique de Vulcain servant de chambre de résonance.
L'indication de l'heure mondiale dans 24 villes du monde est réglable par la lunette tournante intérieure activée par la couronne vissée à 4h.
This exclusive new 12-lignes (12''') movement – Cricket Calibre V-21 – drives the hour, minute, seconds, alarm and date functions.
Available in steel versions with 42 mm-diameter cases, these two new launches are entirely in harmony with the unmistakable style of the Manufacture from Le Locle.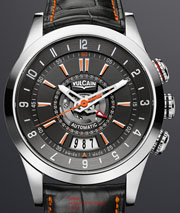 In tribute to the new Cricket Calibre V-21, the dials are slightly open in the centre to reveal a transparent glimpse of the first ever self-winding Cricket movement. Applied Superluminova numerals and hour-markers, a new shape of hands, an openworked date display at 6 o'clock and new crowns stamped with the initials of the function set a sophisticated finishing touch to these models.
The REVOLUTION GMT and REVOLUTION DUAL-TIME models are available with a choice of sapphire crystal case-back – serving to admire the quality and finishing of the rhodium-plated movement – or with Vulcain's signature triple case-back serving as a resonance chamber.
The world-time indication in 24 cities of the world is adjustable by an inner rotating bezel activated by a screw-lock crown at 4 o'clock.
GMT EDITION LIMITEE «PANTHÈRES»
Entre une intuition créative affirmée et un savoir-faire artisanal reconnu, Vulcain présente ainsi ce garde-temps d'une exceptionnelle finesse marqué par l'utilisation de la technique de l'émail cloisonné.
Utilisé depuis le XVème siècle par les horlogers, cet artisanat prend ses racines dans l'Antiquité, sur les rives chaudes de la Méditerranée. Elevée au rang d'art tant elle nécessite de précision manuelle et d'inventivité artistique, la technique du cloisonné consiste à remplir de petits réceptacles qui accueillent la poudre de verre et d'oxydes métalliques constituant l'émail. Pour la figer sur le cadran, l'artisan chauffe l'ensemble à une température extrême, une opération sensible et risquée.
La nature partiellement aléatoire du processus a pour effet de créer une pièce à chaque fois totalement unique par ses reflets et le jeu des couleurs. Une seule erreur de manipulation peut réduire des heures de travail à néant. Ce qui explique la rareté de chaque pièce émaillée. Derrière ce chef-d'œuvre d'artisanat palpite le Calibre réveil Cricket V-13 spécialement décoré et rhodié.
Doté d'un double barillet, ce mouvement mécanique à remontage manuel dispose de 42 heures de réserve de marche. Outre les fonctions heures, minutes, secondes, et alarme-réveil (avec sonnerie de 15 à 20 secondes), le modèle GMT EDITION LIMITEE «PANTHÈRES» affiche les heures du monde sur base 24 heures, réglable par une couronne vissée à 4h. D'un diamètre de 42 mm, le boîtier en or rose 18K ou en or gris 18K est étanche à 100 mètres. Il est doté d'un double fond qui agit comme caisse de résonance.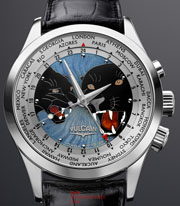 Merging well-established creative intuition and recognised hand craftsmanship, Vulcain presents an exceptionally slender timepiece featuring the use of the cloisonné enamel technique. Used by watchmakers since the 15th century, this exquisite skill originated in the ancient world on the warm shores of the Mediterranean.
Raised to an art form by its blend of manual precision and artistic inventiveness, the cloisonné technique consists of filling tiny receptacles with the glass and metallic oxide powder that constitutes enamel. In order to fix it to the dial, the artisan heats the enamel to extreme temperatures, a sensitive and risky operation in itself.
The partially random nature of the process serves to create a piece that is totally unique in terms of its shimmering reflections and its play on colours. A single handling error can destroy hours of work – a fact that does much to explain the rarity of each enamelled piece. Behind this masterpiece of fine craftsmanship beats the specially decorated and rhodium-plated Cricket V13 alarm calibre.
Equipped with a twin barrel, this mechanical hand-wound movement has a 42-hour power reserve. In addition to the hour, minute, seconds and alarm functions (with the latter featuring a 15 to 20 second ring), the GMT "PANTHERS" LIMITED EDTION model displays world time on a 24-hour scale adjustable by a screw-locked crown at 4 o'clock.
The 18K rose gold or white gold case is water-resistant to 100 metres and is fitted with a double case-back acting as a resonance chamber.