UR-CC1« King Cobra »
Sur la UR-CC1, deux lignes horizontales. Deux cylindres – l'un pour les heures, l'autre pour les minutes. Ne vous méprenez pas sur l'apparente simplicité d'un tel affichage. Il a requis plus de trois ans de développement et nécessitera trois années de production.
Une triple came verticale et un segment denté (visibles sur la tranche de la UR-CC1) assurent la rotation du cylindre des minutes.
Le cylindre des minutes effectue une rotation de 300° de zéro à soixante minutes. Arrivé au marqueur des 60 minutes, le cylindre est ramené à sa position d'origine en 1/10ème de seconde par un fin ressort extra-plat. Ce mouvement rétrograde des minutes provoque l'avancée du cylindre des heures d'une unité.
La triple came est réalisée en bronze béryllium, un métal connu pour ses propriétés autolubrifiantes et son faible coefficient de friction. Elle prend la forme de trois mini-triangles à pente aigue. Cette triple came assure la trajectoire du segment denté relié au cylindre des minutes.
La triple came effectue une rotation complète en trois heures, chaque came permettant la rotation du cylindre des minutes du marqueur 0 à 60minutes.
Cent quatre points de référence ont été calculés pour déterminer l'angle parfait de chacune des trois cames.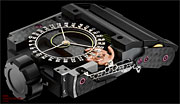 Le segment denté relie la came au cylindre des minutes. Il présente deux propriétés à première vue contradictoire. Il se doit d'être parfaitement rigide afin de transmettre fidèlement le mouvement de la triple came au cylindre des minutes et extrêmement léger afin de consommer le minimum d'énergie possible.
Cette pièce sensible a été exécutée par la maison Mimotec grâce à son tout nouveau procédé de photolithographie. Réalisée en silicium, elle présente une structure en nid d'abeille lui permettant de réunir les deux conditions dureté et extrême légèreté.
le cadran de la UR-CC1 est animé, en première mondiale, d'une seconde digitale. Elle affiche les chiffres pairs des secondes. Pour réaliser cet exploit technique, la pièce a été usinée en silicium par la compagnie Mimotec.
La UR-CC1 bénéficie de la technique de frein pneumatique du « rotor fly brake », une hélice reliée au rotor de la montre. Ce système protège le système de remontage automatique des chocs trop violents et assure une meilleure longévité de la pièce. Le « rotor fly brake » est apparent sur le flanc de la UR-CC1.
On the UR-CC1, there are two horizontal indications displayed by two retrograde cylinders: one for the (jumping) hours, the other for the minutes. And don't be lulled by the apparent simplicity of the displays; the UR-CC1 is the result of more than three years of research, development, production and testing to ensure that the rotation and instant fly-back of the large hour and minute cylinders was achieved without compromising accurate timekeeping.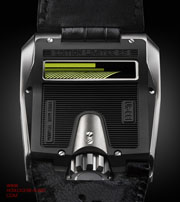 A vertical triple-cam operating a rack (visible through a window in the side of the case) rotates the minute cylinder. From zero to 60 minutes, the minute cylinder rotates through 300°. On arriving at the 60-minute mark the cylinder instantly (1/10th of a second) reverses back to its original position thanks to an extra-flat linear spring.
The retrograde movement of the minute cylinder triggers the hour cylinder to advance (jump) one complete hour. The triple-cam is crafted from bronze beryllium, a metal selected for its inherently self-lubricating properties and low co-efficient of friction, and takes the form of three small inclines.
The precise shape of the curve of the incline is relayed to the pivoting rack, while the teeth on the end of the rack mesh with and rotate the minute cylinder.
The triple-cam makes a complete rotation in three hours so that each of the three inclines takes 60 minutes, and 180 points of reference have been calculated on each of the three cams to ensure the precise and isochronic rotation of the minute cylinder.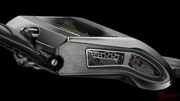 The toothed segment at the end of the rack transmits and transforms the rotation triple-cam into the rotation of the minute cylinder.
The toothed rack presents two properties that at first appear contradictory: absolute rigidity, so as to accurately transmit the motion of the cam to the minute cylinder; and extremely low mass to consume as little energy as possible and minimise the effects of gravity and accelerations/shocks. This vital component has been fabricated in silicon by Mimotec using their photolithography process.
The honeycomb pattern of the silicon structure resolves the two apparently contradictory requirements of maximum strength and minimum weight.
The dial of the UR-CC1 is animated by a rotating disk displaying the seconds both digitally and linearly – a world first! This incredible exploit was achieved thanks to Mimotec's photolithography production technique

UR103T
La UR103T, « T » pour Temps, Témérité, Tellurique ? Le « T » de la 103T est un mystère qui se dévoile au premier regard. Observez le cœur de cette création, vous y trouvez une nouvelle forme de vie. Une structure mouvante y a pris place. La Tarantula!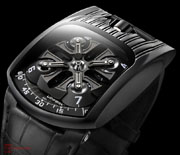 La dernière née de la collection UR103 emprunte plus d'un gènes ADN à la célèbre représentante du monde arachnéen : Une esthétique.
La croix centrale de la UR103 classique – croix orbitale en titane – a été remplacée par toute une structure de métal. Une composition en ARCAP qui enserre les quatre satellites des heures, n'en laissant apparaître qu'un, le premium, celui de l'heure exacte qui défile le long du rail de la minute.
Une grâce.
Sur la UR103T, chaque satellite a acquis son autonomie et se déplace indépendamment. Tandis que le premium défile devant le chemin des minutes et indique l'heure de façon analogique et digitale, les trois autres satellites effectuent une danse à quatre temps.
Hors du chemin de la minute, ces trois satellites accompliront chacun une rotation de 480° : quatre révolutions de 120° sur leur propre axe. La masse en déplacement ici est 311 fois plus conséquente qu'un jeu d'aiguilles classiques. Ultra précision d'usinage, équilibre et minutie du montage sont alors des impératifs pour assurer l'isochronie de cette pièce d'exception.
Une force.
Les 4 satellites de la UR103T sont façonnés dans l'aluminium puis montés sur une croix de Genève en bronze béryllium. Le module est suspendu à une structure en ARCAP P40, alliage inoxydable et amagnétique. Il prend place sur une platine également en ARCAP P40.
The UR103T: 'T' for Time? 'T' for Temerity? 'T' for Tellurian? The 'T' in the 103T is at first a mystery, but only until the first look down through the massive sapphire crystal into the mechanism below. There you will sense a shape before you see it. A form slowly emerges from the orbital cross and stretches its mesmerising legs: 'T' for Tarantula!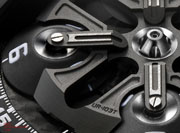 URWERK's latest addition to the UR103 collection has a few genetic codes borrowed from one of the most famous members of the world of arachnids.
The Aesthetics.
In the classic UR103, the central element is an orbital cross in titanium. In the new UR103T, the titanium cross has been replaced by a completely redesigned structure in ARCAP, a very stable copper/nickel alloy.
The dark ARCAP wraps around the hour satellites in a protective embrace - though we can perhaps imagine something more sinister! This new configuration ensures that the numbers on the hour satellites can only be seen when they are required to tell the time while passing the arc of the minutes.
The Technique.
The actual mechanism for rotating the satellites has been completely modified on the UR103T. With this model the satellites rotate simultaneously behind the scenes in multiple stages, in preparation for their turn to indicate the time. They actually perform a four-beat 480° pirouette. Each satellite turns four 120° turns in the period between leaving the minute arc and arriving again with a new numeral displaying. The orbital satellite complication is over 300 times heavier than traditional hands, a factor that requires absolute precision in the manufacture of its minuscule components, and in assembling, balancing and regulating the complication to obtain the excellent chronometric performance URWERK demands of its exceptional timepieces.
The Force. The four satellites of the UR103T are made of aluminum and mounted on their own bronze/beryllium Geneva cross. The mechanism is then suspended from the orbital cross structure in ARCAP 40, a material that is light, non magnetic and corrosion resistant, and is mounted on an ARCAP plate.
URWERK - Jean-Vincent Huguenin
La maison URWERK présente aujourd'hui sa ligne Edition Spéciale élaborée en collaboration avec le maître graveur, Jean-Vincent Huguenin. Cette collaboration entamée en 1996 atteint aujourd'hui sa maturité. Les pièces proposées ici sont librement inspirées par le courant « Art Déco ».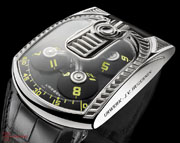 Des pièces qui mettent en exergue modernisme et tradition, symétrie et formes naturelles. Un reflet du savoir-faire de l'équipe URWERK allié à la maîtrise de Jean-Vincent Huguenin.
Today URWERK, in collaboration with master engraver Jean-Vincent Huguenin, presents a new line in their Edition Spéciale collection. The relationship between URWERK and Jean-Vincent Huguenin began with their first collaboration in 1996, however, it reaches a new level with this dedicated collection.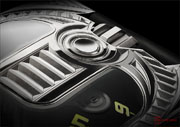 The models proposed are freely inspired by a « Art Déco » and strongly exhibit the contrasts of modernism and tradition, symmetry and natural forms. These designs fuse the horological expertise of URWERK and the artistic talent of Jean-Vincent Huguenin creating an elegant modern timepiece.