longines
---
Les nouveautés 2009 des montres Longines
(on en parle sur le forum)
---
Longines Heritage Retrograde
The Longines Heritage Retrograde renferme le calibre mécanique à remontage automatique L698 et dispose de quatre fonctions rétrogrades: jour, date, seconde et second fuseau horaire.
En revenant instantanément à leur point de départ une fois leur course effectuée, avant de repartir aussitôt pour un nouveau cycle, les aiguilles des fonctions rétrogrades tracent un ballet gracieux et harmonieux.
The Longines Heritage Retrograde est dotée d'un cadran aux reflets d'émail blanc laqué poli affichant 11 chiffres arabes inspiré de l'esthétique des montres de poche créées par Longines à la fin du 19e siècle.
La marque de fabrique enregistrée en 1889 par Longines auprès de l'Office Fédéral de la Propriété Intellectuelle (OFPI) est gravée, dans sa forme originale, au dos du boîtier en or rose 18 carats.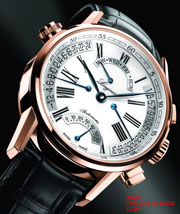 As a typical example of the brand's rich watchmaking and cultural heritage, this timepiece houses an L698 self-winding mechanical movement and offers four retrograde functions: day, date, seconds and second time-zone.
Returning to zero instantly as soon as the desired function has been completed and starting a new cycle immediately, the retrograde function hands present a graceful and harmonious movement.
The dial of The Longines Heritage Retrograde, with 11 Arabic numerals, has been enameled in white lacquer, creating a beauty reminiscent of the pocket watches produced by Longines at the end of the 19th century.
Longines Weems Second-Setting Watch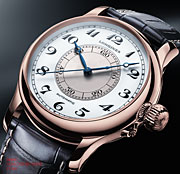 Equipée d'un mouvement mécanique à remontage automatique, elle dispose d'une réserve de marche de 46 heures.
Le boîtier rond en acier inoxydable ou en or rose, d'un diamètre de 47,50 mm, est doté d'un fond à couvercle gravé s'ouvrant sur une glace saphir permettant d'apprécier la marche du mouvement.
Le cadran central mobile opalin argenté permet la synchronisation de la seconde avec un signal horaire radiodiffusé.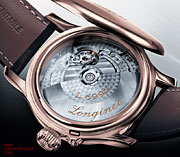 Fitted with a selfwinding mechanical movement, it offers a power reserve of 46 hours.
The round stainless steel or rose gold case, of a diameter of 47.50 mm, is fitted with an engraved back cover which can be lifted to reveal a transparent sapphire plate through which the movement's operation can be observed.
The opaline silvered center dial enables the synchronisation to the second via a radio time signal.
The Longines Column-Wheel Chronograph
Après avoir identifié les modifications affectant depuis quelques années l'univers de la montre mécanique (goûts prononcés pour les garde-temps mécaniques de haute qualité, popularité des chronographes mécaniques et fascination du public pour les dispositifs horlogers traditionnels), Longines et d'autres marques du Swatch Group ont mandaté et financé le développement exclusif d'un mouvement automatique pour chronographe-bracelet muni d'une roue à colonnes, produit par la société ETA.
Ce calibre constitue l'incarnation contemporaine d'une profonde tradition du chronométrage mécanique dont la Maison au sablier ailé est l'héritière. Pourvu de 27 rubis, le mouvement L688.2 est un calibre à remontage automatique de 30 mm de diamètre pour 7,90 mm de hauteur.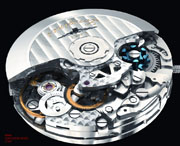 La roue à colonnes dont il est pourvu sert au pilotage des fonctions du mécanisme de chronographes (enclenchement, arrêt, remise à zéro). Autour de cette roue en acier bleui, émerge une esthétique forte du mouvement qui aboutit à une réactualisation stylisée d'un système technique traditionnel. Au-delà de son design raffiné, le calibre L688.2 révèle en outre une construction étudiée pour répondre aux exigences de la chronométrie.
The Longines Column-Wheel Chronograph convoque un boîtier en acier inoxydable de 40 mm de diamètre pour abriter le calibre L688.2 dont la mécanique intime est dévoilée par un fond transparent.
Doté d'aiguilles dauphines dorées révélant la course du temps sur un cadran argenté agrémenté d'index appliques dorés eux-aussi,
The Longines Column-Wheel Chronograph affiche une petite seconde à 9h, un compteur traînant de 30 minutes à 3h et un compteur traînant de 12 heures à 6h.
Having identified the modifications that have affected the world of mechanical timepieces over the past few years (a marked demand for high-quality mechanical watches, the popularity of mechanical chronographs and a fascination for traditional horological devices among the general public), Longines and other brands within the Swatch Group mandated and financed the exclusive development of a self-winding movement with a column wheel for a wrist-chronograph which has now been produced by ETA. This calibre is a contemporary embodiment of a long tradition of mechanical timing which is Longines' heritage. Fitted with 27 jewels, the L688.2 movement is a self-winding calibre with a diameter of 30 mm and a height of 7.90 mm.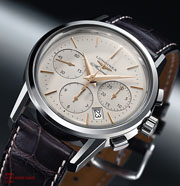 The blued steel column wheel controls the chronograph functions (start, stop, return to zero) and is part of a work of art that is a stylish update of a traditional technique. Beyond its sleek design, the L688.2 calibre is an inspiring creation designed specifically to meet the demands of timing.
The Longines Column-Wheel Chronograph has a stainless steel case with a diameter of 40 mm that houses the L688.2 calibre whose intricate workings can be admired through the transparent case back.
The gold-plated Dauphine-style hands are mounted on top of a silvered dial featuring, gold-plated applied hour symbols, a small seconds at 9 o'clock, a 30-minute continuous action counter at 3 o'clock and a 12-hour continuous action counter at 6 o'clock.