glashutte Original
---
Les nouveautés 2009 des montres Glashütte Original
(on en parle sur le forum)
---
Glashütte Original Pocket Watch No. 1
With the launch of the Glashütte Original Pocket Watch No. 1, the established manufactory harkens back to this epoch and presents a timelessly elegant pocket watch with quarter-hour repetition, which comes in a worldwide limited edition of 25 pieces. This timepiece in rose gold captivates with its high standard of watchmaking, its innovative construction and aesthetic design.
A historical watch by Julius Assmann, a famous pioneer of the Glashütte watchmaking industry, served as the model.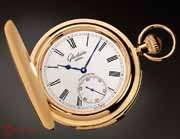 One particularly striking feature of this watch is the quarter-hour repetition, which announces the quarter hours and hours acoustically. Using one tone, the repetition first of all indicates the previous hours, and then, by means of a second and higher tone, the quarter hours which have elapsed since the full hour.
To operate the repetition, a slide is located on the case at 6 o'clock. This is moved by hand in the direction of 9 o'clock, thereby tightening the mainspring. When the final point of the winding has been reached the signal mechanism is activated automatically. The progress of the signal mechanism is regulated by a centrifugal governor visible on the wheel train side.
The beating of the two hammers is made audible by means of two gongs of different lengths, which are passed around the piece beneath the wheel train. Two blued steel hands dominate the dial: the slender minute hand and the hour hand in classic "poire" form turn on the central axis, while the second hand is located underneath the polished eye in a sub-dial area.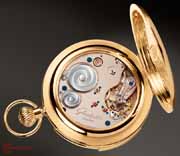 The classic display is enclosed by a minute ring which, along with the black Roman numerals, stands out in clear contrast to the enamelled dial. The watch is wound via the crown and the time is set using a two-level yoke winding mechanism. This is designed so that at the moment of winding the crown, the balance wheel is halted and the eccentric second hand jumps to "zero".
The newly designed hand-wound calibre 84-01 from Glashütte Original permits a precise time display. A doubly non-reflecting sapphire crystal protects the calibre and gives an unobstructed view of the exquisitely decorated piece. With three quarter plate, screwed gold chatons, hand-engraved balance cock and swan-neck fine adjustment, it is a high point of the art of Glashütte watchmaking.
This elegant timepiece has a power reserve of 36 hours.

Chronometre Senator
La synchronisation précise des aiguilles des minutes et des secondes a maintenant été possible en modifiant le calibre 58-01 à remontage manuel qui fait fonctionner le chronomètre Senator.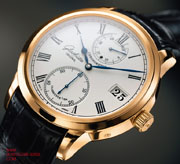 Un mécanisme original de remise à l'heure/d'arrêt des secondes permet à l'utilisateur de régler aisément l'heure exacte.
Lorsqu'on tire sur la couronne, l'affichage de l'heure s'interrompt et l'aiguille des secondes saute en position de départ où elle reste tandis que l'aiguille des minutes se place simultanément sur la minute entière suivante. Quand l'heure est réglée en faisant pivoter la couronne, l'aiguille des minutes s'arrête uniquement sur l'indication de la minute entière garantissant ainsi toujours le bon rapport entre les minutes et les secondes affichées.
Precise synchronization of the minute and second hands has now been made possible by re-designed Glashütte Original manual winding Caliber 58-01, which powers the Senator Chronometer model.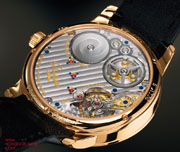 A novel stop-seconds/reset mechanism allows the wearer to set the precise time with ease. Pulling the crown stops the time display and causes the second hand to jump to the beginning position, where it remains; the minute hand moves simultaneously to the next full minute.
When the crown is then turned to set the time, the minute hand stops only on the indication of the full minute, thus always guaranteeing the correct relationship between the minutes and seconds displayed.
Senator Meissen Tourbillon
La Senator Meissen Tourbillon est l'image d'un classicisme élégant dans son boîtier en or rose de 40 mm équipé d'une technologie subtile.
Le temps est mesuré par des aiguilles bleutées classiques indiquant les heures et les minutes, qui glissent sur la surface du cadran blanc ultra-mince en porcelaine de Meissen.
Les heures sont figurées par des chiffres romains peints à la main soigneusement appliqués au cadran avec la grande compétence des peintres de lettrages de l'usine de Meissen. Le lettrage Glashütte Original et les épées croisées emblèmes de l'atelier de porcelaine de Meissen sont également peints à la main.
À lui seul, le travail de peinture du cadran demande huit heures d'efforts.
Le Senator Meissen Tourbillon est actionné par le calibre automatique manufacturé 94-11 à la délicieuse finition, que l'on peut admirer à travers l'arrière en cristal de saphir anti- reflets du boîtier en or rose. Il est doté d'une autonomie de 48 heures et facile à manipuler pour répondre efficacement aux besoins du porteur moderne.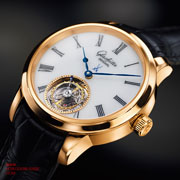 The Senator Meissen Tourbillon is a picture of stylish classicism in its 40 mm rose gold case, outfitted with exquisite technology. The passing of time is measured by traditionally blued hour and minute hands that glide across the surface of the wafer-thin, white Meissen porcelain dial.
The hours are marked by hand-painted Roman numerals that are painstakingly applied to the dial and require the utmost skill from the Meissen factory's script painters. The Glashütte Original lettering and the crossed swords that are the trademark of the Meissen porcelain manufactory are also hand painted.
The painting of the dial alone requires eight hours to complete.
The Senator Meissen Tourbillon is powered by the exquisitely finished automatic manufacture Caliber 94-11, which can be admired through the antireflective sapphire crystal back of the rose gold case. The 48-hour power reserve makes for easy handling, efficiently meeting the needs of the modern wearer.
Lady Serenade Chronograph
Le boîtier de 38 mm en acier inoxydable poli s'inscrit dans une lunette entourée de 54 diamants taillés en brillants (d'un poids total d'environ 1,17 ct), qui ajoute une touche de luxe à la Lady Serenade Chronograph.
Le fond saphir permet de bien voir le fonctionnement de ce chronographe léger et dégagé. Le calibre manufacturé 39-34, doté d'une autonomie de 40 heures, assure une mesure précise de temps.
Équipé de tous les éléments traditionnels de l'art de l'horlogerie de Glashütte tels que le réglage de précision en col de cygne, une platine de trois quarts Glashütte, les sillons Glashütte et une décoration en rayons de soleil, ce mouvement révèle de nouveau la profondeur du savoir-faire horloger de Glashütte Original.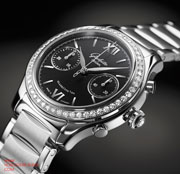 The 38 mm polished stainless steel case is framed by a bezel ringed with 54 TW-if brilliant- cut diamonds (total weight approx. 1.17 ct), adding a touch of luxury to the Lady Serenade Chronograph.
The scratchproof sapphire crystal case back allows an unobstructed view of the inner workings of this light and airy chronograph. Manufacture Caliber 39-34, with a power reserve of 40 hours, ensures precise time measurement. Outfitted with all the traditional elements belonging to Glashütte's art of watchmaking such as a swan-neck fine adjustment, a three-quarter plate, Glashütte ribbing and double sunburst decorations, this movement once again reveals the depth of Glashütte Original's horological know-how.
Strasser & Rohde Regulator
The blued minute hand in the centre dominates the clear dial. The hour hand and the second hand are located decentrally in smaller sub-dial areas, on the upper and lower halves respectively. A milled and black-coloured minute ring on the outer rim indicates the passage of the minutes, while Roman numerals, also milled, mark the passage of the hour hand. The fascinating surface structure of the grained silver-plated dial forms the perfect contrast to the deep black details.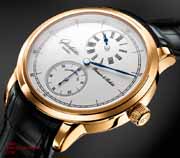 This elegant timepiece is framed by a polished case in warmly shimmering rose gold, with a size of 42 mm and a height of only 12.8 mm. The precision of a watch finds its expression in the quality and sophistication of the movement used. The Strasser & Rohde Regulator is thus powered by the hand-wound calibre 49-04, designed and produced entirely in the Glashütte Original manufactory and renown for its qualities and its highly refined finish. The hand-wound calibre 49-04 comes with Glashütte three-quarter plate with striped finish, blued screws, and screwed gold chatons.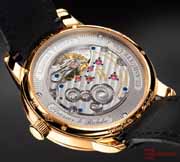 The Louisiana alligator leather strap with folding clasp, attached to the case by an integrated lug, makes for a watch which feels pleasant and secure on the wearer's wrist.
Sport Evolution Impact Panorama Date
Le boîtier de 46 mm en acier inoxydable de cette montre robuste est recouvert de caoutchouc noir mat qui n'apporte pas de protection supplémentaire mais ajoute un trait de style et contribue à l'harmonie de l'ensemble.
Le panorama de date de Glashütte Original, aux dimensions généreuses, se détache nettement sur le fond noir en position 6 heures. Cette fonction brevetée de l'atelier saxon de montres comporte un petit disque portant les chiffres 0 à 3 au centre d'un autre disque portant les chiffres 0 à 9. L'avantage de cette disposition est que les deux faces du disque sont au même niveau, ce qui évite un « décrochage » lors de l'affichage de la date. La fenêtre de date n'a donc pas besoin de rebord.
Le cours des heures est indiqué par des indicateurs en argent poli, incrustés de SuperLumiNova pour en améliorer la lisibilité, et les trotteuses placées dans l'axe central, elles aussi incrustées de SuperLumiNova, indiquent l'heure et la minute.
Le boîtier anti-rayures en cristal de saphir sur la face arrière permet de bien voir le calibre automatique manufacturé 39-47 donnant le rythme de la montre.
Grâce à une autonomie de 40 heures (+/- 10%), cette montre fonctionnelle assure un service fiable en plus du plaisir sportif du porteur.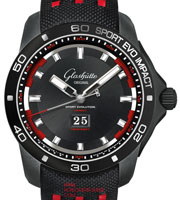 The 46 mm stainless steel case of this robust timekeeper is coated with matt black rubber which, although it does not provide additional protection for the watch, adds a certain flair and aids in creating a harmonious overall design.
The generously sized Glashütte Original panorama date clearly stands out from the black background at 6 o'clock. This patented function of the Saxon watch manufactory comprises a small disk containing the numerals 0 to 3 in the center of another disk printed with the numerals 0 to 9.
This arrangement has the advantage that both disk surfaces are placed on one level, avoiding a "step" in the date display. For this reason, the date window does not need a mullion.
The course of the individual hours is shown by polished silver hour markers.
The markers are inlaid with SuperLumiNova to guarantee improved legibility, and the centrally positioned sweep hands provide information on the hour and minute, the visuals of which are also strengthened by luminous substance.
The scratch-resistant sapphire crystal case back provides a clear view of automatic manufacture Caliber 39-47 beating the timepiece's rhythm. Thanks to a power reserve of 40 hours (+/- 10%), this functional timekeeper provides reliable service regardless of the wearer's sporting pleasure.

Senator Sixties
La forme de la pelote à épingle était très populaire dans les années 60 ; elle a inspiré l'équipe créative de Glashütte Original pour la conception de son modèle le plus récent : le chronographe carré Senator Sixties.
Le verre saphir façonné, utilisé pour la première fois sur les modèles Senator Sixties, est naturellement présent sur le chronographe carré éponyme. Procurant non seulement une vue sensationnelle du calibre de manufacture 39-34 automatique doté des caractéristiques propres au design Glashütte comme la platine trois quarts, le réglage de précision par ressort à col de cygne, les stries Glashütte et les doubles décorations rappelant le soleil, il permet également une vue latérale de la masse oscillante pivotante en or de 21 carats.
The squared cushion shape was a popular design form in the 1960s, inspiring the creative heads at Glashütte Original to design the recent Senator Sixties Square Chronograph.
The shaped sapphire crystal first used on the Senator Sixties models is naturally also present on the Senator Sixties Square Chronograph. It provides not only a sensational view of automatic manufacture Caliber 39-34 with its with typical Glashütte design features such as the three-quarter plate, swan-neck fine adjustment, Glashütte ribbing and double sunburst decoration,  but also allows a rare side view of its revolving 21-karat gold rotor.

Senator Navigator Perpetual Calendar
Cette montre de haut vol prend son essor avec un boîtier réalisé dans un robuste acier inoxydable de 44 mm dans le style typique de la montre de pilote, avec un cadran noir mat classique portant de grands chiffres arabes et des lignes pour les minutes et les secondes, ainsi que des aiguilles bleuies pour les heures et les minutes.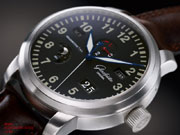 Les fonctions supplémentaires de calendrier perpétuel ont été harmonieusement intégrées dans la conception dynamique de cette montre efficace. Les disques indiquant le jour et le mois et le panorama de date typique de Glashütte sont affichés en blanc sur fond noir, ce qui offre un cadran dégagé et équilibré. Même la nuit, rien ne vient gêner la lisibilité du cadran ; les chiffres figurant les heures, et les aiguilles bleuies des heures, des minutes et des secondes sont incrustées de substance luminescente SuperLumiNova. Le double logo en G fait contrepoids à l'extrémité de l'aiguille des secondes.
Pour bien refléter le caractère dynamique de la montre, les concepteurs de Glashütte Original ont décidé de créer un cadran indiquant les années bissextiles avec une aiguille en position midi : quand elle est alignée avec le L rouge, cela signifie qu'on est dans une année bissextile.
À l'intérieur de la Senator Navigator Perpetual Calendar, cette précision est garantie par le calibre automatique manufacture 100-07.
Le calibre automatique manufacture 100-07 a une autonomie de plus de 55 heures (+/- 10%) et un mécanisme de remise à zéro permettant une synchronisation facile de l'aiguille des secondes.
This high-flying timepiece soars with a robust 44 mm stainless steel case in typical pilot's watch look, sporting a traditional matt black dial with large Arabic numerals and line markers for the minute and second displays as well as blued hour and minute hands.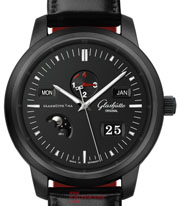 The added perpetual calendar functions have been seamlessly integrated into the dynamic design of this efficient timepiece. The disks for both day and month and the typical Glashütte panorama date are displayed in white on a black background resulting in a visually clear and balanced dial. Nothing gets in the way of the dial's legibility at night either; the hour numerals, and the blued hour, minute, and second hands are inlaid with the luminescent material SuperLumiNova.
The Double G logo guarantees a counterbalance on the tip of the second hand. In order to do justice to the dynamic character of the timepiece, designers at Glashütte Original decided to create a leap year display using a hand at 12 o'clock: when it points to the red L, it is currently a leap year.
In addition to a perfectly legible dial, rate precision is vital in a pilot's watch. Inside the Senator Navigator Perpetual Calendar, automatic manufacture Caliber 100-07 guarantees this precision.
Automatic manufacture Caliber 100-07 commands a power reserve of more than 55 hours (+/- 10%) and sports a reset mechanism that allows for easy synchronization of the second hand with a time standard.