Sauterelle 70
Avec la Sauterelle, Chronoswiss s'est dotée du premier modèle équipé d'un calibre de manufacture Made in Germany conçu par elle-même.
Le nouveau calibre ne bât pas, pour être exact, dans une seule montre, mais bien dans deux versions de ce modèle : la Sauterelle donne aux connaisseurs l'embarras du choix : elle est aussi bien disponible en version à trois aiguilles (avec au choix un cadran noir ou blanc) qu'en version équipée d'un cadran Regulator exceptionnel, n'étant pas sans rappeler les racines de la marque.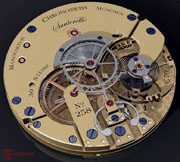 Sur la nouvelle Sauterelle, le balancier particulièrement grand, avec un nombre variable de rotations, et le spirale Breguet afférente effectuent comme au bon vieux temps, 18'000 alternances par heure.
En ces temps agités, on appelle cela un parfait ralentissement.
Une trotteuse conventionnelle avancerait tranquillement au rythme d'un cinquième de secondes. Nous devons le fait qu'elle ne se déplace ici qu'à chaque seconde pleine avec une précision extrême, à la finesse du mouvement conçu en collaboration avec le technicien horloger Karsten Fräßdorf. À vrai dire, il fonctionne comme n'importe quel autre calibre mécanique. Mais il dispose d'un petit rouage supplémentaire, dont l'ancre tendant beaucoup et la roue d'ancre afférente trônent ostensiblement sur le revers.
Sous tension avec un petit ressort, elle compte chaque fois cinq semi-oscillations de balancier, puis accorde alors à la trotteuse un bond soigneux jusqu'au trait suivant de l'échelle située en bordure du cadran énormément déblayé.
L'autonomie de marche est d'environ 60 heures maximum.
Divers pièces de rechange sont logées entre le pont du barillet et le pont de roue moyenne

The Sauterelle is Chronoswiss's first model with an in-house manufacture caliber-"Made in Germany." Thus, Chronoswiss makes a clear distinction between the limited historical manufactory calibers utilized to this point and the Sauterelle, a completely new development that represents the first step on the brand's path to becoming a true manufacture. This caliber ticks not only in one watch, but more precisely, in two model variations, putting the connoisseur in the predicament of having to choose. The Sauterelle is available both as a classic three-hand watch (with either black or white dial) or with an unusual regulator dial that is reminiscent of the brand's origins.
In the new Sauterelle, a word that means "grasshopper" in English, the very large balance with its variable torque and accompanying Breguet overcoil balance spring complete 18,000 semioscillations per hour (2.5 Hz)-just like in the good old days. In these hectic times we like to call this skillful deceleration-actually a really good fit with Gerd-Rüdiger Lang, who one can confidently say is calmness and composure in the flesh.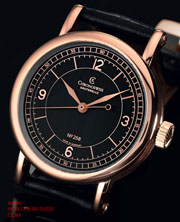 A conventional second hand would move forward in leisurely steps of one-fifth of a second; the fact that this hand marches forward only every full second with stately precision is due to the sophistication of the movement, which was developed in cooperation with watch technician Karsten Frässdorf. Its basic function is the same as that of any other mechanical caliber except that it possesses an additional small gear train, whose wide pallet lever and accompanying escape wheel feature prominently on the back. It counts five semi-oscillations of the balance in tandem with a small spring, which only then allows the second hand to make its precise jump to the next division mark on the corresponding scale around the edge of the extraordinarily clean dial.
Sixty hours of power reserve gives it almost three days' worth of energy.
Various spare parts stored between the barrel bridge and the third-wheel bridge

Chronoscope CM
Sur le chronoscope à bracelet "avec la rotation", les minutes sont comptées après le démarrage de manière totalement différente de ce qu'on connaît habituellement. Pour cela, une petite manipulation est cependant indispensable. Elle permet de positionner l'imposant losange situé sur la lunette rotative antidérapant en face de la pointe de la longue aiguille des minutes. Au terme de la procédure de comptage du temps, sa durée peut être lue en un coup d'oeil ; le petit compteur des minutes conventionnel des "chronographes", difficilement visible, fait dorénavant partie du passé.
En outre, la forme choisie par Gerd-Rüdiger Lang offre bien sûr l'avantage d'un compteur Count-Down. Admettons qu'une fois la pièce introduite, votre temps de stationnement soit de trente minutes. Dans ce cas, il suffit de synchroniser l'index des 30 minutes avec la position actuelle de l'aiguille des minutes, sans déclencher le compteur de temps. Lorsque sa pointe à atteint le losange, il est temps de changer la voiture de place ou de remettre de l'argent dans l'horodateur.
À propos - citons par ailleurs la conception particulière de l'aiguille des minutes : elle est étonnamment longue et à y regarder de plus près, on remarque qu'elle possède une double pointe.
La première pointe indique tout simplement les minutes, la seconde pointe, située à l'extrémité de l'aiguille frôle la bordure du cadran et indique le cas échéant, les minutes arrêtées sur l'échelle de la couronne.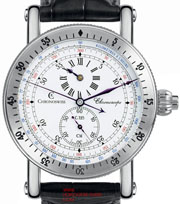 The result is the 2009 unveiling of the brand-new Chronoscope CM (Compteur Minutes). This chronograph wristwatch "with a twist" counts the minutes in a completely novel way once the stopwatch is started-and needs a quick additional step to get going. Once the prominent diamond-shaped marking on the easyto-grip rotating bezel has been set to the tip of the long minute hand, the duration of the timed event becomes available at a glance; and the days of peering at small, barely visible minute counters of conventional "chronographs" are finally a thing of the past.
Let's assume that the time running on a parking meter after inserting some coins is 30 minutes. In this case, it suffices to synchronize the 30- minute index with the current location of the minute hand without using the stopwatch; when the hand gets to the diamond-shaped marker, it's time to either move the car or put some more money in the meter.
At this point we'd like to draw your attention to the special design of the minute hand: it is exceptionally long and when the observer takes a closer look, he or she will notice that it actually has two tips. The first, shorter, one displays the minutes as usual, while the second one reaches to the edge of the dial, thus pointing directly to the minutes stopped by the chronograph on the rotating bezel's minute scale when the chronograph is on.
Edition Zeitzeichen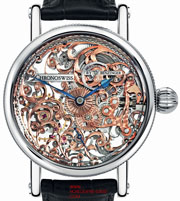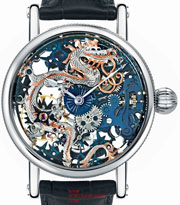 Mouvement 6498