mb&f
---
Les nouveautés 2009 des montres MB&F
(on en parle sur le forum)
---
Horological Machine n°2.2
Que se passe-t-il quand le maître incontesté de la couleur, le grand designer horloger français Alain Silberstein, est convié à laisser libre cours à son imagination sur la Horological Machine n°2 de MB&F ? Son étonnante intervention prend la forme d'un boîtier entièrement noir qui personnifie l'épurement et la retenue du Bauhaus. Appelé Horological Machine n°2.2, le nouveau modèle est affectueusement surnommé « la Black Box». Il sera édité dans une édition très limitée de huit montres.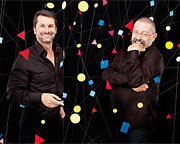 Alors que les deux cadrans en forme de hublot demeurent le centre d'intérêt – avec pour la première fois l'affichage de l'heure sautante dans une ouverture – la personnalité de la montre a changé du tout au tout. L'aspect futuriste de l'original s'est estompé. Alain Silberstein souhaitait que la Horological Machine n°2.2 associe la géométrie pure du Bauhaus avec le côté pratique des petites boîtes de caméras des années 1940.
Le boîtier rectangulaire est sculpté dans un bloc de titane massif qui repose sur la structure originale.
Le boîtier en titane est recouvert d'un PVD contenant du silicium qui confère à la matière un contact doux et une couleur d'un noir intense. Les chiffres, les index et les aiguilles sont revêtus de Superluminova pour en faciliter la lecture dans l'obscurité. Chaque caractère sur les deux affichages est né de la main d'Alain Silberstein. Et même le visage de la lune s'inspire d'une bande dessinée emblématique de l'Art Nouveau.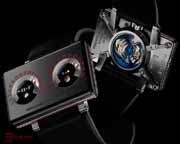 What happens when that master of glorious colour, French high-end watch designer Alain Silberstein, is let loose with MB&F's Horological Machine No2? The surprising answer is a new, all-black case that epitomises Bauhaus purity and restraint. The new model, called Horological Machine No2.2, is known affectionately in-house as "the black box". It will be issued in a limited edition of eight watches.
Whilst the twin porthole dials are still the focal point – with the jumping hours in an aperture for the first time – the watch's personality has changed completely. Gone is the science-fiction look of the original. Silberstein says that he wanted Horological Machine No2.2 to combine the pure geometry of the Bauhaus with the user-friendliness of the miniature box cameras of the 1940s.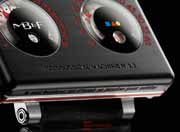 The rectangular case is carved out of a solid block of titanium, resting on the original substructure.
The titanium case is treated with an exclusive PVD coating incorporating silicium, resulting in a soft touch and particularly intense black colour. The vibrant red numerals, markers and hands are coated in Superluminova for easy night reading. All the characters on the twin displays were designed by Alain Silberstein. Even the moon's expressive face was inspired by a treasured cartoon from the Art Nouveau period.
MB&F et l'artiste Sage Vaughn osent le choc émotionnel à Only Watch
Un papillon est piégé dans la dernière montre qui porte la signature de MB&F (Maximilian Büsser & Friends). Il n'a aucun espoir de s'échapper, car le mouvement est entouré de fil barbelé. Interprétation unique de la Horological Machine N°2 de MB&F, cette pièce à l'extraordinaire impact est l'œuvre de l'artiste américain Sage Vaughn.
Elle sera mise aux enchères lors de la vente caritative Only Watch en faveur de la myopathie de Duchenne qui se tiendra le 24 septembre 2009 à Monaco, sous le patronage de SAS le Prince Albert II.
La myopathie est une maladie génétique qui frappe les garçons. Elle provoque un affaiblissement progressif des muscles aux conséquences fatales lorsque l'enfant grandit. L'Association Monégasque contre les Myopathies (AMM) joue un rôle essentiel dans la recherche d'un traitement.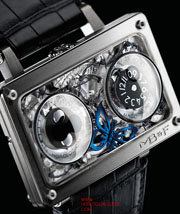 Maximilian Büsser déclare que son équipe et lui, « bouleversés » dans la création d'une montre pour cette noble cause, ont résolu de solliciter la collaboration de Sage Vaughn. Ses portraits d'enfants déguisés, d'oiseaux ou de papillons bariolés qui se détachent sur un fond urbain désolé expriment la tension entre l'affirmation de la vie et un intense désespoir.
Ce jeune artiste, dont les « performances » en solitaire ont reçu un accueil enthousiaste, a combattu et terrassé son propre démon – une dépendance de sept ans à l'héroïne – et la douleur de ce combat transparaît dans la puissance de son travail. Il a immédiatement et généreusement accepté d'offrir son temps et son talent.
Confectionnée en verre saphir, la partie supérieure de la montre – le boîtier rectangulaire et les hublots saillants – révèle le mécanisme complexe de la HM2.
Les centaines de composants minuscules arborent le minutieux fini main qui est devenu le signe distinctif de MB&F. Cependant, ils sont emprisonnés par un fil barbelé. Un papillon bleu tente d'échapper au même destin, mais ses ailes sont rognées.
Le barbelé est confectionné en or noirci et le papillon en or bleui, mais l'œuvre possède toute la force émotionnelle contenue dans la première esquisse de l'artiste.
There is a butterfly trapped in the movement of the latest watch to emerge from MB&F (Maximilian Büsser & Friends). And it has no hope of escaping, because the complicated movement is wrapped in barbed wire. This emotionally charged piece, a one-of-a-kind interpretation of MB&F's Horological Machine No2, is signed by the American artist Sage Vaughn.
It will be auctioned at Only Watch, the charity auction to benefit research into Duchenne Muscular Dystrophy to be held in Monaco on 24 September 2009 under the patronage of HSH Prince Albert II.
The disease is a genetic disorder affecting boys. It causes a progressive weakening of the muscles that becomes fatal as the child gets older. The Monegasque Association against Duchenne Muscular Dystrophy (AMM) is a leading force in the drive to find a cure.
Maximilian Büsser said that he and his team were "shocked into" participating and were determined to work with Sage Vaughn. His paintings of gaily dressed children or bright birds or butterflies against bleak urban backgrounds had the tension between affirmation of life and a sense of desperation that they were seeking.
This young artist, whose solo shows have won widespread critical acclaim, has fought and conquered his own demon – a seven-year heroin addiction – and the pain of that struggle is felt in the emotional power of his work. He immediately agreed to contribute his time and talent.
The result is a unique interpretation of MB&F's Horological Machine No2, the watch launched as a limited series in 2008. The entire upper face of the watch – the rectangular case and the projecting portholes – is crafted in sapphire crystal, revealing the HM2's complex engine.
The hundreds of minute components display the meticulous hand finish that is MB&F's hallmark. But they are imprisoned in barbed wire. A blue butterfly struggles to escape from the same fate, but its wings are clipped.
The barbed wire is handcrafted in blackened gold and the butterfly in blued gold, but the scene has all the emotional impact of the first rough by the artist.
Horological Machine No1 – Black et RS « The Final Editions »
En 2006, MB&F a présenté la Horological Machine No1 (HM1): une montre-bracelet hors normes qui a simultanément imposé MB&F et surpris le monde par la présentation d'un concept radical de garde-temps conçus comme des sculptures cinétiques en trois dimensions. Pour marquer dignement la fin de ce modèle emblématique, MB&F a réalisé deux étonnantes variations finales, chacune dans une édition strictement limitée de dix pièces : la HM1-Black et la HM1-RS.
Les deux modèles HM1-Black et HM1-RS possèdent les fonctions heures et minutes sur des cadrans séparés, un tourbillon central surélevé, sept jours de réserve de marche, quatre barillets et un remontage à la fois automatique et manuel.
La lecture des heures et minutes s'effectue par l'intermédiaire de ponts en saphir qui surplombent des chiffres en applique découpés au laser. Un disque rotatif indique la réserve de marche de sept jours sur le cadran de droite. Un bracelet extra-large, agrémenté d'une boucle déployante harmonisée au matériau de la boîte, complète ce garde-temps.
Le terme d'exclusivité ne rend guère justice à une édition extrêmement limitée de 10 pièces.
In 2006, MB&F presented Horological Machine No1 (HM1): a groundbreaking wristwatch that both launched MB&F and introduced the world to the then radical concept of three-dimensional kinetic sculpture as timekeeping machines. To pay homage to the end of this pivotal model, MB&F have crafted two final stunning variations, each in a very limited series of only ten pieces: HM1-Black and HM1-RS.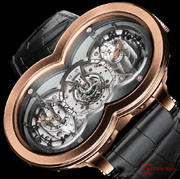 Both HM1-Black and HM1-RS feature hours and minutes on separate dials, a raised central one-minute tourbillon, a seven-day power reserve, four mainspring barrels and both automatic and manual winding.
The hours and minutes are indicated on their respective etched-sapphire bridges augmented by precision laser-cut applied numerals, and a rotating disk indicates the seven-day power reserve on the right-hand dial. An extra-wide custom tapered strap, complemented by a bespoke buckle, completes the timepiece.
Exclusive is hardly the right word for these two extremely limited editions of just 10 pieces each.
Horological Machine No2 - Céramique
MB&F présente la Horological Machine n°2 avec un boîtier en céramique. Elle existe en deux versions : en céramique et or rose (HM2-CR) et en céramique et titane (HM2-CTi).
Le boîtier en céramique noire possède un exceptionnel fini satiné – les surfaces en céramique sont généralement polies – qui confère un éclat métallique argenté à la montre: la finition parfaitement adaptée à une Horological Machine par excellence.
Sur la HM2-CR (céramique/or rose), le noir mat du boîtier quasiment inrayable compose un fond fortement contrasté avec la lunette et la plaquette du nom en or rose alors que la HM2- CTi (céramique/titane) se caractérise par une apparence plus réservée.
D'une grande lisibilité, les deux cadrans juxtaposés de la HM2-Céramique se présentent en noir et ruthénium, une alliance qui garantit une consultation aisée de l'heure sans que les cadrans n'affichent leur domination sur le garde-temps.
La HM2-Céramique est animée par le premier mouvement mécanique au monde qui offre: heure sautante instantanée, minutes concentriques rétrogrades, date rétrograde, phases de lune à double hémisphère et remontage automatique. L'une des remarquables caractéristiques (parmi de nombreuses autres) des complications de la HM2 réside dans le mécanisme d'heure sautante/rétrograde aux hautes performances énergétiques développé par Jean-Marc Wiederrecht.
Ses roues asymétriques exclusives (et brevetées) assurent un fonctionnement sans jeu et une précision exceptionnelle.

MB&F presents Horological Machine No2 with a ceramic case. Two versions are available: ceramic with red gold (HM2-CR) and ceramic with titanium (HM2-CTi)
The black ceramic case has a unique brushed satin finish - ceramic surfaces are generally high gloss – which imparts a silvery metallic sheen to the timepiece: a finish appropriately fitting for a horological machine par excellence.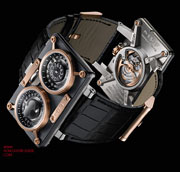 In HM2-CR (ceramic/red gold), the stealth black of the virtually scratchproof case provides a high-contrast background to the red gold bezels and nameplate, while HM2-CTi (ceramic/titanium) offers a more reserved look.
The highly legible twin dials of HM2-Ceramic are black and ruthenium, a combination providing easy time telling without the dials dominating the timepiece. HM2-Ceramic features the world's first mechanical movement offering: Instantaneous Jump Hour, Concentric Retrograde Minutes, Retrograde Date, Bi-Hemisphere Moon Phase and Automatic Winding.
One highlight (of many) of the HM2 complication is the highly energy efficient Jump Hour/Retrograde mechanism developed by Jean-Marc Wiederrecht. Wiederrecht's exclusive (and patented) asymmetrical-tooth gear wheels ensure high precision and play-free functionality.