ACADEMIA DOUBLE FUSEAU GMT2 POETIC
Bordé des célèbres colonnes impériales DeWitt le cadran de ce modèle - d'un diamètre de 43 mm - expose à midi une terre conçue en Goldfluss. Trouvant ses origines à Venise, le Goldfluss est un cristal d'une grande rareté, possédant des larmes d'or et d'argent fixées naturellement dans la matière. Ce matériau extrêmement difficile à travailler confère à la terre bleuie à la flamme un relief étonnant, qui rayonne avec émotion sur le fond noir guilloché soleillé du cadran, entièrement réalisé au sein des ateliers de la Maison horlogère.
Le mouvement mécanique à remontage automatique qui anime ce garde-temps offre une complication GMT originale : le réglage du deuxième fuseau horaire s'effectue en repérant sa position sur la petite terre, composée des parties jour et nuit. Au réglage, la terre tourne dans le sens inverse des aiguilles de la montre, facilitant ainsi la mise à l'heure du second fuseau par la petite aiguille rouge centrale.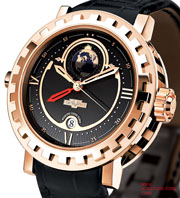 Framed by the famous DeWitt imperial columns, its 43 mm-diameter dial is graced by a globe motif made from "Goldfluss". Originally developed in Venice, "Goldfluss", also known as gold glass, is an extremely rare synthetic crystal featuring gold and silver-coloured "teardrop" inclusions. Known for being extremely hard to work with, this exceptional material creates an astonishing depth effect on the flame-blued globe radiantly glowing against the black sunburst guilloché base of the dial entirely crafted in the company's in-house workshops.
The mechanical self-winding movement powering this timepiece features an original GMT complication: the second time zone is adjusted by pinpointing its position on the tiny globe composed of day and night sections. During the adjustment process, the earth turns counter-clockwise, thereby facilitating time-setting of the second time zone by the rotation of the small red central hand.
RÉPÉTITION MINUTES TOURBILLON GMT ANTIPODE
Tourbillon, répétitions minutes et GMT se laissent admirer sur les deux faces articulées de ce garde-temps très exclusif. Enserré sur un axe, le boîtier double face de la Répétition Minutes Tourbillon GMT Antipode pivote en effet de 360° par rotation latérale. La rotation s'effectue d'une simple pression sur les cornes de la montre situées à 12h et à 6h, qui libère la boîte en reculant sur l'axe central.
La cage du tourbillon se découvre sur la première face du garde-temps, aux côtés des heures et minutes locales ainsi que de la répétition minutes. Sur cette face, la sonnerie de l'heure locale se déclenche au moyen d'un bouton poussoir situé sur le boîtier à 9h.
La seconde face de la pièce expose quant à elle la fonction GMT avec l'heure et les minutes du deuxième fuseau horaire. La mise à l'heure du second fuseau se fait au moyen d'un correcteur, disposé vers 1h. La répétition minutes peut être armée en tout temps, quelque soit la face visible. Sa sonnerie reste en revanche liée de façon immuable à l'heure locale.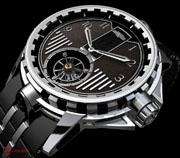 The Tourbillon, minute repeater and GMT mechanisms may be admired on the two articulated sides of this highly exclusive timepiece. Fitted around a dedicated axle, the twin-faced case of the Répétition Minutes Tourbillon GMT Antipode pivots a full 360° by lateral rotation activated by pressing the watch lugs at 12 and 6 o'clock, which releases the case by pushing it back against the central axle.
The tourbillon carriage appears on the front of the timepiece, alongside the local hour and minute indications and the minute repeater. On this side, the local time alarm is triggered by a pushpiece located at 9 o'clock on the case. The second side of the model features the GMT function along with the hour and minutes in the second time zone.
The latter is set to time by means of a corrector positioned at 1 o'clock. The minute repeater mechanism may be activated at any time, whichever side is visible, while its actual chime is inseparably linked to local time.
ACADEMIA TOURBILLON FORCE CONSTANTE MECANICA
Présenté en première mondiale lors de Baselworld 2006, l'ingénieux système de régulation intégré dans le Tourbillon Force Constante Academia a été entièrement revisité par les maîtres-horlogers de DeWitt. La refonte profonde du mouvement peut être admirée sur le cadran de ce nouveau modèle. Auparavant excentré, l'aiguillage se trouve désormais au milieu du cadran de l'Academia Tourbillon Force Constante Mecanica, offrant ainsi une plus grande aisance dans la lecture du temps.
Equipé du mouvement mécanique DW8003, l'Academia Tourbillon Force Constante Mecanica reprend le principe inédit du dispositif de force constante, insérant dans un mouvement traditionnel un mécanisme additionnel qui agit favorablement sur la régularité. Entre le moment initial du remontage de la montre et la fin de la réserve de marche, le dispositif de force constante permet de transmettre des impulsions énergétiques régulières et identiques quelque soit la tension du ressort sur le barillet.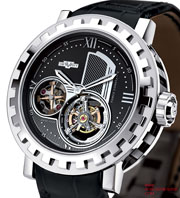 Presented as a world first at Baselworld 2006, the ingenious regulation system incorporated within the Tourbillon Force Constante Academia, first presented at Baselworld 2006, has been entirely revisited by the DeWitt master-watchmakers, and the completely redesigned movement can be admired on the dial of this new model. Its previously off-centred hand-setting is now located in the middle of the dial on the Academia Tourbillon Force Constante Mecanica, thereby considerably facilitating time read-off.
Equipped with the mechanical hand-wound DW8003 movement, the Academia Tourbillon Force Constante Mecanica embodies the original constant-force principle, which involves integrating a regularity-enhancing additional mechanism within a traditional movement. Between the initial moment of winding the watch and the end of the power reserve, the constant-force device serves to transmit regular and identical energy impulses, whatever the degree of tension of the barrel spring.
ACADEMIA SECONDE RETROGRADE SERENITY
Doté du calibre breveté DW1102, le coeur de l'Academia Seconde Retrograde Serenity - un mouvement mécanique à remontage automatique garni d'une solide réserve de marche de 42 heures.
The beating heart of the Academia Seconde Retrograde Serenity is Calibre DW1002, a mechanical self-winding movement endowed with a comfortable 42-hour power reserve.