Open el primero repetition minutes chronographe
Considérée comme l'expression la plus aboutie de l'art horloger, la Répétition Minutes est née sur les pendules et les montres de poche il y a plus de 300 ans pour permettre de «lire» l'heure la nuit, alors que l'on s'éclairait à la chandelle. Aujourd'hui, rares sont les Maisons Horlogères capables de manufacturer un tel prodige dans une montre-bracelet.
Non seulement ZENITH l'a fait, mais ZENITH a réussit l'exploit d'associer le mécanisme de la Répétition Minutes au mythique Chronographe El Primero. Cette Hyper Complication, première mondiale dans l'industrie horlogère est équipée du nouveau calibre 4043, totalisant 461 composants et 45 rubis. Pour marier ces deux complications, ZENITH a mis au point et breveté un système permettant à la sonnerie de contourner les axes du chronographe.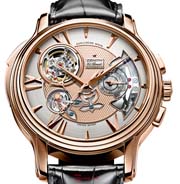 Considered as the most successful expression of watchmaking art, the Minute Repeater was created for clocks and pocket watches over 300 years ago when candles were in use in order to allow time to be « read » at night. Nowadays, only very few watchmakers are capable of manufacturing such a marvel in a wrist watch. ZENITH not only did it, but ZENITH was capable of combining the Minute Repeater mechanism with the mythical El Primero Chronograph.
This Hyper Complication, a world record in the watchmaking industry is equipped with the new 4043 caliber, comprising a total of 461 components and 45 rubies.
In order to combine these two complications, ZENITH has engineered and patented a system enabling the chiming mechanism to encircle the chronograph's axes.
Open El Primero 4043 Caliber: 461 Components, 45 jewels, 36'000 V/h
Available in Rose Gold & handmade guilloche dial & in White Gold with sapphire dial
Exclusive Millesime & Numbered Editions
Tourbillon quantieme perpetuel concept
En combinant Tourbillon, Quantième perpétuel et Chronographe El Primero, ZENITH associe trois complications légendaires de l'horlogerie, offrant ainsi un garde-temps unique que seule une grande Manufacture est en mesure de concevoir.
Le Quantième Perpétuel est une ode à l'éternité : une fois remonté, son mouvement El Primero 4033, qui compte 492 composants et 35 rubis, indique avec précision l'heure, la date, le jour, le mois et les années bissextiles sans aucun réglage pendant un siècle.
By putting together the Tourbillon, the "Perpetual Calendar" and the El Primero chronograph, ZENITH has combined three legendary watchmaking complications, and is therefore able to propose a unique timepiece that only the Manufacture is capable of designing.
The Perpetual Calendar is an ode to eternity: when wound, the El Primero 4033 movement, made with 492 components and 35 rubies, will display time, date, day, month and leap years accurately for a century, with no need for adjustment.
Tourbillon et tourbillon chronographe
Ces gardes temps d'exception se déclinent en 2 modèles. Le premier, doté du mouvement 4005, réunit au sein d'un boitier de 45mm de diamètre, un tourbillon et chronographe tandis que l'autre, équipé du mouvement 4041, plus sobre de par ses fonctions, concentre l'intégralité de son énergie dans le tourbillon et indique les heures et les minutes.
Logé dans un boîtier de 40mm de diamètre, il se démarque notamment par un XI en chiffre romain surdimensionné qui tient lieu de pont de tourbillon.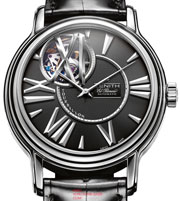 These exceptional timepieces are available in 2 models. The first, with a 4005 movement, combines a tourbillon and a chronograph in a 45mm case, whilst the other, equipped with a 4041 movement, more sober because of its functions, concentrates the whole of its energy in the tourbillon and indicates hours and minutes.
Housed in a 40mm case, it stands out particularly because of the oversized XI Roman numeral acting as the tourbillon bridge.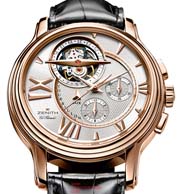 Multicity
La Multicity est la montre préférée des hommes d'affaire qui veulent le monde à leur poignet.
En effet, cette montre unique en son genre permet d'indiquer l'heure dans 24 villes de la planète simultanément. Grâce à un disque rotatif indexé sur l'aiguille des heures, on peut lire le temps quelque soit le fuseau horaire.
Le design des villes en spirale nous permet en un coup d'œil de vivre à l'heure de Tokyo, de Paris, de Moscou, de New York ou de Shanghai.
Caliber El Primero 4037 Automatic chronograph movement with Grande Date 13``` caliber.
Diameter : 30.50 mm. Height : 9.05 mm. 351 components. 36'000 vibrations per hour
Power reserve over 50 hours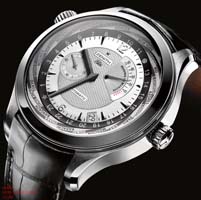 Multicity is the preferred watch by businessmen who want to wear the world on their wrist. This unique timepiece can in fact simultaneously show the time in 24 world cities. Thanks to a rotating disk indexed on the hour hand, it is possible to know the time in any time zone.
The spiral design of the cities enables, at a glance, to live at the time in Tokyo, Paris, Moscow, New York or Shanghai.
Mega Port Royal Concept
Entièrement en titane noir, matériau léger et extrêmement résistant, il offre une allure ténébreuse et combative. Côté cadran, le TR90, matériau polymorphe à haute résistance et translucide issu de la technologie spatiale, crée une profondeur de champ qui permet un trompe-l'œil : les index et la réserve de marche semblent en lévitation.
L'Open laisse apparaître le nouveau moteur El Primero 4039 C composé de 331 composants et de 41 rubis. En arrière-plan, on aperçoit la platine supérieure décorée du fameux damier reprenant les façades des buildings, signature de la gamme.
Ce design futuriste permet d'entrevoir les vis de réglage et la roue des ébats mais également le système de 3 disques brevetés de la grande date, innovation majeure de cette année. Autre nouveauté, la réserve de marche a été repensée à la façon d'un accélérateur de vitesse horizontal rehaussé d'un indicateur rouge vif.
Enfin, le bracelet en caoutchouc s'intègre comme pour mieux souligner l'ampleur magistrale de la nouvelle boîte.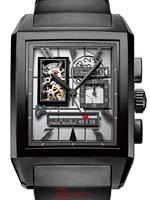 Made entirely of black titanium, a light and extremely strong material, it looks dark and combative.
For the dial, TR90, a very strong and translucent polymorphous material which was discovered as a result of space technology, creates a depth of field that produces a trompe-l'œil effect : the numerals and power reserve seem to levitate.
The Open shows the new El Primero 4039 C motor comprising 331 parts and 41 rubies. In the background, the upper plate can be seen, decorated with the famous chessboard that reproduces the skyscraper facades, the signature of the range. This futuristic design allows the adjustment screws and the wheeling mechanism to be glimpsed as well as the 3-disk patented Grande Date system, a major innovation this year. Another novelty, the power reserve has been redesigned as a horizontal accelerator pedal picked out with a bright red indicator.
Finally, th rubber strap forms an integral part of the watch, as though better to emphasise the majestic grandeur of the new case.
New Vintage 1955
Une boite en or rose repensée et contrastant avec un cadran lisse à la couleur grise, des index Delta et un verre bombé, le tout assemblé avec nostalgie pour atteindre l'équilibre parfait. ZENITH rend ainsi hommage à un modèle historique de la marque.
En effet, l'ancienne version contenait un calibre 135, mouvement chronomètre manuel, l'un des plus réputé de l'histoire de l'horlogerie. Ce mouvement a d'ailleurs remporté plus de 5 années de suite (de 1950 à 1955) la victoire décernée par l'observatoire de Chronométrie de Neuchâtel. Porter une New Vintage 1955 c'est revivre un peu de cette histoire.
Caliber Elite 689 Automatic Extra-flat movement.
Chronometer COSC certified 11 ½ ``` caliber.
Diameter : 25.6 mm. Height : 4.365 mm. 146 Components 28'800 vibrations per hour
Power reserve over 50 hours 31 jewels 22-carat Gold oscillating weight with "Côtes de Genève" pattern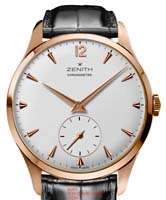 A redesigned rose gold case in contrast with the smooth grey dial, Delta indexes and a convex glass, assembled with nostalgia in order to obtain a perfect equilibrium. ZENITH thus pays homage to a historical model by the Manufacture. In fact, the old version housed a 135 calibre, a manual movement chronometer, one of the best known in the history of watchmaking. For 5 years in a row (from 1950 to 1955) this movement was awarded the prize by the Neuchatel Chronometry Observer.
mega port royal tourbillon
Logée dans sa nouvelle boite Mega tout en titane noir, cette grande complication prestigieuse visant à s'affranchir des effets de la gravité en enfermant l'échappement dans une cage gyroscopique nous séduit par son style décalé. L'association avec le chronographe El Primero battant à 36'000 alternances par heure en fait le tourbillon le plus rapide du monde.
Encore plus étonnant, des grilles vissées sur la boite ponctuées de rubis horlogers protègent la glace saphir. A l'intérieur, le cadran en TR90 joue la transparence et laisse apparaître la complexité du calibre 4007 C.
Un mouvement composé de 298 composants et de 35 rubis dont la cage de Tourbillon est constituée de 56 pièces pour un poids de 0.45 grammes.
Enfin, l'ancre en silicium permet d'éviter toute friction sur l'échappement. Un véritable concentré de technologie en édition millésimée et numérotée.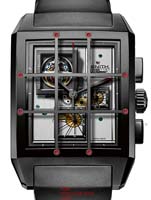 Housed in a new Mega case in black titanium, this prestigious Grande Complication is intended to eliminate the effects of gravity by enclosing the escapement in a gyroscopic cage. An enthralling piece with a unique style.
The combination with the El Primero chronograph, pulsating at 36,000 vibrations an hour, makes it the fastest tourbillon in the world. And surprisingly, a grid riveted on the case encrusted with watchmaker's rubies protects the sapphire glass. Inside, the TR90 dial plays with light and offers a view on the complexity of the 4007 C calibre.
The movement comprises 298 components and 35 rubies and the Tourbillon cage is made up of 56 pieces weighing 0.45 grams. Finally, a silicon anchor ensures there is no friction on the escapement. Concentrated technology in a hallmarked and numbered timepiece.
defy Xtreme zero-g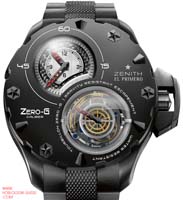 In a veritable technical revolution, ZENITH Manufacture has devised the Zero-G system, in other words zero gravity! The gyroscope cage Tourbillon comprises an escapement mounted on cardan joints rather like marine chronometers. The instrument, which is sensitive to changes of position, is kept in a constant horizontal position, thereby ensuring optimal amplitude for the spiral balance-wheel.
Coordination is provided by an invention patented by ZENITH: a second gear train is the reference point for the swinging of the escapement axles and a differential gear with inverter compensates all the relative movements of the framework. The Zero-G Tourbillon, whose cage alone comprises 166 of the 294 parts that make up the device, 10 conical geared wheels with spiral teeth and 6 ball-bearings, was developed from the El Primero automatic caliber that beats at the record speed of 36,000 vibrations an hour.
NEW El Primero 8800 Automatic movement with unique gyroscopic system that ensures perfect horizontal positioning of the regulating organ Gyroscopic cage made of 166 components, 10 conical-geared wheels (with 6 spherical wheels) & 6 ball bearings
36'000 vibrations per hour
Power reserve over 50 hours
Measures short time intervals to a 10th of a second
Automatic winding in both directions Excentered rotor, in Platinum, on ball bearings
Functions Hour and minutes excentered at 11 o'clock Gyroscopic cage with second indicator at 5 o'clock
Chronomaster XT Open Grande Date
NEW El Primero 4039 Automatic chronograph movement with Grande Date and Power reserve display
Power reserve over 50 hours 41 jewels
Measures short time intervals to a 10th of a second Automatic winding in both directions Central rotor on ball bearings 22-ct Gold or metal oscillating weight with or "Côtes de Genève" pattern
Functions Hours and minutes in the center Small seconds-hand at 9 o'clock
Chronograph:
• Central seconds-hand
• 30-minute counter at 3 o'clock Patented 3-Disc
Grande Date over 2 o'clock
Power Reserve indicator from hour axis
defy classic zero-g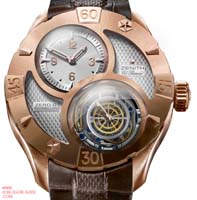 Trouver le système qui sera à la montre bracelet ce que fut le Tourbillon aux montres de poche est un des grands défis de ce XXIème siècle.
Véritable révolution technique, la manufacture Zenith a imaginé le système Zero-G, autrement dit zéro gravité !
Son Tourbillon à cage gyroscopique comprend un échappement monté sur cardans à l'image des chronomètres de marine. L'organe, sensible aux variations des positions, est maintenu en position horizontale constante, garantissant une amplitude optimale au balancier-spiral. La coordination est assurée par une invention brevetée Zenith : un deuxième train d'engrenage sert de référence au basculement des axes de l'échappement et un engrenage différentiel à inverseur compense tous les mouvements relatifs des bâtis.
Le Tourbillon Zero-G, dont la cage totalise à elle seule 166 composants, 10 roues à engrenages coniques à dentures spiroïdales et 6 roulements à bille, a été développé sur la base du calibre automatique El Primero
Caliber NEW El Primero 8800 Automatic movement with unique gyroscopic system that ensures perfect horizontal positioning of the regulating organ
Gyroscopic cage made of 166 components, 10 conical-geared wheels (with 6 spherical wheels) & 6 ball bearings
36'000 vibrations per hour
Power reserve over 50 hours
Measures short time intervals to a 10th of a second
Automatic winding in both directions Excentered rotor, in Platinum, on ball bearings
Functions Hour and minutes excentered at 11 o'clock Gyroscopic cage with second indicator at 5 o'clock
Defy Classic Split Seconds Grande Date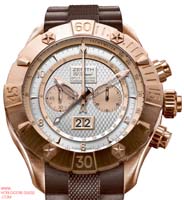 NEW El Primero 4039 SC Automatic chronograph movement with Grande Date and power reserve module 13``` caliber. . Balance bridge in shock-absorbing Zenithium Z
36'000 vibrations per hour
Power reserve over 50 hours
41 jewels
Measures short time intervals to a 10th of a second Automatic winding in both directions Central rotor on ball bearings 22-carat gold oscillating weight with "Grain d'Orge" guilloché pattern
Functions Hours and minutes in the center Small seconds-hand at 9 o'clock
Chronograph:
• Central seconds-hand
• 30-minute counter at 3 o'clock
Patented 3-Disc Grande Date over 2 o'clock
Power Reserve indicator from hour axis
Defy Classic Tourbillon Sea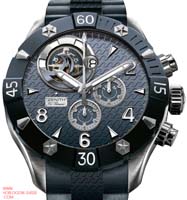 NEW El Primero 4035 SC Automatic chronograph movement with tourbillon 161/2 ''' caliber.
Unique Wave-shaped Tourbillon bridge Lower tourbillon cage bridge in shock-absorbing Zenithium Z+ Incabloc® anti-shock device
Power reserve over 50 hours, 25 jewels Measures short time intervals to a 10th of a second Automatic winding in both directions.
Central rotor on ball bearings Full Tungsten oscillating weight with guilloché pattern
Functions Hour and minutes in the center Date indication positioned around the carriage Tourbillon :
• The carriage is positioned at 11 o'clock
• The carriage makes 1 turn per minute
Chronograph :
• Central seconds-hand
• 30-minute counter at 3 o'clock
• 12-hour counter at 6 o'clock