urwerk
---
Les nouveautés 2008 des montres Urwerk
(on en parle sur le forum)
---
UR-202 « TURBINE AUTOMATIC »
La UR-202 renferme un secret aérien : son mode de réarmement.
Celui-ci est basé sur le principe de la dynu rotor amortissent les chocs et mouvements violents pouvant endommager le mécanisme, sans pour autant entraver le remontage. Positionnées sur « SPORT », les deux turbines agissent tels deux freins pneumatiques et réduisent la force de remontage de près de 35%. En mode « STOP », les turbines sont freinées jusqu'à l'arrêt et bloquent le rotor.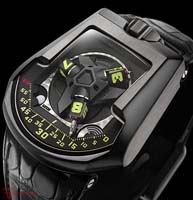 Ce principe, basé sur l'optimisation de la résistance à l'air, était déjà utilisé par les maîtres horlogers au XVIIIème siècle, notamment pour la construction de leurs horloges à sonnerie. Une hélice adroitement positionnée régulait alors le rythme de la sonnerie. Ingénieux et simple, il a été revisité et affiné par URWERK.
Les hélices d'antan ont été remplacées par une double turbine agissant comme un compresseur d'air miniature donnant ainsi naissance à un système inédit de régulation du système de remontage automatique.
Le système de la « TURBINE AUTOMATIC » se loge dans deux sas hermétiques visibles au dos du boîtier. Ces sas en position fermés ont un volume de 47mm3.
Celui-ci se monte à 179mm3 une fois le sas ouvert. Le courant d'air propulsé par la turbine suit alors une trajectoire qui le mène de la surface à une chambre interne à travers un jeu d'« opercules ».
Les turbines sont contrôlées par un levier, avec trois positions à choix. Ce choix décidera de la force de bridage du remontage automatique, la fréquence de la turbine pouvant atteindre 16'500 tours/min.
Le temps, sur la UR-202, se lit sur les 3 plots pivotant des heures.
Ces plots pivotants sont traversés par une aiguille des minutes télescopique. Celle-ci trace sa course en suivant à la ligne les trois segments des minutes : 0- 14 ; 15-44 ; 45-60. En extension, cette aiguille permet une lecture du temps confortable, rétractée elle assure la rotation de la complication satellite central.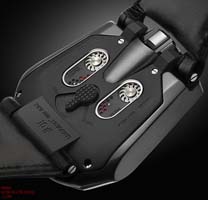 Une phase de lune et une indication jour/nuit viennent compléter les indications présentes sur le cadran.
The UR-202 is the world's first watch with the winding rate regulated by fluid dynamics.
As long ago as the 18th century, clockmakers were using air friction to regulate the speed of chiming clocks, and their techniques evolved to become the preferred method of regulating the rate of chimes on minute-repeaters.
With the UR-202, URWERK have taken the traditional idea of using air friction and refined it to control the rate of automatic winding.
The traditional rotating vanes of the past have been replaced by cutting-edge miniature twin turbines - miniature air compressors - which can be seen spinning on the back of the watch.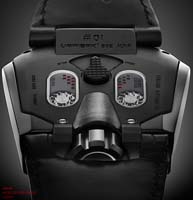 The UR-202's twin turbines are coupled with the winding rotor. According to the position of the selector lever, the turbines act as shock absorbers.
In normal activity they cushion sharp movements of the rotor. This reduces wear and increases the lifespan of the movement.
While the selector position is continuously variable, the three principal positions are: normal activity, where the turbines spin freely; vigorous activity, where the air pressure generated by the turbines reduces the winding rate by approximately 35%; and extreme activity, where the turbines and rotor are fully blocked.
The turbine system is totally self-contained within the waterproof case. The air flows from under the turbines and is channeled up past them under a sapphire plate and down through holes leading to a tiny air chamber.
The turbines are controlled by a 3-position selector switch. This functions by adjusting the level of air compression the turbines generate by selectively regulating the amount of air flowing from inside the case.
The spinning turbines force air through holes into a tiny air chamber. The selector switch controls the amount of air escaping from the turbines.
By restricting the airflow, it increases the air pressure and slows down the turbines and the winding rotor.
The UR-202 also features URWERK's patented Revolving Satellite Complication with telescopic minutes hands.
The Revolving Satellite Complication displays time using telescopic minutes hands operating through the middle of three orbiting and revolving hours satellites. The telescopic minutes hands precisely adjust their length to follow the three sectors marking the minutes: 0-14, 15-44, 45-60.
Extended, they enable the UR-202 to display the time across a large, easy-to-read dial. Retracted, they allow for a very wearable and comfortably sized case.