IWC Vintage Collection – Jubilee Edition 1868–2008
La manufacture de Schaffhouse célèbre son anniversaire avec six montres-bracelets légendaires qui ont ponctué son histoire: Portugaise, Ingenieur, Montre d'Aviateur, Da Vinci, Aquatimer, Portofino. Ces mythes de l'horlogerie sont de nouveau disponibles sous forme de séduisants modèles dans le style Vintage.
The Schaffhausen manufacturer is celebrating its anniversary with six legendary wristwatches from its past: the Portuguese, Ingenieur, Pilot's Watch, Da Vinci, Aquatimer, Portofino – these watchmaking legends are being reissued as attractive models in the vintage style.
Montre d'Aviateur Remontage Manuel
Agrandie à la dimension du boîtier de 44 mm, l'interprétation moderne de cette ancêtre de toutes les montres d'aviateur d'IWC possède le cadran de l'original, une petite seconde et une lunette tournante réglable dans les deux sens avec le triangle lumineux monté de l'intérieur.
A la place du calibre 83 utilisé en 1936, la Montre d'Aviateur Remontage Manuel possède un raffinement horloger tout particulier – le calibre 98300 – un mouvement de montre de gousset à remontage manuel, avec une fréquence de balancier de 2,5 Hz, grand balancier à vis et spiral Breguet.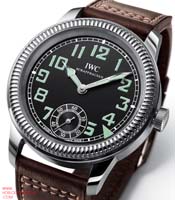 The modern interpretation of this mother of all IWC pilot's watches has the dial of the original, increased in size to that of the 44 mm case, a small seconds hand and a bidirectional adjustable rotating ring with the luminous triangle fitted from the inside.
Instead of the 83-calibre, which was used in 1936, the Pilot's Watch Hand-Wound is equipped with a special watchmaking gem – the 98300-calibre: a hand-wound pocket watch movement, a balance frequency of 2.5 Hz, large screw balance and Breguet balance spring.
Ingenieur Automatic
L'icône de l'horlogerie d'IWC a été revue et corrigée de fond en comble un demi-siècle après sa première apparition. Ce qui, il y a plus de cinquante ans, a été un gage de robustesse et de fiabilité dans l'Ingenieur en tant que calibre 8531 – et plus tard 8541– trouve aujourd'hui son prolongement logique dans le calibre de manufacture 80110 ou 80111.
L'Ingenieur Automatic est équipée de ce groupe qui entraîne également la «nouvelle» Ingenieur présentée en 2005 – dont le boîtier de 42,5mm de diamètre est l'un des cadrans Ingenieur au style le plus raffiné – avec les indices à point-tiret (le point constitue la masse lumineuse) et les aiguilles Dauphin.
Ce modèle est aujourd'hui une rareté de collectionneurs d'une qualité inégalée. L'hommage moderne à ce monument de l'horlogerie renonce au boîtier en fer doux de l'original et expose en revanche le mouvement de manufacture aux regards.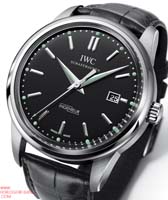 Half a century after its first appearance, IWC's watchmaking icon was fundamentally revised. That which more than 50 years ago ensured toughness and reliability in the Ingenieur – first as the 8531 and later as the 8541 calibre – today finds its logical evolution in the IWC-manufactured 80110 and 80111 calibre.
The Ingenieur Automatic is equipped with this unit, which also drives the "new" Ingenieur, presented in 2005. The vintage watch features a 42.5-millimetre case and one of the most stylish Ingenieur dials – with the point-stroke indices (the luminescent material forms the point) and the dauphine-style hands.
This model is today a collector's rarity of the very highest order. The modern homage to this watch monument dispenses with the soft iron case of the original, thus affording an insight into the IWC-manufactured movement.
Da Vinci Automatic
Equipée du premier mouvement à quartz Bêta 21 fabriqué en série après avoir été mis au point avec le concours de quelques fabricants de montres suisses renommés, elle aura au moins posé de nouveaux jalons en termes de précision de marche en 1969/70.
IWC a rejeté le quartz, mouvement «sans âme», et a au contraire, pour la deuxième Da Vinci de 1985, déjà opté sans ambiguïté pour la mécanique ultraperfectionnée. Mais la montre originale de 1969, dans son boîtier bien spécifique avec ses angles et ses arêtes, les longs indices bâton et les aiguilles à poutres sans fioritures, reste un témoin de l'histoire de son époque sur le plan d'un design qui revit maintenant dans l'édition anniversaire Vintage.
Mais il était hors de question d'équiper la Da Vinci Automatic d'un mouvement à quartz – ceci aurait contrevenu aux principes et ambitions techniques d'IWC. Elle aussi héberge le calibre de manufacture automatique 80111 avec le remontage Pellaton éprouvé.
Equipped with the first series-produced Beta 21 quartz movement, which had been developed jointly by several renowned Swiss watch manufacturers, in 1969/1970 it set new standards at least as regards accuracy.
For this reason, in the end IWC decided against the "soulless" quartz, and with the second Da Vinci from 1985 it opted decisively for highly developed mechanical action.
But the original watch from1969, in its striking case with corners and edges, the long stroke markers and the unadorned bar hands, remains a piece of contemporary and design history, now being brought to life again as an anniversary vintage edition.
But to equip the Da Vinci Automatic with a quartz movement would have contravened IWC's principles and technical requirements. It too is equipped with the IWC-manufactured 80111-calibre automatic movement, with the tried-and-tested Pellaton winding mechanism.
Portugaise Remontage Manuel
La forme du boîtier (44mm) avec la lunette creusée et les cornes de bracelet légèrement galbés vers le bas correspondent à l'original.
A la différence de celui-ci – et aussi du modèle anniversaire de 1993 – la nouvelle Portugaise Vintage comporte audessus du cadran un verre saphir antireflets évidé. Elle est mue par le calibre 98295, qui est presque identique au mouvement de la Montre d'Aviateur Vintage: remontage manuel, fréquence de balancier de 2,5 Hz, grand balancier à vis, spiral Breguet, platine trois-quarts en argentan nickelé, ponts perlés et décorés de côtes de Genève.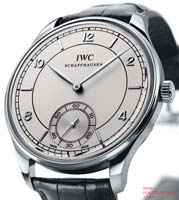 Ici aussi, la queue de raquette surdimensionnée, la fameuse «flèche Jones», qui va du pont de balancier à la platine, rappelle le fondateur de la société, Florentine Ariosto Jones, qui a créé la manufacture sur les bords du Rhin, il y a 140 ans, et l'a accompagnée lors de ses premières années.
The case (44 mm) with its fluted bezel and slightly pulleddown strap lugs is in keeping with the original. The new Vintage Portuguese does differ from the original – and the 1993 anniversary model – in that it has antireflective, crossed out sapphire glass over the dial. It is powered by the 98295-calibre that is almost identical to the Vintage Pilot's Watch movement: hand-wound, a balance frequency of 2.5 Hz, large screw balance, Breguet balance spring, nickel-plated silver three-quarter plate, pearled bridges decorated with Geneva stripes.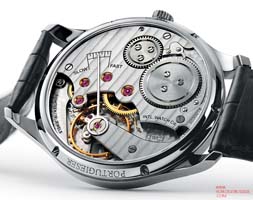 Here too the elongated index, the socalled "Jones arrow", which goes from the balance cock to the plate, is a reference to the company's founder Florentine Ariosto Jones, who founded the manufactory on the Rhine 140 years ago and got it up and running.
Aquatimer Automatic
L'Aquatimer Automatic au boîtier de 44 mm de diamètre est naturellement une montre de plongeur conçue pour une utilisation dans l'eau, équipée de blocages de pression et systèmes d'étanchéité de l'Aquatimer moderne – avec une lunette principale vissée et la lunette autoétanche mise au point par IWC pour le réglage de la lunette tournante de plongeur, non vissée de façon à faciliter sa manipulation.
Le design du cadran d'une grande clarté correspond jusqu'au moindre détail à celui de la première génération de l'Aquatimer, mais gagne encore en lisibilité grâce à la taille nouvelle.
La résistance à la pression est contrôlée jusqu'à 12 bars. Avec le calibre de manufacture 80111, l'Aquatimer de la nouvelle collection Vintage possède une motorisation remarquable – il s'agit du même mouvement que celui qui anime aussi l'Ingenieur.
A la différence de son exemple historique, l'actuelle Aquatimer Vintage possède par contre un fond transparent.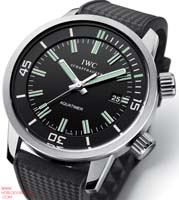 The Aquatimer Automatic in its 44-millimetre case is of course a diver's watch designed for underwater use, equipped with the pressure barriers and sealing systems of the modern Aquatimer watches – with a screw-in main crown and the self-sealing crown developed at IWC to adjust the rotating bezel, which improves handling owing to the fact that it is not screwed in.
The clear dial design corresponds to that of the first generation of Aquatimer watches right down to the details, yet is more readable thanks to its new size. The pressure resistance is tested to 12bar.
With the 80111-calibre movement, the Aquatimer from the new Vintage Collection is superbly powered – it is the same movement that drives the Ingenieur.
However, unlike the historical model, the current Vintage Aquatimer has a see-through back cover.
Portofino Remontage Manuel
La Portofino Remontage Manuel, un rêve de montre avec les minces chiffres romains, la petite seconde et un affichage de la phase de lune du côté opposé, corrige toutefois, à cette occasion, un «palliatif» des années Quatre-vingt. En effet, la Réf. 5251 de cette époque avait un charmant petit «défaut»: le mouvement utilisé actionnait normalement une montre de gousset ouverte Lépine. Or cela signifie que la tige de remontoir et la petite seconde se trouvent sur le même axe.
Avec la nouvelle Portofino Vintage, le choix du mouvement savonette cal. 98800 permet de pallier à cette «erreur de positionnement ». De ce fait, la phase de lune et l'affichage des secondes peuvent donc enfin retrouver leur place traditionnelle à «12heures» et «6 heures».
Le mouvement sur la base du cal. 98 «Jones» – avec platine trois-quarts nickelée en argentan, balancier à vis, spiral Breguet et queue de raquette surdimensionnée – a toutefois encore bénéficié d'une optimisation fondamentale: la précision d'affichage de la phase de lune s'est considérablement améliorée par rapport à la Réf.5251; en 122ans, elle ne diverge maintenant plus que d'un jour par rapport au trajet réel de la lune.
De plus, il est aisé de corriger la phase lunaire à l'aide de la lunette. La dimension du boîtier, 46mm, correspond à l'original de cette époque.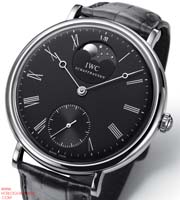 The Portofino Hand-Wound, a dream of a watch with its narrow Roman numerals, small seconds display and, as a counterpart to it, a lunar phase display, does however take this opportunity to correct a "quick fix" used in the 1980s.
For Reference 5251, as it then was, had a charming flaw in that the movement used normally drove an open Lépine pocket watch. And that means that the winding shaft and small seconds display are located in a direct line, in contrast to the Savonette construction of the movement, where the winding shaft and small seconds display stand at an angle of 90° to one another.
In the new Vintage Portofino, this "positioning flaw" is remedied by the choice of the 98800-calibre Savonette movement. And through this, the lunar phase and seconds displays finally end up at their traditional places, at "12.00" and "6.00".
The movement based on the 98 "Jones" calibre, with nickel-plated threequarter plate of nickel silver, screw balance wheel, Breguet spring and elongated index, has undergone another fundamental optimization: the display precision of the lunar phase has been increased considerably compared with Reference 5251, and now deviates from the actual lunar sequence by only one day in 122 years.
The lunar phase can moreover easily be corrected via the crown. The case size of 46 mm corresponds to that of the original.