Admiral's Cup Black Hull 48
L'Admiral's Cup Black Hull 48 est prête à assumer sans faille la mesure des temps courts. Elle abrite un mouvement chronographe mécanique à remontage automatique certifié chronomètre COSC, une référence en termes de fiabilité et de précision. Offrant la fonction chronographe en plus des heures, des minutes, des secondes et de la date, ce calibre CO-753 bat à la fréquence de 28'800 alternances/heure pour une réserve de marche de 42 heures.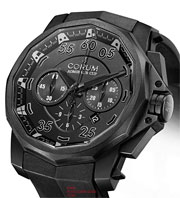 Une esthétique monochrome pour un modèle icône de la marque. Réalisé en titane pour sa légèreté et sa dureté, le boîtier dodécagonal est ainsi recouvert de PVD noir. D'un diamètre imposant de 48 mm révélant sa puissance, il présente des boutons poussoirs verrouillables grâce à un système exclusif de blocage.
Egalement réalisés en titane traité PVD, ils enserrent une couronne produite dans le même matériau et gravée de la clé de CORUM. Toujours en titane noirci, le fond est vissé et décoré du trophée de l'Admiral's Cup.
Entourant la glace saphir bombée et traitée antireflet, une lunette en caoutchouc noir protège la partie supérieure de la montre. Emblématique de la collection, le cadran de l'Admiral's Cup Black Hull 48 présente des chiffres des minutes ainsi que des chevrons recouverts de matière luminescente noire, un choix d'avant-garde.
Les aiguilles des heures et des minutes sont facettées et brillent dans l'obscurité grâce à un traitement identique. Seule exception, l'aiguille des secondes du chronographe.
The Admiral's Cup Black Hull 48 stands unfailingly ready to measure short time intervals. Its automatic-winding mechanical chronograph movement has a COSC chronometer certificate, the ultimate sign of reliability and accuracy. The CO-753 caliber, which provides the chronograph function in addition to hours, minutes and seconds and the date, operates at a frequency of 28,800 vibrations/hour and has a 42-hour power reserve.
Distinguished and definitely masculine, CORUM's new creation has tight lines and is cloaked in the most intense color there is: black. A monochromatic esthetic for one of the brand's iconic models.
The 12-sided case is made of titanium, chosen for its lightness and hardness, and covered with black PVD. Its imposing 48-mm diameter speaks of its power.
It has locking pushbuttons thanks to an exclusive lockout system. These buttons are also made of titanium treated with PVD and hug a crown made of the same material and engraved with the CORUM key.
The screw-down case back, also of black titanium, is decorated with the Admiral's Cup trophy. A black rubber bezel surrounds the convex glareproofed sapphire crystal, protecting the upper part of the watch. The dial of the Admiral's Cup Black Hull 48, which is emblematic of the collection, displays minute numerals and chevrons covered with black luminescent material, an avant-garde choice.
The hour and minute hands are faceted and shine in the darkness thanks to an identical treatment. The only exception is the chronograph second-hand.
Romvlvs Perpetual Calendar
Grâce à son mouvement à remontage automatique CO-183, véritable programmation mécanique du temps, la dernière-née des Romvlvs assure un affichage complet de la date, du jour de la semaine, du mois et des phases de lune jusqu'en 2100 sans aucun réglage intermédiaire. Passé cette échéance, une mise au point par un professionnel offrira un autre siècle de précision à la montre.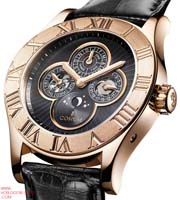 Mécanisme ultra complexe, le quantième perpétuel indique la date grâce à un jeu de rouages et de cames qui tient compte des différences entre les mois de 30 et de 31 jours, intégrant en outre la longueur variable du mois de février en fonction des années bissextiles.
D'une finesse exemplaire de 4mm, le mouvement CO-183 est l'un des plus plats du monde à offrir ces fonctions.
Si le cadran guilloché est une marque distinctive de la collection, la Romvlvs Perpetual Calendar arbore un motif guilloché soleil. Au centre, quatre micros compteurs disposés en croix se chargent d'afficher l'entier des indications du calendrier perpétuel.
A 12h apparaissent l'indication du mois et celle de l'année bissextile, à 3h la date et à 9h le jour. La phase de lune est située à 6h où brillent aussi le nom et la clé de Corum inscrits en lettres d'or. Les aiguilles et le rehaut interne en forme de trèfle arborent également le précieux métal. Pour suggérer la complexité du mouvement, les deux compteurs situés à 3h et 9h sont dotés en leur centre d'une pastille en saphir dévoilant partiellement le cœur de la montre.
Comme écrin à ce calibre d'exception, Corum a choisi un boîtier poli de 41 mm de diamètre avec la lunette satinée, finitions caractéristiques de la collection.
Thanks to its automatic CO-183 movement that mechanically programs the passing of time, the latest newcomer to the Romvlvs collection provides a complete display of the date, the day of the week, the month and the moon phases – and will continue to do so up until the year 2100 with no need for any adjustments.
Once this date has been reached, a correction performed by a professional will ensure another full century of precision.
The ultra-complex perpetual calendar mechanism indicates the date by means of a set of gear trains and cams taking account of the differences between 30 and 31-day months, and also handling the variable length of February according to the leap-year cycle.
A paragon of slender elegance, the CO-183 movement is one of the thinnest in the world to offer these sophisticated functions.
While the guilloché-worked dial is a distinctive feature of the collection, the Romvlvs Perpetual Calendar is adorned with a sunburst guilloché motif. In all, four tiny subdials arranged in a cross shape display the full range of perpetual calendar indications. The month and leap-year indications appear at 12 o'clock, the date at 3 o'clock and the day at 9 o'clock.
The phases of the moon are displayed at 6 o'clock, along with the Corum key and name in shining gold lettering. The hands and the clover-shaped appliqué surrounding the four subdials are also clothed in the same precious metal.
Hinting at the complexity of the movement, the two subdials at 3 and 9 o'clock are graced with a central sapphire lens partially revealing the heart of the watch.
To showcase this exceptional movement, Corum has chosen a 41 mm-diameter case that is polished and topped by a satin-brushed version of the collection's distinctive bezel.
Admiral's Cup Tourbillon 48
Sa cage, maintenue par un pont horizontal, porte la célèbre clé emblématique de CORUM. Placée à 6h, elle fait écho à deux autres ouvertures taillées dans la platine à 12h et à 3h, dévoilant partiellement l'intérieur du mouvement.
A l'instar d'autres ouvertures disposées sur le verso du calibre, elles laissent entrevoir des trains de rouages étincelants et les éléments traités PVD, renforçant le jeu des contrastes. Les ponts et la platine sont taillés dans de l'or massif 18 carats de couleur rouge 5N.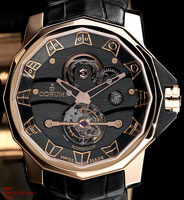 Chaque élément reçoit une finition haut de gamme réalisée à la main : anglé et étiré, sa surface satinée ou gravée de Côtes de Genève verticales. .
Il reçoit ensuite son habillage de PVD noir.
Disposant d'une réserve de marche de 90 heures assumée par un unique barillet, ce calibre palpite à la vitesse de 21'600 alternances par heure.
Its carriage, held by a horizontal bridge, bears the famous CORUM key symbol. Placed at 6 o'clock, this signature touch echoes the two other openings cut out in the plate at 12 and 3 o'clock respectively, and which partially reveal the inside of the movement.
Like the other openings on the back of the caliber, they provide fascinating glimpses of the gleaming gear trains and other parts that are PVD-coated to reinforce the play on contrasts. The bridges and mainplate are crafted in red-colored 5N 18-carat solid gold.
All parts are treated to a high-end hand-crafted finish. Beveled and drawn out with a file, their surfaces are satin-brushed or engraved with a vertical Côtes de Genève motif, before being clad in their black PVD coating.
This exclusive CO-372 CORUM movement boasts all the prime assets of a luxury "engine".
Endowed with a 90-hour power reserve supplied by a single barrel, this caliber beats at a speed of 21,600 vibrations per hour.
Admiral's Cup Challenge 44 Split-Seconds
Dans son cœur bat un mouvement 13 ¼''', le CO-986 qui n'a plus rien à prouver. Grâce à sa fonction rattrapante, ce chronographe, aux 31 rubis et aux 28'800 alternances/h, certifié COSC, permet facilement la prise de plusieurs temps intermédiaires.
Boîtier Diamètre 44mm Or rouge 5N 18 carats
Lunette en carbone
Etanchéité 5 atmosphères (165 pieds / 50 mètres)
At its heart beats the tried and tested 13 ¼''' CO-986 movement. Thanks to its split-second function, this 31-jewel chronograph caliber with a balance oscillating at 28,800 vibrations per hour enables smooth and easy measurement of several split times.
Case 44mm diameter 18kt red gold 5N
Carbon bezel
Water resistance 5 atmospheres (165 feet/50 meters)
Romvlvs Chronograph
La haute finition de ce mouvement chronographe automatique à roue à colonnes, certifié chronomètre (COSC), a été étudiée et réalisée spécifiquement pour CORUM, selon les critères en vigueur dans l'horlogerie fine de haute tradition.
Le large boîtier de 44 mm qui le protège, en acier inoxydable, intègre parfaitement la fameuse lunette au profil «vague» caractéristique, dont la réalisation nécessite un usinage extrêmement complexe exigeant autant de délicatesse que de précision.
Le fond de boîte, vissé, est gravé du logo CORUM, du nom ROMVLVS et de la couronne de lauriers des Césars de la Rome antique.
Son étanchéité, jusqu'à 50 m (5 atm).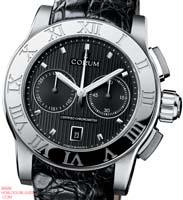 The excellent finishing of this self-winding column-wheel chronograph movement, chronometer-certified by the COSC, was specifically developed for CORUM in keeping with the highest criteria of fine traditional watchmaking.
Its broad 44mm stainless steel case smoothly incorporates the famous "wave-profile" bezel, which requires extremely complex, delicate and accurate machining.
The screw-down case is engraved with the CORUM logo, the name ROMVLVS and a crown of laurels such as those worn by the Caesars of Ancient Rome.
Its water resistance to 50 meters (5 atmospheres)
Admiral's Cup Leap Second 48
Sur la base du design unique de l'Admiral's cup avec sa lunette et sa glace saphir dodécagonales, qui en font une véritable icône dans le domaine des montres sport, CORUM propose aujourd'hui un chronographe automatique avec fonction rattrapante et seconde foudroyante.
Cette montre d'exception est dotée d'un nouveau système, exclusif à Corum, de blocage des poussoirs qui évite toute manipulation intempestive du chronographe, comme il se doit pour un instrument de mesure du temps de haut niveau. Dans son boîtier, évolue le mouvement CO-895 développé spécialement par CORUM et La Joux Perret.
La masse oscillante spécifique, est gravée du nom de la manufacture. Avec 40 rubis et une fréquence de 4Hz, le chronographe bat au rythme de 28'800 alternances/h.
Le système inclut deux barillets, dont l'un est dédié à la seconde foudroyante.
L'aiguille de seconde foudroyante accomplit 1 tour par seconde et affiche le temps chronométré avec une précision de 1/8 de seconde ce qui a conduit à devoir réduire son poids au minimum.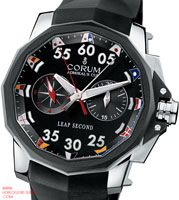 Based on the unique Admiral's Cup design with its twelve-sided bezel and sapphire crystal, making it an authentic sports watch icon, CORUM now offers a self-winding split-second chronograph with jumping seconds.
Moreover, this exceptional timepiece is also fitted with a new exclusive CORUM pusher-locking system that prevents inadvertent handling of the chronograph functions, as one would expect from a top-flight time measuring instrument.
Within its case beats the CO-895 movement specially developed by CORUM in cooperation with La Joux Perret.
The dedicated oscillating weight is engraved with the name of the Manufacture. Featuring 40 jewels and a frequency of 4 Hz, the chronograph beats to the cadence of 28,800 vibrations per hour.
The system includes two barrels, one of which is dedicated to driving the jumping seconds hand.
The jumping seconds hand performs one turn per second and displays the time measured off to within 1/8th of a second, a feat that involved reducing its weight to an absolute minimum.