Maxi Marine Chronomètre Email, Edition Limitée
Ce garde-temps de la Collection Marine est muni d'un cadran émail authentique fait à la main et chauffé à émail grand feu. L'applique d'un aigle bicéphale en or, grande emblème de St. Petersbourg. Cette pièce est limitée à 30 pièces en platine.
La glace de fond révèle le mouvement spectaculaire équipé d'un rotor en or 22 carats. Son mouvement automatique certifié chronomètre par le C.O.S.C comporte une légendaire petite seconde surdimensionnée et une grande date à 6 heures. Chaque boîte d'un diamètre de 43mm est numérotée individuellement et équipée d'une couronne munie de saphirs. Etanchéité à 100 mètres.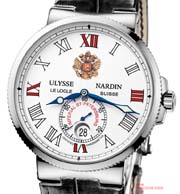 L'Imperial St. Petersbourg est exposé dans son Œuf des Tsars en émail blanc, décoré de 4,25 carats de diamants. L'Œuf met en scène plusieurs symboles légendaires de St. Petersbourg; la Pointe d'Amirauté, les Colonnes de Rostral, l'Arc de l'Etat-major et les ponts célèbres qui s'ouvrent la nuit afin de permettre le passage des grands vaisseaux, tous brillent de mille feux grâce aux diamants.
L'ancre d'Ulysse Nardin sert à supporter l'œuf par sa base de marbre blanc.
This timepiece from the Ulysse Nardin Marine Collection features a genuine hand-crafted oven-cured enamel dial, with an applied gold double-headed Eagle which is emblematic of St. Petersburg.
The Maxi Marine Chronometer is available in a Limited Edition of 30 pieces in platinum. The exhibition case back reveals the spectacular movement equipped with a 22 ct gold rotor. The officially certified self-winding movement (C.O.S.C) features the legendary oversized small seconds register and a large date display at 6 o'clock.
Each elegant 43 mm case is individually numbered and equipped with a screw-crown and sapphire crystals. Water-resistant to 100 meters.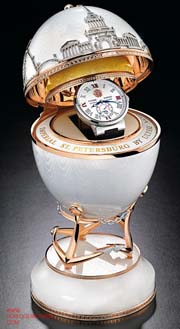 The Imperial St. Petersburg is presented in an elaborate multi-layer white translucent enamel Egg of the Tsars decorated with 4.25 carats of diamonds. The diamonds have been employed in recreating legendary symbols of St. Petersburg.
The Admiralty Spire, the Rostral Columns, the Arch of the General Staff Building and the famous drawbridges that open at night to allow for passage of large vessels can be seen picked-out in diamonds. Ulysse Nardin's anchor serves to link the egg to the white marble base.
Quadrato - Dual Time Perpétuel
Le boîtier masculin habille élégamment le poignet. Le cadran, travaillé sur différents niveaux allient harmonieusement fonctionnalité et esthétique.
Les aiguilles squelettes assurent une excellente lisibilité de la grande date, du jour de la semaine, du mois, de l'année ainsi que de l'indicateur 24 heures.
• La seule montre à calendrier perpétuel qui autorise l'ajustement en avant ou en arrière de tous les indicateurs calendaires: jour, mois, année par un dispositif de correction rapide incorporé à la couronne. Et ceci même en l'an 2100.
• Lors d'un changement de fuseau horaire, l'aiguille des heures se déplace instantanément en avant par simple pression sur le poussoir (+), ou en arrière par le poussoir (-). Une pression = une heure.
• L'aiguille 24 heures indique l'heure d'origine ou au choix un deuxième fuseau horaire.
• Quel que soit le fuseau horaire pour lequel la montre est réglée à l'aide des poussoirs (+) ou (-), l'ajustement de la grande date, du jour, du mois et de l'année est synchronisé avec le déplacement de l'aiguille des heures.
• Le rotor en or gris permet le remontage automatique du mouvement et assure une réserve de marche d'environ 45 heures.
A masculine case design which fits any wrist. The three level watch face combines functionality with a harmonious modern art aesthetic.
The signature squeletted hands allow perfect reading of all calendar indications, big date, the day of the week, the month, the year and the 24-hour home time indicator.
• The only perpetual calendar that adjusts forward and backward in seconds over the quick corrector position of a single crown, even in the year 2100.
• The hour hand is adjusted instantly to a new local time with pushers (+) or (-) without taking the watch off the wrist or interfering with its time keeping.
• The arrow keeps track of one's home or reference time.
• The big date, the day, the month and the year change instantly forward or backward when the hour hand is moved to a new local time across the dateline with pushers (+) or (-).
• The white gold rotor ensures that the watch is automatically wound with a power reserve of 45 hours.
HMS Achille. Enamel Cloisonné Limited Edition
HMS Achille was the fourth Royal Navy ship to bear the name of the Greek hero Achilles. As a frigate, the Achille housed 74 guns. Commanded by Captain Richard King, the Achille saw action at the Battle of Trafalgar, stationed seventh in the Lee Column under Admiral Collingwood while Admiral Nelson was in command of the Weather Column.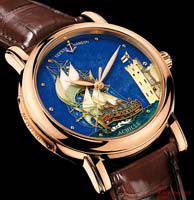 The enamel cloisonné dial depicting the HMS Achille in front of Fort Rochefort represents one of the most elaborate cloisonné dials ever produced. Each individual cloisonné dial requires over a meter of fne gold wire, 30 baking processes and well over 80 working hours to create.
The thickness of the gold wire had to be narrowed to 0.06 mm thickness to illustrate the many facets of the sailing ship. The exhibition case back reveals the COSC certifed self-winding movement.
With a case diameter of 40 mm, the individual number of each timepiece is engraved on an applied gold plate. Water-resistant to 50 meters.
Limited edition of 30 pieces each in platinum and 18 ct rose gold.
Sonata Silicium Edition Limitée
Un wafer de silicium dans son coloris originel coupe le cadran de la Sonata Silicium. Le logo est également incrusté sur le rotor, visible à travers le fond ouvert.
L'échappement à ancre gravé dans le silicium permet au balancier de battre à 28'800 alternances/heure.
Les caractéristiques techniques du mouvement de la Sonata Silicium restent similaires à ceux de la Sonata Cathédral Dual Time : le réveil avec compte à rebours et le système « Dual Time » De telles fonctionnalités techniques apparaissent déjà dans plusieurs modèles Ulysse Nardin.
Le système « Dual Time » permet de passer d'un fuseau horaire à l'autre en appuyant sur l'un des poussoirs, ce qui corrige l'heure locale tout en conservant l'heure d'origine. Toutes les autres fonctions s'adaptent automatiquement (date, réveil, compte à rebours) lorsqu'un changement d'heure est effectué.
L'harmonieux timbre de la sonnerie (alarme), est dictée par le travail d'une came 24 heures doublée d'une came des minutes. Cette complémentarité permet un déclenchement quotidien précis, qui élimine en outre le risque de confusion (entre 07h35 et 19h35, par exemple).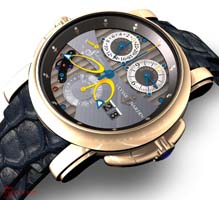 The dial of the SONATA SILICIUM is cut out of a silicium wafer in its striking natural color; so too is the logo inlay on the winding rotor visible through the exhibition sapphire back of the case.
The movement runs with a 28'800 A/h oscillator and an anchor escapement etched out of silicium.
The Sonata Silicium is based on the technical movement features of the Sonata Cathedral Dual Time including the novel alarm setting with a countdown indicator and the dual time system with the instant time zone adjustor featured in many Ulysse Nardin watches.
This patented dual time function permits time zone adjustments forward and backward by simply pressing the pushers plus (+) or minus (-) to change the position of the hour hand.
The original home time (reference time) stays displayed while the date, the alarm and countdown adjust automatically when a time zone adjustment is made.
The melodic chiming of the Alarm is based on a novel 24-hours mechanism which allows setting the Alarm 24 hours ahead, i.e. for 7.35 pm the same day or 7.35 am the next day.
Maxi Marine Diver Chronographe
Cet instrument de plongée est conçu pour un usage lors de conditions extrêmes.
Les petits compteurs du Maxi Marine Chronographe automatique indiquent les secondes et les minutes. Il peut être remis à zéro instantanément en appuyant sur les deux poussoirs.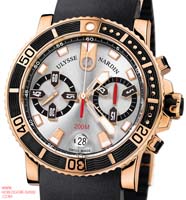 Produit en acier et en or rose 18 ct et muni d'une couronne vissée, ce garde-temps est étanche jusqu'à 200 mètres. Une lunette tournante spéciale a été développée qui améliore la fonctionnalité de la montre tout en alliant modernité et esthétisme.
Le fond ouvert de la pièce en or révèle le rotor en or 22 ct . Chaque boîte est numérotée individuellement. Disponible sur bracelet or 18 ct, acier, caoutchouc ou cuir avec boucle déployante.
A rugged all weather sports diving chronograph with a self-winding movement, the Maxi Marine Diver Chronograph records the seconds and minutes and can be put to zero instantly over two pushers.
Crafted in stainless steel or 18 ct rose gold and sporting a screw crown, the timepiece is water-resistant to 200 meters.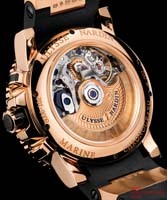 A specially developed rubber-type coating decorates the rotating bezel and, combined with the three level watch face, enhances the timekeeper's functionality with a modern aesthetic.
The 22 ct gold rotor on the gold execution is visible through the exhibition case back. Each case is individually numbered. Available on 18 ct rose gold bracelet, steel or rubber bracelet with deployant clasp.
Blue Seal Edition Limitée – Chronographe Maxi Marine
Instrument au caractère bien typé conçu pour un usage sous conditions extrêmes, ce Chronographe Maxi Marine propose un compteur 45 minutes exclusif avec remise à zéro instantanée des minutes et secondes enregistrées. Complément attendu à la ligne marine désormais classique, cette création éditée à 999 exemplaires est dotée d'un somptueux mouvement traité par bombardement ionique d'un alliage de titane bleu.
Designed for use in extreme conditions, the distinctive Maxi Marine Chronograph features an exclusive 45-minute counter with an instantaneous return-to-zero function for the recorded minutes and seconds.
An eagerly-awaited addition to the now-classic marine line, this chronograph is being produced in a limited series of 999. It houses a spectacular movement with a blue titanium alloy coating applied by the ionic bombardment process.