RM 011 LE MANS CLASSIC
Le Mans Classic 2008, qui se déroulera les 11, 12, 13 juillet prochains, célébrera pendant trois jours, près d'un demi-siècle de l'histoire du sport automobile.
Comme pour les éditions précédentes, Richard Mille est le sponsor principal et le chronométreur officiel de cet événement qui est en totale adéquation avec l'implication de la marque dans les sports mécaniques.
Cette 4ème édition revêt cependant une dimension toute particulière puisque Richard Mille a réalisé pour l'occasion, une RM 011 Le Mans Classic.
Cette montre célèbre la course dans le plus pur style Le Mans Classic. Avec son liseré (rehaut) vert en fibre de carbone, qui court tout autour du cadran et le logo à damiers Le Mans Classic situé à 12 heures, cette version de la RM 011 Flyback chronographe incarne toute l'histoire du Mans et la synergie qui lie l'horlogerie et le sport automobile.
RM 011 Le Mans Classic : mouvement squeletté à remontage automatique avec rotor à géométrie variable, heures, minutes, secondes, chronographe Flyback, compte à rebours 60 mn, totaliseur 12 heures, grande date et mois.
La RM 011 Le Mans Classic est une édition limitée à 200 exemplaires - 150 en titane et 50 exemplaires en or rouge 18 carats/titane.
The Le Mans Classic, to be held on the 11, 12, 13 July 2008, is a biennial vintage sports car event and an enthusiastic three-day celebration covering half a century of motor racing.
As in previous Le Mans Classic races, Richard Mille is again the main sponsor and the official timekeeper of this unique event, a role that fits perfectly with the brand's active participation in the motor sport area.
This year, the event takes on yet another dimension. Richard Mille has created a special edition RM 011 Flyback Chronograph that celebrates the Le Mans Classic event in true style. With its green carbon fiber flange around the edge of the dial and the trademark white and green checkered Le Mans Classic logo at 12 o'clock, this special version RM 011 flyback chronograph embodies all the history and synergy that so closely bond timekeeping and motorsport.
RM 011 Le Mans Classic: skeletonized automatic, winding movement with adjustable rotor geometry with flyback chronograph in hours, minutes and seconds, 60-minute countdown timer, 12 hour totalizer, oversize date, month.
The RM 011 flyback chronograph Le Mans Classic is available in a limited edition of 200 pieces - 150 pieces in full titanium and 50 pieces in 18 carat red gold/titanium.
MONTRE DE POCHE TOURBILLON RM 020
La RM 020 est la première montre de poche à avoir une platine de mouvement en nanofibres de carbone, un matériau utilisé à l'origine pour les avions de l'armée de l'air U.S.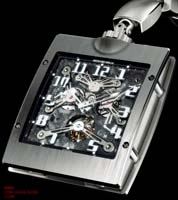 Ce matériau isotropique, créé à partir de nanofibres de carbone moulées sous haute pression de 7,500 N/cm2 et à une température de 2000 °C, est d'une haute stabilité mécanique, physique, et chimique dans toutes les directions.
La stabilité du mouvement est garantie dans différentes conditions et températures. L'échappement du tourbillon, inventé au XIXème siècle pour la montre de poche, est actionné par un double barillet. Les deux barillets sont directement couplés et fournissent environ dix jours de réserve de marche.
Cette montre possède par ailleurs une chaîne en titane avec un mécanisme d'attache rapide. Une fois la chaîne enlevée, la RM 020 peut devenir pendulette de bureau grâce au support fourni avec.
La RM 020, synthèse parfaite entre les valeurs horlogères du XVIIIème siècle et la technique du XXIème siècle, a une carrure en titane et propose des lunettes ainsi que des fonds en or rouge et or blanc 18 ct ou en titane.
The RM 020 is the first pocket watch ever created to make use of a baseplate made of carbon nanofiber, originally utilized in U.S. Air force jets.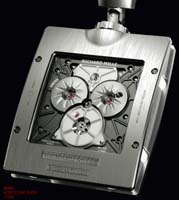 This is an isotropic composite material created from carbon nanofibers molded under a high pressure of 7,500 N/cm2 and a temperature of 2,000˚C, resulting in a material with high mechanical, physical and chemical stability in all directions. It is ideally suited for guarantying the stability of the going train under varying conditions and temperatures. The tourbillon escapement, (which was originally invented in the 19th century for the pocket watch format timepiece to begin with), is driven by a double winding barrel. Both barrels are directly coupled and supply circa 10 days of power reserve. The RM 020 is further supplied with a titanium watch chain with a quick attach/release mechanism, and it can also be used as a pendulette de bureau with the additional desk stand. Perhaps the ultimate "time machine", The RM 020 represents the perfect synthesis of the greatest 18th century horological values in combination with 21st century technology and aesthetics. All versions will have a central caseband in titanium, with a choice of both front and back bezels in either 18ct red gold, white gold or titanium.
MONTRE TOURBILLON RM 018 "Hommage à Boucheron"
Pour célébrer le 150ème anniversaire de la Maison Boucheron, le plus célèbre joaillier de la Place Vendôme et Richard Mille allient leur savoir-faire pour créer une pièce unique, la montre tourbillon RM 018.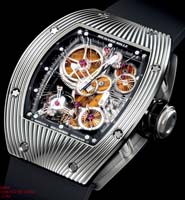 La RM 018 "Hommage à Boucheron" est la synthèse la plus raffinée qui soit de la symbiose entre le meilleur de la créativité joaillière et l'indéniable savoir-faire de Richard Mille, en matière de Haute Horlogerie.
La réalisation de la RM 018 était un véritable défi. Cependant, le résultat est là : une pièce unique, dont les rouages du mouvement ont été fabriqués à partir de pierres précieuses et semi-précieuses. Une incroyable prouesse technique qui respire l'élégance et le raffinement.
Les deux Maisons sont partie prenante dans la production de cette montre tourbillon : la boîte et le mouvement sont réalisés par Richard Mille ; les pierres précieuses et semi-précieuses sont choisies et travaillées par Boucheron. Chaque montre sera unique, de par les différentes combinaisons de pierres. Enfin, la RM 018 "Hommage à Boucheron", nécessitant de nombreuses heures de travail et de finitions, sera limitée à 30 pièces en or blanc 18 ct.
In celebration of Boucheron's founding in 1858, the most famous jeweller of the Place Vendome and Richard Mille have joined forces to create a unique timepiece, the RM 018 tourbillon wristwatch, representing a synthesis of Boucheron's bejewelled savoir faire and the innovation of a 21st century watch brand.
The RM 018 "Hommage à Boucheron" represents the extraordinary union between jewellery and watchmaking, combining the best of jewellery design with Richard Mille's revolutionary know-how. This entire project was a new challenge for both companies; as such a feat had never before been achieved.
However, they succeeded, and the result is a world premiere: a timepiece creation with the wheels of the movement made from semi-precious and precious stones. An astounding technological achievement that in reality simply exudes exquisite elegance and refinement to the eye of the beholder. The production of this unique tourbillon wristwatch will be shared between both companies with the case and the movement by Richard Mille and the semi-precious and precious stones chosen by and embellished with Boucheron's great expertise.
Furthermore, each watch will be unique, with different combinations of stones in each. Due to the time-consuming nature of the production, which requires much hand finishing and embellishment, the series will be limited to 30 pieces in 18ct white gold.