Piaget Emperador Coussin Quantième Perpétuel
Affichant 5,6 mm d'épaisseur, le calibre Manufacture Piaget 855P à remontage automatique a été conçu, développé et produit à l'interne.
Il propose les fonctions heure, minute, petite seconde à 4h, mois et années bissextiles à 12h, jour de la semaine à affichage rétrograde à 9h et date rétrograde à 3h.
Outre les deux affichages rétrogrades du jour de la semaine et de la date, ce calibre 855P se distingue de la plupart des quantièmes perpétuels ordinaires par l'adjonction d'un second fuseau horaire par deux aiguilles dans un compteur à 8h.
Le calibre automatique Piaget 855P bat à une cadence de 21'600 alternances/heures et offre une réserve de marche d'environ 72 heures.
Par sa subtile architecture, le boîtier de 46 mm s'adapte parfaitement à tous les poignets et présente un profil particulièrement élégant.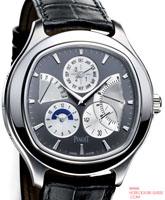 Measuring 5.6 mm thick, the Manufacture Piaget Calibre 855P self-winding movement was designed, developed and produced entirely in-house.
It displays the hours, minutes, small seconds at 4 o'clock, month and leap years at 12 o'clock, along with retrograde day of the week and date displays at 9 and 3 o'clock respectively. In addition to the latter retrograde indications, this Calibre 855P stands out from most ordinary perpetual calendars by the addition of a double-hand dual time-zone display appearing in a subdial at 8 o'clock.
The self-winding Piaget Calibre 855P beats at a cadence of 21,600 vibrations per hour and is endowed with an approximately 72-hour power reserve.
The subtle architecture of the 46 mm case enables it to adapt to all wrists and imparts a particularly elegant profile.
Piaget Altiplano 40 mm
Fidèle à ses lignes pures et à son classicisme éprouvé, la collection Altiplano s'enrichit d'un modèle s'autorisant pour la première fois un diamètre de 40 mm.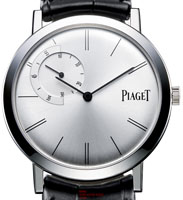 Dans le respect de ces nouvelles proportions, la Manufacture de Haute Horlogerie Piaget a doté cette montre Altiplano d'un mouvement 12 lignes (12''') de nouvelle génération, le calibre Manufacture Piaget 838P. Ce mouvement extra-plat à remontage manuel n'affiche que 2,5 mm d'épaisseur.
Si ce nouveau modèle garde tous les codes esthétiques de la collection Altiplano – boîtier fin et élégant, cadran épuré, index simples ou doubles décalqués, aiguilles bâtons – il s'en distingue par son diamètre de 40 mm, par sa petite seconde positionnée à 10h et par un logo Piaget placé à 3h pour une parfaite harmonie de l'ensemble.
Le boîtier en or blanc est doté d'une glace saphir permettant d'admirer les éléments de décor du mouvement, à l'image des Côtes de Genève circulaires et des vis bleuies, signature des mouvements Piaget.
Le modèle Altiplano 40 mm est également disponible dans une version en or rose avec cadran chocolat et dans une série limitée en platine.
Loyal to its characteristic pure lines and well-respected classicism, the Altiplano collection is enriched with a model appearing for the first time in a 40 mm diameter.
In keeping with these new dimensions, the Manufacture de Haute Horlogerie Piaget has equipped this Altiplano watch with a state-of-the-art 12-lignes (12''') movement, Manufacture Piaget Calibre 838P.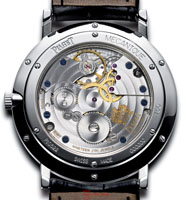 This ultra-thin hand-wound movement is a mere 2.5 mm thick. While the new model retains the aesthetic codes of the Altiplano collection – a slender, elegant case and an understated dial with simple or double transferred hour-markers and baton-shaped hands – it is distinguished by its 40 mm diameter, its small seconds at 10 o'clock and by a Piaget logo at 3 o'clock ensuring a perfectly harmonious overall effect.
The white gold case is fitted with a sapphire crystal back enabling one to admire all aspects of the movement decoration, such as circular Côtes de Genève and blued screws which are the signature features of Piaget movements. The 40 mm Altiplano movement is also available in a pink gold version with a chocolate brown dial, and in a platinum limited edition.
Piaget Tourbillon Relatif in tribute to the City of New York
Piaget Polo Grand Modèle Boîte en or blanc 18 carats et émail grand feu selon la technique du champlevé Manufacture Piaget 608P mechanical hand-wound tourbillon movement Movement thickness: 3.28 mm
Mouvement mécanique tourbillon à remontage manuel Manufacture Piaget 608P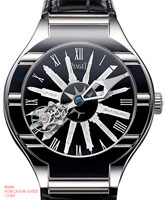 Réserve de marche d'environ 70 heures
Tourbillon volant : l'aiguille des minutes, qui a son centre de rotation au centre de la montre, effectue une rotation par heure.
La cage de tourbillon, suspendue sur l'aiguille des minutes, effectue une rotation sur elle-même par minute
18-carat white gold case and dial with black grand feu enamelling according to the champlevé technique Manufacture Piaget 608P mechanical hand-wound tourbillon movement Movement thickness: 3.28 mm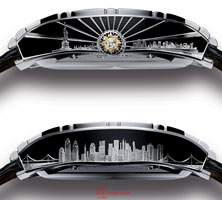 Power reserve: approximately 70 hours
Flying tourbillon: the minute hand, which has its centre of rotation at the centre of the watch, performs one complete rotation per hour. The tourbillon carriage, suspended from the minute hand, spins once per minute on its own axis
Piaget Altiplano Squelette 40 mm
Pour éclairer d'une lumière particulière le lancement de ce boîtier de 40 mm de diamètre, la collection Altiplano accueille pour la première fois un mouvement squeletté.
Le calibre Manufacture Piaget 838P à remontage manuel se fait léger et aérien par un travail de squelettage entièrement manuel au design contemporain.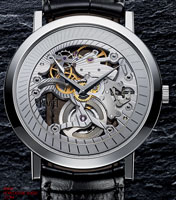 Ce mouvement, dont les maîtres graveurs ont su garder l'essentiel, laisse voir en transparence ses décors soignés et la magie de ses rouages. Irradiant depuis le centre de la petite seconde à 10h, un guilloché soleil réalisé à la main illumine de ses 60 rayons tout le cadran pour se prolonger sur le rehaut.
D'un gris discret, ce dernier joue le ton sur ton en regard du mouvement rhodié.
La finesse des gravures, du ciselage et des décors de ce calibre 838P squelette n'a d'égale que le raffinement et l'élégance du boîtier extra-plat en or gris 18 carats.
Son fond saphir permet d'admirer le patient travail de décor du mouvement, offrant plus de relief encore à cette sculpture mécanique.
Le modèle Piaget Altiplano Squelette 40 mm est proposé sur bracelet alligator noir avec boucle ardillon en or gris 18 carats.
Shedding a unique light on the launch of this 40 mm-diameter case, the Altiplano case welcomes a "skeletonised" or openworked movement for the very first time.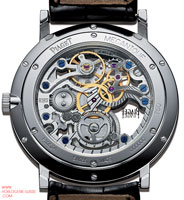 The Manufacture Piaget 838P hand-wound movement is given a light, airy touch by the essentially manual openwork featuring a decidedly contemporary design.
This movement, of which the master-engravers have managed to preserve the essential elements, reveals fascinating glimpses of its meticulous finishes and the magic of its intricate gear trains. Radiating from the centre of the small seconds at 10 o'clock, a hand-crafted guilloché sunburst motif lights up the entire dial with its 60 rays that extend over onto the inner bezel ring.
The latter is a discreet grey that creates an elegant tone-on-tone effect with the rhodium-plated movement. The exquisite finesse of the engraving, chasing and decorative work on this Calibre 838P skeleton movement makes a perfect match for the refined elegance of the ultra-thin 18-carat white gold case. The latter's sapphire crystal caseback enables one to admire the painstaking decorative work on the movement, thereby lending even greater depth and intensity to this mechanical sculpture.
The Altiplano Squelette 40 mm comes on a black alligator leather strap, complete with 18-carat white gold pin buckle.
Altiplano Double Jeu
Montre en or blanc 18 carats serties de 587 diamants taille brillant (env 9.3 cts) avec un cadran noir.
La partie supérieure de la montre représente un sablier et les arches de la Tour Eiffel.
Le sablier contient des petites billes d'or blanc qui bougent de gauche à droite du sablier. Mouvement mécanique ultraplat à remontage manuel Manufacture Piaget 830P.
18-carat white gold fully paved case set with 587 brilliant-cut diamonds (9.3 cts) and a black dial.
The upper case represents an hour-glass as well as Eiffel tower arches.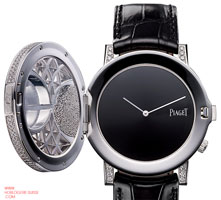 The hour-glass contains small golden balls that move from left to right and from right to left through the hour-glass. Manufacture Piaget 830P mechanical movement