Grand Tourbillon Heures Mystérieuses
Le Tourbillon a été présenté en automne 2008 afin de célébrer l'inauguration du bâtiment totalement rénové à Villeret ainsi que les 150 ans de création de la Manufacture Minerva, connue aujourd'hui sous l'Institut Minerva de Recherche en Haute Horlogerie consacré au développement et à la finition des montres de la Montblanc Collection Villeret 1858.
Le Grand Tourbillon Heures Mystérieuses est la montre la plus exclusive de la collection Montblanc Collection Villeret 1858, c'est pourquoi elle sera proposée seulement en éditions uniques en platine et éditions de 8 pièces en or gris et rose 18 carats.
Sa boite en forme de goutte d'eau à 6 heures dévoile le tourbillon à 12 heures avec ses ponts en forme de 8; le symbole de l'infini. Dans la partie inférieure du cadran se trouve l'indication mystérieuse des heures et des minutes sur un cadran où flottent les aiguilles.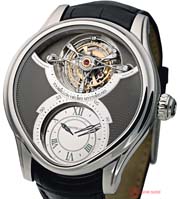 Another fascinating addition to the ranks of the Montblanc Collection Villeret 1858 is the Grand Tourbillon Heures Mystérieuses. It was launched in autumn 2008 to mark the formal inauguration of the newly renovated company premises in Villeret and to coincide with the 150th anniversary of the foundation of the Minerva manufacture; today, under the name Institut Minerva de Recherche en Haute Horlogerie, it specialises in the development and manufacture of watches for the Montblanc Collection Villeret 1858.
The Grand Tourbillon Heures Mystérieuses is the most exclusive model to date in the Montblanc Collection Villeret 1858 and will be available as unique pieces in platinum as well as eight pieces each in red and white gold. The tourbillon appears at 12 o'clock in the large, drop-size case and comes with a tourbillon bridge in the form of a horizontal eight as a symbol of infinity. In the lower half of the dial, is an equally large time display in the guise of a mysterious dial with hovering hour and minute hands.

Montblanc Star Nicolas Rieussec Chronographe monopoussoir
Cette montre est la première à arborer un mouvement développé, produit et assemblé dans les propres ateliers de Montblanc.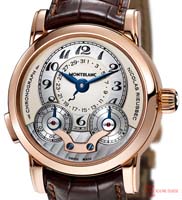 Le calibre Montblanc MB R100 est un mouvement à remontage manuel qui affiche l'heure et la date mais également un chronographe qui associe une roue à colonnes classique avec un embrayage vertical moderne.
Le chronographe est actionné en utilisant un bouton poussoir sur le côté de la boite à 8 heures. L'heure du jour est affichée sur un cadran décentré qui présente une échelle de 1 à 31 pour l'indication de la date dans le tour d'heure.
Le mouvement possède deux barillets qui génèrent une réserve de marche de 72 heures.
La réserve de marche restante est visible au dos du mouvement à travers le fond en saphir.
En alternative, Montblanc propose également un mouvement automatique propre, le calibre Montblanc MB R200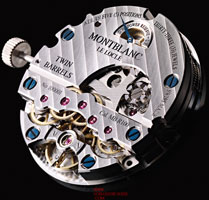 This watch is the first one ever to feature a movement that has been developed, produced and assembled in Montblanc's own workshops.
The Montblanc MB R100 calibre is a hand-wound movement with displays for the time of day, the date and a chronograph that combines classical column wheel operation with a modern vertical plate clutch.
The chronograph is operated using a pushbutton in the side of the case at 8 o'clock. The time of day is displayed in an off-centre dial that features a 1 to 31 scale for the date indicator within the hour circle.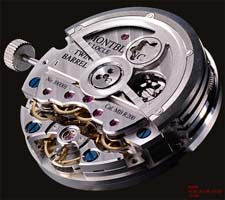 The movement has two barrels, which generate a 72-hour power reserve. The remaining power reserve is shown on a display at the back of the movement, which can be seen through the sapphire glass cover.
Alternatively, Montblanc also offers its own automatic movement, the Montblanc MB R200 calibre.
Montblanc Star 4810 Automatic
La montre traditionnelle à trois aiguilles perdure dans la nouvelle collection Montblanc Star 4810 Automatic en or rouge 18 carats. Elle affiche clairement les heures, les minutes et les secondes ainsi que la date dans un grand guichet à 6 heures. Ces éléments dépouillés et les chiffres romains luminescents donnent au cadran argenté une allure mêlant style et distinction.
La nouvelle montre Star 4810 Automatic de 41.5 mm de diamètre, avec son mouvement automatique certifié COSC, vient compléter de façon souveraine la collection Montblanc Star qui, à l'époque, avait permis à Montblanc d'entrer dans le monde de la haute horlogerie.
A case in point is the traditional three-hand watch in the new Montblanc Star 4810 Automatic with 18 carat red gold. It clearly shows hours, minutes and seconds, and in a large field at 6 O'clock the date.
The new Star 4810 Automatic – 41.5 mm in diameter and with a COSC-certified automatic movement – is the calm continuation of the classical watch range Montblanc Star, which was once the start of the success story of Montblanc in the world of haute horlogerie.
Collection Montblanc Villeret 1858
Les Secondes au Centre Retour-à-Zéro
Deux mouvements, élaborés pour la Collection Montblanc Villeret 1858 et dotés d'une fonction Retour-à-Zéro simplifiant le réglage de l'heure à la seconde près, constituent une innovation intéressante dans le cadre de la philosophie des « Garde-Temps ».
C'est probablement la première fonction de remise à zéro avec une aiguille des secondes imposante et massive au centre. Une traction sur la couronne actionne la remise à zéro de l'aiguille des secondes qui reste dans cette position jusqu'au réglage des heures et des minutes. Une pression sur la couronne réamorce le mouvement de la montre à la seconde près.
L'automatisme de remise à zéro exige un mécanisme semblable à celui du chronographe. La trotteuse est fixée sur une roue de seconde reliée au pignon d'entraînement par un embrayage horizontal. Par ailleurs, la tige de remontoir doit être couplée à un levier qui, au moment de la traction exercée sur la couronne, d'une part libère l'embrayage horizontal, d'autre part ramène la roue de seconde de la trotteuse à zéro à l'aide du marteau qui descend sur le cœur et bloque la trotteuse dans cette position.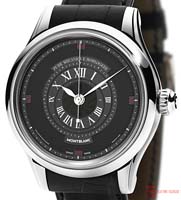 Les nouveaux mouvements des modèles « Grande Seconde au Centre Retour-à-Zéro » portent la mention calibre 16.18 pour le boîtier de 47 mm de diamètre et calibre 13.18 pour les montres « Seconde au Centre Retour-à-Zéro » légèrement plus petites avec un diamètre de 41 mm.
Ce sont des mouvements classiques avec un balancier à vis qui avec 18.000 alternances par heure (2,5 HZ) indique l'heure par séquences de 1/5e de seconde.
As an interesting innovation, inspired by the company's garde-temps philosophy, the Montblanc Collection Villeret 1858 now includes two new, specially developed movements with a "Retour-à-Zéro" function that makes it easier to set the time exactly to the second.
It is probably the first automatic zero-resetting mechanism with a large, solid central seconds hand. When the winding crown is pulled out, the seconds hand is automatically returned to zero and locked in this position while the hour and minute hands are set to the correct time.
If the crown is pushed back into the case on the last tone of a time signal, the watch restarts exactly to the second. The automatic resetting mechanism requires subassemblies that are similar to those found in a chronograph.
The seconds hand, for instance, is mounted on a large fourth wheel, which is connected to the drive wheel by a horizontal clutch. On the other hand, the winding stem needs to be linked to a lever mechanism.
When the crown is pulled out, the mechanism first releases the horizontal clutch and then, with a hammer, moves the large fourth wheel on the seconds hand via a cam to the zero position and fixes the seconds hand in this position.
The new movements are known as the 16.18 calibre for the "Grande Seconde au Centre Retour-à-Zéro" model with its 47 mm case and the 13.18 calibre for the slightly smaller 41 mm "Seconde au Centre Retour-à-Zéro" model. They are classic slow oscillators and feature large, heavy screw balances with a frequency of 18,000 beats per hour (2.5 Hz), which breaks down time into fractions of one-fifth of a second.
Les Chronographes Email Grand Feu
Les précieux cadrans émaillés Grand Feu pareront les derniers mouvements de chronographes de haute horlogerie de calibre 16.29 et 13.21 comme ceux des modèles « Grand Chronographe Authentique » et « Chronographe Authentique » de la première collection Montblanc Villeret 1858.
Les éditions limitées confectionnées à l'occasion du 150e anniversaire de Minerva compteront une pièce unique en platine pour chaque calibre avec un cadran émaillé Grand Feu bleu, 8 montres en or gris avec un cadran blanc ou noir et 58 montres en or rose avec cadran émaillé Grand Feu blanc.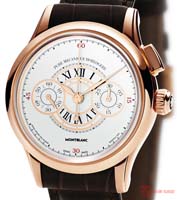 Les deux mouvements du chronographe, calibre 16.29 et 13.21, sont confectionnées dans le respect de l'art horloger traditionnel qui se caractérise essentiellement par l'important travail de finition réalisé à la main. Les platines et ponts sont en maillechort rhodiée, perlés des deux côtés, les ponts sont anglés à la main, l'envers est perlé et l'endroit décoré façon « Côtes de Genève ».
La fonction chronographe qui place et arrête le levier du chronographe dans la position souhaitée est assurée, dans le respect de la plus pure tradition horlogère, par une roue à colonnes classique et un embrayage horizontal avec une grande roue de chronographe.
The precious Grand Feu enamel dials will be used to highlight the last remaining examples of the haute horlogerie 16.29 or 13.21-calibre chronograph movements.
These are the same ones found in the "Grand Chronographe Authentique" and the "Chronographe Authentique" from the first Montblanc Collection Villeret 1858.
For the limited edition to mark Minerva's 150th jubilee, each calibre will be featured in a unique platinum model with a blue Grand Feu enamel dial, eight white-gold watches with a white or black dial, and 58 rose-gold watches with a white Grand Feu enamel dial.
The two 16.29 and 13.21-calibre chronograph movements are manufactured in accordance with all the tenets of traditional watchmaking; the unusually high proportion of finishing work carried out by hand is particularly noteworthy. The plates and bridges are made of rhodium-plated German silver, the bottom plate is circular-grained on both sides, while the bridges are chamfered by hand and decorated with circular-graining and Geneva stripes (Côtes de Genève) on the top surface.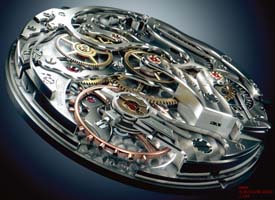 In keeping with traditional watchmaking practice, the chronograph is controlled with a column wheel, which the chronograph lever moves into position for each function and locks. A horizontal wheel train mechanism with a large chronograph wheel serves as the clutch.