CHRONOGRAPHE SPEED COMMAND
Réalisé en acier DLC brossé, le boîtier de 45 mm de diamètre - étanche à 300 mètres - est rehaussé d'une lunette tournante bidirectionnelle en saphir noire de type «count down».
Taillé dans la fibre de carbone et laissant apparaître un effet damier, le cadran s'anime de chiffres arabes stylisés oranges ou jaunes et inspirés des compteurs de bord de légendaires automobiles sportives. Pour la première fois chez Blancpain, un rehaut intérieur incliné porte l'échelle tachymètre pour en faciliter la lecture.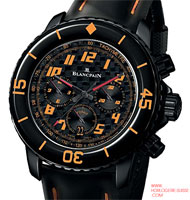 Dans le même esprit, du Superluminova rouge est appliqué sur les aiguilles des heures et des minutes ainsi que sur la trotteuse centrale, pour une lisibilité optimale en toute circonstance.
Au cœur de ce boîtier racé dédié à la performance, le Chronographe Blancpain Speed Command abrite le Calibre F185, un mouvement chronographe mécanique à remontage automatique disposant de 40 heures de réserve de marche et intégrant 308 composants. Ce Calibre F185 propose les fonctions heures, minutes, petite seconde à 6h, date à guichet ainsi que les indications chronographe trotteuse centrale, compteurs 30 minutes à 3h et 12 heures à 9h.
Spécificité supplémentaire pour les amateurs de mesures instantanées, le Calibre F185 se singularise également par sa fonction «flyback» (ou retour en vol), une fonction chrono- graphique que Blancpain a largement contribué à populariser depuis une vingtaine d'années.
Cette fonction, utilisée historiquement par les aviateurs, permet une remise à zéro du chrono- graphe suivie d'un redémarrage instantané par une seule pression sur le poussoir «start».
The 45 mm-diameter case made from brushed DLC steel is water-resistant to 300 metres and topped by a bidirectional "countdown" type black sapphire rotating bezel. The chequered effect carbon fibre dial features stylised orange or yellow Arabic numerals inspired by the dashboards of legendary sports cars.
For the first time at Blancpain, a sloping inner dial ring bears a tachometric scale that facilitates read-off. In the same spirit, red Superluminova touches are applied to the hour and minute hands and the central chronograph seconds hand, ensuring optimal legibility in all circumstances.
At the heart of this sophisticated performance-dedicated case, the Blancpain Speed Command houses Calibre F185, a 308-part mechanical self-winding chronograph movement with a 40-hour power reserve. Calibre F185 drives the hours, minutes, small seconds at 6 o'clock, a window-type date display as well as the chronograph functions: the central chronograph seconds hand, along with 30-minute and 12-hour counters at 3 and 9 o'clock respectively.
Providing an additional feature bound to appeal to instant measurement enthusiasts, Calibre F185 is also distinguished by its "flyback" chronograph function that Blancpain has significantly contributed to popularising over the past two decades.
Historically used by pilots, this function enables resetting and instant restarting of the chronograph by a single press on the "start" pusher.
Fifty Fathoms Automatique
Fidèle à sa tradition d'innovation, la Manufacture du Brassus a décliné le design immédiatement reconnaissable de la Fifty Fathoms dans la couleur de la pureté.
Façonnée en saphir inrayable, la lunette tournante unidirectionnelle blanche évite tout allongement involontaire du temps de plongée tandis que son relief cranté légèrement bombé limite les chocs.
Le boîtier en acier de 45 mm de diamètre est équipé de protège-couronnes renforçant la sécurité au niveau de cette composante essentielle. En écho au blanc mat du cadran, la nuance blanche de revêtement luminescent appliquée sur les aiguilles et les index en or rhodié de forme trapèze ainsi que le Luminova gris perle des repères de la lunette, ne révèlent leur verte fluorescence que dans l'obscurité des profondeurs marines.
La nouvelle Fifty Fathoms Automatique est mue par le Calibre 1315 automatique, un mouvement mécanique exclusif à Blancpain, pensé et conçu pour équiper des montres à vocation résolument sportive. Fruit d'une longue quête de simplicité, de précision et de performances, le Calibre 1315 est équipé d'un robuste balancier en glucydur doté de vis micrométriques réglantes en or à têtes carrées qui évite qu'un choc n'altère la marche de la montre et garantit une précision et une efficacité de réglage sans pareil.
Trois barillets montés en série offrent au mouvement une autonomie de marche de 5 jours, tout en garantissant à tout moment une énergie constante.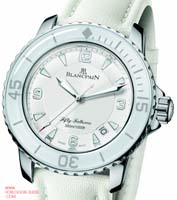 In keeping with its tradition of innovation, Blancpain has interpreted the instantly recognisable design of the Fifty Fathoms in the emblematic colour of purity.
Crafted in scratch-resistant sapphire, the white unidirectional rotating bezel avoids any risk of accidentally prolonging the dive time, while its slightly raised and ratcheted design helps to limit any potential shocks.
The 45 mm-diameter steel case is equipped with crown guards that reinforce security around this essential component. Against a matt white dial background, the white shade of the luminescent coating applied to trapeze-shaped hour- markers and hands in rhodium-plated gold, as well as the pearly grey Luminova of the markings on the bezel, reveal their fluorescent green colour only in the darkness of the ocean depths.
This new steel Fifty Fathoms Automatique is powered by self-winding Calibre 1315, an exclusive Blancpain mechanical movement conceived and developed for watches with a resolutely sporting vocation.
Stemming from a lengthy quest for simplicity, accuracy and performances, Calibre 1315 is equipped with a sturdy glucydur balance fitted with square-headed gold micrometric regulating screws and designed to prevent any impacts from disturbing the smooth running of the watch, thus ensuring peerless accuracy and rating efficiency.
Three series-coupled barrels guarantee a 5-day power reserve, while providing a constant supply of energy at all times.
BLANCPAIN CARROUSEL VOLANT UNE MINUTE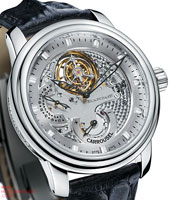 Inventé en 1892 par l'horloger Bahne Bonniksen, le carrousel propose un système d'entraînement de la cage par un effet de différentiel.
Ignoré pendant longtemps par les horlogers, il est remis au goût du jour par la Manufacture qui propose une évolution majeure et brevetée du mécanisme. Si les premiers carrousels nécessitaient plusieurs minutes pour effectuer une rotation complète, celui de Blancpain effectue le même chemin en précisément 60 secondes, un véritable exploit.
Référencé 225, le calibre à remontage automatique intègre 262 composants et affiche une réserve de marche de 100 heures. Il prend place dans un boîtier en platine de 43,5 mm de diamètre rehaussé d'un cadran semi squelette laissant apparaître roues dentées, ponts et platines.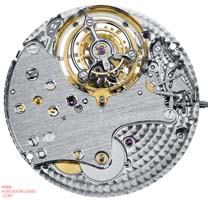 A 12h, un puit de lumière dévoile les palpitations du carrousel volant dont l'un des ponts de cage indique la seconde. A 6h, l'état de la réserve de marche s'affiche par une aiguille courant sur un arc de cercle entre les signes «+» et «-».
Une double aiguille aux longueurs inégales indique la date à 9h sur deux lignes graduées et décalées.
Tourbillon et carrousel ont en commun de compenser les effets de la gravitation sur la marche du mouvement.
En faisant tourner sur lui-même – dans une cage – l'ensemble du mécanisme, le mouvement compense par lui-même les effets néfastes de la gravitation; il agit ainsi comme un véritable régulateur du temps.
Carrousel et tourbillon se distinguent en revanche sur la façon dont ils exécutent cette fonction.
Dans le cas du tourbillon, la cage est reliée au barillet à travers un unique train de rouages. Ce qui signifie qu'en cas d'arrêt de cette connexion mécanique, le tourbillon cesse lui aussi de tourner.
Tandis que le carrousel est, lui, relié au barillet par deux trains de roues. Le premier amène l'énergie nécessaire au fonctionnement de l'échappement, le second contrôle la vitesse de rotation de la cage.
Au-delà des défis techniques, la Manufacture du Brassus prend aujourd'hui une petite revanche amusante sur l'histoire. Alors que divers spécialistes autoproclamés expliquaient dès 1989 que le tourbillon de Blancpain – en raison de son balancier excentré – était en fait un carrousel, ils ajoutaient doctement que le balancier au centre était la signature du tourbillon. La Manufacture Blancpain est d'autant plus heureuse de présenter aujourd'hui son indiscutable carrousel avec balancier... au centre de la cage ! Les manuels d'horlogerie devront être corrigés sur ce point !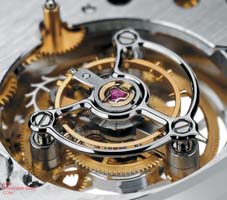 Invented in 1892 by the watchmaker Bahne Bonniksen, the karussel features a system driving the carriage by a differential effect. Long ignored by watchmaker, it has not been updated by the Manufacture which is offering a major patented evolution of the mechanism. While the early karussels took several minutes to perform a complete rotation, the one introduced by Blancpain takes exactly 60 seconds to cover the same distance – an impressive feat in itself.
Code-named 225, the self-winding calibre comprises 262 parts and is endowed with a 100-hour power reserve. It is housed within a platinum case measuring 43.5 mm in diameter and enhanced by a semi-skeleton dial revealing an array of toothed wheels, bridges and plates. A «light shaft» at 12 o'clock unveils the fascinating palpitations of the flying karussel, on which one of the carriage bridges indicates the seconds.
The power reserve is displayed at 6 o'clock by a hand moving over an arc of a circle between the signs "+" and "-". A double hand with arms of different lengths indicates the date on two graduated and staggered rows at 9 o'clock.
Tourbillons and karussels share the property of compensating for the effects of gravity on a watch movement.
By making the entire mechanism spin on its axis within a carriage, the movement itself manages to compensate for the detrimental effects of gravity by acting as an authentic regulator of time. Karussels and tourbillons differ however in the manner in which they perform this function.
In a tourbillon, the carriage is connected to the barrel through a single gear train.
This means that if this mechanical connection is interrupted, the tourbillon itself stops rotating. The karussel on the other hand is linked to the barrel by two gear trains.
The first provides the energy required to run the escapement, while the second controls the rotation speed of the carriage.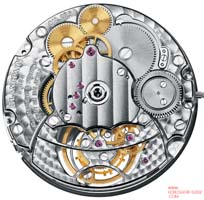 In addition to the fact that it revives this under-exploited complication, the Blancpain Carrousel Volant Une Minute goes much further than Bonniksen's initial invention. While the latter paid no particular attention to the speed of rotation, which amounted to anything from 27 to 42 minutes depending on the model, the Manufacture has opted to develop a complete differential gear control system.
Here again, Blancpain sets itself apart by being the first watch brand to appropriate this prestigious invention by updating and perfecting it. Until now, the differential gear system regulating the rotation of the karussel carriage had not been the object of any in-depth research.
By elaborating – and patenting – a system causing it to rotate in exactly 60 seconds, Blancpain makes yet another decisive contribution to watchmaking history.