Chronomètre Royal 1907
Plusieurs repères marquants jalonnent l'histoire de plus de 250 années d'activité ininterrompue de Vacheron Constantin. Aux yeux de tous les connaisseurs, la date de 1907 présente un relief tout particulier. Cette année-là, la manufacture genevoise présente son premier Chronomètre Royal et dépose dans la foulée cette marque inestimable empreinte de noblesse.
D'emblée, le Chronomètre Royal – proposé évidemment à l'époque en montre de poche - connaît un succès international tant ses qualités le distinguent de la production horlogère d'alors.
Sa robustesse, sa fiabilité et sa précision devenues légendaires font le bonheur des amateurs vivant sous des climats rigoureux jusque-là peu propices au bon fonctionnement des garde-temps.
Ce sera le début d'une extraordinaire aventure pour le modèle Chronomètre Royal de Vacheron Constantin qui ne cessera de surprendre par ses qualités fonctionnelles et d'évoluer tout au long du XXe siècle.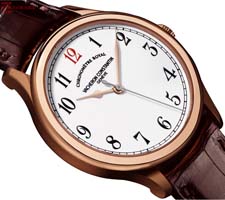 Rare par sa production limitée à 100 pièces pour le millésime 2007, le Chronomètre Royal 1907 est une réinterprétation dans l'esprit de ses prestigieux ancêtres.
D'inspiration classique, sobre et élégant, son boîtier en or rose 18 carats de 39 mm de diamètre présente un flanc de carrure délicatement satiné rehaussé d'une couronne boule. Doté d'une glace saphir légèrement bombée et étanche à 30 mètres, le boîtier arbore un fond transparent permettant d'admirer les finitions exceptionnelles du calibre 2460 SCC de nouvelle génération développé et manufacturé chez Vacheron Constantin.
L'étroite lunette du Chronomètre Royal 1907 laisse s'exprimer pleinement un cadran d'exception. Conçu dans l'esprit et selon les techniques traditionnelles utilisées pour le Chronomètre Royal de 1907, le cadran est réalisé en émail Grand Feu blanc sur une base en or gris 18 carats.
Les chiffres arabes peints des 100 pièces exclusives produites en 2007 présentent une particularité visible : à l'image du Chronomètre Royal de 1907, le chiffre 12 se distingue par sa couleur rouge bordeaux.
A l'instar de la pièce d'origine, une minuterie extérieure complète la composition tandis que la marque « Chronomètre Royal Vacheron Constantin Genève » en arc de cercle - tel qu'il fut utilisé lors du dépôt de la marque - vient surmonter à 12h l'indication Vacheron Constantin Genève.
En or jaune 18 carats, les aiguilles de forme poire rappellent l'esthétique du premier Chronomètre Royal signé de la Manufacture genevoise.
Mouvement mécanique à remontage automatique, le calibre 2460 SCC à remontage automatique a été conçu, développé et fabriqué par la Manufacture Vacheron Constantin.
Ce mouvement de dernière génération est doté, à l'image des pièces les plus prestigieuses qui ont marqué l'histoire centenaire du Chronomètre Royal, d'un stop seconde permettant d'arrêter totalement la montre et autorisant un réglage à la seconde près.
Battant au rythme de 28'800 alternances par heure et disposant d'une réserve de marche d'environ 43 heures, le calibre 2460 SCC affiche les heures, les minutes et la seconde centrale.
Sa construction a intégré des billes en céramique utilisées dans le système de rotation de la masse oscillante, évitant de devoir lubrifier le roulement et garantissant une durée de vie supérieure.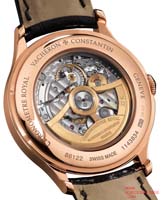 The more than 250 years of uninterrupted history pursued by Vacheron Constantin are punctuated by many significant milestones. From a connoisseur's viewpoint, 1907 stands out as a special landmark, since that was the year the Geneva-based Manufacture presented its first Chronomètre Royal and subsequently registered this venerable name that has become synonymous with nobility and dependability. Right from the start, the Chronomètre Royal – naturally introduced as a pocket-watch at the time – earned swift international success due to an array of qualities distinguishing it quite clearly from the standard watchmaking production of the period.
Its sturdiness, reliability and precision earned it legendary renown and were a delight for devotees living in extreme climates hitherto not conducive to the smooth running of timepieces.
This marked the beginning of an extraordinary adventure for the Chronomètre Royal model by Vacheron Constantin, which was to repeatedly surprise observers by its functional qualities as it steadily evolved throughout the 20th century.
Rare in terms of its production limited to 100 for the 2007 vintage, the Chronomètre Royal 1907 is a reinterpretation entirely in harmony with the spirit of its prestigious forerunners. The classically inspired and elegantly understated 18-carat pink gold case, measuring 39 in diameter, is graced by a delicately satin-brushed caseband enhanced with a spherical crown.
Fitted with a slightly domed sapphire crystal and water-resistant to a pressure of 3 atm equivalent to a depth of 30 metres, the case features a transparent back enabling one to admire the exceptional finish of the new-generation Calibre 2460 SCC developed and manufactured by Vacheron Constantin.
The narrow bezel of the Chronomètre Royal 1907 provides plenty of scope for an exceptional dial. Conceived according to the spirit and the traditional techniques used for the original Chronomètre Royal in 1907, the dial is crafted in white Grand Feu enamel on an 18-carat white gold base. The painted Arabic numerals on the 100 exclusive watches produced in 2007 feature a visible distinguishing token: like the Chronomètre Royal launched in 1907, the figure 12 is a rich shade of burgundy red.
Like the original model, a complete external outer minute circle sets the finishing touch to the dial, while the "Chronomètre Royal Vacheron Constantin Genève brand, spelt out across the arc of a circle just as it was when the trademark was registered, tops the Vacheron Constantin Genève inscription at 12 o'clock.
The pear-shaped 18-carat yellow gold hands are also reminiscent of the aesthetics of the first Chronomètre Royal created by the Manufacture in Geneva.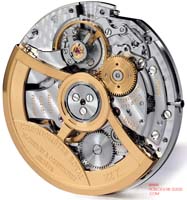 The mechanical self-winding Calibre 2460 SCC has been entirely designed, developed and manufactured by the Manufacture Vacheron Constantin.
This state-of-the-art movement is equipped – just like the most prestigious models in the century-old history of the Chronomètre Royal – with a stop seconds device enabling the wearer to stop the watch completely and thus achieve adjustment to the nearest second.
Beating to the cadence of 28,800 vibrations per hour and endowed with a power reserve of approximately 43 hours, Calibre 2460 SCC drives central hour, minute and seconds hands. Its construction incorporated ceramic ball-bearings used in the rotation of the oscillating weight, thereby avoiding any need to lubricate the bearings and guaranteeing its durability.
MALTE TOURBILLON PLATINE
UNE CREATION UNIQUE SPÉCIALEMENT DEVELOPPEE POUR « ONLY WATCH 2007 »
Les designers, ingénieurs et maîtres-horlogers de Vacheron Constantin ont choisi le platine pour créer une pièce exceptionnelle destinée à la vente aux enchères Only Watch 2007 : Le platine pour créer un garde-temps unique : un tourbillon Malte de forme tonneau, une montre comportant un boîtier et un cadran en platine, ainsi qu'un bracelet cousu de fil de platine ; mais avant tout un pont de cage réalisé dans le même métal.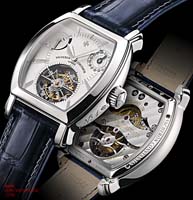 Today, especially for the "Only Watch 2007" auction on behalf of the Monaco Association against Muscular Dystrophy, the designers, engineers and master-watchmakers of Vacheron Constantin have chosen platinum:
- Platinum to create a unique and exceptional model: a Malte Tourbillon Tonneau-shaped watch featuring a case, dial, strap stitching, buckle AND a carriage bridge in 950 Platinum.

Métiers d'Art la collection Les Masques
Quel sujet choisir pour évoquer subtilement l'aventure humaine ? Les maîtres horlogers et designers de la manufacture ont envisagé plusieurs thématiques. L'idée des masques s'est imposée comme une évidence.
Genève a la chance immense de posséder l'un des plus beaux musées d'art primitif qui soit : le Musée Barbier-Mueller. Cette proximité a conduit le choix de Vacheron Constantin : la collection Métiers d'art « Les Masques » est née ainsi, d'une réflexion sur l'ici et l'ailleurs, sur le passé, le présent, le futur et l'éternel recommencement.
Chaque année, pendant trois ans, un coffret de quatre nouveaux masques en série limitée à 25 exemplaires verra le jour. A l'issue des trois années, la collection complète comptera 12 masques, soit un total de 300 pièces.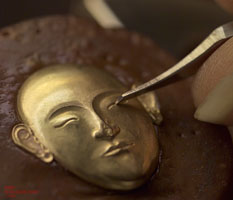 Chaque garde-temps est doté du mouvement manufacture Calibre 2460G4 à remontage automatique, orné du prestigieux Poinçon de Genève, qui fut développé en 2005 pour animer la collection Métiers d'Art « Les 4 saisons ».
Ce mouvement très particulier permet de lire le temps sans aiguille : par un jeu de roues et d'engrenages, quatre disques s'inscrivent dans des guichets - heures, minutes, jour et date - libérant ainsi le centre du cadran afin que les artisans puissent laisser libre cours à leurs créations et pour que le masque y prenne place.
Le calibre a été complètement repensé pour l'accueillir ; même si le temps est le maître d'œuvre du projet, le masque en est le sujet principal, c'est lui qu'il fallait mettre en lumière.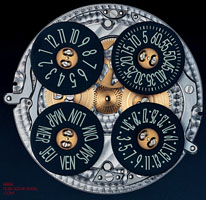 Le boîtier est façonné dans l'or gris pour le masque de l'Alaska, en or rose pour celui de l'Indonésie, en or jaune pour le masque Chinois et en platine pour le Congo. Il fallait tout le talent de l'écrivain Michel Butor pour rendre au masque sinon la vie, mais la parole. Sur le cadran de saphir, en lettres d'or, courent ses mots magnifiques, petits poèmes en prose dédiés à chaque objet. Ses phrases se suivent dans une spirale qui semble n'avoir ni début, ni fin. Un message mystérieux qui ne se laisse lire que sous un angle de lumière précis. Un effet obtenu par métallisation sous vide, technologie sophistiquée où les lettres d'or sont vaporisées sur une glace saphir.
Masque Chine
Masque funéraire Chine.
Peuple Quidan, Dynastie Liao (907-1125)
Bronze doré, patine de fouilles.
Hauteur : 24,5 cm.
Ancienne collection Michael Steinhardt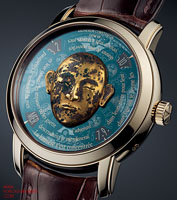 La lumière s'est concentrée
dans l'or où je ferme les yeux
je vois à travers mes paupières
le sommeil de mes descendants
je me glisserai dans leurs rêves
pour leur donner de mes nouvelles
et leur éclairer les impasses
où les guette l'adversité
«Seules m'intéressent les civilisations archaïques, quand sculpteurs et fondeurs créaient des œuvres «nécessaires», c'est-à-dire magiques, religieuses, funéraires, sans se considérer comme des "artistes", explique le collectionneur Jean Paul Barbier-Mueller.
Quelques-uns nous ont transmis, non des objets banals, mais de véritables œuvres d'art dont on peut penser qu'elles étaient reconnues comme telles à l'époque, puisque qu'elles se retrouvent comme par hasard dans les tombes les plus somptueuses».
Le masque Liao en fait partie. Difficile de rester insensible à la pure beauté de ce masque funéraire. Ce visage serein aux yeux clos invite à la réflexion sur la vie après la vie.
Il témoigne de l'extrême raffinement de la Dynastie Liao fondée en 907 par le chef quidan Yelu Abaoki - devenu l'empereur Taizong - et qui sera anéantie deux siècles plus tard. Bien qu'ils aient adopté nombre de coutumes chinoises, et malgré la forte influence de la religion bouddhiste, les Qidan, originaires de la Mongolie intérieure, surent conserver leur culture et leurs croyances chamaniques.
Selon Jean Paul Barbier-Mueller, «ce qu'ils ont créé de plus original, de plus extraordinaire, sont certainement les masques funéraires, en argent pour les nobles, en bronze doré pour les personnages de sang royal…»
Masque Alaska
Masque frontal
Alaska, côte nord-ouest des Etats-Unis, peuple Tlingit. XIXe siècle
Bois polychrome
Hauteur : 18 cm.
Collecté par le lieutenant Emmons aux environs de 1900.
Ancienne collection Heye Fondation, Museum of the American Indians, New York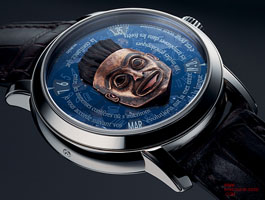 Si je vous tire un peu la langue
c'est pour vous montrer la confiance
que je vous accorde suivant
vos évolutions sur la mer
entre les tempêtes et dans
les forêts entre les immenses
conifères où s'inscriront
vos mythes généalogiques
«Les Tlingit sont un peuple américain-indien de la côte nord-ouest de l'Amérique. Ils sont voisins des Inuit de l'Alkaska qu'ils appellent Eskimo, c'est-à-dire mangeurs de viande crue, explique Jean Paul Barbier-Mueller. Tous les Indiens de la Côte nord-ouest sont des sculpteurs doués et infatigables ». Ce masque de petite taille, ou «masquette», orné d'épis de crin en guise de chevelure, était fixé à une grande coiffe de fibres parfois recouvertes de peaux d'animaux et porté sur le front par les chamans dans l'exercice de leurs fonctions de magiciens devins.
Le rôle de ces derniers était primordial au sein des communautés de la côte du nord-ouest : par leurs interventions auprès des puissances surnaturelles, ils veillaient à la guérison des malades, combattaient les sorciers et protégeaient le village contre les agressions extérieures.
Selon la tradition, les jeunes chamans en apprentissage devaient partir en quête de leur vision durant une période de huit jours. A leur approche, les animaux sortaient leur langue censée contenir le pouvoir de leur esprit. Le moment le plus spectaculaire d'une séance chamanique était la danse masquée. Le chaman, pourvu d'une huitaine de masques différents, se transformait en chacune des créatures représentées – qu'elle soit humaine ou animale – à chaque changement. Une manière d'affirmer son pouvoir sur les êtres du monde d'ici-bas et de l'au-delà.
Masque «Etoumbi-Mahongwé» du Congo
Masque facial
Congo Brazzaville, cours supérieur du Likuala
Peuple Mahongwé ou Ngaré
Bois mi-dur polychrome (noir, blanc et rouge)
Hauteur : 35,5 cm
Anciennes collections Aristide Courtois (avant 1930)
Charles Ratton et MoMA, New York (1939)
Musée Barbier-Mueller, Genève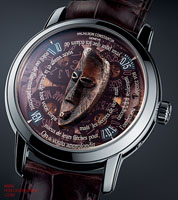 On a voulu approfondir
l'ombre où vous logerez vos yeux
pour que les éclairs de Soleil
ou de flammes pénètrent mieux
de leurs flèches pour tatouer
non seulement votre visage
et la peau de tout votre corps
mais les secrets de votre nuit
Stylistiquement, on sait peu de choses sur cet «unicum», unique en son genre. On ignore à quel peuple du nord-ouest du Congo – Mboko, Ngaré ou Mahongwé - on peut attribuer la paternité de ce masque. Selon le spécialiste Louis Perrois: «Il est encore impossible de définir stylistiquement et historiquement ces objets qui, en l'état, sont parmi les œuvres les plus remarquables de la zone».
Masque Indonésie
Masque facial, théâtre Wayang Topeng
Indonésie, Ile de Java
Bois polychrome (blanc, noir, plusieurs variantes de rouge)
Hauteur : 21cm
Ancienne collection du Pr Czeschka, Hambourg; acquis avant 1918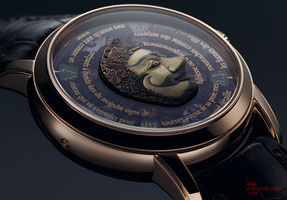 Enjôleur mon regard détaille
les formes des filles qui passent
mes sourcils sont comme un oiseau
qui va s'envoler pour tourner
autour de sa proie mes moustaches
comme des serpents préparés
à bondir lors du moindre signe
de faiblesse ou d'acquiescement
Il n'est qu'à le regarder : la distinction du visage, la finesse de ses traits, la sophistication de sa coiffure, la richesse de ses ornements, la subtilité de sa barbe, le raffinement du maquillage, la délicatesse des arabesques - motif dominant de l'art javanais - tout indique le caractère noble du personnage représenté par le masque. Ce masque, sculpté dans un bois léger, peint de couleurs vives, semble proche de la figure du vertueux Prince Panji, personnage héroïque du Wayang Topeng, le théâtre masqué javanais.
Traditionnellement, les acteurs du Wayang Topeng tiennent leur masque en serrant entre les dents une languette de caoutchouc. Muets, ils laissent ainsi les narrateurs et les chanteurs dérouler verbalement l'intrigue et conter les aventures des héros. Un théâtre dépourvu de dimension religieuse, même s'il conserve le caractère rituel et sacré des origines indoues de sa tradition.
Patrimony Contemporaine
Calibre 2450, mécanique à remontage automatique Estampillé Poinçon de Genève
Épaisseur du mouvement 3,60 mm
Diamètre du mouvement 25,60 mm, soit 11 lignes et demi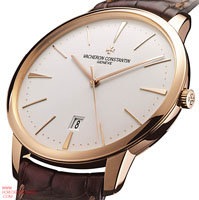 Movement 2450, self-winding mechanical, Stamped with the Poinçon de Genève.
Height of movement 3.60 mm
Diameter of movement 25.60 mm (11½ lignes)
MALTE RESERVE DE MARCHE & DATE
Conjuguant ici deux complications d'usage quotidien avec la réserve de marche et la date, à une esthétique séduisante grâce à une boîte ronde - aux cornes en léger éventail - d'un diamètre contenu de 38mm qui lui confère une position médiane au sein de la ligne Malte.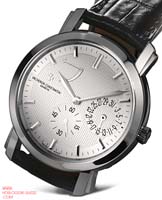 Présenté dans deux versions en or blanc ou rose 18 carats, le modèle est habillé d'un cadran argenté au guillochage contemporain qui optimise la lecture des fonctions.
Des aiguilles de forme éventail en or 18 carats indiquent les heures et les minutes, un compteur à six heures indique les secondes, l'indication de la réserve de marche avec index appliques facettés en or 18K est positionnée à onze heures. La date se lit dans un compteur du quantième élargi à trois heures. Avec une finition exceptionnelle qui ne doit qu'au savoir-faire des artisans-horlogers sa grande tradition horlogère, la Malte Réserve de Marche & Date est équipée du nouveau mouvement 1420 à remontage manuel estampillé du prestigieux Poinçon de Genève – mouvement manufacturé Vacheron Constantin qui vient étoffer la dernière génération des mouvements développés par la manufacture genevoise.
Two useful complications, a power reserve and date, are combined in an attractive round case with slightly fanned horns. The case is 38mm in diameter, giving the watch a middle position in the Malte line.
The model is presented in two versions – 18K white or pink gold – and has a silvered dial in contemporary guilloche work optimising legibility. The dial features 18K gold fan-shaped hour and minute hands, a seconds counter at six o'clock, a power reserve indicator with 18K gold applied facetted hour-markers at eleven o'clock, and the date in a large counter at three o'clock.
With the exceptional finishing that is the hallmark of traditional watchmaking craftsmanship, the Malte Power Reserve & Date houses Vacheron Constantin's new manual-wound 1420 movement. Stamped with the prestigious Geneva hallmark, this movement belongs to the latest generation of movements designed and developed by the Geneva-based manufacture.
Métiers d'Art "Les Masques" collection
What would be the best subject to subtly evoke the human experience? The manufacture's master watchmakers and designers considered several possibilities.
As it turned out, the choice of masks was an obvious one, for Geneva is extremely fortunate in having one of the world's finest museums of primitive art, the Barbier-Mueller Museum. Its proximity guided Vacheron Constantin in its final choice. The Métiers d'Art « Les Masques » collection, therefore, grew out of a reflection on the near and far, the past, present and future, and the process of constant renewal.
Every year, for three years, a boxed set of four different masks will be presented in a limited series of 25. By the end, the complete collection will comprise 12 masks, for a total of 300 watches.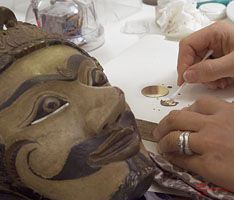 Each timepiece is equipped with the automatic Calibre 2460G4 movement. Made by the manufacture and bearing the Poinçon de Genève, it was developed in 2005 for the Métiers d'Art, "Les 4 saisons" collection. Thanks to this very special movement, the time can be read without any hands: by means of a set of wheels and gears, four discs indicate the hours, minutes, days and date in windows, leaving the centre of the dial empty for the masks to be placed there and for the craftsmen to give free rein to their creativity.
The movement has been completely redesigned to receive the masks; even though time is the raison d'être here, the masks are the focus of attention and must be put in the spotlight.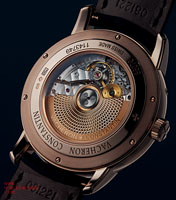 The case is fashioned in white gold for the Alaskan mask, pink gold for the Indonesian mask, yellow gold for the Chinese mask, and platinum for the Congolese mask.
It required all Michel Butor's talent to give voice, if not life, to the masks. His magnificent words, short poems in prose dedicated to each mask, circle the sapphire dial in letters of gold. The writer's lines follow each other in a spiral that seems to have no beginning and no end, a mysterious message that can only be read when the light strikes it from a certain angle. This effect is achieved by vacuum metallisation, a sophisticated technological process in which the gold letters are sprayed onto a sapphire crystal.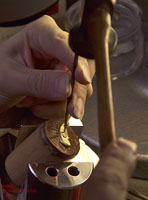 China
Death Mask
China. Quidan people, Liao Dynasty (907-1125)
Gilded bronze, excavation patina
Height: 24.5 cm
Former collection of Michael Steinhardt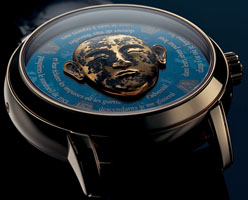 The light is concentrated
in the gold where I close my eyes.
Through my eyelids, I see
the sleep of my descendants;
I slip into their dreams
to give them my news
and light up the impasses
where adversity lies in wait
"I don't collect the art of imperial China, or of Islamised kingdoms, or of India, or of feudal Japan," explained the collector Jean Paul Barbier-Mueller. "I am only interested in ancient civilisations, when sculptors and metal workers were craftsmen and made things that were "necessary" – by that I mean things used for magical, religious or funerary purposes - and didn't think of themselves as "artists". Some of them were naturally gifted and had special skills.
They handed down not ordinary objects, but genuine works of art, which we can imagine were recognised as such in their day since the pieces we consider to be highly artistic were found, not surprisingly, in the most sumptuous tombs." The Liao mask is one of these. It is difficult not to be moved by the pure beauty of this death mask with its symmetrical and harmonious lines.
The perfect face with its closed eyes, seemingly just asleep, has an aura of profound serenity about it that invites one to reflect on life after life. It testifies to the extreme sophistication of the Liao Dynasty, founded in 907 by the Quidan chief Yelu Abaoki – later the Emperor Taizong – and totally destroyed two centuries later. Although they adopted a number of Chinese customs, and despite the strong influence of Buddhism, the Quidan, who came from Inner Mongolia, preserved their own culture and Shamanistic beliefs. According to Jean Paul Barbier-Mueller, "their most original and remarkable creations were their death masks, silver for the nobility, and gilded bronze for those of royal blood."
Alaska
Frontal mask
Alaska, north-west coast of the United States, Tlingit Indians. 19th century
Polychrome wood
Height: 18 cm.
Collected by Lieutenant Emmons around 1900.
Former collection Heye Foundation, Museum of the American Indians, New York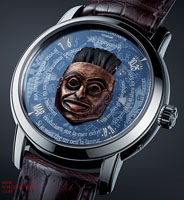 If I stick out my tongue,
it is to show the trust
I have in you,
following your movements
on the sea between storms and in
forests between vast conifers
on which your genealogical myths
will be inscribed
"The Tlingit are an American-Indian people from the north-west coast of America," explained Jean Paul Barbier-Mueller. "They are neighbours of the Inuit from Alaska, whom they call 'Eskimo', which means 'eaters of raw meat'. All the Indians from the north-west coast are gifted, tireless sculptors."
This small mask, adorned with tufts of horse hair across the top, was fastened to a large fibre headdress sometimes covered with animal skins and worn on the forehead by shamans when they performed their functions as medicine men. Their role in the communities of the north-west coast was vital: through their intervention with the supernatural powers, they healed the sick, drove off sorcerers and protected the village against outside aggression.
According to tradition, young men training to be shamans had to leave their community and spend eight days searching for their vision. At their approach, animals stuck out their tongues, which were believed to contain the power of their spirit.
The most spectacular moment of a shamanistic ritual was the masked dance.
Donning in turn about eight different masks, the shaman transformed himself into each creature represented, whether human or animal. In this way, he asserted his power over beings in this world and the next.
Etoumbi-Mahongwe mask from the Congo
Facial mask
Congo Brazzaville, upper reaches of the Likuala River
Mahongwe or Ngare people
Semi-hard polychrome wood (black, white and red)
Height: 35.5 cm
Former collections of Aristide Courtois (before 1930)
Charles Ratton and MoMA, New York (1939)
Barbier-Mueller Museum, Geneva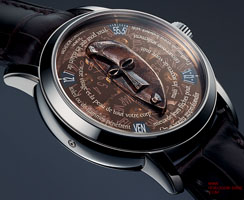 They wanted to deepen the shadow
where you will set your eyes
so that the flashes of sun
and flames will penetrate further
with their arrows to tattoo
not only your face
and the skin of your whole body,
but the secrets of your night
Stylistically, little is known about this mask, which is unique in its genre. Even though it is generally acknowledged to be part of the Kota culture of Gabon, nobody knows which people in north-western Congo – the Mboko, Ngare or Mahongwe – actually made it. According to Louis Perrois, a specialist of the Gabon-Congo region, "it is still impossible to define these objects stylistically and historically, which, in their present state, are among the most remarkable works of the region
Indonesia
Facial mask, Wayang Topeng theatre
Island of Java, Indonesia
Polychrome wood (white, black, several shades of red)
Height: 21cm
Former collection of Professor Czeschka, Hamburg; acquired before 1918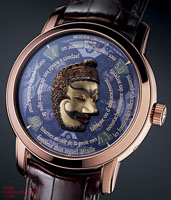 Bewitcher, I observe
the shapes of girls who pass;
my eyebrows are like a bird
ready to take wing and circle
its prey, my moustache
like a serpent ready
to strike at the least sign
of weakness or assent
You only have to look at it: the distinction of the face, the elegance of its features, the sophistication of its hairstyle, the richness of its ornaments, the subtlety of its beard, the refinement of the make-up, the delicacy of the arabesques – a dominant motif in Javanese art – everything points to the noble character of the person represented by the mask. Sculpted in light wood and painted with bright colours, it bears a close resemblance to the face of the virtuous Prince Panji, an heroic figure of Wayang Topeng, Javanese masked theatre.
Traditionally, performers of Wayang Topeng hold their masks by gripping a rubber strip between their teeth. As they say nothing, it is left to the narrators and singers to develop the plot and recount the adventures of the heroes. Wayang Topeng has no religious dimension, even though it preserves the ritual and sacred character of the Hindu origins of its tradition.
Patrimony contemporaine day-date
bi-rétrograde
Doté d'une double complication révélée par deux indications rétrogrades, la nouvelle montre Patrimony contemporaine fera vibrer les amateurs. Car seule la culture horlogère permet d'apprécier ces affichages originaux qui cachent leur réelle complexité pour mieux se faire désirer.
Pour compléter l'affichage de l'heure et de la minute, les horlogers-ingénieurs et constructeurs de Vacheron Constantin ont choisi de développer deux complications parmi les plus utiles, concrétisées par deux indications rétrogrades : le jour de la semaine et la date.
Expression résolue de la technique mise au service de l'esthétique, les affichages rétrogrades, outre leur originalité, présentent une complexité mécanique indéniable.
Le retour instantané des aiguilles en moins de 1/10ème de seconde d'un point à l'autre, d'un arc de cercle sur près de 180º met en jeu des forces considérables pour un mécanisme de cette taille.
Ainsi une énergie démesurée est soudainement libérée pour permettre le déplacement de l'aiguille en une fraction de seconde de part et d'autre de l'affichage avec une infinie précision.
Au point qu'un alliage spécial, caractérisé par son élasticité et sa légèreté, a été utilisé pour la réalisation des deux aiguilles jour de la semaine et date de la nouvelle montre Patrimony contemporaine.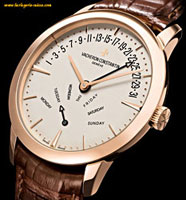 Au cœur de ce garde-temps revendiquant avec force son esthétique sobre et pure, le calibre 2460R31R7 proposant les fonctions heures, minutes, date et jour de la semaine ; un mouvement mécanique à remontage automatique conçu, développé et produit par la manufacture Vacheron Constantin. Ce calibre à double complication s'inscrit dans la lignée des nouveaux mouvements automatiques maison de 11 ½ lignes (25,6 mm) qui ont fait leur apparition dès 2005 lors de la célébration du 250ème anniversaire de la manufacture. Dernier en date et battant au rythme de 28'800 alternances par heure, le calibre 2460R31R7 propose une réserve de marche de plus de 40 heures.
Il se singularise par le minutieux travail d'anglage des ponts décorés de Côtes de Genève et par le perlage de la platine. Sa masse oscillante en or 22 carats, au décor guilloché, se meut grâce à un système de billes en céramique innovant.
Estampillé du prestigieux Poinçon de Genève, le calibre 2460R31R7 répond aux douze critères exigeants de ce symbole de perfection horlogère.
Equipped with a double complication represented by two retrograde indicators on the dial, this new timepiece will thrill watch enthusiasts, for only they will be able to appreciate the underlying complexity of these original display features.
To offer more than just the hour and minute display, Vacheron Constantin's watchmakers-engineers and designers decided to add two of the most useful complications - day and date - and display them by means of two retrograde indicators.
A resolute expression of technology at the service of aesthetics, the retrograde displays are not only highly original, but also very complex mechanically.
Returning the hands in less than 1/10 of a second over an arc close to 180º is a huge challenge for a mechanism of this size as an enormous amount of energy needs to be released instantly so they can fly back in a fraction of a second and with absolute precision.
This is why a special light, flexible alloy has been used.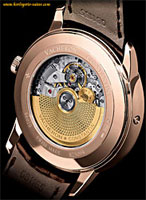 At the heart of this simple, unpretentiously refined timepiece lies the 2460R31R7 calibre, an automatic mechanical movement designed, developed and produced by the Vacheron Constantin manufacture with hour, minute, date and day functions.
This double-complication calibre is one of the brand's new 11½ lignes (25.6 mm) automatic movements, which made their appearance in 2005 during the manufacture's 250th anniversary celebrations.
The latest to date and beating at a rate of 28,800 vibrations an hour, the 2460R31R7 has a power reserve of more than 40 hours and is distinguished by the meticulous chamfering work on the Côtes de Genève-decorated bridges and the circular-graining of the plate.
An innovative ceramic ball-bearing system drives its 22K gold guilloché rotor.
Meeting its twelve stringent criteria, the 2460R31R7 is stamped with the prestigious Poinçon de Genève.
This very exclusive hallmark is recognised as a symbol of horological perfection as well as a indication of provenance.
Patrimony Traditionnelle
Calibre 2455, mécanique à remontage automatique Estampillé Poinçon de Genève
Épaisseur du mouvement 3,60 mm
Diamètre du mouvement 25,60 mm, soit 11 lignes et demi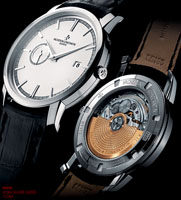 Calibre 2455, self-winding mechanical Stamped with the Geneva hallmark
Thickness of movement 3.60 mm
Diameter of movement 25.60 mm / 11 1/2 lignes
PATRIMONY TRADITIONNELLE QUANTIEME PERPETUEL SQUELETTE
Calibre 1120 QPSQ, mécanique à remontage automatique Estampillé Poinçon de Genève
Épaisseur du mouvement 4,05 mm
Diamètre du mouvement 28 mm, soit 12 lignes et demi Réserve de marche Environ 40 heures
Indications Heures, minutes Quantième perpétuel Phase de lune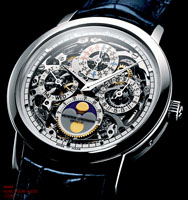 Calibre 1120 QPSQ, self-winding mechanical Stamped with the Geneva hallmark
Thickness of movement 4.05 mm
Diameter of movement 28 mm / 12 1/2 lignes
Power reserve Approximately 40 hours
Indications Hours, minutes Perpetual calendar Moon phase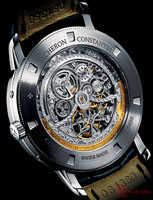 PATRIMONY TRADITIONNELLE « CALIBRE 2755 »
Au cœur de ce garde-temps revendiquant avec force son esthétique classique, le nouveau calibre 2755 doté de 602 composants pour faire battre le Tourbillon, et animer la Répétition Minutes, les heures, les minutes, la seconde sur tourbillon, le Quantième Perpétuel avec indications du jour de la semaine, du mois, de la date, des années bissextiles ainsi qu'un affichage de la réserve de marche sur un pont au verso du mouvement.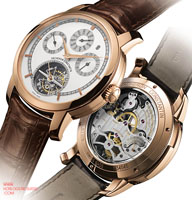 This timekeeper powerfully asserts its classical lines. At its heart beats the new calibre 2755.
Comprising 602 components, it powers the Tourbillon, the Minute Repeater, the hours and minutes, the Tourbillon seconds hand, the Perpetual Calendar with its day, month, date and leap year indications as well as the power reserve display on a bridge on the back of the movement